Introduction
As Amy and Calum's Greyfriars Kirk and Caledonian Hotel wedding photographer, we're honoured to share our favourite photos from their magnificent Greyfriars Kirk marriage ceremony and Waldorf Astoria Edinburgh – The Caledonian Hotel reception.
Amy and Calum's day was a joyous occasion full of tradition and style.
They shared and celebrated their special day with more than one hundred dearest friends and family who gathered to be part of their special day.
Bridal preparations at the Waldorf Astoria
Our Caledonian Hotel wedding photographer coverage of Amy and Calum's wonderful day started with the bridal preparations of Amy at the Waldorf Astoria – The Caledonian Hotel, where Amy was getting ready.
Amy, her bridesmaids and mum Carol were very calm and relaxed as they got ready in one of the hotels fabulous suites. I took candid photos as the girls enjoyed a glass of Buck's Fizz, while they sat for hair and makeup by City Brides. Jonathon took detailed photos of Amy's beautiful dress, designed by Jesus Piero from The Bridal Boutique in Warwickshire, her shoes, jewellery and the bridal bouquets by Narcissus.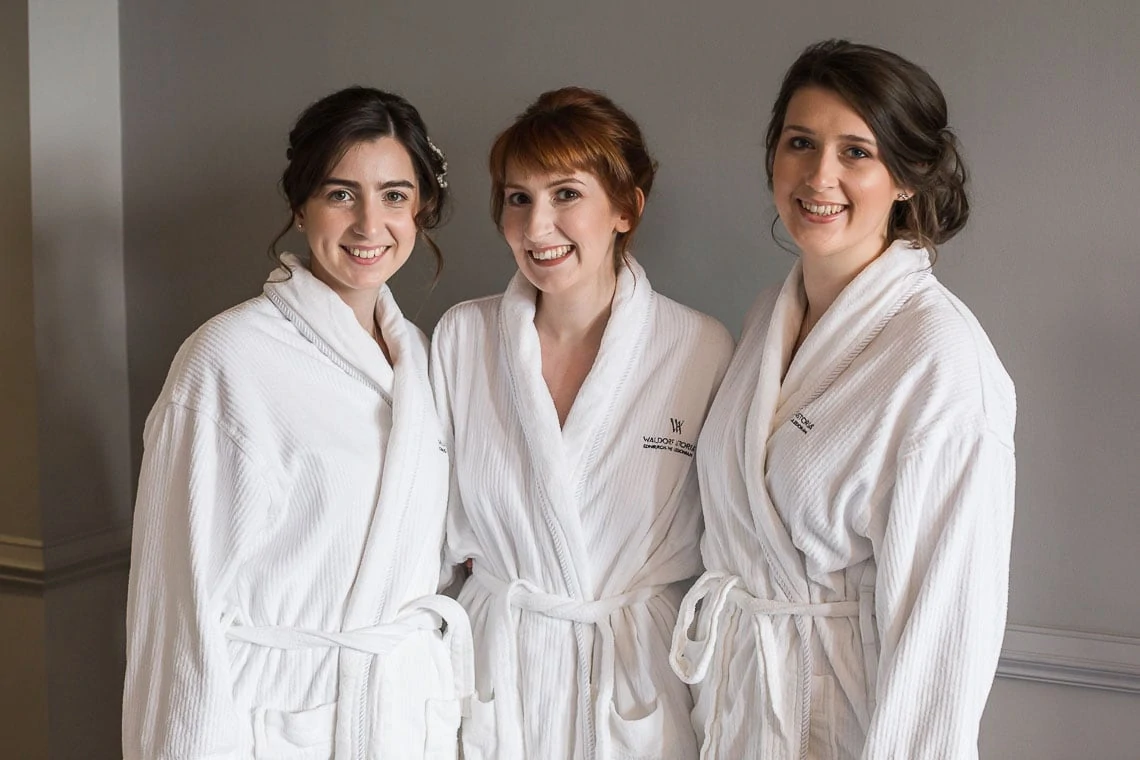 Ceremony at Greyfriars Kirk
Leaving the girls, we made the short journey to Greyfriars Kirk where our groom Calum and his two best men were waiting to meet and greet guests.
Calum looked very handsome in his fantastic highland kilt outfit from Kinloch Anderson. Our groom was relaxed and cheerful as he greeted guests, and the excitement for the day grew stronger.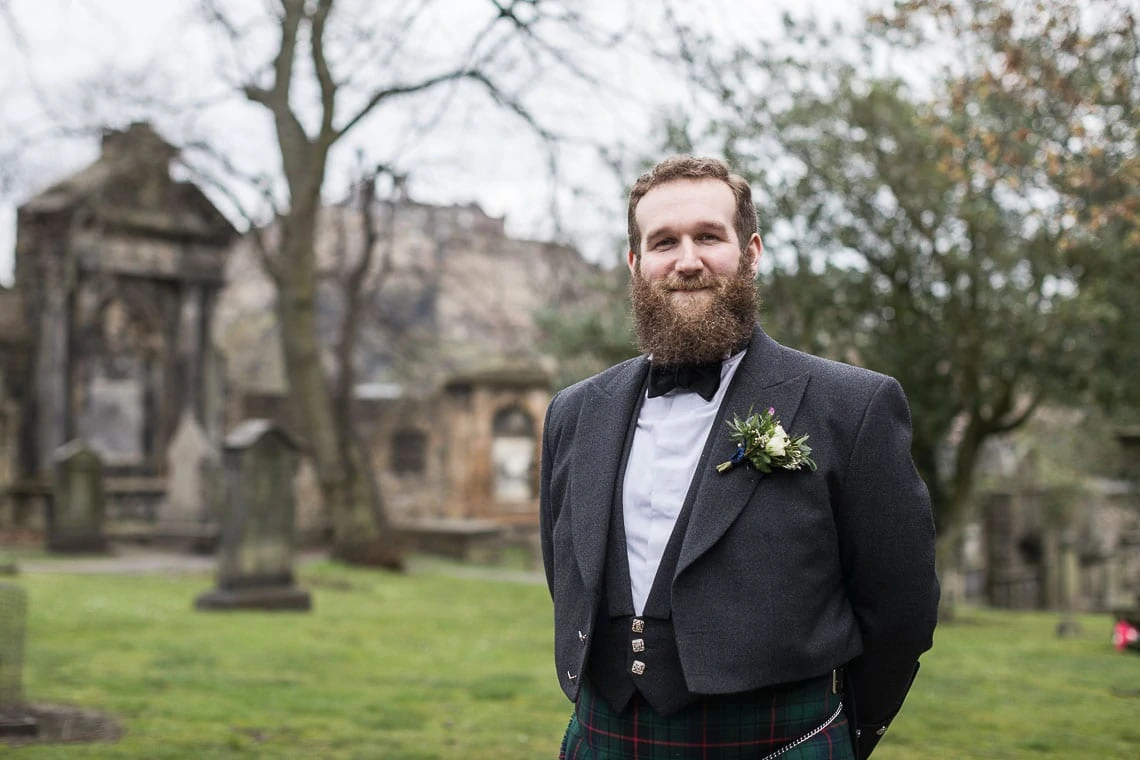 Greyfriars Kirk sits proudly in Edinburgh's historic Old Town. With a history dating back to 1620, which includes the heartwarming tale of John Gray and his Skye Terrier Bobby, the Kirk attracts large numbers of tourists visiting the city, so we were sure our bride and groom would get lots of attention!
Amy's Mum and bridesmaids arrived at the church in an Ecosse Classic Cars vintage black Beardmore taxi, complete with old suitcases and white ribbon. The girls looked beautiful in their emerald green bridesmaid dresses as we got them to pose for photos.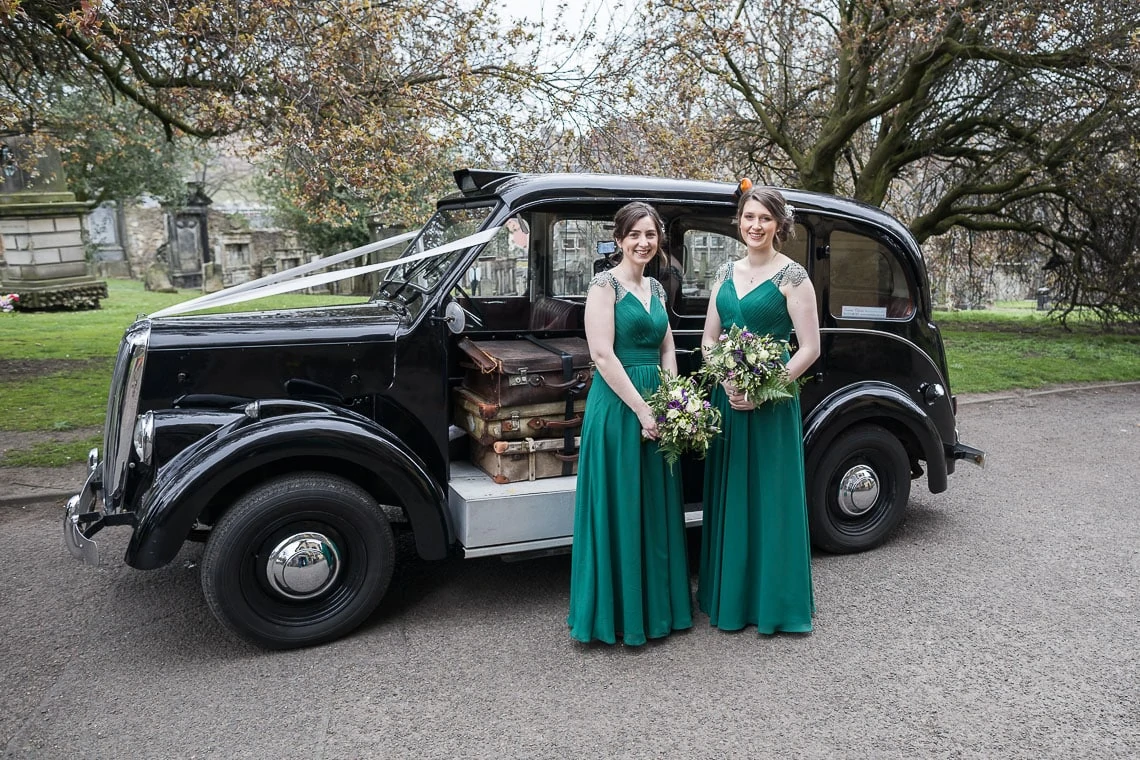 Amy, smiling through the window of her classic Mark 2 Jaguar car looked absolutely beautiful. Jonathon jumped in the car to get some photos of Amy with her Dad.
Amy walked down the aisle with the biggest smile on her face. She looked radiant as she walked arm in arm with her proud Dad and made her way to Calum.
Amy and Calum had a lovely Church of Scotland marriage ceremony taken by Minister Rev. Dr Richard Frazer. Their ceremony lasted an hour and was filled with hymns, prayer, beautiful readings, their exchange of marriage vows and most importantly, love.
With all legal formalities concluded and the marriage schedule signed, our happy couple kissed then walked down the aisle as husband and wife. Guests clapped and cheered their congratulations as our newlyweds made their way outside the church.
Confetti shower
Jonathon and I captured some lovely photos of the newlyweds as they were congratulated by their guests. Then we asked all the guests to kindly take their position for the gorgeous confetti shower. With the biggest of smiles, Amy and Calum walked through their confetti 'tunnel', as a beautiful soft flurry of confetti showered over them, the church bells rang in jubilation!
We love a confetti shower. Our top tip as a Caledonian Hotel wedding photographer, if you're planning on having a confetti shower on your big day, is, bring way more confetti than you think you'll need! What's the saying? Go large or go home? The more confetti, the better! It makes for beautiful photographs and happy memories.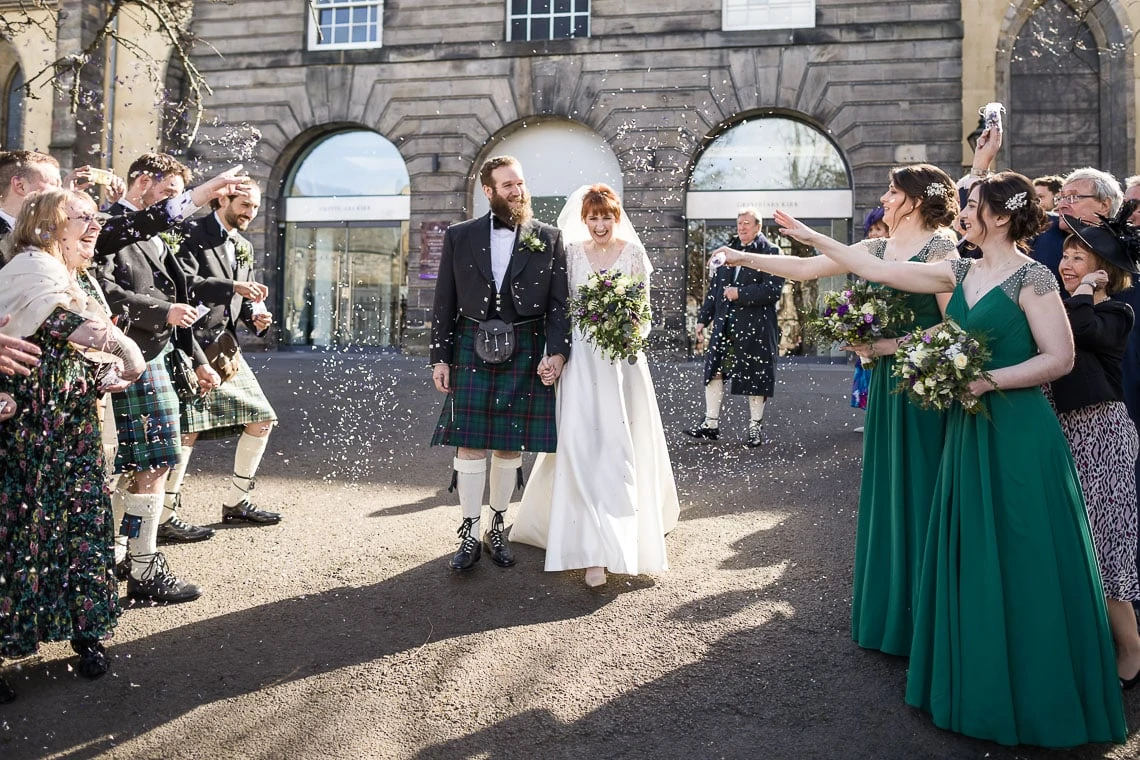 Photoshoot at Greyfriars
It was a gorgeous day as I took candid photos of guests mingling in the afternoon sunshine while Jonathon took group photos with the bride and groom in front of the church. Later, once all the guests had departed by private coach for the Caledonian Hotel, Amy and Calum had their newlywed photoshoot on the grounds of the Greyfriars Kirkyard.
Celebration at Waldorf Astoria
What a joy to be back again as the official photographer at Waldorf Astoria Edinburgh – The Caledonian Hotel. Welcomed by the skirl of the bagpipes by Pipe Major Iain Grant, guests made their way to the Castle Lounge champagne drinks reception. Champagne flutes were filled, delicious canapes were served, including chocolate-dipped strawberries dressed in their very own bride and groom outfits! The mellow sounds of the piano made the atmosphere warm and romantic. Amy and Calum now back at the hotel, more group photographs with the happy couple were taken at the bottom of the grand staircase.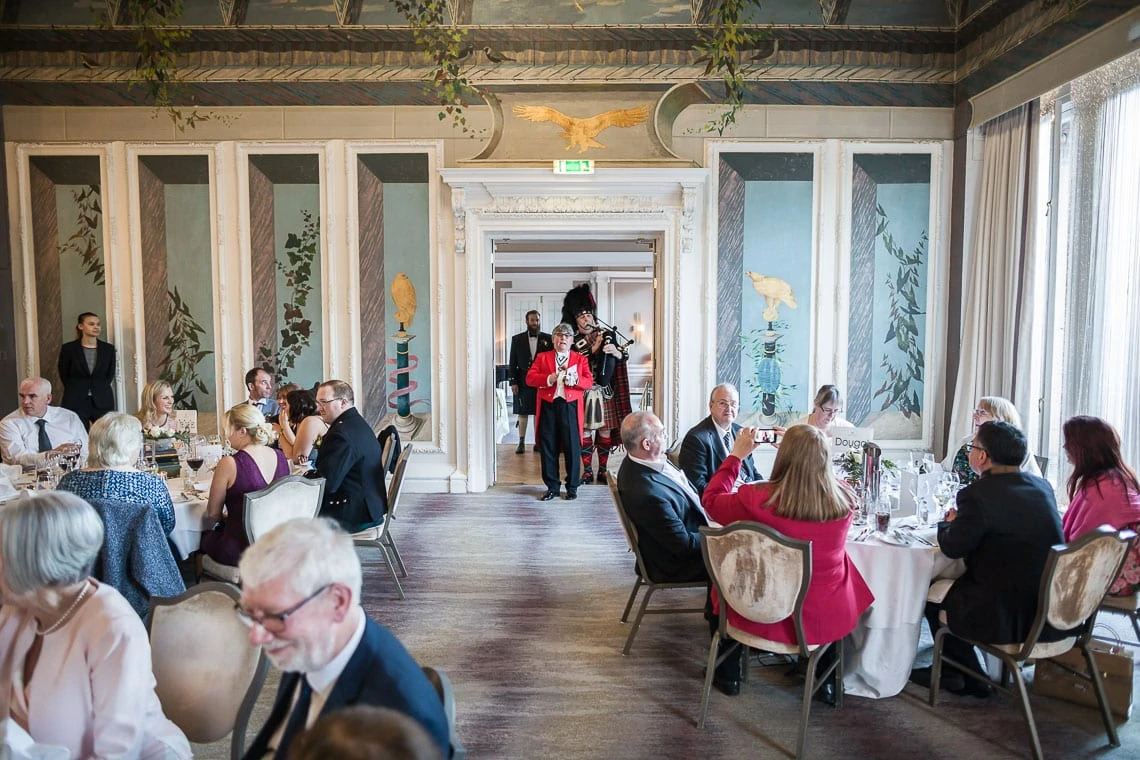 Speeches and dinner in the Castle Suite
A call for dinner was made by toastmaster Patrick J. Hayes of The National Association of Toastmasters. Guests made their way into the stunning Castle Suite, where they enjoyed the delicious meal. Heartfelt speeches followed from Amy's Dad, Calum and his best men, as Jonathon and I captured all the emotions and reactions on camera.
All of Amy and Calum's gorgeous personal touches made the Castle Suite feel even more special. The little details that brought together Amy and Calum's personalities, professions and of course, their unique love story, were just beautiful.
Calum made the most beautiful floral table centrepieces sitting on a stack of books. A nod to Amy's study of English literature and to Calum's horticulture background. There was favour gifts of miniature bottles of gin in delicious flavours and pencils that had a small seed capsule holding a variety of herbs for guests to take home and watch grow.
Later on, family and guests adjourned to the lounge area as the Castle Suite was turned around for the evening celebration and reception.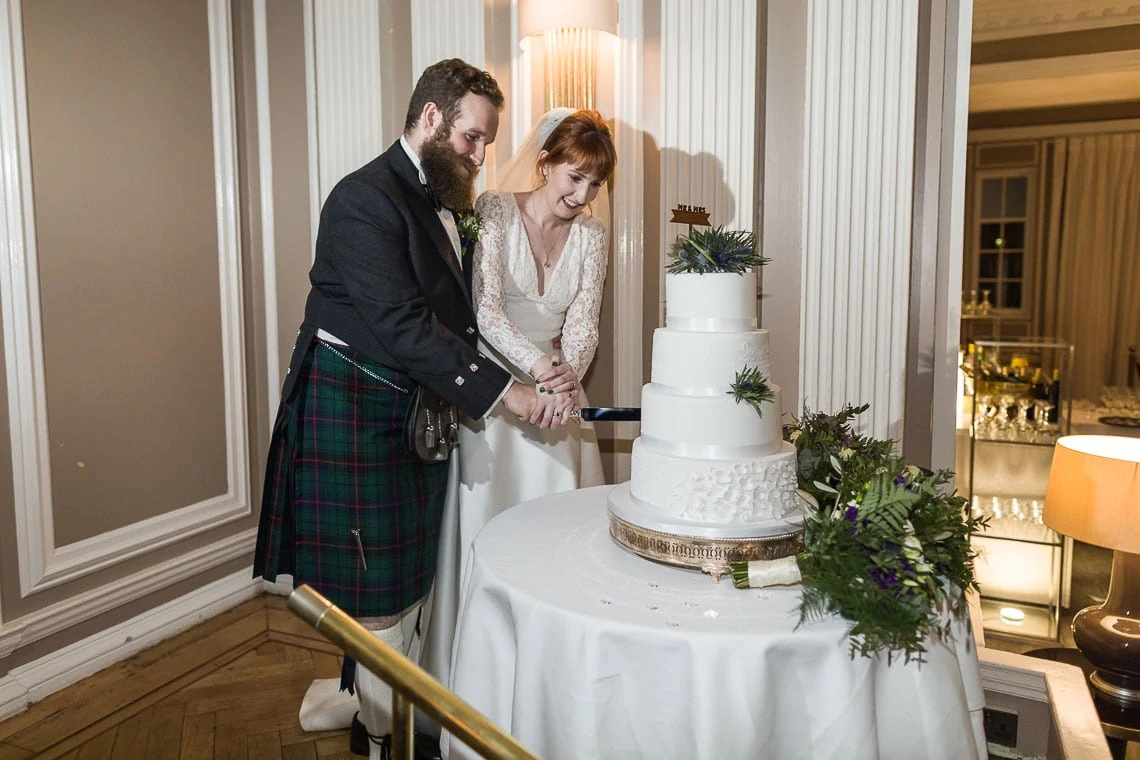 Dancing in the Castle Suite
Amy and Calum cut their beautiful cake by 3D Cakes then took to the dance floor for their first dance as husband and wife. Amy and her Dad had a wonderful Father and Daughter dance that was such a crowd-pleaser! The Jiggers ceilidh band provided excellent evening entertainment and had all the guests up on the dance floor having great fun, it was the perfect ending to our day as Amy and Calum's Caledonian Hotel wedding photographer.
Greyfriars Kirk and Waldorf Astoria Edinburgh – The Caledonian Wedding Photographer Gallery
Here are some of our favourite photographs as Amy and Calum's Caledonian Hotel wedding photographer.