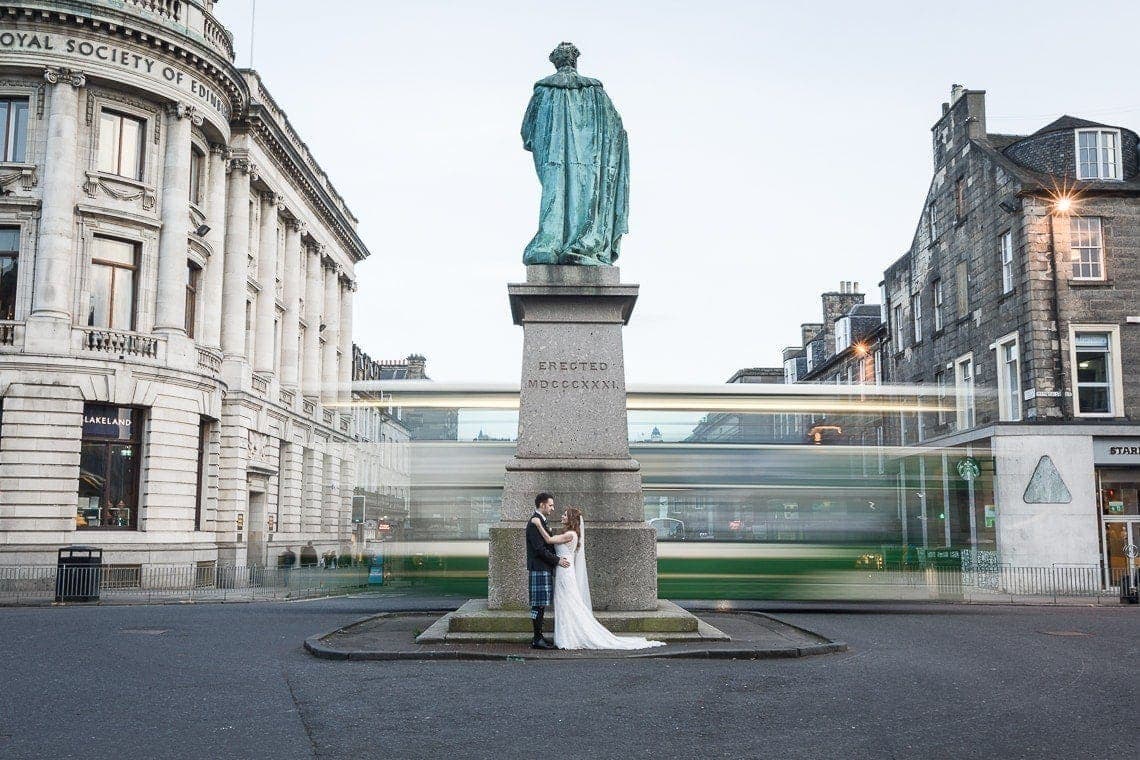 Introduction
Since 2006, we've been honoured to be regular wedding photographers at The George Hotel in Edinburgh. This award-winning George Hotel is undoubtedly one of our favourite wedding venues in Edinburgh.
From our very first meeting with Karyn and Christopher, it was an absolute pleasure being in their company and we knew we were going to be part of a brilliant wedding day.
Bridal preparations before the ceremony
Karyn and Christopher's wedding at The George Hotel Edinburgh began with Jonathon in the Forthview Suite capturing photos of the bridal party and the end of the bridal preparations. I was downstairs at the entrance to the hotel taking photos of the families and guests arriving. With the Piper playing, more and more passers-by stopped to have a little look. 'Is this a celebrity wedding?' asked one lady. My response? 'Of course… our bride and groom are always celebrities on their wedding day!'.
Karyn wore her beautiful auburn hair down, styled by Babu Edinburgh with soft, loose waves. She looked sensational in her gorgeous slim-fitting wedding dress by designer Rosa Clara. Karyn beamed with happiness. Karyn had managed to keep all the details of her wedding dress top secret until the big day, even her closest friends were kept in the dark!
Humanist wedding ceremony
Karyn and Christopher, with 140 dearest friends and family, exchanged wedding vows in a Humanist wedding ceremony led by Karen Dickson of Humanist Society Scotland. Our couple sipped a 12-year-old Balvenie single malt from the quaich, a toast to their love and friendship. The wedding ceremony was beautiful and told of Karyn and Christopher's unique love story.
Champagne reception and photoshoot
After the wedding ceremony, guests made their way to the New Library, where they enjoyed champagne and canapes of haggis bonbons and delicious mini fish and chips. Our newlyweds were congratulated with lots of hugs and kisses, enjoying time with their guests, before group photos were taken at the bottom of the staircase.
A confetti shower took place at the hotel entrance, followed by a short walk to Queen Street Gardens for the newlywed photo shoot. Beautiful photos of the happy couple were taken enjoying the leafy grounds of the private Queen Street Gardens. On the way back to The George Hotel, a few photos of our newlyweds were taken beneath the statue of King George IV on George Street. These lovebirds certainly know how to stop traffic! Car horns tooting, strangers offering their congratulations, it was a such a fun part of their wedding day.
Speeches in the King's Hall
Back at the wedding reception at The George Hotel, Jonathon and I took detailed photographs of the impressive King's Hall. The room had been elegantly decorated by Edinburgh-based wedding supplier Beautifully Covered. Tall vases were filled with the freshest of white flowers and luscious green foliage by Save The Date Collective. Candles on mirrored centrepieces and twinkling fairy lights made a romantic ambience.
Karyn and Christopher made a grand entrance as they were piped into the King's Hall. The room was filled with joyful cheering and clapping by guests as our newlyweds made their way to the top table.
Everyone enjoyed heartfelt and poignant speeches from groom Christopher, his Best Men and Karyn's brother Mark. To conclude speeches, Uncle Alan led Grace before the delicious wedding breakfast was served.
Evening celebration in the King's Hall
After dinner, the King's Hall was transformed for the evening celebrations. The LED spotlight dancefloor looked incredible and was sure to guarantee a fabulous evening full of dancing.
Karyn and Christopher cut their beautiful four-tiered wedding cake by Save the Date Collective. Our coverage of this wonderful wedding at The George Hotel Edinburgh was coming to an end as the newlyweds took centre stage for their romantic first dance as husband and wife, watched by all their family and friends. It was a magical ending to this fantastic day.
Karyn and Christopher share a love for travel, especially Florence in Italy, where Christopher proposed. They are real 'foodies', especially fine-dining. When we asked about their honeymoon plans, Karyn said they were flying to New York, where it's 'all about the food'! Booked into some the most fabulous, Michelin-starred restaurants, including in the Empire State before jetting off to Seychelles for all-inclusive luxury. What a perfect way to start married life. An adventure with your soulmate by your side ♥
Wedding photographers at the George Hotel – gallery of photos
Here are a few of our favourite wedding photos telling the story of Karyn and Christopher's stunning wedding at The George Hotel Edinburgh.