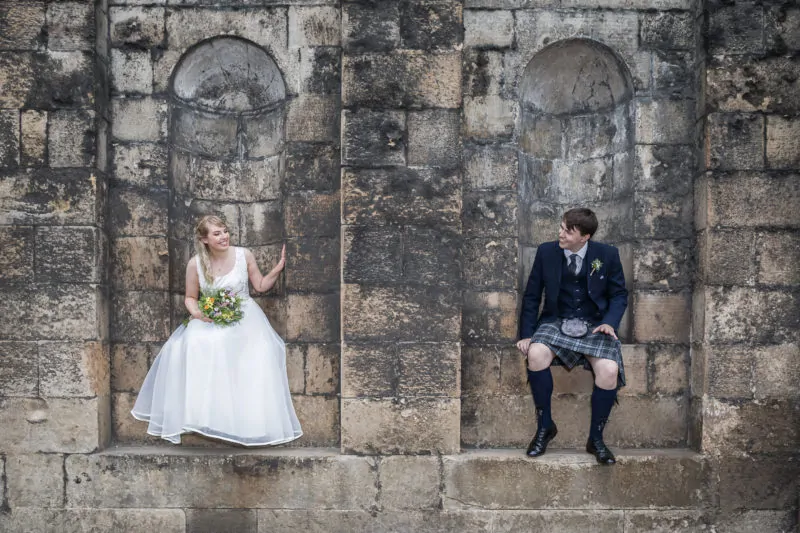 If you're looking for the price for a combined wedding photographer and videographer, you no doubt have realised that your choices are quite limited. There are lots of wedding photographers and videographers in Scotland to choose from, but finding a suitable photographer and videographer who can provide both options in one combined package can be difficult, time-consuming and frustrating.
Working creatively together as a wedding videography and photography couple, Claire and Jonathon at Love Wedding Photos And Film can provide you with the perfect, hassle-free balance:
1. Experienced, award-winning wedding photographers and videographers in Scotland.
2. Husband and wife team working seamlessly in the background on your wedding day.
3. Simple – a single point of contact for your photography and videography.
Hiring a wedding photographer and videographer should be straightforward. That's why we've created two simple photography and videography packages and a choice of upgrades available.
What's included with every booking?
1. Free initial consultation.
Our meeting costs nothing more than your time. Meet in person, or via Zoom or WhatsApp for convenience. Ask questions, discuss options, no pressure to book.
2. Ongoing support and ideas.
Help and advice about anything wedding-related, from our initial meeting until your wedding day and beyond. With approaching 20 years of experience, we have a wealth of tips and advice to share.
3. Discreet multicamera cinematic filming.
Storytelling your day in our signature cinematic style, using small cameras that you won't notice on the day. Carefully edited to add the wow factor to your video.
4. Crystal-clear dialogue.
Discreet lapel microphones to record crystal-clear audio of the ceremony vows and speeches.
5. Fabulous photos in our signature timeless style.
Beautifully photographed, all photos are also professionally retouched and supplied to you watermark-free in colour plus black and white high-resolution JPEG format. We'll also supply a few 'sneak-peek' preview photos within a few days of your wedding.
6. Bespoke opening credits.
Choose from 20 fabulous titles to customise the opening sequence of your video.
7. Your choice of music for the editing.
Perfect personalisation: Choose any songs to be used as backing tracks for your video.
8. Don't miss a moment.
Feature-length edit with the full length of the ceremony and speeches included in their entirety.
9. Password-protected web gallery.
We respect your privacy – only you can choose who views your photos and video. View your video and photos online and easily order gallery-quality prints, including framed prints and canvas. Share your gallery with family and friends for convenience.
10. Unlimited high-resolution digital download of all photos.
USB sticks were so yesterday. Streaming/downloading means easy sharing all of your photos with family and friends. Unlimited downloads/shares.
11. High quality video file with unlimited downloads/shares.
Save, share and backup your video in super-high quality, with no limit to the number of downloads/shares. Video supplied as a digital download MPEG4 video file (if your device can view YouTube/Netflix/Amazon Prime, it can stream your video)).
12. Safe backup of all your photos and video.
We'll safely archive every photo for a minimum of 2 years, ensuring peace of mind for you if you have a technology meltdown.
Combined Wedding Photography and Videography Prices
As your award-winning wedding photographers and videographers, we want to make it easy for you to find our prices:
Combined Collection One
£2295
Two photographers for the best coverage
All-day photography coverage begins with morning preparations until the first few dances in the evening
Includes multicamera video of the ceremony and speeches only
Combined Collection Two
£2695
One photographer and one videographer
All-day photography and video coverage begins with morning preparations until the first few dances in the evening
Video supplied as feature-length edit (full ceremony/speeches/dancing)
Combined Collection Three
£600 per hour
Micro wedding/Elopement – hourly pricing with one photographer and one videographer
Minimum booking 2 hours
Available for off-peak micro weddings and elopements only
Upgrades
Video Highlights Edit – £495
Upgrade your video package to include a shortened 'highlights edit' of your video. The highlights edit contains all the best bits of your big day. You choose the music, and we do the rest! This is our most popular upgrade, ideal for reliving the best special moments of your day. A typical highlights edit is between 5 and ten minutes long; the perfect way to show your day to family and friends.
Drone Footage £300
Why not add that extra-special ingredient to complete your video cinematic look by including breathtaking drone 'establishing shots' of your venue?
We're fully trained and authorised by the Civil Aviation Authority to operate our drone. We're also comprehensively insured for drone flying.
View an example of our cinematic drone footage, filmed at Borthwick Castle in Midlothian.
Borthwick Castle Drone Video Example
Pre-wedding day 'engagement' photo shoot £349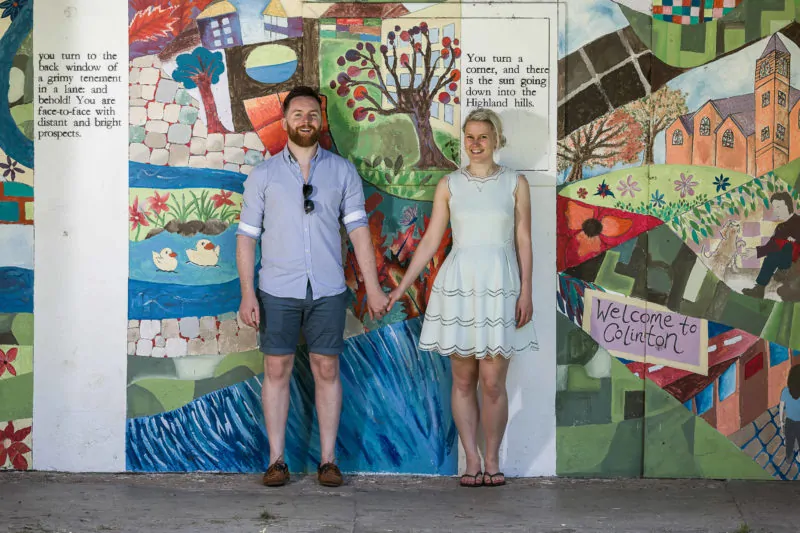 Your wedding photos are an incredible investment that becomes more precious with time. But these photos can only tell part of your unique love story.
Our pre-wedding day photoshoot provides you with a collection of photos reminding you of the good times preceding the wedding day – and serves as an 'opening chapter' to the rest of your life together. We usually charge £349 for a pre-wedding day photoshoot; this upgrade is included with the wedding photography packages Collection One and Collection Two.
The pre-wedding session can take place at many locations across Edinburgh and the Lothians. We recommend doing the photoshoot approximately 4 – 8 weeks before your wedding day, and it can take place any day of the week.
If you have pets or children, you can bring them to the photo session.
The photos are carefully and individually edited and shared with you in a private web gallery.
We also supply every photo as high-resolution digital files, perfect for sharing, printing and posting on social media.
Already hired a videographer? Check our wedding photographer prices.
Already hired a photographer? Check our wedding videographer prices.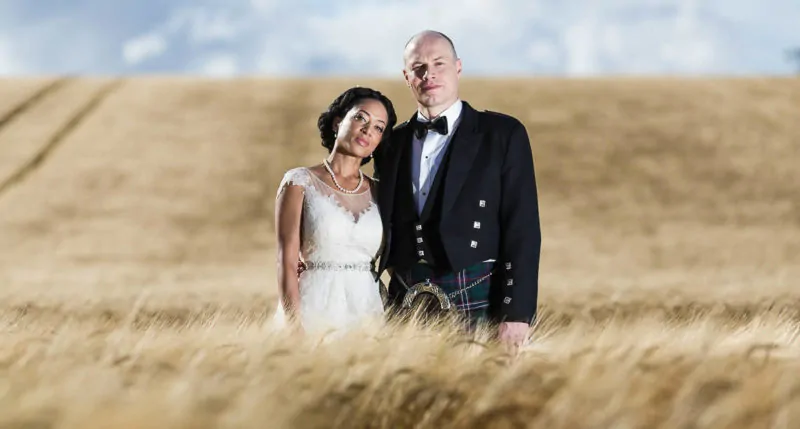 Don't hesitate to contact us with questions about our wedding photographer and videographer prices. We would love to hear from you and discuss how we would work seamlessly together on your wedding day.