We decided to create this list of questions to ask a wedding photographer and surveyed some of our brides and grooms and spoke with photographer friends and colleagues. Importantly, we've also provided you with our answers to these questions.
We recommend printing out this list of Questions To Ask A Wedding Photographer (or copy the questions that you feel are most important to you) and bring them to your meetings with your wedding photographer. Some photographers will provide some of the answers to these questions on their websites, but don't be afraid to ask, these are important questions to ask your wedding photographer, and it's in your interest to get the answers!
60 Questions To Ask A Wedding Photographer: 1 – 30
1. Is wedding photography your main business? Yes, we spend all of our time dedicated to our wedding photography and film clients. Being photographers and filmmakers is our full-time vocation, we don't do any other part-time work and we love what we do! NOTE: A part-time photographer won't necessarily provide you with an inferior service. Established full-time photographers like us are full-time for a reason. We provide a dedicated, client-focused, exceptional service, and won't be burning the midnight oil editing photos while in the back of my mind is getting up for my 'day job' the following morning!
2. How would you describe your photography style? Discreet and relaxed, combining mostly natural/candid 'documentary style' photos with a selection of classic and captivating 'wow-factor' photos of the newly-weds.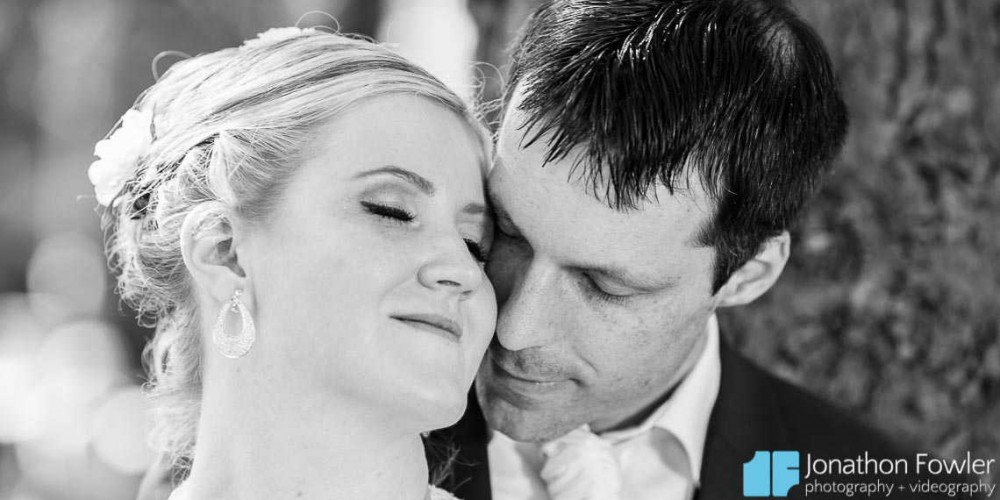 3. How would you describe your working style? Relaxed, friendly, professional and fast. Most of the day we'll blend seamlessly into the background, taking photos of the event as it unfolds. At key moments we'll take a more 'hands-on' approach, offering direction where necessary to ensure the photos are taken quickly and smoothly.
4. What do you think distinguishes your work from that of other photographers? We create photos that are timeless, natural and unique, avoiding the use of 'fashionable' editing techniques and software/Instagram-style filters that quickly look dated, focussing instead on clean, colourful photography that will stand the test of time.
5. How do I pick a good photographer when there are so many to choose from? Read our informative guide 'How To Choose A Photographer – 5 Essential Things To Check', then narrow your selection down to a handful of favourite photographers and arrange to meet them one at a time. Make sure you meet the actual photographer who'll be taking your photos, not their assistant, salesperson or studio owner. This is especially important if you're at a wedding fair and the photographer isn't available as they're shooting photos at a wedding. Take away some details, but arrange to meet the actual photographer and ask them a few of my 'questions to ask a wedding photographer' at a later date. Don't ever gamble by committing to booking when you only meet the sales rep at a wedding fayre! It's crucial that you trust and get along with your photographer. This means you can rest assured your wedding photographer will create the photos you want. It's important that not only should you like the photos, but you should like the photographer! Bear in mind you'll be in each other's company for several hours on your wedding day!
6. Why is wedding photography so expensive? Overall, we agree that the best wedding photographers do cost a lot of money, let's not pretend great wedding photography is cheap. But being a skilled wedding photographer takes a lot of investment, both in time and equipment. We carry over £20,000 of equipment to most weddings. We work 50-60 hour weeks, editing thousands of photos, or a full wedding film takes several days to complete. Add to that insurance, taxes, advertising, albums, shipping, etc. and you'll appreciate why wedding photography costs money. It also explains why you generally 'get what you pay for'. Photographers offering budget photography tend to work part-time, use cheaper equipment, have less experience and generally create pictures which don't compare favourably with higher-end photographers.
7. How far ahead do I need to book my photographer? There are no hard and fast rules here – if you're not getting married for another 2 or 3 years then take your time, do lots of research, be sure to refer to my 'questions to ask a wedding photographer' and still take your pick of the very best photographers. As your wedding day draws nearer, then your options will become increasingly limited, particularly if you're getting married on a Saturday during the busier summer season. Your first choice photographer might not be available if you wait too long. We have a varied client base, with some couples booking two years in advance, most about 12 – 18 months in advance, and each month we usually have at least one last-minute booking. We shoot between 40 and 50 weddings every year, but they're not all Saturday weddings (the most favourite day of the week to get married is Saturday), so there's usually a few Saturdays throughout the year we'll still be available. Most clients agree that when you find your photographer, you'll most likely know you've found the one for you. At that point don't wait too long to book – arrange a meeting, ask the questions in this guide, and if you're happy then book. It's another thing ticked off your 'to-do list' and means you can move on to arranging something else. If we're unavailable for your wedding date, we'll recommend colleagues who may be available who we know will provide the same quality of photos in a style similar to mine.
8. My wedding is not in Edinburgh or Lothian, is that OK? Yes, we'll travel anywhere to photograph or film a wedding! Travel and overnight accommodation costs may apply if your wedding is quite far away from Edinburgh, but usually, if you're within 30 miles of Edinburgh we won't charge extra.
9. I've heard about 'shoot and burn' photography. What is it? 'Shoot and burn' is a term used to describe photographing a wedding and supplying the images to the client without any editing or post-processing done to the pictures. 'Shoot and burn' is usually cheaper than mid-to-high-end photographer prices due to involving a lot less work than a high-end photographer. The photos are often handed over regardless of any errors – forget about correcting poor composition, bad lighting, pimples, doing colour correction, etc. What was shot is what you get. Ask your photographer to confirm exactly what you will receive. If you're having a smaller 'off-peak' wedding, you're on a budget and do your research carefully, there are some bargains to be had. Try and get an experienced photographer with a really good portfolio of images in a style that you like and ask if your photos will be in this style. Ensure you receive a contract and make sure you compare the price with other photographer's prices to ensure you really are getting a good deal. Like most things in life, if it sounds too good to be true, it probably is. Ask some of the 'questions to ask a wedding photographer' from this page and you will be better informed. Remember, your wedding is a once-in-a-lifetime-occasion, make sure your photographer is up to the job, regardless of price.
10. Are you the photographer who will photograph my wedding? Yes, I will personally photograph your wedding, with my wife Claire usually working alongside me as my fabulous 'second photographer'. We don't outsource or cover more than one event per day unless we're covering a particularly large wedding and require additional coverage. From initial contact to delivering the completed albums, we take care of it. NOTE: Make sure the person who is going to be your photographer is named in your contract and make sure the questions to ask a wedding photographer are answered by the person who will photograph your wedding!
11. How can I be sure that you'll be any good and that we'll get along? Research, make sure you browse our website, Facebook page and our on-line reviews. By this stage, you'll know if you like our style of photography. Contact us to arrange a meeting and take it from there. We don't do high-pressure sales, there's no obligation to book – we meet, have a chat, and a drink and even if you don't book us we guarantee you'll come away from our meeting with some useful information about your wedding or choosing a photographer! Compare us to other photographers, choosing appropriate questions to ask a wedding photographer from this page for your meeting.
12. How long have you been in business? Since 2006.
13. How many weddings have you covered? We've photographed and filmed over 400 weddings in Scotland!
14. Doesn't being experienced mean you'll be out of my price range? Probably not. We don't offer a 'one-package-fits-all' – we're happy to tailor coverage of your wedding day to ensure you don't pay more than you need to. If you have a big budget, and you want the very best service, photos and albums available then we can certainly work with you. But our services aren't exclusive, and we'll do all we can to cater for smaller or midweek weddings on a smaller budget. View our wedding photography packages and prices.
15. Are all of the images on your website yours, and is the work recent? Yes and yes. We regularly update our website and blog pages. All the photos and videos seen on this website are personally created by us.
16. How many photographers/assistants will be at my wedding? Most of our prices provide two photographers as standard (Claire and Jonathon).
17. Do I need a second photographer? A second photographer is really useful as they provide you with more images and a different perspective. When we work together, we can usually cover both you and your partner's preparations. During the wedding ceremony we can cover two angles/viewpoints simultaneously, without needing to walk around (often, moving during the ceremony isn't possible due to the layout of the room). During your drinks reception, one of us can cover the guests, capturing those candid moments while the newly-weds are having their photos taken. One of the best questions to ask a wedding photographer is how they prefer to work. You can get excellent results with a single photographer, but almost always having a second photographer will capture more of the day and from different viewpoints. Bear in mind that many photographers offering a 'second photographer' as part of their standard packages are offering someone who will spend most, if not all of the day, working as a photographer's assistant. This means carrying the primary photographer's bags, moving tripods/flashes, etc., checking off the photo list and other assistant duties. Check what is on offer, as a photographer's assistant is not the same as a second photographer!
18. Do you cope well with pressure? Yes, we think so and we've been photographing and filming weddings since 2006 and seen it all. If things run late, if your wedding car breaks down, if a guest falls ill, or one of our cameras malfunctions, it'll be okay (we carry spare equipment!). We're there to document the day, not to control the day, and if for any reason Plan A isn't working out, we'll move on to Plan B. We're there to work with you on the day. On the very rare occasion there's a problem on our side of things, you most likely won't even know about it. Otherwise, as a team, in the unlikely event of any other problems, we'll discuss it with you to ensure the rest of the day goes without any problems.
19. Are you insured? We certainly are. We have full cover including Public Liability Insurance, Professional Indemnity insurance and all of our camera equipment is comprehensively insured. NOTE: All suppliers should be insured in case anything goes wrong. This is an important question to ask a wedding photographer or supplier! Some venues may insist that all suppliers are insured, don't leave it too late to find out your photographer isn't fully covered. Is your budget photographer price too good to be true? Ask to see original copies of their insurance certificates. If they take a chance by omitting insurance, what other shortcuts are they taking? It is recommended that you also buy comprehensive wedding insurance, a wedding usually involves major investment so why take any chances?
20. What type of equipment do you use? We use top of the range Canon cameras, Canon L-series prime lenses and Canon RT series flashes. There's a bit of a myth that says 'it's not about the camera or equipment'. We agree with this a little, but suffice to say that we couldn't create the photos we create using a basic camera and cheap zoom lens. We could create something similar, but it wouldn't be as good as we know we can craft with our current gear. Do you want photos of a wedding ceremony shot in a candlelit room during winter? Use of flash will kill the atmosphere. Try shooting without flash using a standard zoom lens and basic camera body (the equipment of choice of many wedding photographers). You'll receive grainy, often blurry photos. By the time you see the pictures, it'll be too late. Think about it this way, the equipment we use is an investment to give us the tools to do our job properly, promptly, with minimal fuss, in all weather. Our gear can take a beating (ever tried walking down a narrow castle staircase with two cameras slung over your shoulders? Cheap equipment would be broken in a day!). Yes, we take the photos, it's our critical eye that decides what to shoot, but our cameras and lenses are essentially precision instruments enabling us to get the results that we know you want and will love.

21. I have certain photo ideas I would like – can you do these? Sure, we're experienced wedding photographers and happy to meet and discuss this with you. We do have our signature style, noted above, but we're flexible and accommodating.
22. Can I give you a list of specific shots we would like? Yes, we discuss this with you about a month before your wedding day. You're welcome to share your ideas, and we'll certainly offer our input and give you a few ideas of our own! NOTE: Make this one of the questions to ask a wedding photographer when you meet, and treat the reply 'just trust me' as a warning that you might be dealing with someone who isn't too keen on deviating from their comfort zone. There's a fine line between adhering to a definitive photo list to ensure you get pictures of all of your nearest and dearest, and allowing your photographer the freedom to be creative and capture those candid shots (which can often be some of the best photos of the day). Ask the question, and then nearer the day get down to the finer details.
23. Do you shoot in colour and black & white? All photos are shot in colour, edited then duplicated and converted to black and white. All our clients receive all photos in colour, plus all the photos in black and white. Some photographers choose a selection to provide in black and white. However, we feel that individual images which we prefer to be black and white you might prefer in colour, or vice versa. So have the best of both worlds and receive everything in colour and everything in black and white, at no extra cost to you.
24. Do you have a portfolio of a complete wedding I can review? Of course! we currently have more than 200,000 photos of entire weddings in our galleries. Let's meet, have a chat, and we can show you the most relevant pictures. There's a chance we've already photographed a wedding at your venue! We can also show you sample wedding albums containing full wedding days, as delivered to satisfied clients – not just an album with a selection of our favourite photos.
25. Have you done many weddings that were similar to mine in size and style? We won't know for sure until we discuss this with you, but the answer is most likely a resounding yes! We've photographed and filmed weddings of every size and at every location imaginable – castle weddings, city-centre hotel weddings, beach weddings and Registry Office weddings. The smallest wedding had just 4 of us present (Bride, Groom, Claire and Jonathon), and the largest, an Asian wedding, had 300 guests. We've photographed Indian weddings, Muslim weddings, civil wedding ceremonies, Humanist weddings, Roman Catholic weddings, same-sex weddings….you get the idea.
26. Have you ever worked at my wedding venue before? Possibly…if not and it's not too far from Edinburgh we'll pay a visit in advance of the big day. Otherwise, we'll thoroughly research the wedding venue and where possible arrive earlier on the day to check out locations for photos.
27. Have you ever worked with my Celebrant? Videographer? Coordinator, etc.? Possibly…we always introduce ourselves to suppliers on the day, and we're great at working seamlessly with everyone. Don't take our word for it, check out the positive reviews kindly written by our clients!
28. What packages do you offer? We don't offer a 'one-size fits all' package. Click here for details of our packages and contact us to check our availability. Minimum coverage is one hour, extending to full-day coverage, with our all-day package including a pre-wedding photo shoot.
29. Can I customise a package based on my needs? Absolutely! The packages on our website are based on the service we've provided to clients for over a decade. If none of the packages tick all the right boxes then, please do contact us, tell us about your wedding plans and let's have a chat to get you the exact amount of coverage you require. We're here to fit into your plans, not the other way round.
30. Do you include engagement photos in your packages? Yes we do. We prefer to call this a 'pre-wedding photo shoot', as most of our clients have been engaged for many months (or years!), others call it an 'e-shoot'. The service is the same, though – we meet a few weeks before your wedding day and spend an hour or two shooting a range of photos of the two of you. We get to know each other a little bit before your wedding day, and you get to experience a professional photoshoot. We guarantee any fears or worries you had about the photography side of your wedding day will vanish by the time we've completed our photoshoot!
60 Questions To Ask A Wedding Photographer: 31 – 60
31. How much of a deposit do you require and when is it due? We currently require a £300 deposit. Payment of the deposit is due at the time of booking. Until we receive the deposit payment and booking form, your wedding date is not reserved, and we reserve the right to accept other booking enquiries for your date until your booking is confirmed. The balance is payable one month before your wedding.
32. Do you offer a payment plan? Yes, we can accept payment via instalments. We're happy to discuss this with you and we can even set up reminders for instalment payments.
33. Which payment methods do you accept? We accept bank transfers, credit/debit card payments via PayPal, and cash.
34. What is your refund/cancellation policy?If we haven't met and all communication is done remotely, cancellation by you within seven days of booking to receive a full refund of your deposit. If we've met and you cancel, the deposit is forfeited. Cancellation by you beyond seven days means you forfeit your deposit. If you move your wedding date due to unforeseen circumstances, then we're usually happy to switch dates (subject to availability) and transfer your deposit to the new date. In the very unlikely event of cancellation by us then we'll refund in full all the money you've paid.
35. When do I receive a written contract? As soon as you tell us you'd like to book us as your wedding photographers we'll email you a copy of our contract. The contract contains the terms and conditions of business. To book us you sign and date the contract and send a copy back to us, along with your deposit payment. As soon as we receive your signed contract and deposit payment we'll email you a booking confirmation/receipt for the deposit payment. NOTE: Don't book a photographer or any other supplier who won't provide a written contract.
36. What happens if you fall ill and can't photograph our wedding? We have a network of photographer colleagues who are full-time professionals and are our first contact should an emergency arise. Fortunately, in the years we've been photographers we've not yet had to call upon a colleague in an emergency, but if we do you can rest assured you're in safe hands.
37. What information do you need from me before the wedding day? About a month before your wedding day we'll email the details that we need – typically timings of the day to ensure we're in the right place at the right time and the list of group photos. We'll detail what's required and when you supply the information we'll check it and discuss with you anything that might not be an obvious problem; for example, your wedding venue might suggest timings for shooting the group photos which don't allow for the number of groups you'd like photographed. We'll discuss this with you and make suggestions if we feel it will make the day progress more smoothly. Part of the benefit of booking us as your photographers is that we'll do all we can to ensure your wedding day goes smoothly, including discussing with you on the day and making sure you have the final say in any changes to the schedule.
38. What time will you arrive at my wedding and for how long will you stay? For as long or as little as it takes to get the job done! If you book us for all-day coverage, then we'll be there to cover all the main parts of your day, from start to finish (pre-ceremony preparations through to dancing) with no clock-watching. If your package includes coverage of the preparations, we'll arrive with enough time to get the shots needed and move on to the guests arriving at the ceremony venue. We'll discuss the timings with you well in advance of the wedding day. If you have a good idea of the timings at our initial meeting, we'll advise you whether your requirements are practical, or if we need to tweak the timings or amount of coverage slightly to ensure you get maximum coverage in the time allocated.
39. How will you be dressed at my wedding? We will dress smartly – no jeans, trainers or t-shirts! It might seem a trivial question to ask, but don't assume all photographers will make the effort to blend in with your guests. Trust me, we've recently filmed a wedding where the photographer wore jeans, trainers and a shirt. To say the photographer looked out of place was putting it mildly! If having your photographer in suitable attire matters to you, make sure this is one of your questions to ask a wedding photographer!
40. How can I make sure I look good in my photos? Relax and enjoy being with your family and friends. The best advice we can give you is that if you feel relaxed when we take your photos, you'll appear relaxed in the photos, and you'll have a good memory of having the picture taken. If you feel awkward or uneasy when having your photo taken, then you'll feel the same when you look at the photo. So relax! In the unlikely event that you feel awkward or uncomfortable, we'll happily move, rearrange or do whatever is necessary to make you look wonderful. Factor in a little time in the schedule to allow for delays – if the bride arrives late, or there's a traffic jam on the way to the reception, or the speeches take longer than expected – you'll feel rushed and hassled, and that can show in your photos. Try and add time for a receiving line (or line-up as it is known) as this can act as a natural buffer if timings do slip, as you can always cancel a receiving line to allow more time for photos or mingling with your guests. Importantly, try and relax the night before your wedding without having a lot of alcohol – get plenty of sleep and drink lots of water. Wedding day hangovers aren't ideal for looking great in your photos!
41. If my event lasts longer than expected, will you stay? Is there an additional charge? These things can happen at weddings, a small delay here or there can add up over the course of the day, meaning the evening reception/cake cutting or first dance begins later than expected. We won't usually charge extra if there is a delay in the proceedings and we're happy to stay longer to ensure we cover the important parts of your wedding day (cake cutting, first dances, etc.). Significant delays are very rare, but when they occasionally happen may result in a pro-rata charge for extra coverage, and we're happy to discuss this with you.
42. Do we need to feed you at our wedding? No, we don't expect you to provide us with food! Food is always appreciated, but never expected. If your wedding venue is in the middle of the countryside and there's not anywhere convenient for us to purchase food, then we would be very grateful if you arranged for us the main course and a soft drink. If you prefer not to provide food that is totally fine but bear in mind we will need to leave your venue to source something to eat and drink. NOTE: Some photographers insist on being fed at your wedding and have this as a clause in their contract. Our view is that being paid to shoot a wedding then insisting on food is a wee bit cheeky. If you were having a kitchen or bathroom installed at home would you expect the plumber to have a 'feed me' clause written into the contract? We personally don't feel comfortable with that. Go with whatever makes you feel comfortable and make it one of your questions to ask a wedding photographer!
43. What happens if your camera develops a fault? We use two identical cameras each, multiple lenses, multiple flash units…basically, we have at least 2 of everything we need to shoot your wedding photos and film.
44. What happens if it rains? It's fine, don't worry. It's unusual to have an entire day of non-stop rain. We always have a 'Plan B' for wet weather, as will your wedding venue. If it's wet, and you prefer to stay indoors, then we're equipped to shoot beautiful newly-wed photos of you using our portable studio flash set-up. If you feel brave, we can head outside, even in the rain, and shoot a few photos of you walking together under an umbrella. Some of our favourite photos that we've taken have been shot in the rain, so be bold and if you're up for it, so are we! The biggest difference will be when it comes to shooting the family/group photos. If you have lots of family and guests present, and your venue has restricted space, it might be impossible to shoot a high-quality group photo of everyone. But we can still shoot pictures of the smaller groups of family and friends.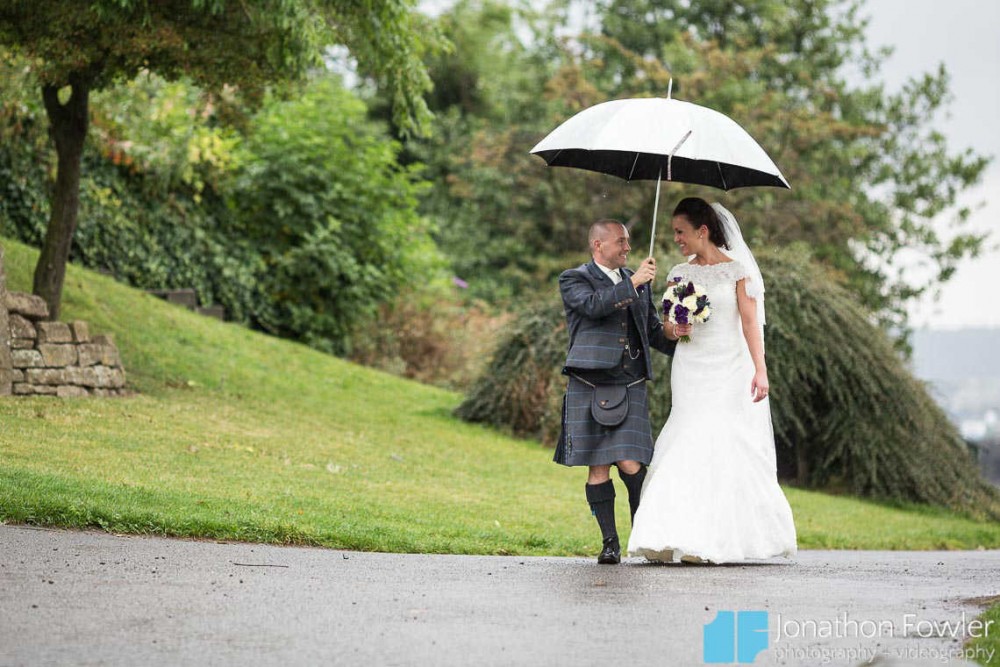 45. Can my family and guests take photos? Yes, definitely. We actively encourage people to take photos, and we certainly have no issue with anyone present wanting to capture photos throughout the day. Some photographers object to guests taking pictures during the ceremony (and often during other parts of the day)…we disagree with this view, it's your wedding day, a professional photographer should be able to capture great photos even if guests want to shoot a few snaps of the newly-weds! We're there to capture a significant and historical occasion, including the guests who happen to be taking photos. As long as you're happy for guests to take pictures, we're happy, too! Your wedding celebrant/minister/registrar/priest might refuse to allow photos during the ceremony, check with them before you book if you feel this is a problem.
46. How long will all the family group photos take? As a guide, we recommend a maximum of ten groups and allow thirty minutes to create these photos. Bear in mind some people will be at the bar, at the toilet or having a cigarette and can slow things down a little, but thirty minutes for ten photos is a reasonable timescale. Ten group photos might not sound much, but if you start with a picture of everyone present, newly-weds with their families, newly-weds with siblings, one with grandparents, you still have five other combinations to choose. Don't go down the route of having every possible combination of every family member present, it's boring to shoot, it's boring for everyone present and takes ages to plough through. Keep it short, keep it enjoyable, and then get back to having a glass of champagne and relaxing. Make sure this is one of your questions to ask a wedding photographer, as every photographer is different.
47. Do you offer a photo booth? Yes, we can provide a high-quality photo booth service. We'll provide everything needed, including backdrop and props. All the photo booth images are included with your wedding photos.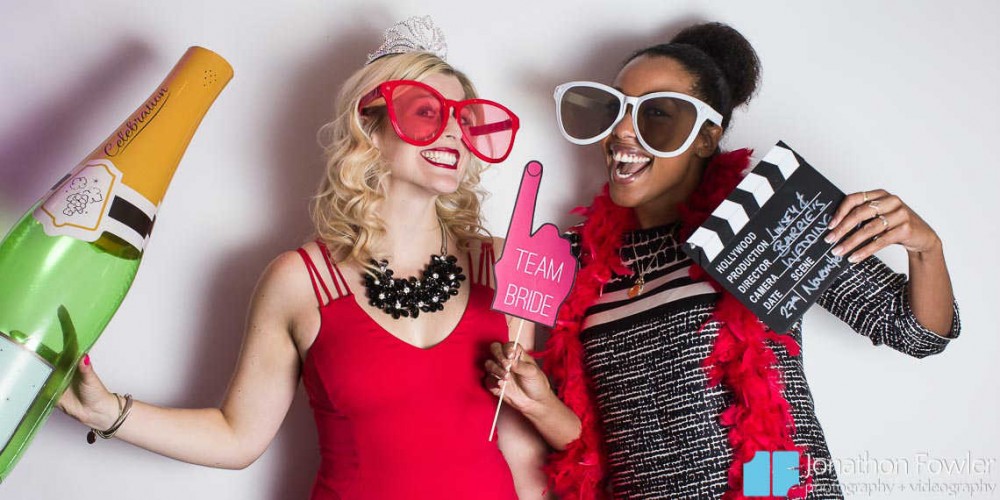 48. You can Photoshop that to make it right? Possibly. We prefer to 'get it right' at the time we shoot each photo – location, poses, camera settings should ideally all be 'just right' when we take your photos. If your Best Man photobombs us, we'll re-shoot the photo rather than spend an hour editing the image in Photoshop. We recommended this as one of your questions to ask a wedding photographer, as you need to be aware many photographers will charge extra for extensive editing in Photoshop as it's a time-consuming process. Our advice? Get it right when you take the photo!
49. When will I see my photos? During the off-peak season, January – February, your photos can be ready to view online in about two weeks. For weddings taking place during the busier summer months and through to Christmas, we aim to have the gallery ready to see by your first month anniversary, though 8+ weeks can be necessary if we've been particularly busy/taking into account holidays. We always update you shortly after the wedding day, so you have a firm idea of when to expect your photos.
50. Do I get digital copies of my images? Yes – all of our clients will receive the high-resolution, watermark-free JPEG files of the photos. You'll receive a download link, via email, containing the photos in addition to your password-protected web gallery. We still retain the copyright to the photos that we create, and you're licensed to use the photos for personal use. This means that you can share your photos with family and friends, and you can display the photos on your own Facebook page, but you're not allowed to share the photos with venues, suppliers, etc. without our written permission. We're usually happy to share photos with other suppliers and venues, but we want to ensure that you and your photos are only ever shown at their very best, and also make sure appropriate credit is given when a photo we've created is displayed or used for commercial purposes.
51. How many photos do I get? You can usually expect to receive between 50 and 100 photos per hour of coverage. For all-day coverage of your wedding (preparations in the morning until dancing in the evening), that usually means 600+ unique photos.
52. Do you provide retouching, colour adjustment or other corrective services? Yes we do. Every single photo is individually checked and edited. The editing can include pimple removal, cropping, skin smoothing, and always includes image colour correction, contrast adjustment and sharpening. The final editing stage is making black and white copies of all of your photos.
53. What type of wedding albums do you offer? How does the album design process work? We offer a comprehensive range of luxury wedding albums, all handmade right here in Scotland. We design your wedding album, using photos selected by you. Most wedding clients receive more than 400 wedding photos. We'll advise you on how to choose the photos for your album (explaining how to tell the story of your wedding day with your selection). This allows you to include all of the photos that you really want to include in your album. Add this to your list of questions to ask a wedding photographer as other photographers prefer to dictate the entire album design process from start to finish. That's OK, and we're certainly happy to do this if you prefer to be less 'hands-on', but beware you might receive an album that is missing a few of your favourite photos, as your favourites might not be your photographer's favourites. When we place the order with the album manufacturer, it takes about 10 days for the completed album to arrive with you. UK delivery is included in the price, worldwide delivery is available for an additional charge.
54. When will I receive my Wedding Album? As a guide, from choosing your photos to be used to design your album, to receiving your completed album typically takes between two and eight weeks. When you receive your download link to your photos, we'll provide guidance on how to choose the photos to go in your album. We think it's important that you choose the pictures, and we design the album. This ensures the wedding album contains only the photos that you want. We'll then design your album and show you the layout via a PDF file. We're happy to tweak the design to ensure your complete satisfaction, and then the design is sent to the manufacturer. It then takes approximately 10 days for the finished albums to be completed. To summarise, the sooner you select the photos to go into the wedding album, the sooner we can design it and send it to the manufacturer!
55. Can you put together a slideshow of our favourite photos? Yes, we can. A slideshow is a popular upgrade that can be edited to music that you choose, and if you prefer you can also choose the photos to appear in the slideshow, making the show completely personal and unique.
56. Can I order prints of my photos? Yes, of course. Your photos will appear on your password-protected gallery which you're welcome to share with family and friends. You can order a range of gallery-quality prints directly from your gallery. All prints are created here in Scotland by the UK's leading print facility (trust me on how good these guys are, for seven years Jonathon ran a busy print and design business in Edinburgh, we know top quality when we see it!). Smaller prints are usually shipped same working day (Monday – Friday) for orders placed before 12 pm, with larger prints such as canvasses or framed prints typically taking up to seven working days. Our advice is not to let your photos sit hidden away on your hard drive or disk. Remember – one or two wall-mounted prints of your wedding day, probably the best day of your life can make you smile on even the most miserable winter's day!
57. Will you be posting about our wedding on your social media sites (blog, Facebook, Twitter, etc.)? Possibly, as long as you're happy for us to do so. We usually post a small selection of our favourite photos of your wedding day on our Facebook and Instagram pages as a little teaser within a few days of your wedding, and follow this up with a blog post containing a wider selection of photos of your big day. Bear in mind that sharing a few photos is the key way to promote what we do to a wider audience, and we'd never share images which show you or your wedding day at anything other than their very best. Bear in mind that almost all of our clients' first impression of what we do is seeing someone else's wedding photo/s on our website/social media/advertisement. We totally respect your privacy, and if you'd prefer to keep all of your photos private then we're happy to oblige.
58. Will you be submitting our wedding photos to magazines or blogs? Possibly. If you've indicated that you prefer total privacy then no, your photos will always remain private. Sometimes a wedding magazine or blog will approach us to ask for images. For example, they might be doing a feature on wedding cakes and ask if we have any unique/unusual wedding cake photos. Or they might require photos of shoes or a confetti shower. Or a wedding blog writer reads our blog post about your wedding day and love it so much they'd like to feature it on their own blog. In these instances, we're usually happy to share photos, as we get credit for the photo (a credit is a link to our website or my name next to the image) which in turn is a great way to showcase our work to future wedding clients.
59. May I have a list of references or do you have any reviews? Yes, this is important. We have lots of wonderful feedback from our clients, available to view both here on our website, as well as independent sites such as Google and Trustpilot. We have a selection of clients who are happy to recommend us should you wish to discuss the service we provided them in more detail.
60. Can you recommend any other sources for wedding tips and advice? Absolutely! We highly recommend The Scottish Wedding Directory and We Fell In Love wedding blog.
Further Reading
Thank you very much for reading this far! We hope you found these Questions To Ask A Wedding Photographer useful. Before committing to booking your wedding photographer, make sure the final questions you ask yourself are:
1. Do I feel a connection with this photographer as well as their photos? Are our personalities a good match?
2. Am I comfortable with this photographer's work and their communications?
3. Has the photographer listened to me and addressed any concerns I might have?
Make sure you've read our guide on how to choose a photographer, then get in touch here, or call Jonathon directly on +44 (0) 7815 517604.