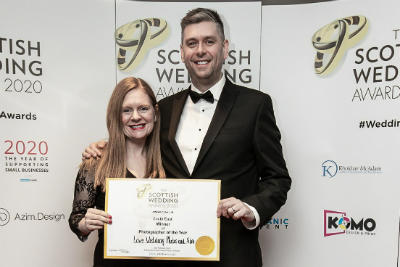 We're Jonathon and Claire, your award-winning wedding videographer in Edinburgh.
We've been filming the very best Scottish wedding videos since 2006. It's always an honour filming weddings at Scotland's best wedding venues. All of our weddings are filmed and edited in our signature cinematic style for compelling viewing, with the emphasis firmly about telling the unique story of your wedding day. Making a video of your wedding day genuinely gets us excited!
Jonathon is one of a select few Scottish wedding videographers to have previously qualified as a Master Member of the Institute of Videography.
We're also CAA qualified and insured drone operators, offering a unique and engaging addition to many of our wedding videos.
As the leading wedding videographers in Scotland, we promise you excellent attention to detail and a wedding film that you'll want to watch and share again and again.
Best of all, we manage to do this without interfering with your wedding day, working discreetly and unobtrusively, allowing you to relax and enjoy yourself.
View our wedding videographer prices
Scottish Wedding Videographer Samples – Cinematic Wedding Films
Sit back and relax spending a few minutes viewing a selection of some of our favourite Scottish wedding videography samples below. These are 'highlights edits' – shortened versions of the very best bits of your wedding video edited to music of your choice (we always allow you to choose the music for your film, ensuring a truly personal edit).
Carlowrie Castle Highlights Edit
Read our blog post about being Marish and Dougie's wedding videographer at Carlowrie Castle Edinburgh
Scottish Borders highlights edit
Read our blog post about being Kerry and Liam's Scottish Borders wedding videographer
Dunglass Estate highlights video
Read our blog post about being Marielle and Graham's Dunglass Estate wedding videographer.
Isle Of Skye Elopement highlights video
Read our blog post about being Alanna and Brianna's Isle Of Skye wedding videographer.
Carlowrie Castle highlights video
Read our blog post about being Amrita and Ryan's Carlowrie Castle wedding videographer.
Edinburgh wedding video highlights video
Read our blog post about being Suzie and Kevin's Bellfield Portobello Edinburgh wedding videographer.
Neidpath Castle pre-ceremony highlights edit
Neidpath Castle wedding videographer for Tiffanee and Brian.
Sutherland beach wedding highlights video
Read our blog post about being Sally and Martin's Sutherland wedding videographer.
Dundas Castle wedding highlights video
Dundas Castle wedding videographer for Laura and Brett
Waldorf Astoria The Caledonian Hotel wedding video highlights
Read our blog post about being Joy and Nick's Waldorf Astoria The Caledonian Hotel wedding videographer.
View our wedding videographer prices
Choose your own video title
Choose from 20 fabulous titles to customise the opening chapter of your wedding video.
We can customise your title to include your names and wedding date.
See the options right here (best viewed in fullscreen)
Wedding Video Title Options
An example of 'Number 20' from the list above:
Wedding Video Title Example
Fabulous Feeback from our Wedding Video Customers
You will ♥ working with Love Wedding Photos And Film! Find out more by reading our wonderful feedback from happy couples…
Check out much more of the wonderful ★★★★★ testimonials from our fabulous couples here.
Love our videos and feedback? Please do contact us to check our availability and to arrange your free consultation. We would love to hear from you, find out about your wedding plans and have an informal chat about discreetly filming your wedding day in our signature cinematic style.
Real Wedding Videos Blog
Check out more of our wedding videographer in Edinburgh and Scotland videos of real couples, ceremonies and venues – click on the photos below to see our latest Scottish videographer blog posts.
View more wedding videography blog posts
Love Wedding Photos And Film – Cinematic videos telling the story of your day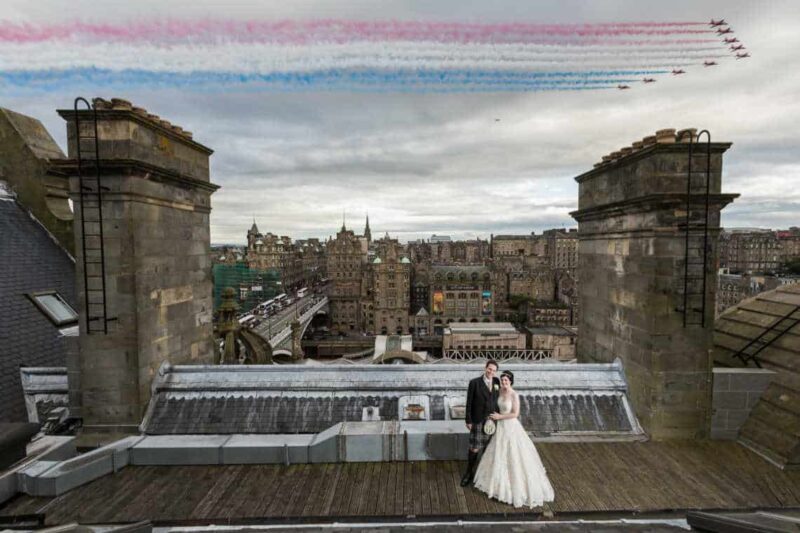 Both of us were born in Scotland's capital city in the seventies, we've lived in Edinburgh since the nineties, met and fell in love in the noughties. Being wedding videographers in Edinburgh is a way of life for us, our true vocation in life. We'd like to share with you our passion for filming life's big moments, it's what we love to do.
We married each other back in 2006, and drew inspiration from our own big day. Naturally creative, we saw filming weddings as an exciting and incredible journey to embark on; Jonathon Fowler Photography & Videography was born.
When our journey began we offered a wide range of videographer and photographer services. By 2018 our attention had shifted to what we love most, telling you the stories of your wedding day, welcome to Love Wedding Photos And Film.
With our years of experience our speciality is creating cinematic, engaging and memorable wedding videos. Our work has caught people's imagination and appeared in the national press and on Scottish Television and the BBC. We are also honoured to be recommended wedding videographers at many of the best wedding venues in Scotland.
Have a look around our website and you'll see that our approach to filming videos is always 'telling the unique story of your wedding day'.
Your wonderful story is waiting to be told; we would consider it a privelege to be allowed to tell yours.
Our Favourite Wedding Venues In Edinburgh
We've had the pleasure of being wedding videographers and a recommended supplier in many of the very best venues in Edinburgh since way back in 2006. We've shared here a few of our favourite Edinburgh venues for weddings, including useful information and videos we created at these magnificent Scottish wedding venues.
We've enjoyed filming at every venue imaginable, from historic castle weddings to beautiful beach weddings, humanist ceremonies on the side of a mountain, to civil marriage ceremonies in Edinburgh's Registry Office. Take a look at all the wedding venues in Scotland where we have been allowed to get creative.
Your wedding video is an investment in memories that become more precious with time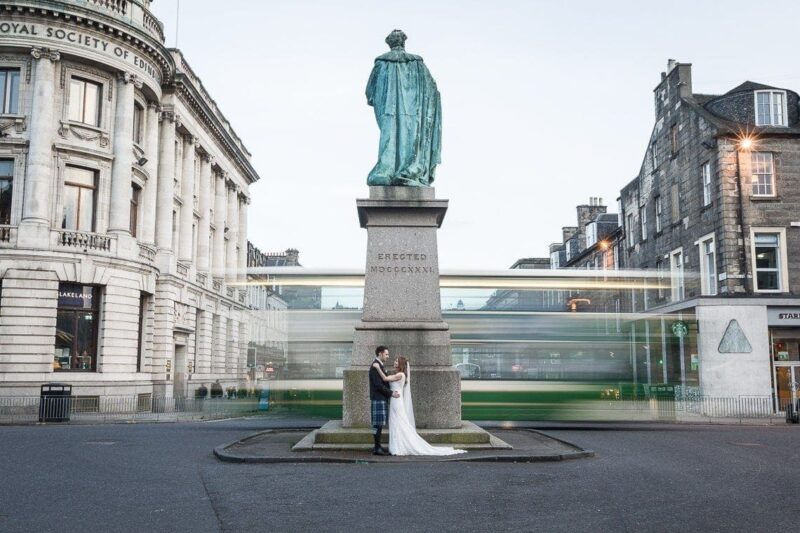 Whether you are planning a secret elopement wedding in Scotland, or searching for an experienced videographer to film your Humanist marriage ceremony, we have your day covered. We are also an authorised drone pilot, perfect for filming unique cinematic drone footage of your venue.
As a husband and wife videography team, we work seamlessly in the background while letting the story of your day unfold naturally. We then work our creative magic on your footage and create an outstanding video you will want to view and share again and again.
For us, the little things matter. With brilliant attention to detail, our videos of weddings encapsulate the emotion, love and wonderfully unique moments that make your day yours. Every video is personally filmed, edited and delivered by us, ensuring a single point of contact from day one.
We're one of the most experienced wedding videographers in Scotland; since 2006 we've had the pleasure of filming and photographing almost 500 wonderful Scottish couples.
Getting married is one of the best days of your life. Make sure you treat yourselves by hiring two highly experienced wedding videographers in Edinburgh and Scotland.
FAQs About Hiring A Videographer in Edinburgh
How far in advance should I hire a videographer?
Please contact us as soon as possible as we tend to get booked between 1 and 2 years in advance. We regularly film smaller off-peak and elopement weddings and we are always happy to consider last-minute bookings. Contact us as soon as possible to avoid disappointment.
How is the wedding videographer price calculated?
Our wedding videographer prices are based on the number of videographers hired, the number of hours required, the location of your wedding and the wedding date. During peak times (public holidays, summer months, Fridays and weekends) we usually charge higher prices. Contact us with your wedding details, as we often have special offers and are always happy to create bespoke wedding videographer pricing upon request.
How much does your wedding videography cost?
Our wedding videography prices start at just £349 for one videographer. The price will be more for full-day coverage and adding an extra videographer. You can view all of our wedding video prices right here on our website.
What areas do you cover?
We are wedding videographers in Edinburgh, so mostly cover the Lothians (Midlothian, East Lothian and West Lothian), Scottish Borders, Fife and Central Scotland, and are often hired as videographers in Glasgow and the rest of Scotland. We are happy to consider filming weddings anywhere in the UK. Take a look at the many venues and location in which we have filmed weddings.
Why should I choose you as my wedding videographer?
We have been wedding videographers since 2006 and have filmed and photographed almost 500 weddings and we are currently one of the highest-rated Edinburgh wedding videographers on Google reviews. Our extensive videographer experience includes qualifying as a Master Member of the Institute Of Videography and being a qualified and insured drone operator. We are also honoured to be the preferred wedding videographer at many of Scotland's very best wedding venues, trusted by our fellow wedding professionals to consistently provide the very best wedding videos and service.
Do you have insurance?
Of course. We are fully insured, with public liability insurance, professional indemnity insurance and equipment insurance. We are also authorised and insured for flying our drone, offering you a unique perspective for wedding videos. We also advise that you take out comprehensive wedding insurance to cover your wedding for all eventualities.
Do you offer elopement videography?
Yes, we do. We are the leading elopement videographer in Edinburgh, with extensive experience of small and intimate weddings at Edinburgh City Chambers. We also love filming elopement weddings across Scotland, with recent weddings in Skye, Sutherland and the Scottish Highlands.
Why do you provide two videographers?
Because two wedding videographers offer more coverage and a single videographer cannot be in two places at the same time. For example, while Claire films the girl's preparations, Jonathon can film the boys getting ready. Two videographers also offer optimum coverage of those once-in-a-lifetime video opportunities; when you are announced as newly-weds and have that wonderful first kiss, Jonathon films you kissing while Claire films your family and guest reactions. Two videographers are not always necessary or mandatory, however, if you want the best coverage we always suggest our wedding packages with two videographers.
How is the wedding video delivered?
We deliver your wedding video via digital download and password-protected web page. Downloading is better than a USB for many reasons; downloading your video is faster than posting a USB drive; you can share a download link with family and friends; your devices (iPad, notebook, phone etc.) do not have a USB port; we keep your downland link active for at least a year (usually much longer, typically several years) providing you with a great backup option. Your web page enables viewing from practically any device capable of viewing YouTube videos.
What is the delivery time for my video?
Delivery times for a wedding video can vary between 2 weeks and 16 weeks. As our wedding year progresses our delivery times are towards the longer of these times because we are always in-demand and never outsource any of our editing.