Our wedding videographer prices are straightforward and created to make your journey of finding wedding videography prices as easy as possible.
Choose from the wedding video packages displayed below, then fill in the contact form to check our availability and arrange to chat about filming your day.
What We Include With Every Booking
1. Free Consultation.
Our meeting costs nothing more than your time. Chat and discover with no pressure to book. Meet us in person, or choose our video call option via Zoom or WhatsApp.
2. Ongoing support and ideas.
Help and advice about anything wedding-related, from our initial meeting until your wedding day and beyond. With years of experience, we have many tips and lots of advice to share.
3. Discreet multicamera cinematic filming.
Storytelling your day in our signature cinematic style, using small cameras that you won't notice on the day. Carefully edited to add the wow factor to your video.
4. Crystal-clear dialogue.
Discreet lapel microphones to record crystal-clear audio of the ceremony vows and speeches.
5. Your choice of music for the editing.
Perfect personalisation: Choose any songs to be used as backing tracks for your video.
6. Bespoke opening credits.
Choose from 20 fabulous titles to customise the opening sequence of your video.
7. Don't miss a moment.
Feature-length edit with the full length of the ceremony and speeches included in their entirety.
8. High quality video file with unlimited downloads/shares.
Save, share and backup your video in super-high quality, with no limit to the number of downloads/shares. Video supplied as a digital download MPEG4 video file (playable on most devices).
9. Stress-free backup of your video for at least 2 years.
Minimum two years of online backup of your video gives plenty of time for you to download and save your video for future viewing.
Wedding Videography Prices
Collection One
£1495
One Videographer
Coverage begins with guests arriving at the venue until the first few dances in the evening
£200 – Include morning preparations
Video supplied as feature-length edit (full ceremony/speeches/dancing)
Collection Two
£1895
Two videographers for the best coverage
All-day coverage begins with morning preparations until the first few dances in the evening
Also included in the price: same as Collection One PLUS:
One extra videographer (2 in total)
Drone footage (subject to CAA regulations and suitable weather)
Collection Three
£325 per hour
Micro wedding/Elopement – One Videographer
Minimum booking 2 hours
Available for off-peak micro weddings and elopements only
Choose when coverage begins and ends
Video supplied as feature-length edit (full ceremony/speeches)
We can also provide combined photographer and videographer pricing. Check our combined wedding photographer and videographer prices.
View our combined photography and videography packages
Wedding Videographer Prices – Upgrades
Highlights Edit – £495
Upgrade your video package to include a shortened 'highlights edit' of your video. The highlights edit contains all the best bits of your big day. You choose the music, and we do the rest! This is our most popular upgrade, ideal for reliving the best special moments of your day. A typical highlights edit is between 5 and ten minutes long; the perfect way to show your day to family and friends.
Drone Footage £300
Why not add that extra-special ingredient to complete your video cinematic look by including breathtaking drone 'establishing shots' of your venue?
We're fully trained and authorised by the Civil Aviation Authority to operate our drone. We're also comprehensively insured for drone flying.
View an example of our cinematic drone footage, filmed at Borthwick Castle in Midlothian.
Guest Messages – £300
Photobooths are a fun upgrade for every wedding. Why not go one step further and include this popular 'Guest Messages' upgrade instead?
We set up a video camera and microphone for one hour and invite your family and guests to leave goodwill messages.
This makes for an entertaining, funny and, at times, emotional ending to your video!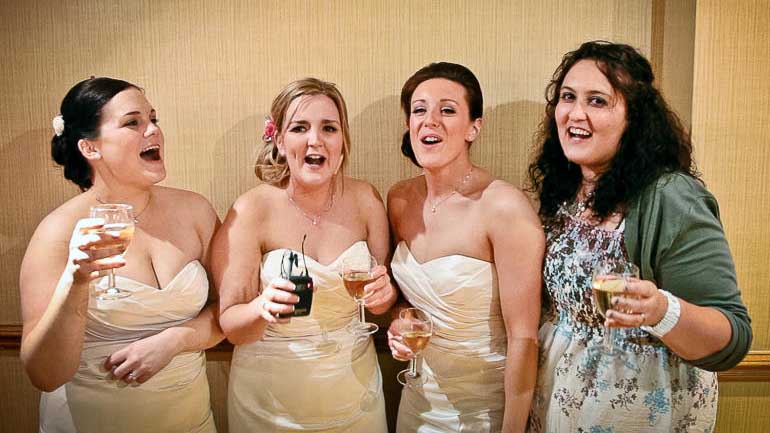 Photo Sequence From Your Video £300
Photos captured straight from your video and sent to you via download link.
We capture one photo per second of video = 3600 images per hour of video.
You'll be amazed at the moments we've saved – the perfect way to compliment your photos.
Click below to view a photo taken straight from a real video. The image resolution is 1920 x 1080 pixels, ideal for small prints and sharing on social media.
Videographer Blog – View Our Latest Adventures
Click on the photos below to view our blog posts about some of our amazing days at a wide range of beautiful venues in Edinburgh and Scotland.