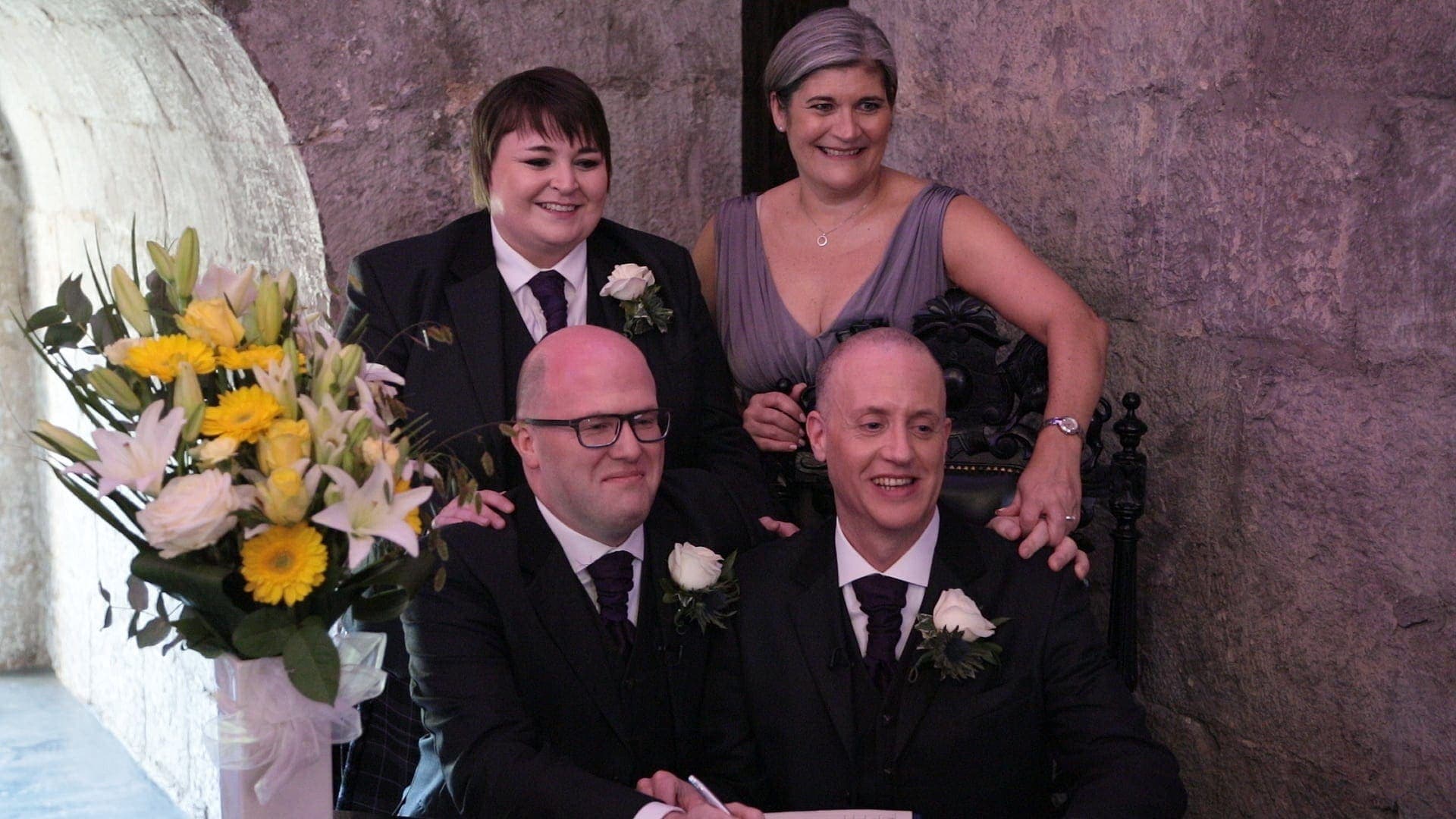 We were delighted to once again be Borthwick Castle wedding videographer for another exquisite Scottish wedding day.
Having met Chris and Lee a few weeks before their wedding day, we were honoured the boys invited us to film their fabulous gay wedding.
Only a short drive from Edinburgh, Borthwick Castle sits elegantly, nestled in the beautiful rural landscape near the small village of North Middleton.
This impressive 15th-century fortress has history, style and luxury in abundance. Beautifully and sensitively restored and refurbished, Borthwick Castle is simply a stunning, exclusively private use wedding venue offering romance and sophistication.
Our day started taking some aerial drone footage of the impressive castle and the surrounding gorgeous countryside.
We couldn't wait to see our lovely couple. Lee and Chris were getting ready together in the fabulous Gatehouse of Borthwick Castle.
The Gatehouse is an entirely private suite, oozing in luxury and opulence. Centre stage, a marble roll bath and a 'replica four-poster marital bed of King Henry VII' for the added wow factor. A log burning fire, luxurious drapes and stunning fabrics, this suite is decadent and refined.
Lee, Chris and their best women cracked open a bottle of champagne and exchanged gifts with their Best Women during their final preparations in The Gatehouse.
We captured candid film footage and detailed shots of the boys as they put on their dapper wedding outfits, Lee in a full kilt outfit and Chris in tartan trews.
As wedding guests took to their seats in the Garrison room of Borthwick Castle, they enjoyed a modern mix of songs played by talented harpist Sarah MacNeil. The Garrison not only looked beautiful, filled with fresh florals by Bonnyrigg Flowers, but it also smelt fabulous, too.
Lee and Chris exchanged their wedding vows with a beautiful, personable Humanist ceremony hosted by celebrant Marilyn Jackson. Emotions ran high, as our couple tried to hold back the tears. It was clear this meant the world to Lee and Chris. You could feel the love in the room and, there was no doubt of the importance of their commitment. Lee and Chris couldn't take their eyes off each other as they officially tied the knot.
Our newlyweds then moved downstairs to the beautiful State Room, where they had a traditional receiving line, with hugs and kisses of congratulations from all their guests.
Lee and Chris enjoyed relaxing and mingling with their guests, as Jonathon and I filmed the merriment of the drinks reception. Jody Magician provided some trickery which kept all the guests entertained, especially the kids, it was great to catch their reactions on video!
Guests were called to dinner at The Great Hall of Borthwick Castle. A room fit for Royalty, The Great Hall certainly has that impressive wow factor. With its open roaring fire adding to the romantic ambience, guests enjoyed lovely heartfelt speeches and a lavish wedding breakfast.
The evening celebrations kicked off with our newly-weds cutting their fabulous three-tiered wedding cake by Liggy's Cake Company with a lethal-looking sword, as guests took advantage of this photo opportunity.
Hand in hand, Lee and Chris took to the dancefloor for their first dance as a married couple. What a performance! All eyes were on the boys as they danced together to their special song, 'All The Lovers' by Kylie Minogue like they were the only ones in the room.
It was the perfect ending to a beautiful day being Chris and Lee's Borthwick Castle wedding videographer. Congratulations again to Chris and Lee, our memories of your day are filled with happiness, love and warmth.
5-Star Feedback
Wedding Videographer At Borthwick Castle – Opening Sequence Of The Wedding Video
The short video below shows the first couple of hours of Chris and Lee's wedding day edited down to a few minutes of highlights.