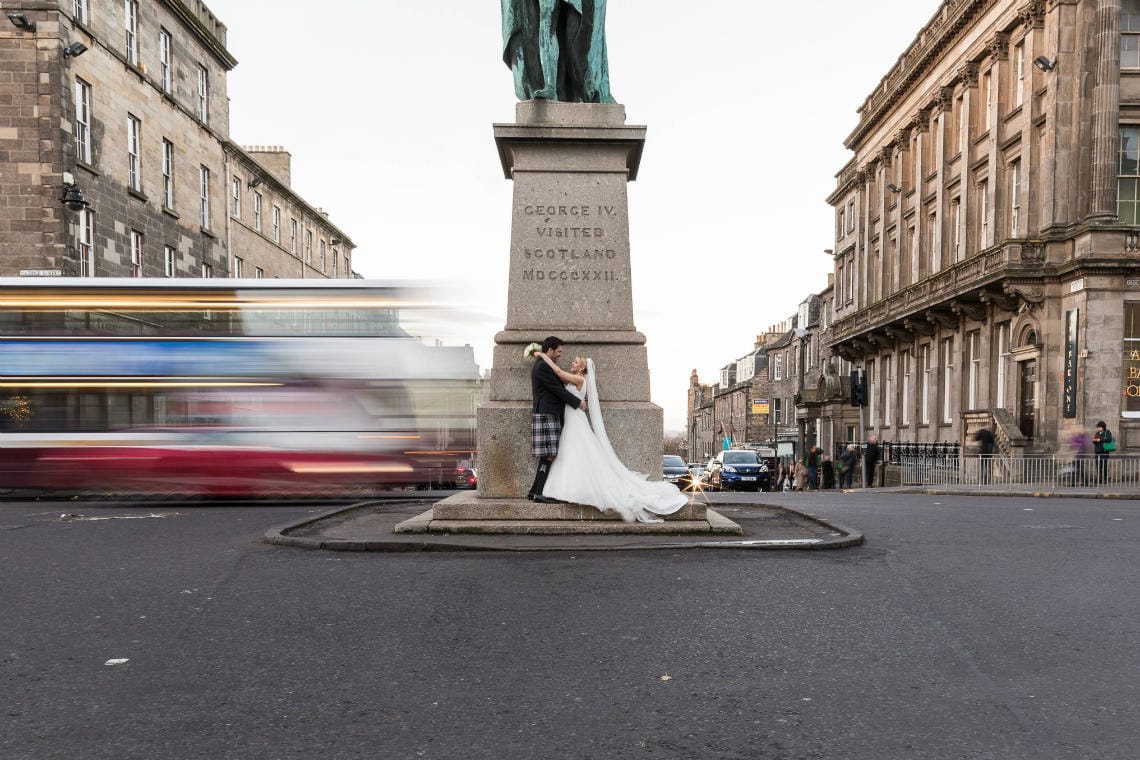 Introduction
I was invited to be Claire and Andrew's Edinburgh George Hotel wedding photographer on one of those days when everything just came together perfectly. The Edinburgh George Hotel is a historic city centre wedding venue where The Kings Hall is the most fantastic room for a marriage ceremony and celebration. Brilliant family and guests who relaxed and made my role easy for taking candid photos as the day unfolded. And most importantly, a lovely couple who were a delight to photograph and allowed me to create some really special photos of their wedding day.
I'd had the pleasure of photographing Claire and Andrew previously at our pre-wedding photoshoot at Cramond. Our photoshoot took place on a very windy day, yet Claire and Andrew kept on smiling at each other and didn't complain once about the wind. We got some great photos that day, and I knew after an hour in their company that nothing would faze them on their wedding day.
Pre-ceremony preparations
It was great to see how relaxed both Claire and Andrew were during their preparations before the marriage ceremony. The bubbly was flowing and everyone was in great spirits. I took Andrew, his Best Man and his Ushers out onto George Street for a few photos before the guests started to arrive. You can't beat a picture of the lads in kilts as they take a stroll while having a laugh and trying to unnerve the Groom!
Humanist wedding ceremony
Claire and Andrew married in a beautifully personalised Humanist wedding ceremony in the magnificent Kings Hall. I really enjoyed the story of how Claire and Andrew met, how their love blossomed and how we got to today's wedding. Literally, 'A True Love Story'!
Champagne reception and photoshoot
During the champagne reception, I whisked the newly-weds away for a few minutes to shoot a few photos on the streets around the hotel. One of my favourite photos is of the newly-weds in front of the statue on the roundabout at the intersection of Hanover Street and George Street. Slow shutter speed (and a perfectly still couple!) allowed me to capture the movement of traffic to create an interesting and unusual wedding photo.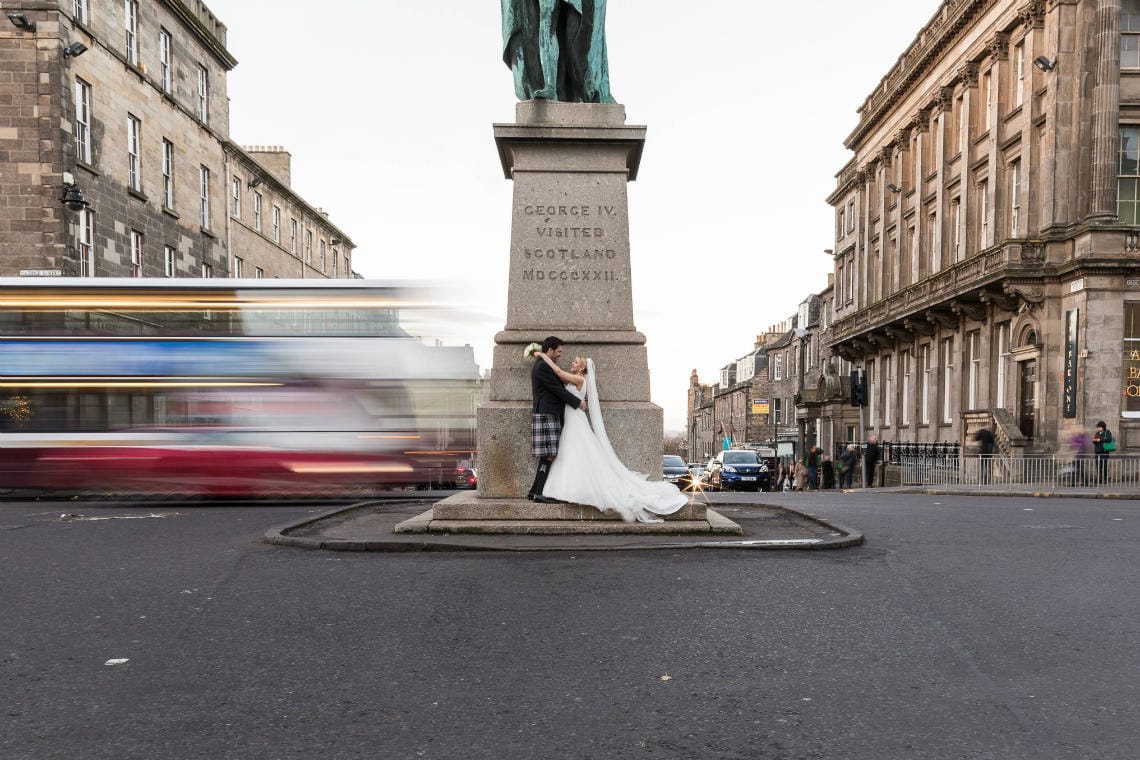 Speeches and evening reception in the King's Hall
Back at The Kings Hall, the party continued, with excellent speeches, lots of fabulous food, and ceilidh dancing into the night.
Edinburgh George Hotel wedding photographer gallery of photos
I've picked a few of my favourite photos to share with you and tell the story of Claire and Andrew's Edinburgh George Hotel wedding.