I recently had the pleasure of creating Royal College Of Physicians Edinburgh wedding photos at the marriage of Melanie and Alan. A union of Scotland (Melanie) and England (Alan) taking place in Edinburgh's historic New Town.
Bridal preparations
The day started with me covering part of the bridal preparations at Melanie's parent's home in Edinburgh's West End. The champagne was flowing, the excitement was building and the atmosphere was fun and relaxed.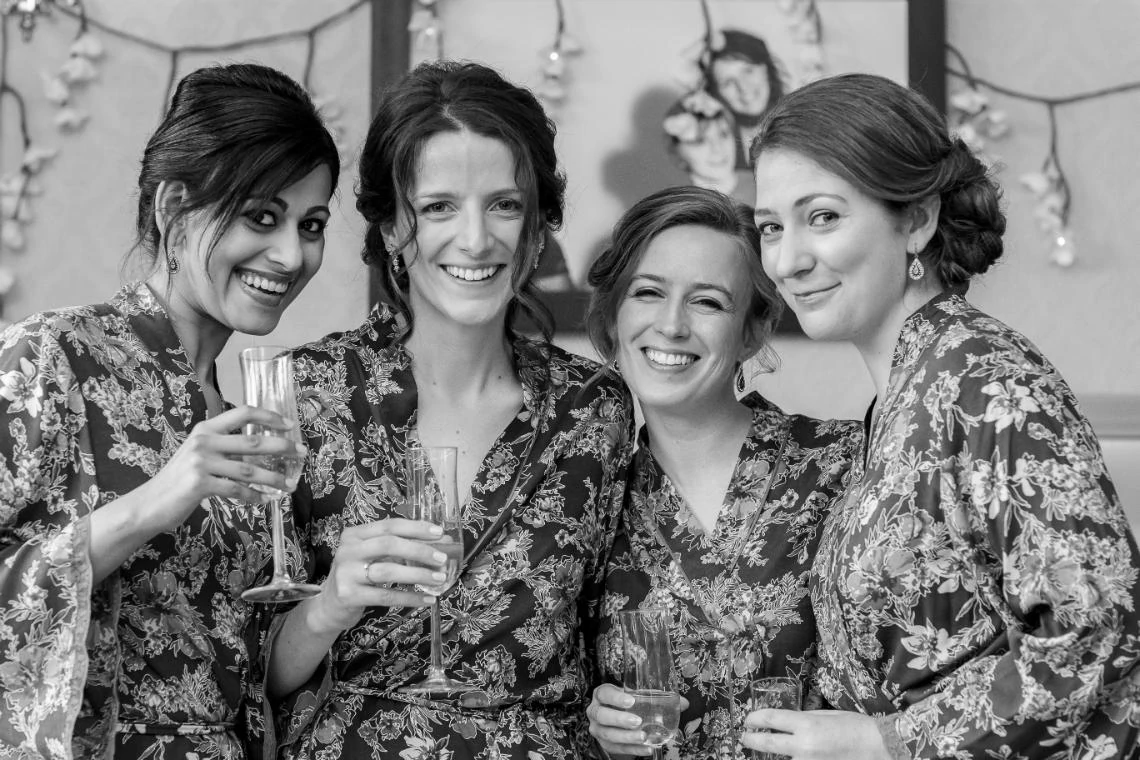 Marriage ceremony at St Andrew's and St George's West Church
I spent an hour with the girls then headed over to St Andrew's and St George's West Church of Scotland, located at the east end of George Street. This beautiful city centre church is in an excellent central location. South facing on a sunny day like this meant lots of natural light.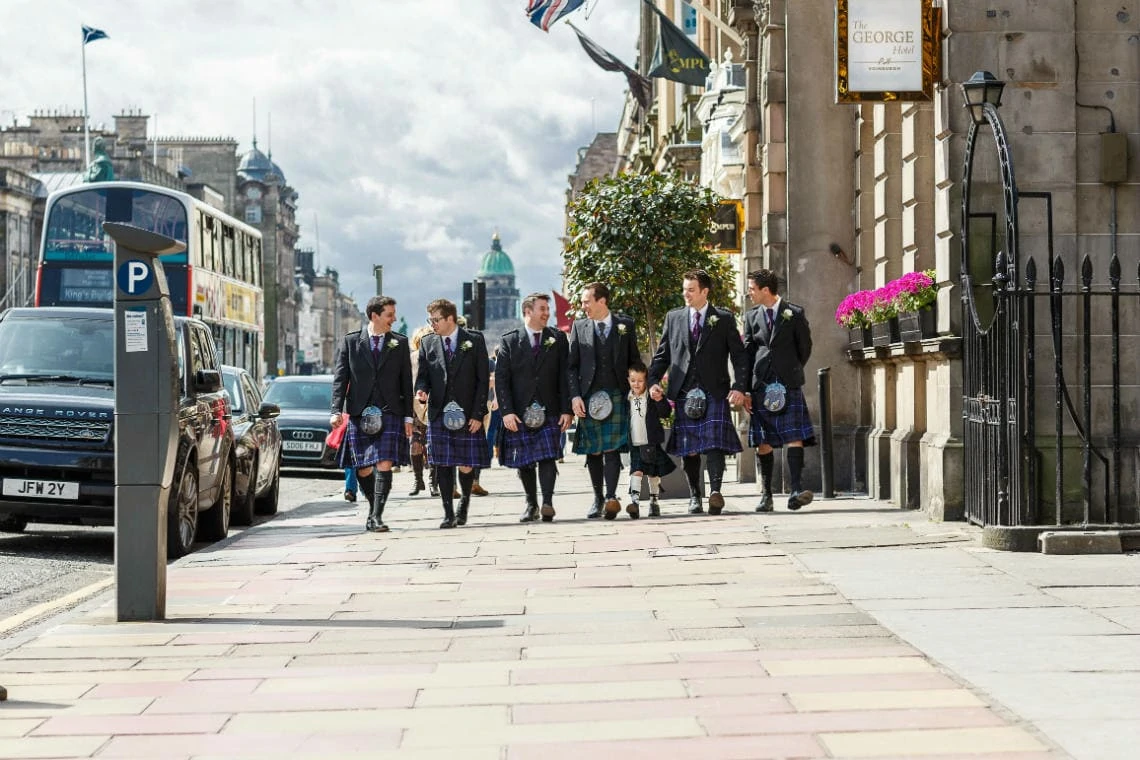 Alan and the boys were in good spirits, full of fun and looking forward to the day. I enjoyed taking photos of guests arriving. I like to shoot lots of candid photos as well as a few more 'posed' pictures of Alan and the guests. Alan and his Groomsmen chose to wear Highland kilt outfits. Impressive, considering Englishmen often consider wearing a kilt is the same as wearing a skirt!
Melanie arrived at the church in her dad's Jaguar car and after a few photos outside the church, it was time to head indoors for the traditional Church of Scotland marriage ceremony.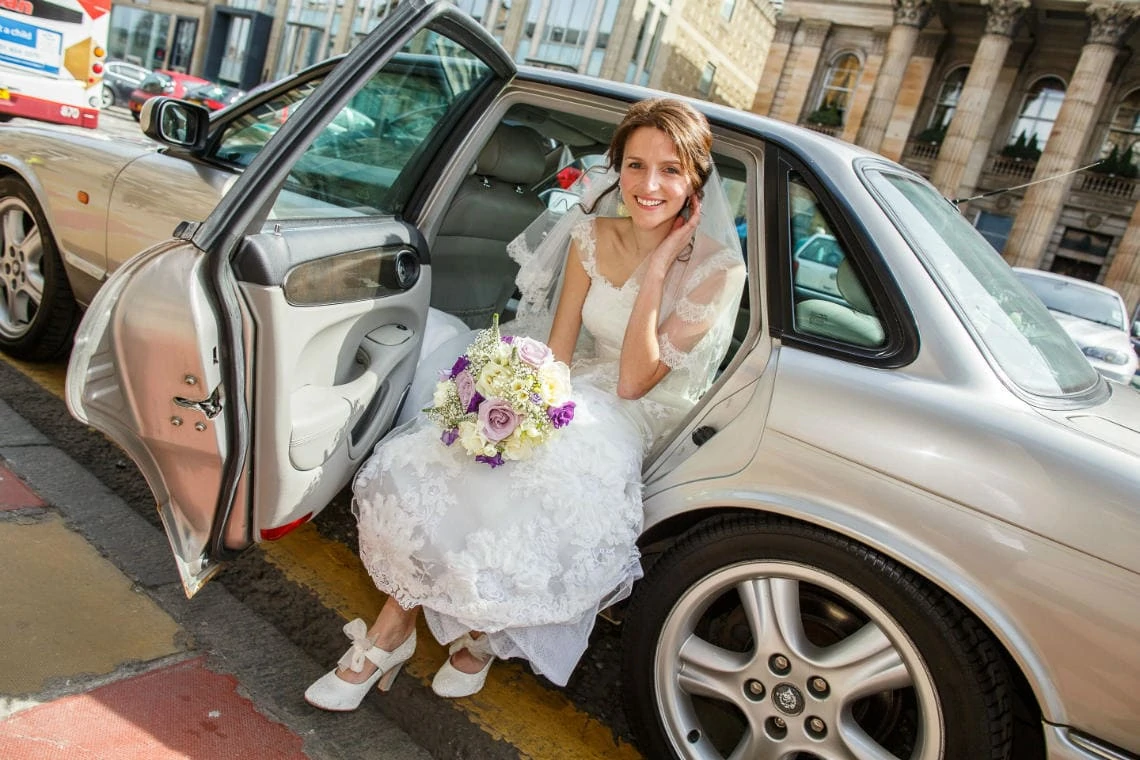 One of the highlights was the singing provided by The Rebel Choir. 120 guests plus the choir meant the hymn singing sounded magnificent and much better than the muted attempts often typical of singing in a church!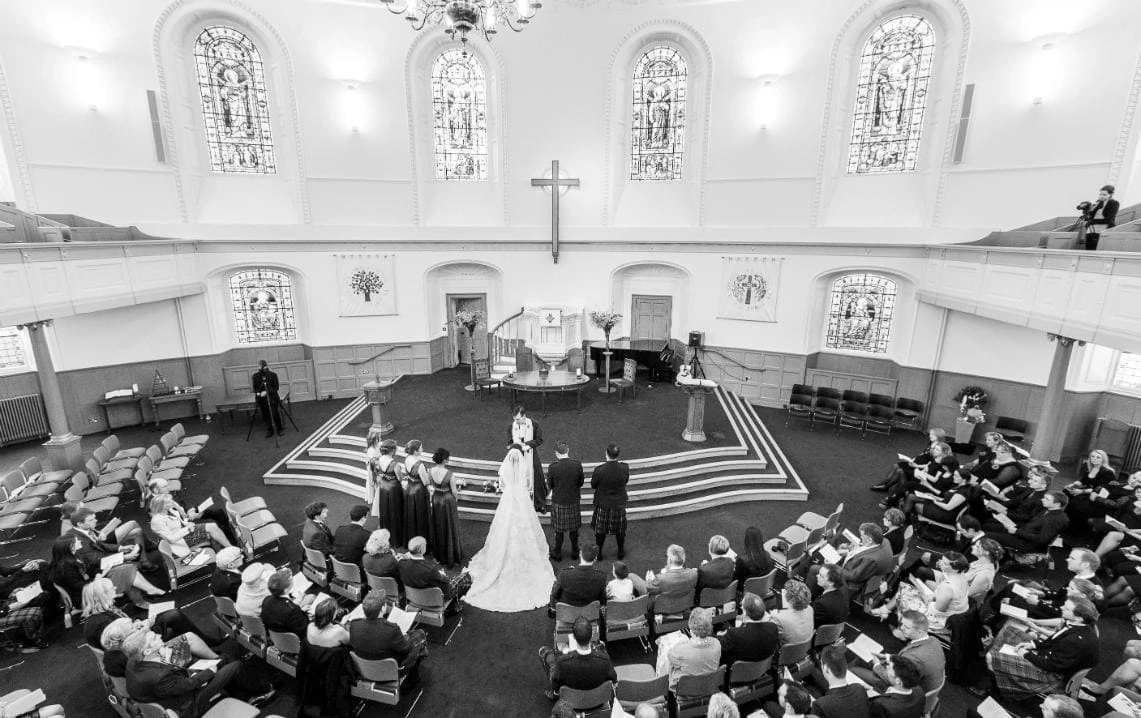 After the marriage ceremony, everyone headed out into George Street to congratulate the newlyweds and participate in the confetti shower. One thing I love about city centre weddings is the huge interest from the passing public. It's always fun to see the public having a good look to see if there's someone famous getting married!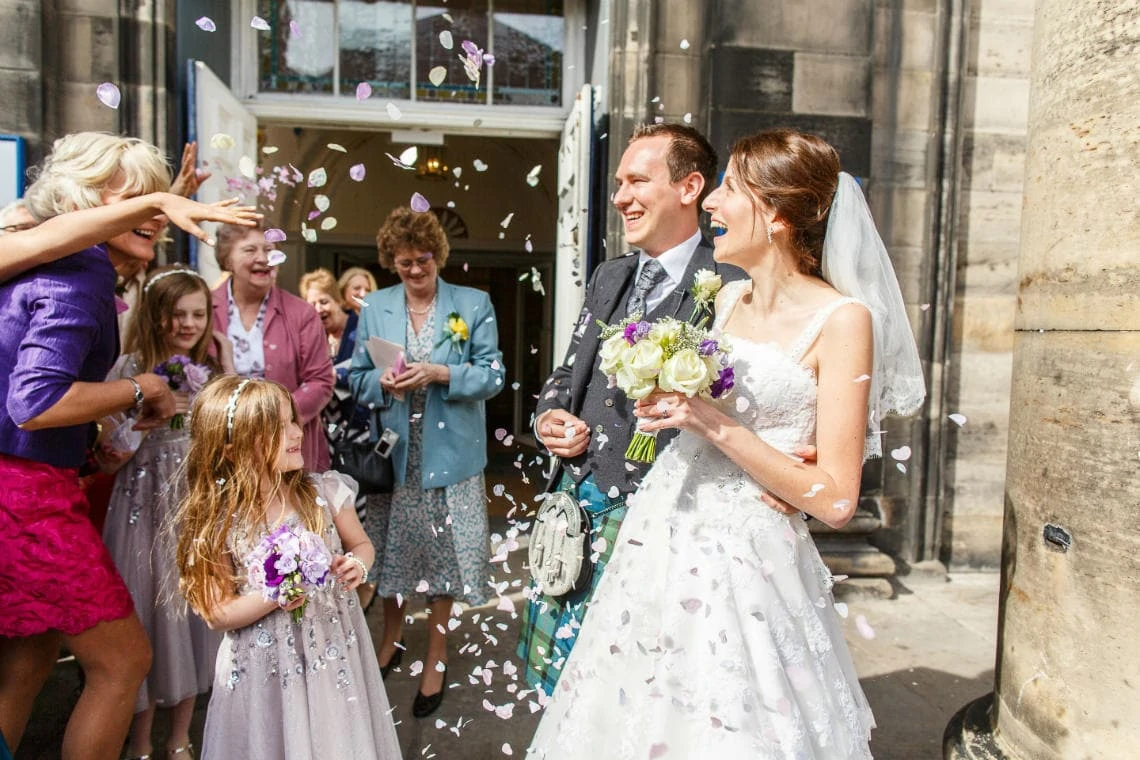 Wedding reception at Royal College Of Physicians of Edinburgh
The reception took place around the corner at the magnificent Royal College Of Physicians Edinburgh. This was my second time at this outstanding venue in a week. It was good to be back there again. From the outside, RCPE doesn't stand out from the other buildings on either side of it on Queen Street. As soon as you walk inside you think 'wow'. Walk up the wide staircase and into the Great Hall and you can't fail to be impressed by the opulent surroundings.
The guests enjoyed a champagne reception in the beautiful New Library. This room has floor to ceiling wooden bookcases containing many books several hundred years old. I set up my portable studio lighting in the Cullen Suite, where we shot the group photos. I love this wonderful wedding venue. There's plenty of room for guests to relax, for me to shoot the group photos and for everyone to move around and chill out without feeling cramped or hemmed in.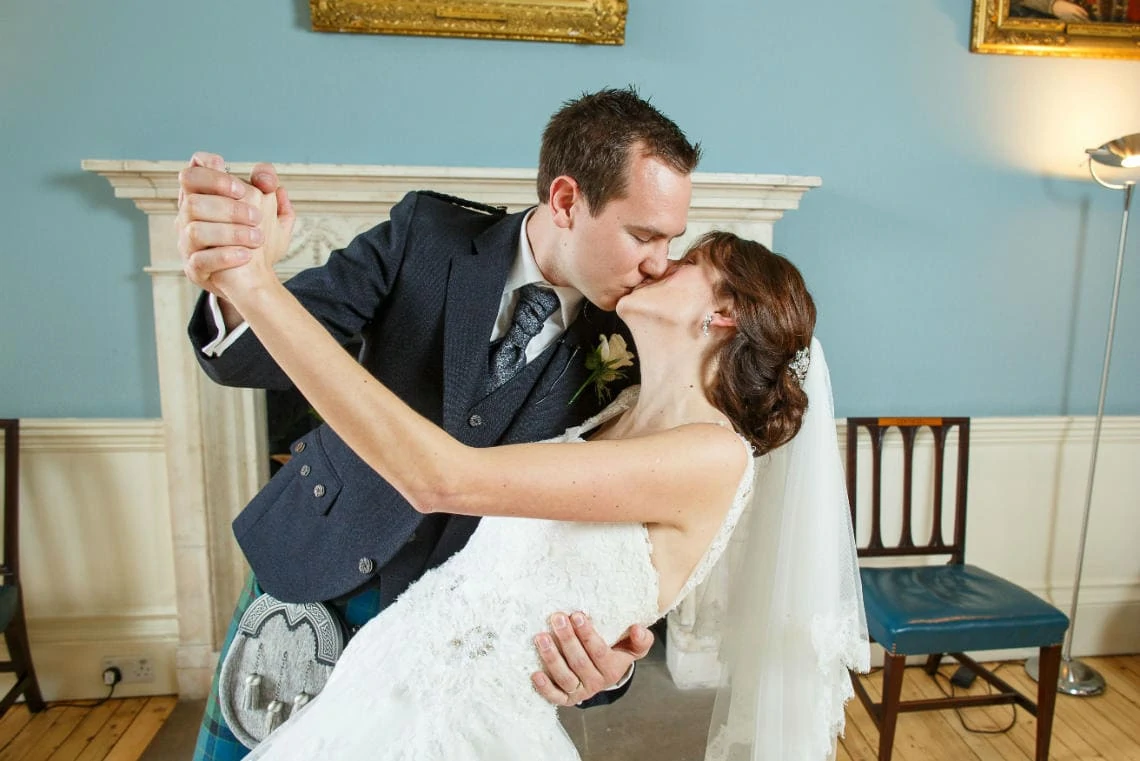 Newlywed photos on Queen Street
For the second Saturday in a row, the weather was beautiful and sunny. Melanie, Alan and I ventured outside to shoot a few newly-wed photos on Queen Street. I love doing this kind of photoshoot. These photos give me a chance to shine and capture the couple on their own for the first time.
We then went back inside to shoot a few more newly-wed photos on the staircase and in the Great Hall.
Speeches in the Great Hall
After the sumptuous meal, it was time for the speeches. These were great fun, full of humour and witty one-liners and gave me lots of opportunities to photograph people's expressions.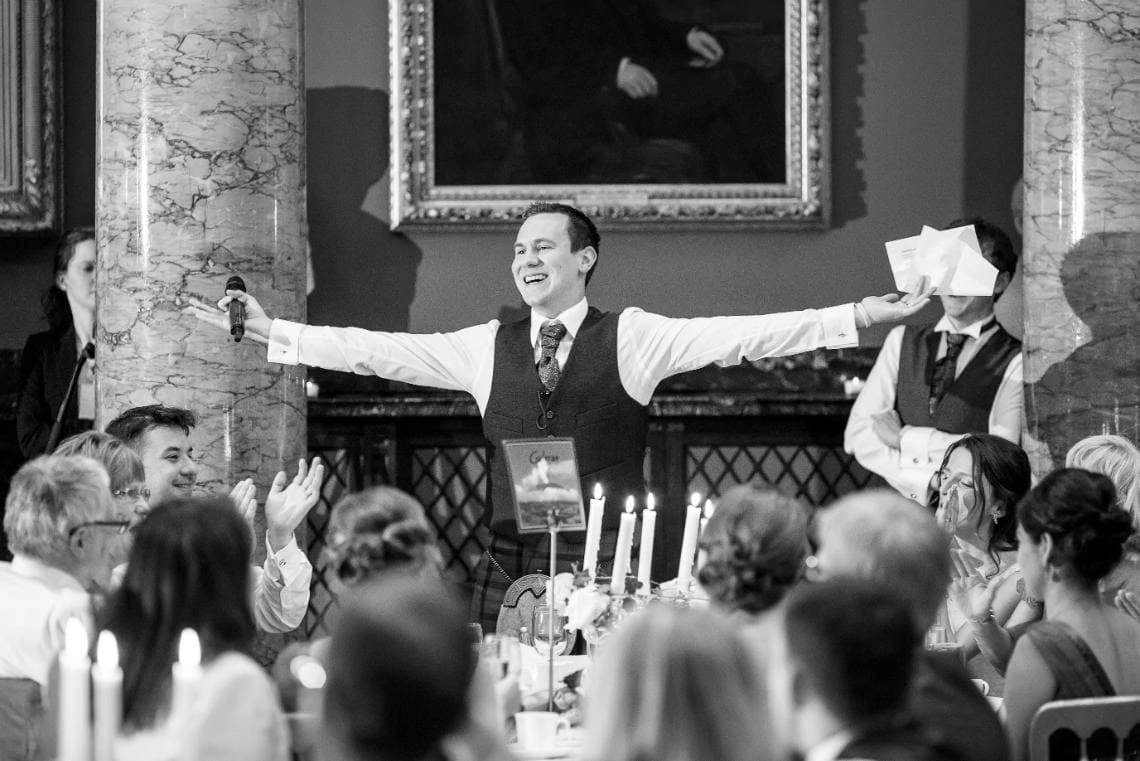 Evening reception in the Great Hall
I shot a few more group photos in the Cullen Suite as the evening guests arrived. My evening ended with the newlyweds cutting the cake and the first few dances in the Great Hall. Unbeknown to bride Melanie, a few of her friends had arranged to perform the second dance. A brilliantly synchronised group dance to Beyoncé's Single Ladies (Put A Ring On It). A great finale to a fantastic wedding day!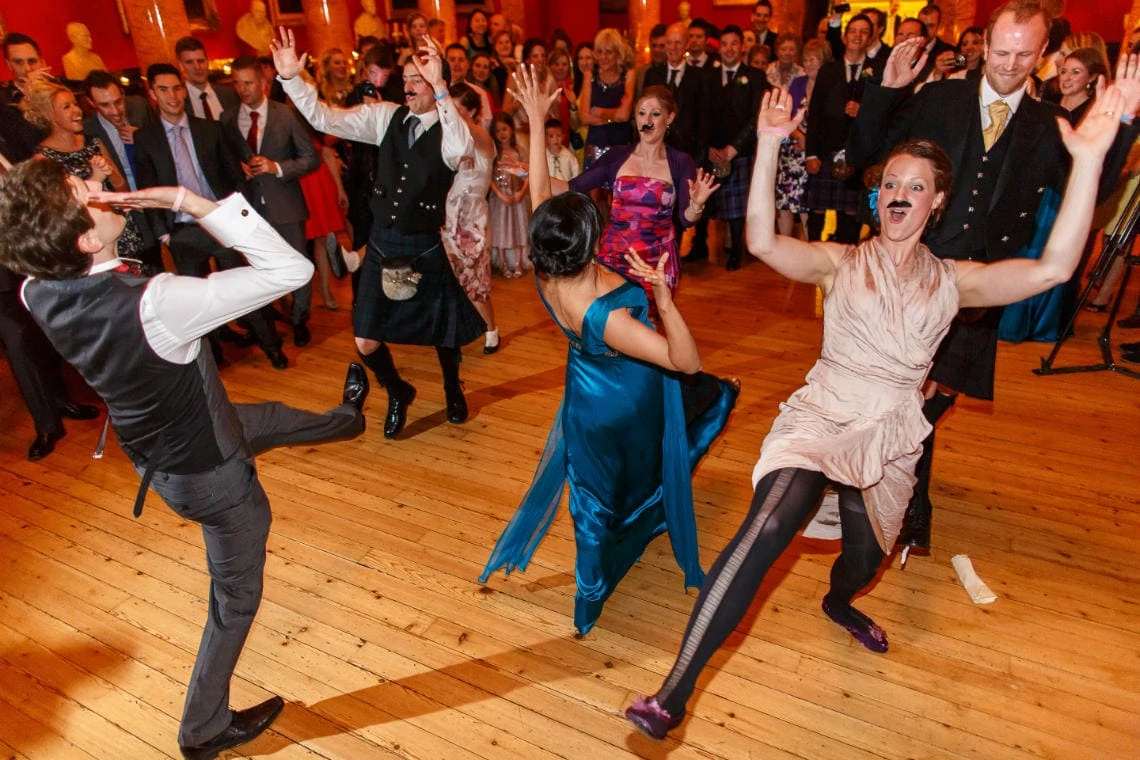 RCPE is one of my favourite wedding venues in Edinburgh, and I look forward to photographing a wedding there again in future!
Having edited the photos I can say that the photo album is going to look wonderful.
Details of the suppliers who helped make Melanie and Alan's RCPE Royal College Of Physicians Edinburgh wedding so special and unique:
Florist: Fiona Cumming Floristry
Dress: Emma Roy Edinburgh
Bridal Hair: Michelle at Charlie Miller Stafford Street
Bridesmaids Hair: Helen Foreman at Circles Hair
Cake: Too Good To Eat
Catering: Prestige Scotland
Evening Entertainment: Callanish
Royal College Of Physicians of Edinburgh wedding photos gallery
I'd like to share a few of my favourite photos to tell you the story of Melanie and Alan's fantastic Royal College Of Physicians Edinburgh wedding day.