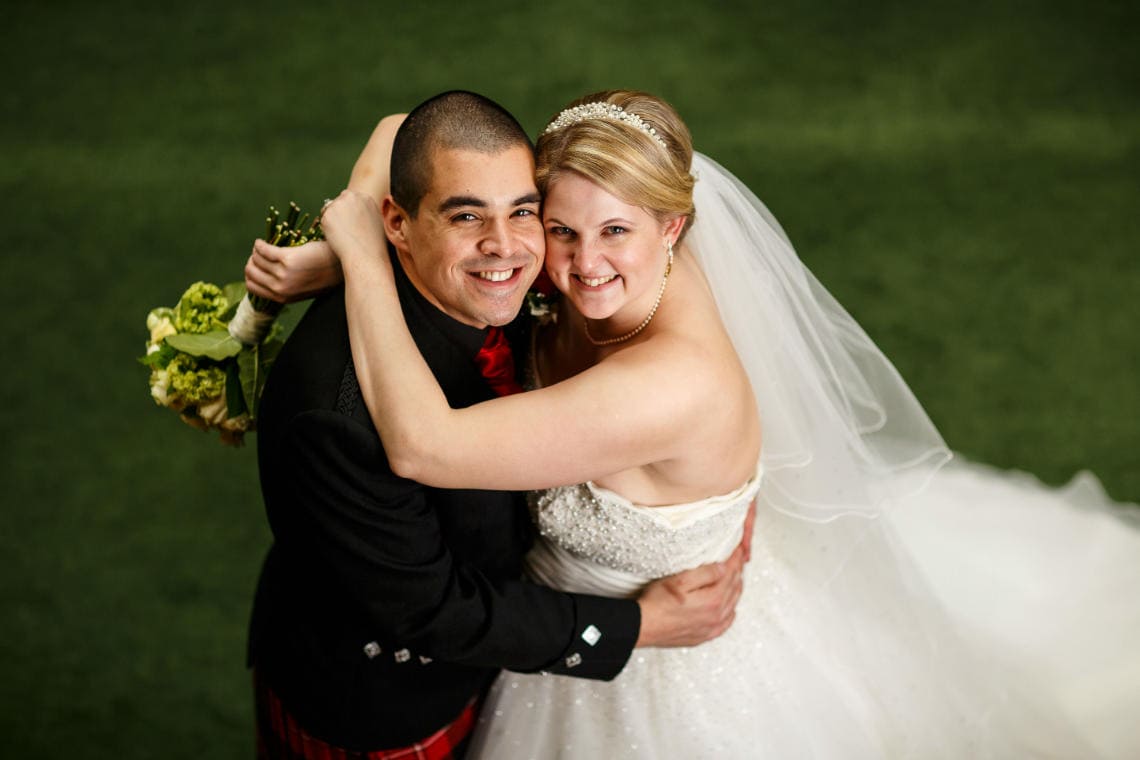 Preparations at the Royal Terrace Hotel
I've been spoiled in a fantastic week, twice being hired as a Royal College Of Physicians Edinburgh wedding photographer. Gemma and Callum were my first of two weddings at this wonderful and historic wedding venue. My day started with coverage of the preparations at the beautiful Royal Terrace Hotel.
First I covered the latter stages of the boy's preparations, followed by a few photos outdoors. Callum and his Groomsmen were looking great in their Highland kilt outfits, and a wee drink at the bar provided another great photo opportunity.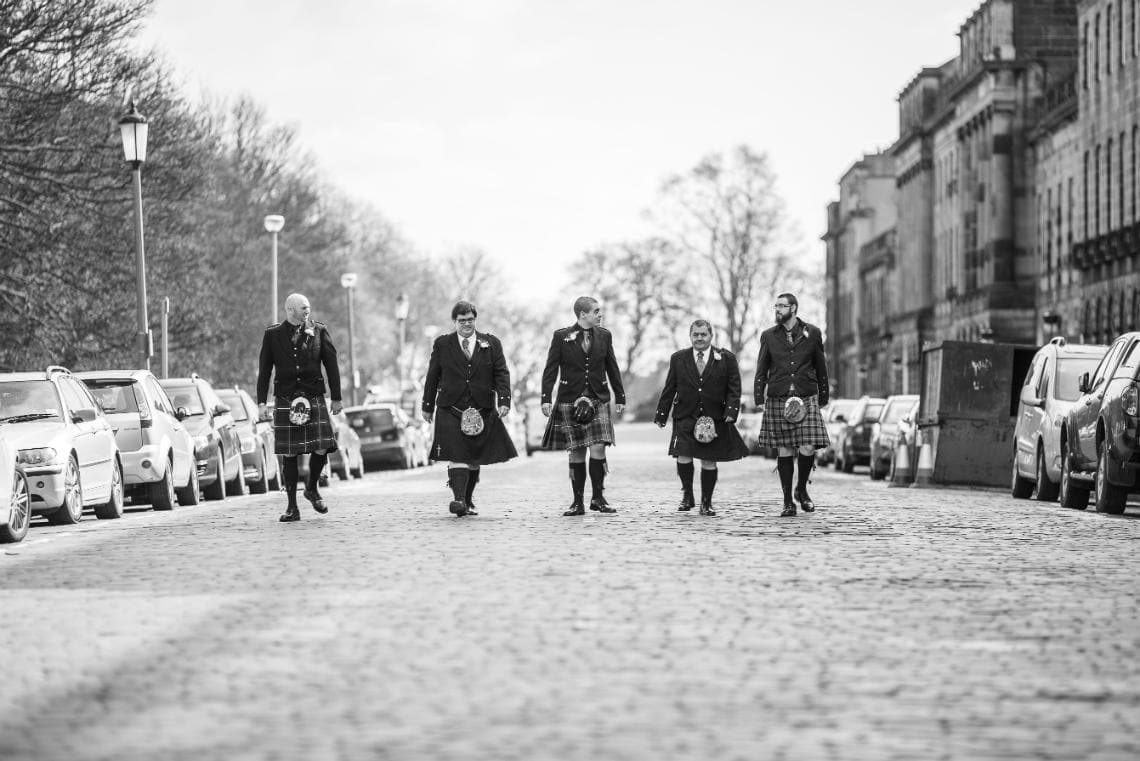 Upstairs Gemma was looking beautiful and relaxed, with no hint of any stress or nerves. The Aberlour Suite was great for shooting photos of the preparations. Beautiful natural light spilling in through the large floor to ceiling windows meant I could shoot a few exquisite natural portrait photos of Gemma.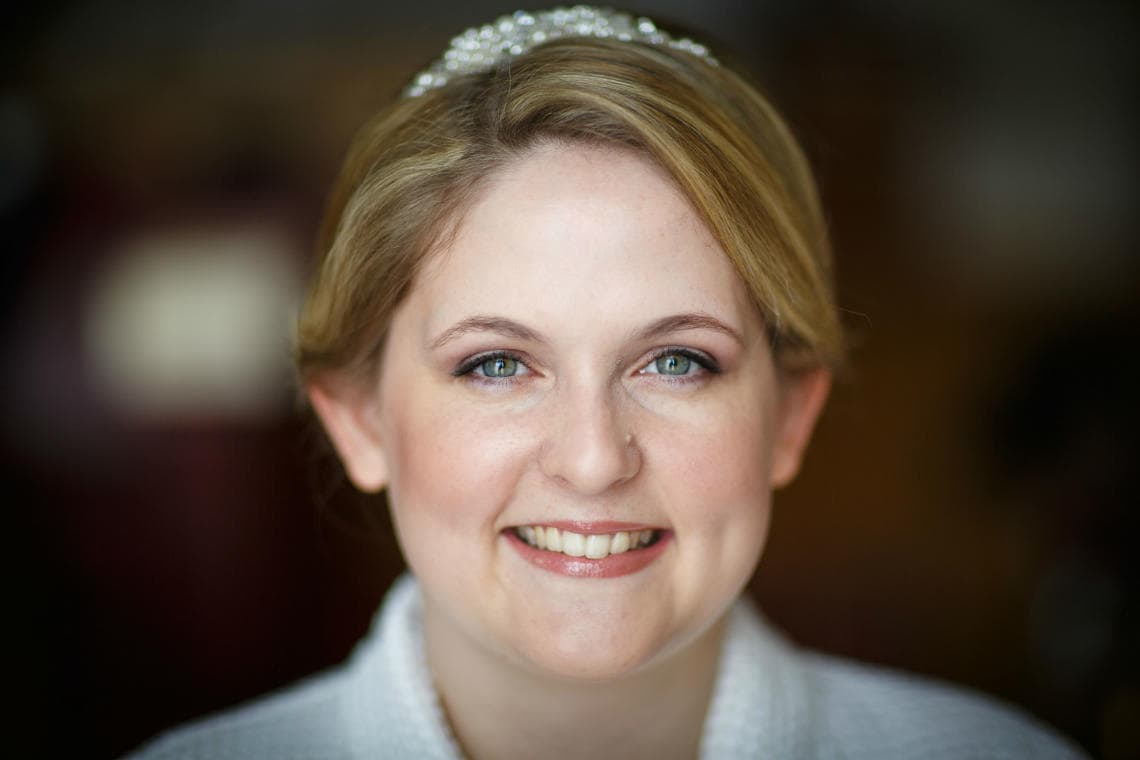 Humanist wedding ceremony at RCPE
The Royal College Of Physicians Edinburgh is one of Edinburgh's most stunning wedding and reception venues. Located right in the heart of Edinburgh's New Town, the Royal College isn't open to the general public. RCPE is a magnificent wedding venue in Edinburgh which offers no exterior clues to the magnificence within. The building is entered via a beautiful staircase which leads to the first floor where all of the wedding and reception facilities are accessed.
I've photographed and filmed a few Royal College Of Physicians Edinburgh weddings in the past few years. The interior of this wonderful building never fails to impress. I'm extremely lucky to have such a beautiful wedding venue right on my doorstep.
Today's wedding was taking place in the New Library. This magnificent room features floor to ceiling wooden bookcases and a stunning ornate ceiling. Some of the books there are hundreds of years old. The 'oohs' and the 'ahhs' as guests enter the New Library give an indication of how special this room is.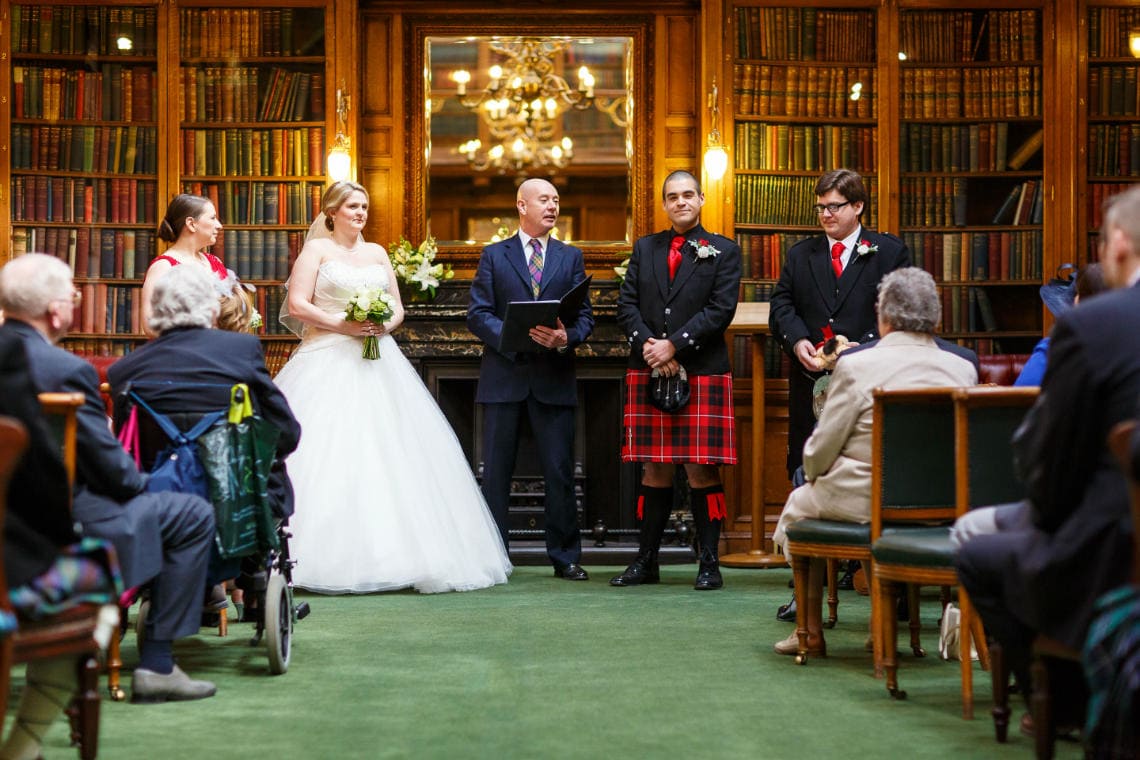 Gemma and Callum were married in a Humanist wedding ceremony. These highly individual wedding ceremonies are good-humoured and tailored to tell the unique story of each couple and their love for one another.
Champagne reception in the Cullen Suite
After the beautiful wedding service, the newly-weds toasted each other with a celebratory glass of champagne in the Cullen Suite. This room, with its gorgeous natural light, is great for shooting natural photos of guests congratulating the newly-weds.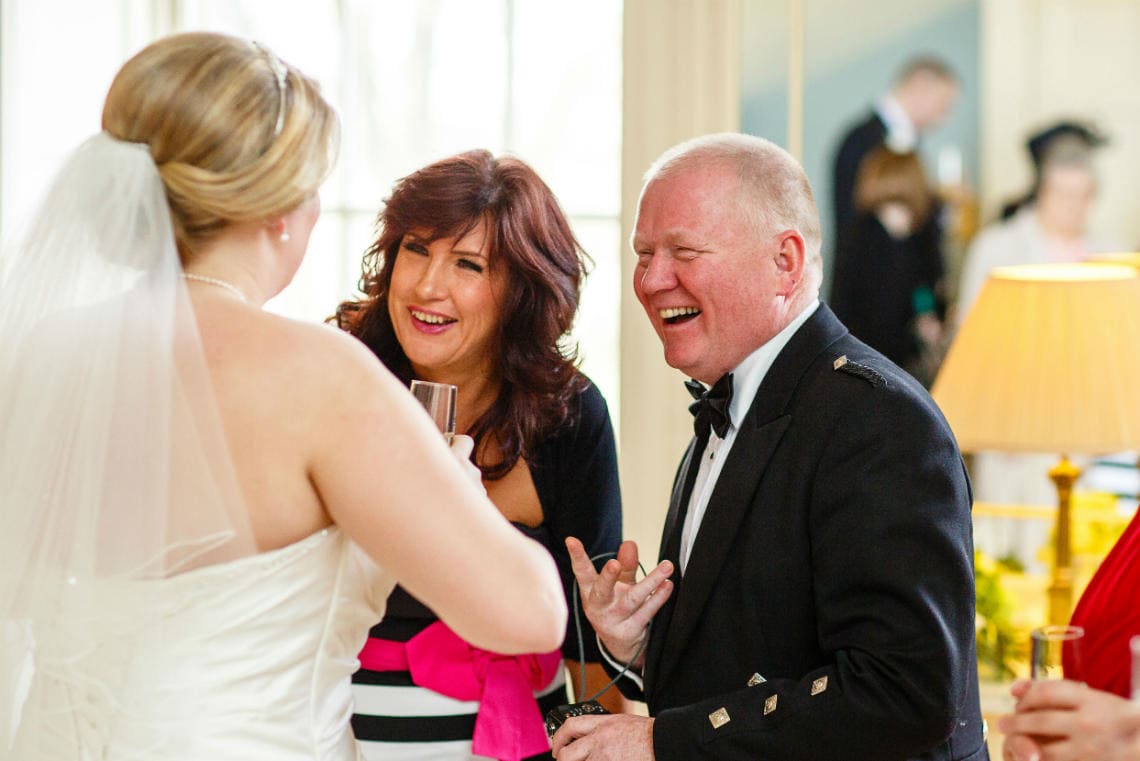 I always encourage couples to mingle with their guests for about fifteen minutes after the ceremony, to enjoy a glass of champagne and soak up some of the atmosphere of the day. This means the couple is relaxed as we move on to the group photos, which we shot on the magnificent staircase.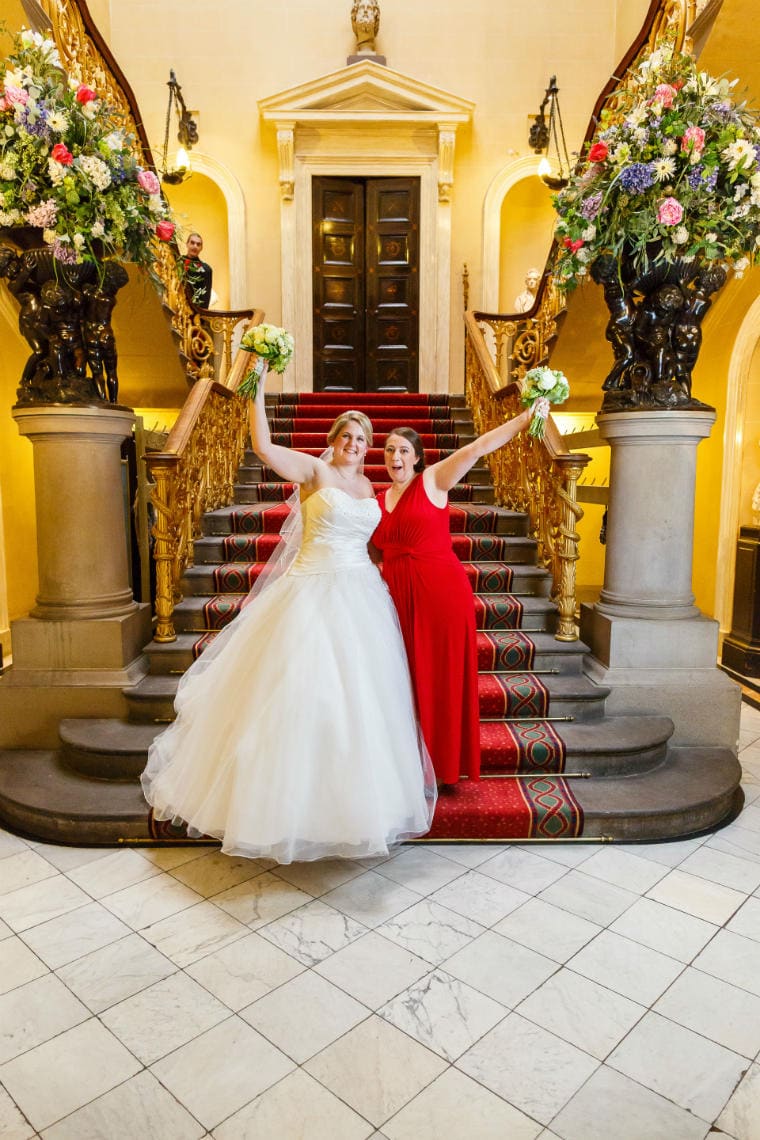 Newlywed photos on Queen Street
We then headed outside to take advantage of the sunny weather and shoot a few contemporary photos of the newly-weds. We literally shot these on Queen Street! I really love the city centre photoshoots, there's something really nice about a photo of the newly-weds walking hand in hand down the middle of one of Edinburgh's busiest roads!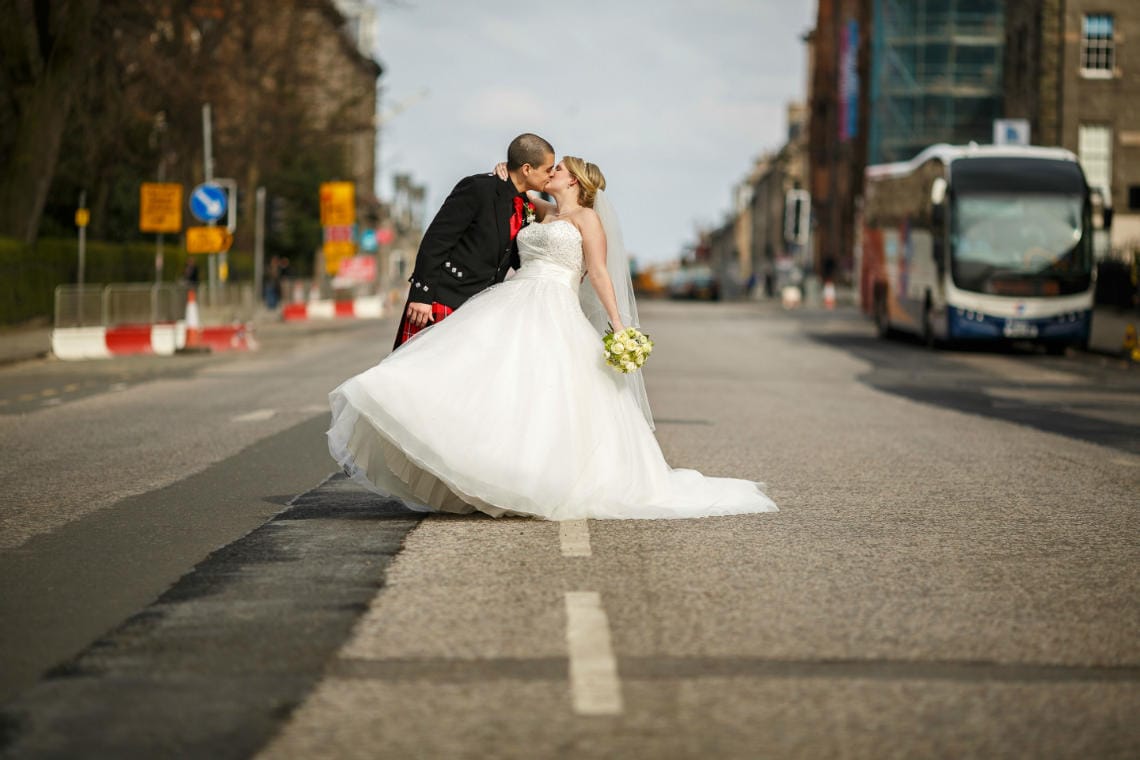 A few more photos were shot back inside RCPE. The exquisite surroundings provide a wealth of backgrounds for unique and exciting wedding photos. We really were spoilt for choice!
<h2?Speeches in the Great Hall
The newly-weds were then piped into the Great Hall to be seated at the top table. The Great Hall is the centrepiece of RCPE. There really isn't anywhere else like it in Edinburgh. This exquisite stateroom has magnificent pillars, Greek statues and ornate decoration which impresses everyone. Beautifully lit, I was able to shoot all of the speeches at today's wedding without the use of flash. A truly stunning room fit for any wedding reception.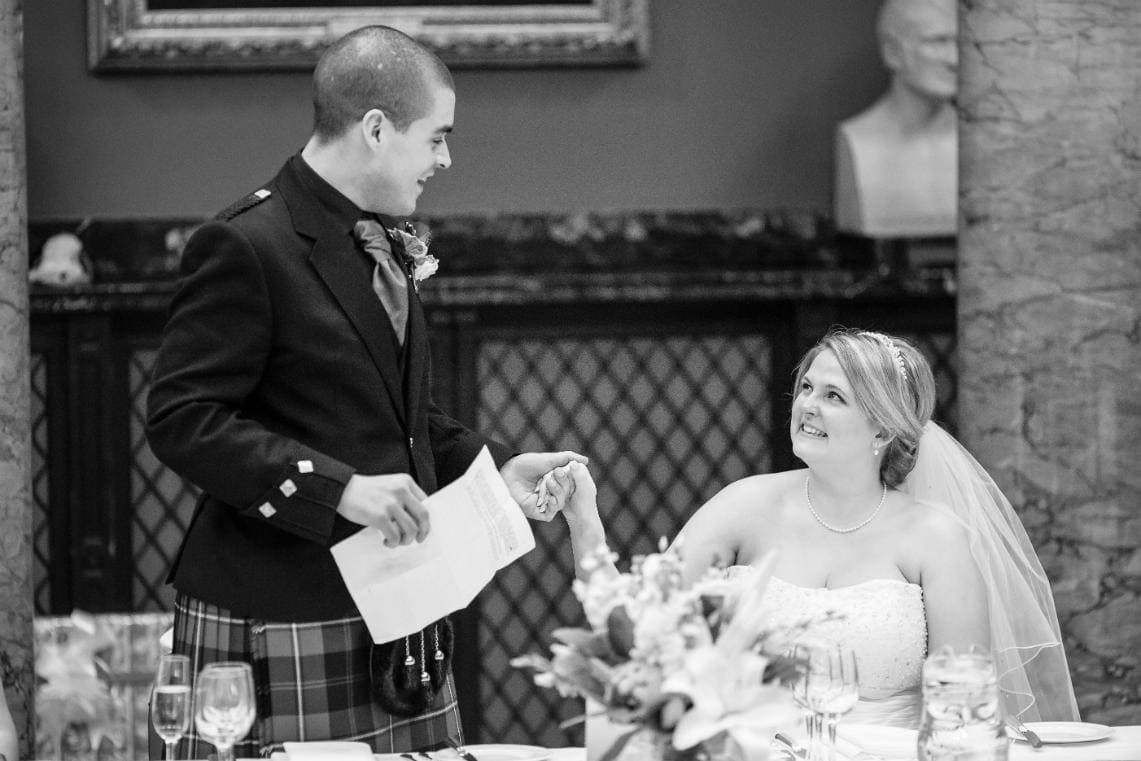 Evening celebration in the Great Hall
With the arrival of the evening guests, it was time for the party to begin. The evening reception was held in the Great Hall. This must be one of the largest dance floors of any wedding venue in Scotland! I loved having space to move around and take photos of the dancing from various angles.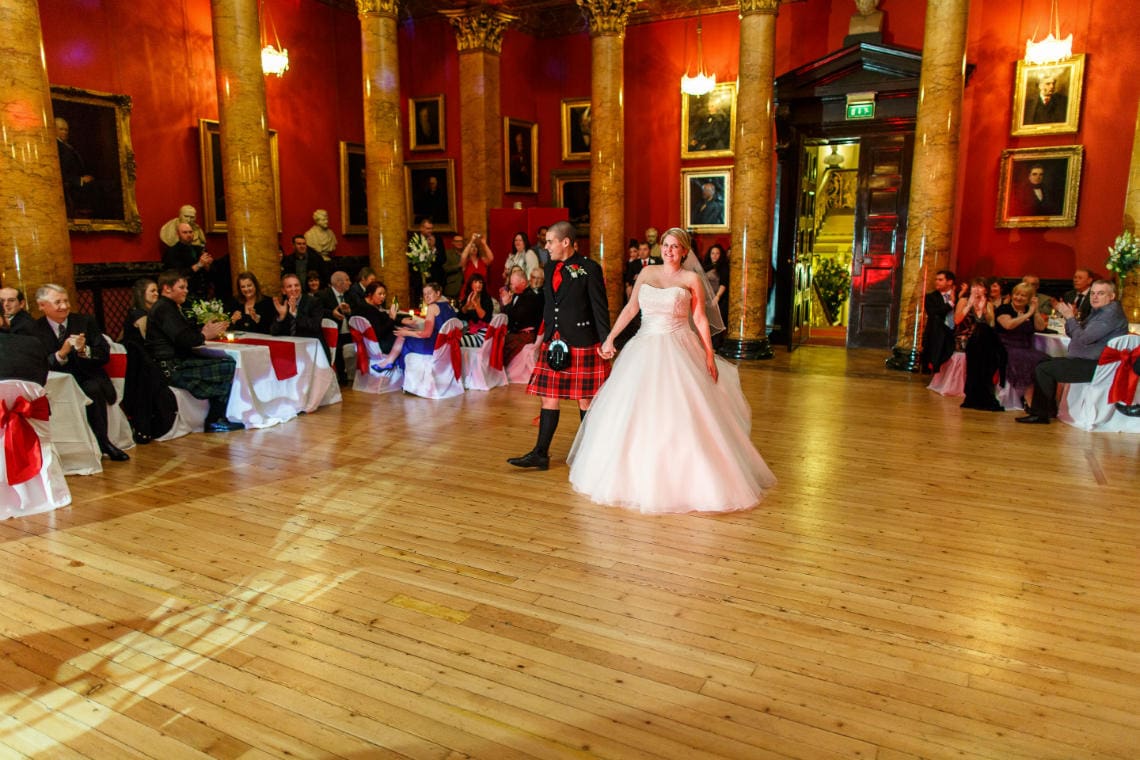 What a wonderful day – it was just perfect! Gemma and Callum's luxury wedding album is going to look fantastic, a perfect way to view wedding photos.
Details of the wedding suppliers who helped make Gemma and Callum's RCPE Royal College Of Physicians Edinburgh wedding so special and unique:
Florist: Pollination
Dress: Berkatex
Makeup: LG Makeup
Hairdresser: Keith Marshall Hairdressing
Cars: Chrisanda Chauffeur Drive
Groom's Outfit: Robert Nicol
Catering: Prestige Scotland
Evening Entertainment: Lee Live
Piper: Iain Grant
Royal College Of Physicians Edinburgh wedding photographer gallery
I'd like to share a few of my favourite Royal College Of Physicians Edinburgh wedding photos telling you the story of Gemma and Callum's amazing wedding day. Enjoy!