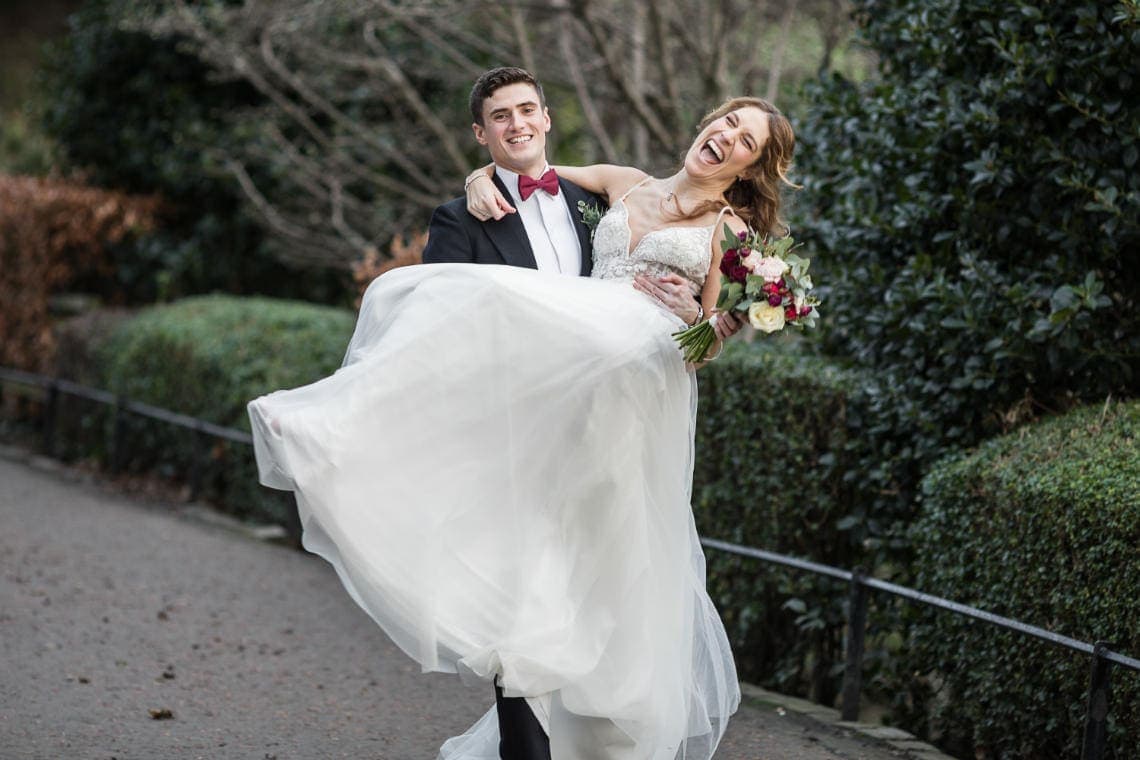 Introduction
What a way to start a new wedding season by being Edinburgh George Hotel wedding photographers for Paula and Alex's fantastic wedding day in the city centre.
The George Hotel Edinburgh is a fabulous wedding venue at which Jonathon and I have had the pleasure of being wedding photographers at many times.
Bride and groom pre-ceremony preparations
One cold Friday afternoon in January, Jonathon and I arrived at the George Hotel and got straight to creating photos. We went our separate ways, which is such a bonus of having two George Hotel wedding photographers capturing all parts of the wedding day. Jonathon photographed groomsman Alex and the boys, and I went to the girls' room, where our beautiful bride Paula was getting ready with her bridesmaids.
The girl's room felt full of energy as Paula, her Mum, her group of bridesmaids, the make-up artist and the hairstylist prepared for the impending marriage nuptials.
Our stunning Argentinian bride was relaxed, full of fun, and bursting with energy. Young, fresh and sassy, Paula was a force to be recognised! And we can't forget to mention Paula's fabulous bridesmaids. What a fantastic bunch of girlfriends. Six of Paula's best friends and her wonderful sister were so much fun to be around. Their bubbly personalities and high spirits infectious.
Jonathon photographed Alexander and the boys' final preparations for the day then took them outside for some action photos of them walking along George Street. Group photos of the boys with our groomsman Alex were taken on the steps outside The Dome on George Street.
After taking photos of the girls, I headed downstairs to the Printing Press bar area where the majority of wedding guests had gathered before the wedding ceremony. It was a special moment to capture candid photographs of guests enjoying conversations, catching up with old friends and of course, making new ones.
Wedding ceremony in the King's Hall
Paula and Alexander were married and exchanged wedding vows and rings in a civil ceremony in front of all their loved ones, in the grand King's Hall of the George Hotel. Paula looked sensational in her beautiful wedding dress and Alexander very handsome in his Royal Navy No 2 uniform.
Friends and family, some of whom had travelled the long journey from Argentina, gathered on their special day to witness, and celebrate in, Paula and Alexander's love and commitment to each other.
A beautiful shower of confetti fell on our loved-up newly-weds as they made their way out of the King's Hall.
Champagne reception and photoshoot
Champagne followed in the Library for our newly-weds as guests surrounded them, showering them with congratulations. Later, guests enjoyed drinks and delicious canapes of smoked salmon and caviar bellinis, as a fabulous jazz band provided the perfect background music to a relaxed atmosphere.
Paula and Alexander were whisked away from their guests by Jonathon for their newly-wed photo shoot right in the heart of the city centre on George Street, Princes Street and in the impressive grounds of Princes Street Gardens.
I stayed with the guests and captured candid photos of the merriment of the drinks reception.
Afterwards, group photos of family and friends with our happy couple were taken at the bottom of the staircase.
Speeches in the King's Hall
It was then time to get evening celebrations underway in the King's Hall which looked elegant and had been beautifully decorated with fresh flowers and plenty of candlelight.
Sweetie bag wedding favours for the children and for the adults, hangover kits! Which included coffee (for a much-needed boost), an eraser (to erase embarrassing flashbacks) and a plaster (to hide drunken injuries). Much-Needed paracetamol for the morning after the night before and mint to freshen that boozy breath!
Small, personable touches from Paula and Alex made the table setting feel extra special. Little badges of the flag of Argentina and the Scottish Saltire, symbolising their union and to thank their guests for sharing their fantastic day.
Guests gave a rapturous reception as Paula and Alex were piped to take their seats at the top table. A wee dram for the piper as he made his toast to the newly-weds.
Speeches took place after each course of the wedding breakfast. Paula's Dad delivered a beautiful and emotional speech. He spoke fondly of Alexander and how thrilled he was to officially welcome him to the family.
Then, a surprise performance from Paula's sister and bridesmaid who sang a hilarious song, in Spanish, about Paula and Alexander's relationship.
The bride and groom had their photograph taken during the wedding breakfast with each table. It was a lovely little touch and ensured the bride and groom were photographed with each guest from their wedding day.
Evening reception in the King's Hall
Paula and Alexander cut their beautiful wedding cake, wedding guests grabbing a quick selfie with the happy couple before they took to the dance floor for their romantic first dance as husband and wife.
It wasn't long before they were joined by all of their friends and family. Everyone, upon their feet, dancing the night away.
What a wedding day! It was so much fun, we went away feeling exhilarated! Everyone was bursting with love and happiness for our beautiful couple. The whole day was full of cherished moments, and a fabulous atmosphere, as two families, from different parts of the world, were brought together by love.
What a perfect ending to a perfect wedding day for us as Edinburgh George Hotel wedding photographers.
George Hotel wedding suppliers
Some of our fellow suppliers at The George Hotel Edinburgh:
Edinburgh George Hotel Wedding Photographers Gallery
Our favourite wedding photos from this wonderful day: