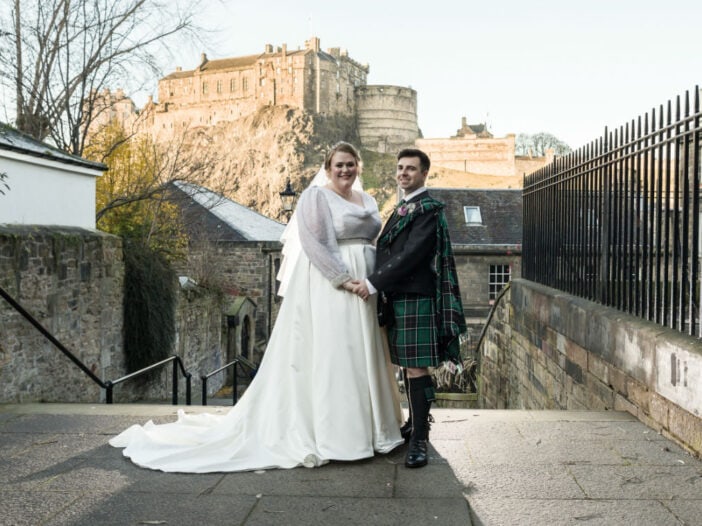 An Apex Hotel Grassmarket wedding is always such a memorable day, and Melanie and Gavin's special day was no exception!
Scotland's first ever Zen wedding
Eighteen months in the planning, Melanie and Gavin's Buddhist marriage ceremony took place one Saturday afternoon in late November. Our bride and groom told us their Zen wedding was the first ever to take place in Scotland. How wonderful! We felt honoured and privileged to witness such a unique marriage ceremony in Edinburgh at the wonderful Apex Hotel Grassmarket.
Pre-ceremony preparations
On the morning of the wedding, Claire joined beautiful bride Melanie and her bride squad for the preparations. At the same time, Jonathon teamed up with groomsman Gavin and the boys. The girls and the boys were lovely and relaxed as they enjoyed getting ready for the big day ahead at the Apex Hotel Grassmarket.
It was great to see guests mingling and enjoying a pre-ceremony drink in the bar before making their way to the Heights Room for the marriage ceremony.
Zen ceremony in the Heights Room
The Heights Room of the Apex Hotel Grassmarket boasts stunning views of Edinburgh Castle and over the Old Town. The Heights Room had been beautifully decorated in purple tones and filled with the most fabulous Jo Malone scent of orange blossom and red roses.
Joined at the Apex Hotel Grassmarket by their fantastic family and friends, Melanie and Gavin celebrated their love for each other with a beautiful Buddhist ceremony. Their ceremony was hosted by Julian Daizan Skinner, 'the first Englishman to go to Japan and become a Roshi or Zen Master in the rigorous Rinzai tradition of Zen'.
To begin, there was a beautiful candle ceremony, where Melanie and Gavin, each holding candles, walked around the perimeter of the room. Afterwards, there was Hannya Shingyo (Heart Sutra), a chant for all to enjoy, listen and observe. This was followed by Eko, an offering of the dedication of the marriage ceremony to the benefit of all sentient beings.
There was meditation, water flicking, and the exchange of the marriage vows. Melanie and Gavin promised to be best friends and equals and to dedicate their lives and their union and their practice of Buddhism.
A fabulous string quartet, Edinburgh String Ensemble, played 'For Once in My Life' as Melanie and Gavin exchanged rings and Juzu Bead Bracelets. Binding hands together, they embarked on this beautiful new chapter in their lives.
There were lovely readings, some tears, but most of all, an overpowering sense of joy for the happy couple.
'All You Need Is Love' by Madness played, as our newlyweds signed their marriage contract. A blessing and a chant concluded the ceremony as 'Must Be Love' played out across the room. It was perfect!
Drinks reception and newlywed photoshoot
The happy couple were met with hugs and kisses of congratulations from their guests. We then took some formal group photos with the bride and groom making use of the Apex Hotel Grassmarket's perfect backdrop of Edinburgh Castle.
Claire stayed with the guests at the fabulous Apex Hotel Grassmarket champagne drinks reception. Catching all the merriment as guests enjoyed themselves. Delicious canapes were served and entertainment was from magician and mystery artist Andrew McKinlay. He certainly wowed his audience and got the crowd going. It was great to catch candid shots of the guest's reactions as he worked his magic!
Jonathon took Melanie and Gavin away for their romantic newlywed photo shoot. Just a stone's throw away from the Apex Hotel Grassmarket is The Vennel. A laneway leading down to the Grassmarket, it was the perfect spot with its impressive view of Edinburgh Castle to capture some fantastic shots of the newlyweds.
Speeches and evening celebration
We spent a lovely evening taking photos and filming some excellent, heartfelt speeches before everyone enjoyed a delicious wedding breakfast served by the professional staff of the Apex Hotel Grassmarket.
After the meal, Melanie and Gavin embarked on their first official duties as newlyweds and cut their three-tiered wedding cake by Liggy's Cakes. They then took to the dance floor to share a romantic first dance as husband and wife. It was the perfect ending to a wonderful day at the Apex Hotel Grassmarket.
We loved Melanie and Gavin's fabulous Apex Hotel Grassmarket Zen wedding!
Apex Grassmarket Hotel In Edinburgh Photos
Here are some of our favourite photos taken from their special day.