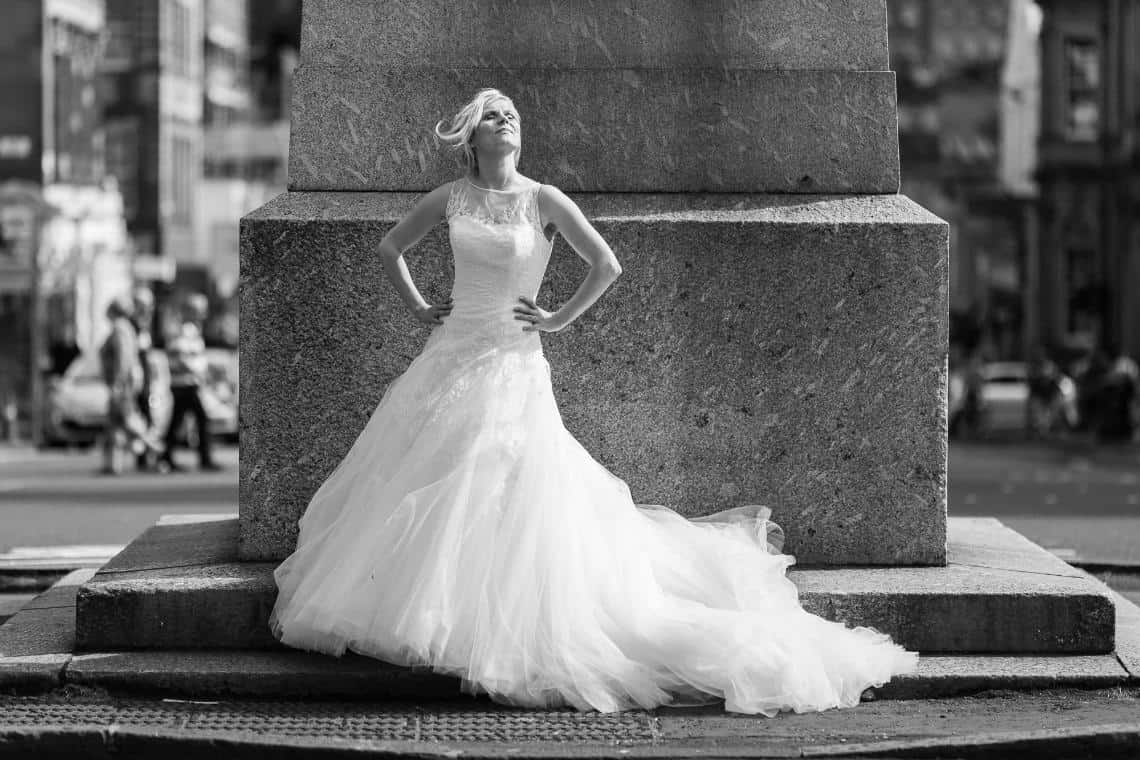 Introduction
Great to be back in Edinburgh city centre shooting Clare and Craig's Edinburgh George Hotel wedding photos. Clare and Craig chose to marry in a wonderfully romantic ceremony at the impressive Edinburgh George Hotel located in Edinburgh's New Town at George Street.
Pre-wedding photos at Inverleith Park
I had previously met Clare and Craig on a couple of occasions. The first time at our initial consultation, and again at Clare and Craig's pre-wedding photoshoot at Inverleith Park, Edinburgh.
From our time together I discovered that Clare and Craig are a lovely couple, warm, friendly and relaxed in front of a camera.
Bridal Preparations
My photography coverage of the day began with the Bridal Party preparations in The George Hotel's spacious Forthview Suite. The champagne was flowing and the girls were excited, with lots of laughter and fun.
Craig and the boys were downstairs meeting and greeting family and friends as they made their way into the beautiful King's Hall. This spacious room is one of my favourite places for a wedding ceremony, a very grand and ornate space that never fails to impress.
Wedding ceremony
The wedding ceremony was a joy to photograph. I loved hearing the story behind how Clare and Craig met and fell in love. Lots of emotion on display with smiles, laughter and even a few tears. Clare and Craig looked so happy as they were announced as the new Mr and Mrs!
Newlywed photos at Queen Street Gardens
When you marry at the George Hotel you can also get access to Queen Street Gardens. This spacious private park is just a few minutes walk away and is the perfect setting for taking photos of the newly-weds. Clare and Craig looked so happy together and I loved the photos we took at Queen Street Gardens.
Speeches in the King's Hall
Back at the hotel, the celebration continued as the newly-weds were piped into the King's Hall to rapturous applause from family and friends.
Heartfelt speeches had everyone clapping, laughing and cheering, and as with the ceremony, there were even a few tears.
Evening Reception in the King's Hall
My coverage of this wonderful celebration came to a close with the cutting of the delicious wedding cake and photographing the first few dances.
By the time I left the dancefloor was packed with dancers all partying hard into the night.
Congratulations to Clare and Craig, you were a pleasure to photograph! These wedding photos are going to be made into a stunning wedding album, a fitting tribute to such a great day.
Edinburgh George Hotel Wedding Photos
I'll allow some of my favourite photos to tell the rest of the story of this wonderful wedding day.