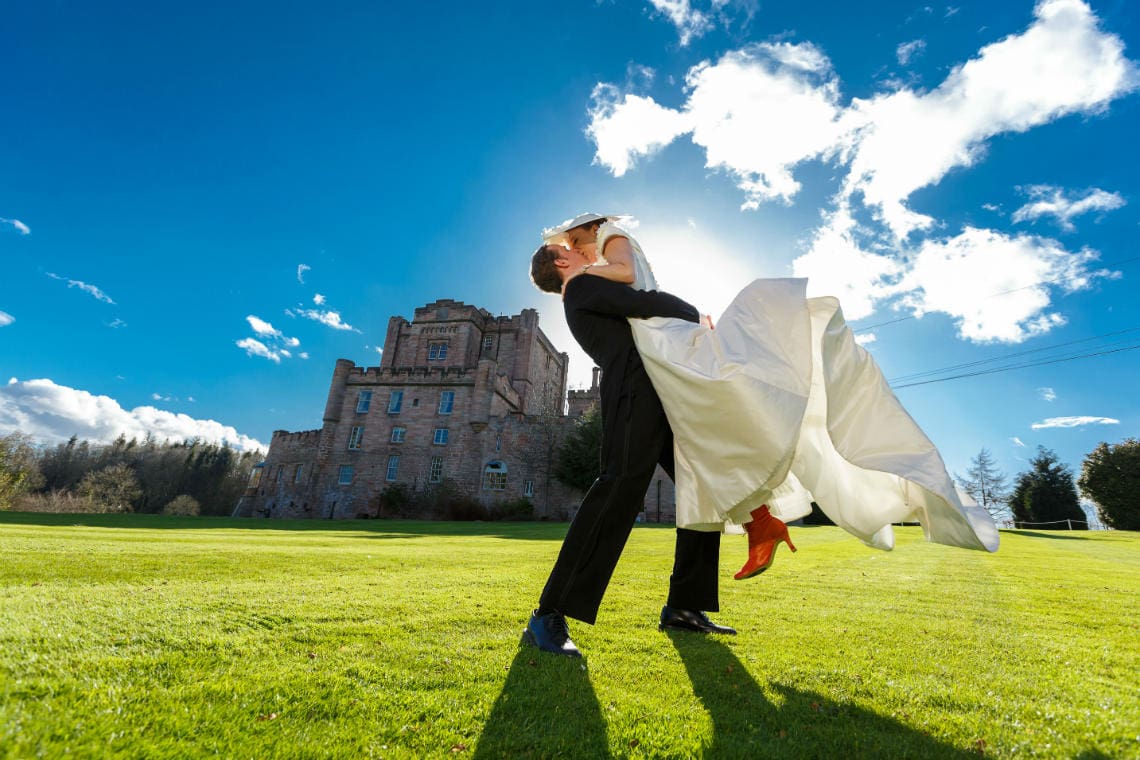 Introduction
Shooting Dalhousie Castle wedding photos is always a real treat. Helen and Bram had exclusive use of this beautiful Midlothian wedding venue for their wedding day. This lovely couple could have chosen anywhere in the world to get married, but like many international couples, they fell in love with the history, beauty and exclusivity of Dalhousie Castle.
Family and friends from around the world had gathered for the union of Helen and Bram. And it was a truly international feel to this fantastic wedding day. Helen was born in America to Swiss parents, and Bram is Belgian. It was awesome to see a few guests wearing traditional Swiss outfits, and at times it felt quite surreal to be in a Scottish Castle listening to so many people speaking German!
Preparations before the ceremony
My day at Dalhousie Castle began with coverage of the preparations before the ceremony. I love it when a couple both get ready at the same location. This allows me to cover both preparations and get a beautifully balanced story of the day. Helen was getting ready in the highest part of the castle, a room with lovely natural lighting.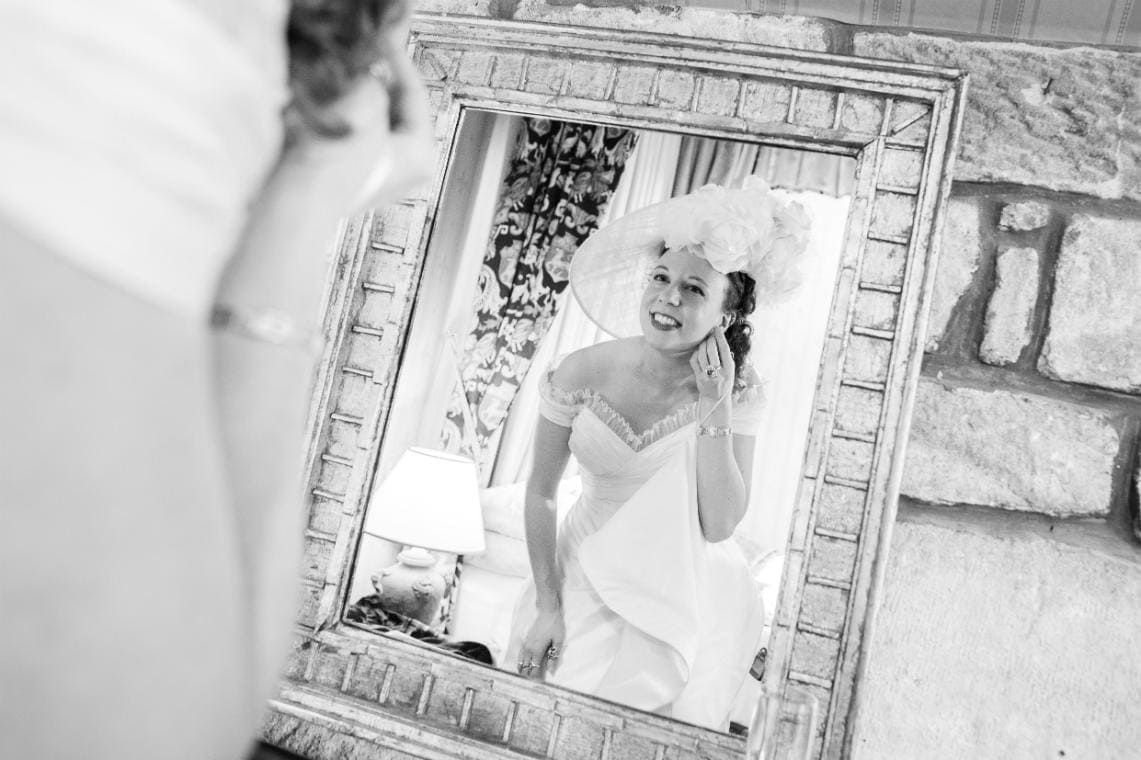 I loved Helen's bridalwear. A beautiful pair of handmade orange silk boots contrasted with the elegant vintage wedding dress. Helen's look was completed with a gorgeous, elegant headpiece. Bram sourced his 1920's suit from a charity shop. The combination of Helen and Bram's choice of clothing looked fantastic, and they have a great individual taste which made for lovely unique newlywed photos.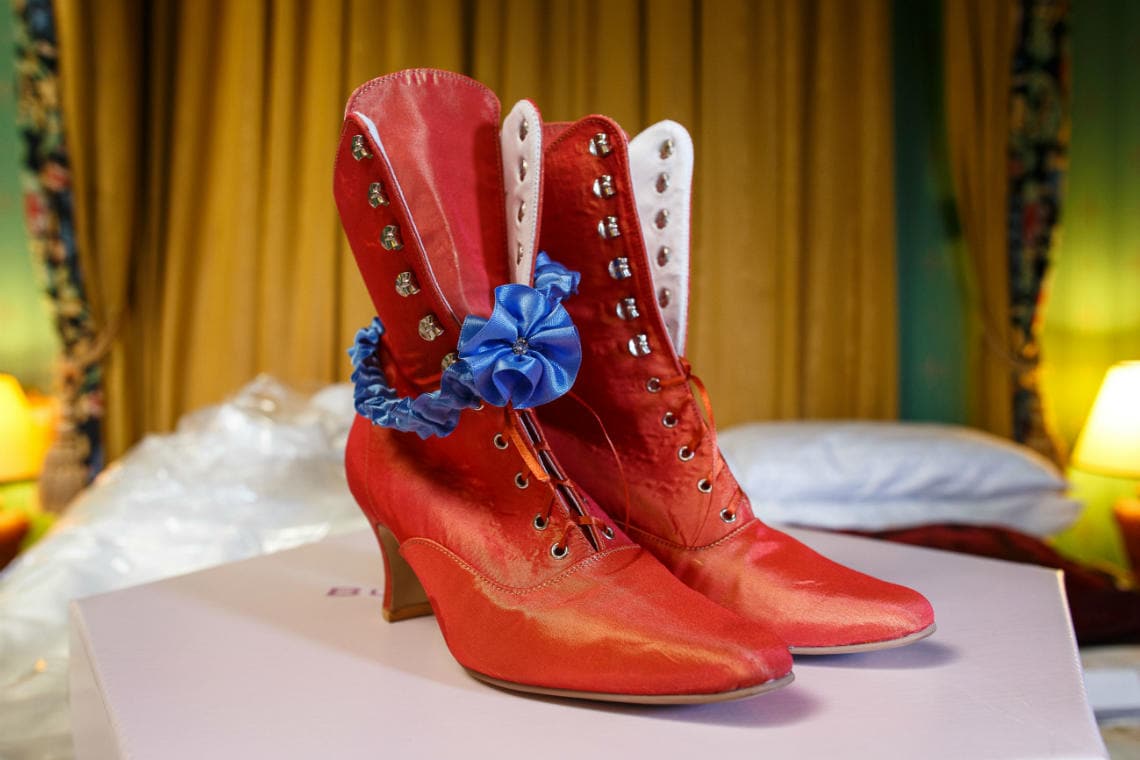 Humanist ceremony with a twist
The Humanist marriage ceremony was held in the venue's private Chapel. A highlight of the ceremony was the delivery of the wedding rings by an owl, which swooped over the guest's heads and onto the best man's gauntleted hand.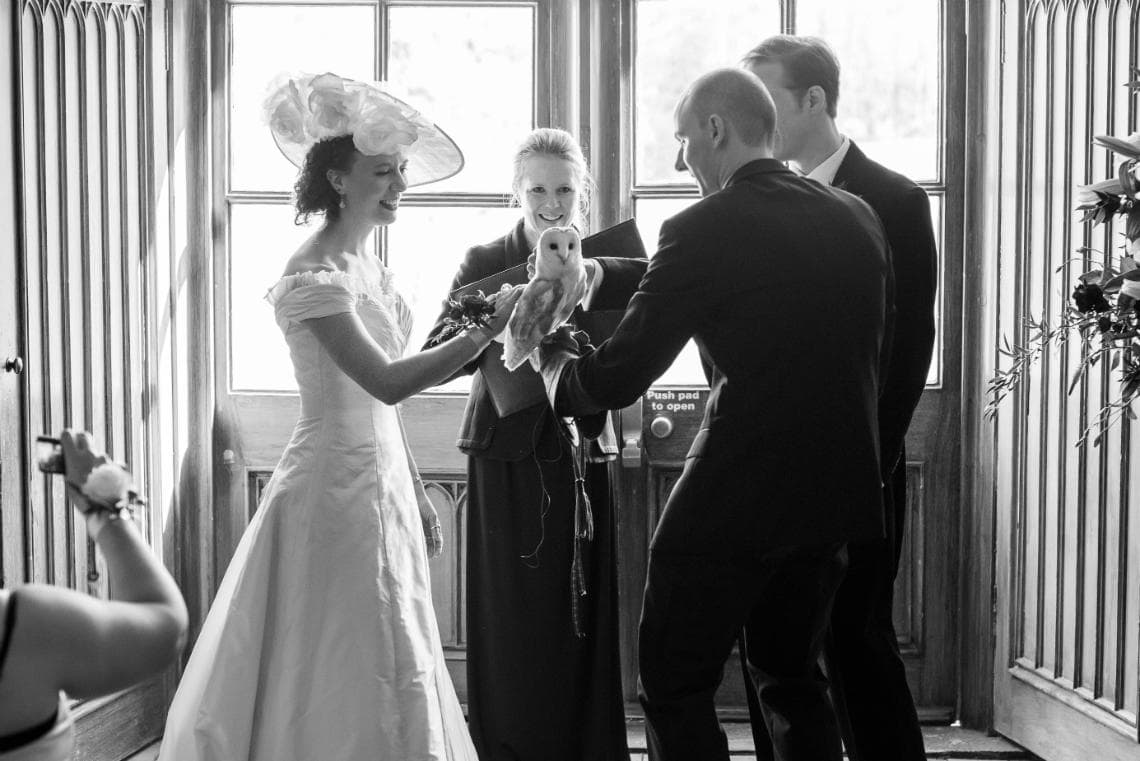 Champagne reception and photoshoot
We might not have had the best weather so far this year compared to recent years, but I've been fortunate on wedding days! Today was another beautiful day with glorious sunshine allowing everyone to head outdoors for the champagne reception. After a few group photos outdoors and at the top of the Castle at Dalhousie's entrance lobby, it was time for a few pictures of the newly-weds.
The grounds are lovely at Dalhousie Castle, with plenty of areas for newly-wed photos. We shot a few photos on the old bridge and the expansive lawn before heading back to join the guests at the champagne reception.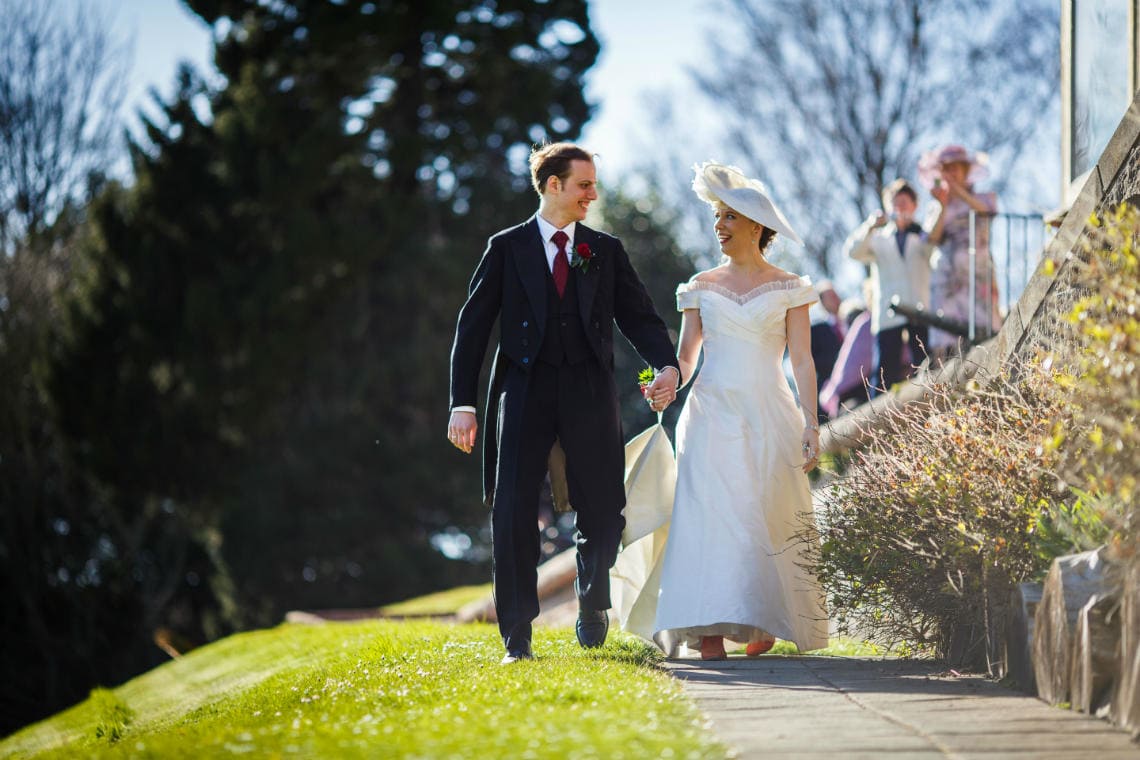 Cake cutting in The Orangery
Bram had bought a sword for Helen and had it engraved with their names and wedding date. They used the sword to cut one of their three wedding cakes. This was another great photo opportunity, especially when Helen and Bram both licked the cake off the sword!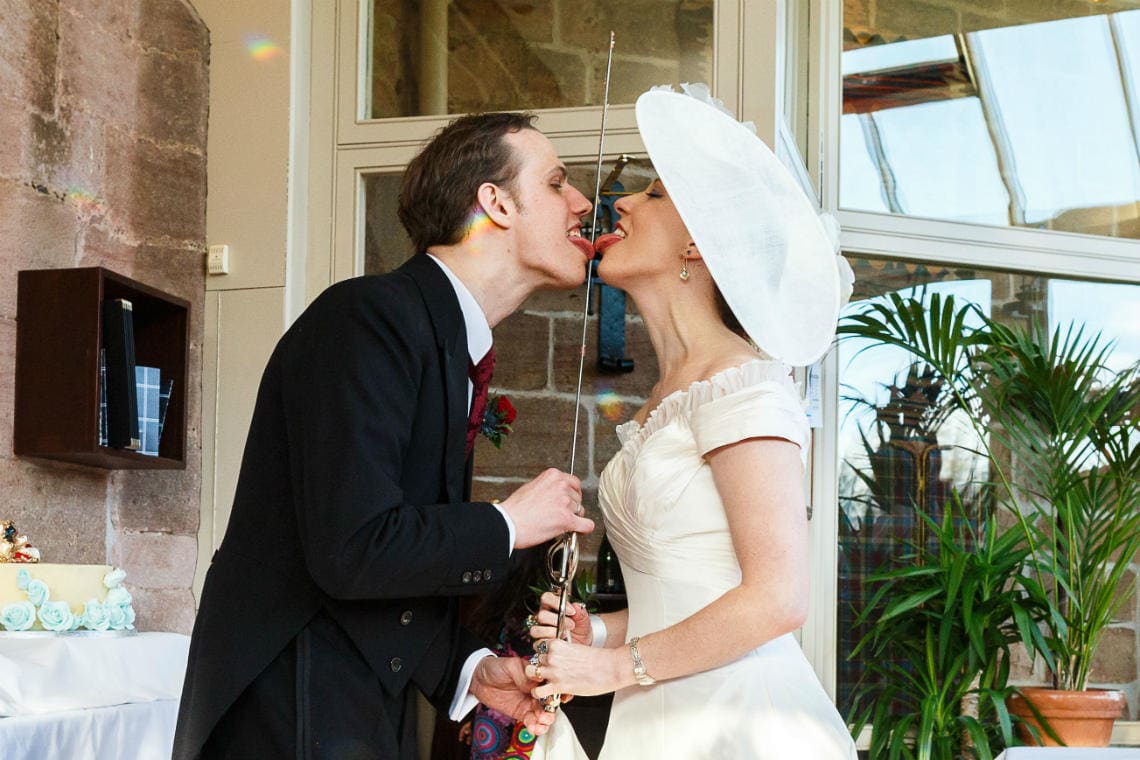 Speeches in The Ramsay Suite
The newly-weds were piped to The Ramsay Suite top table to rapturous applause. I enjoyed the speeches, one each by Helen and Bram's fathers, followed by Bram. All good-humoured, entertaining and good fun to observe and photograph.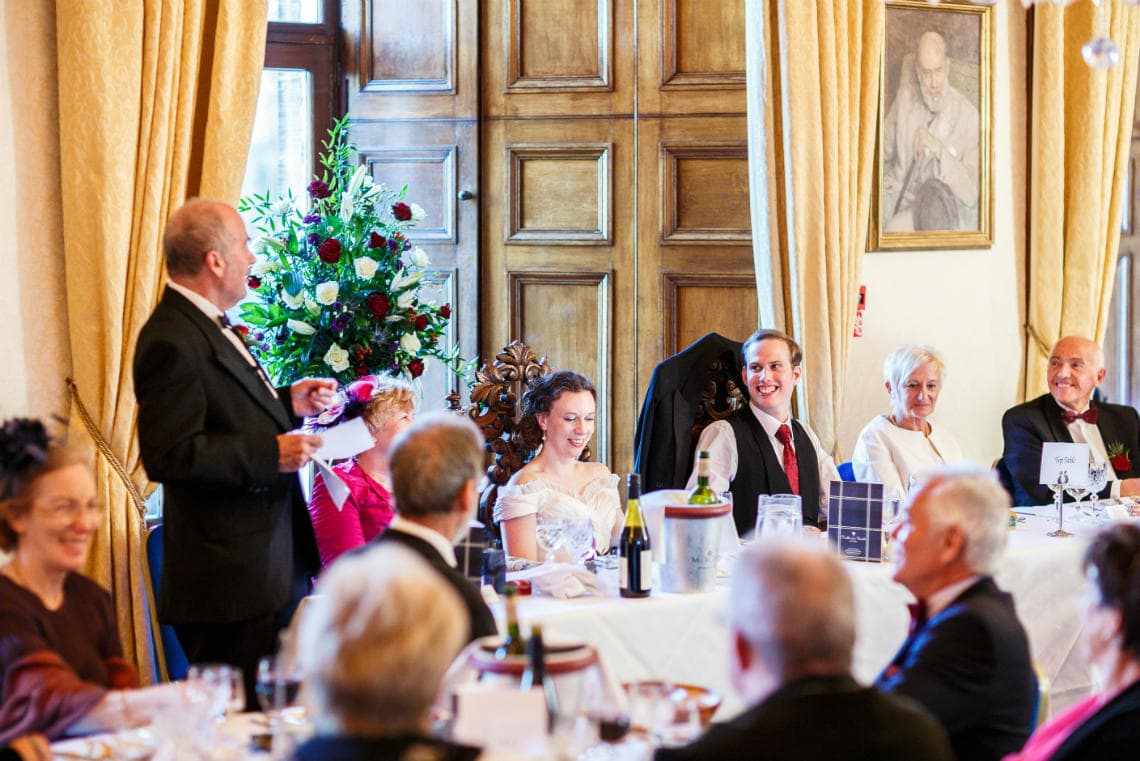 Evening reception
The evening entertainment began with the newly-weds' first dance to a song by German rockers Rammstein. The song chosen by Helen and Bram was quite mellow and not the industrial metal track I expected to hear!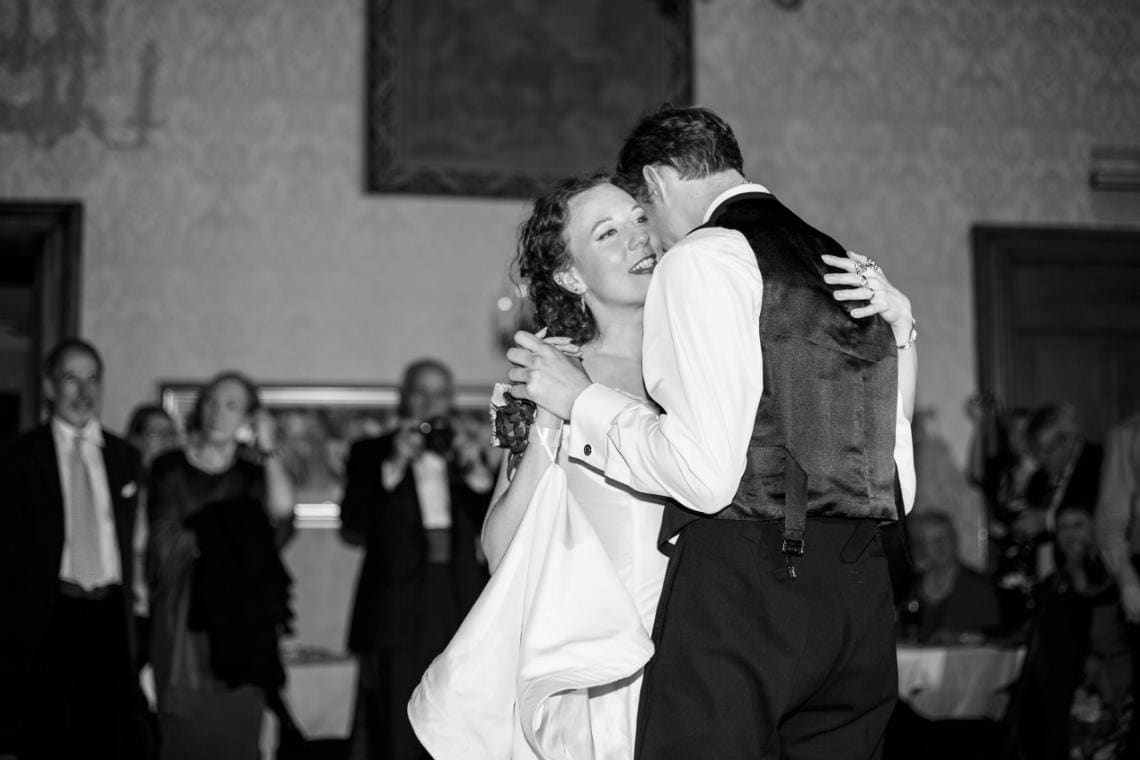 Helen then did the waltz with her father, which was followed by a few of the guests setting up their band in the lobby area and playing a few Swiss songs. This had everyone clapping and cheering – it was an impressive performance and a brilliant way for my day to end in such a great Scottish venue.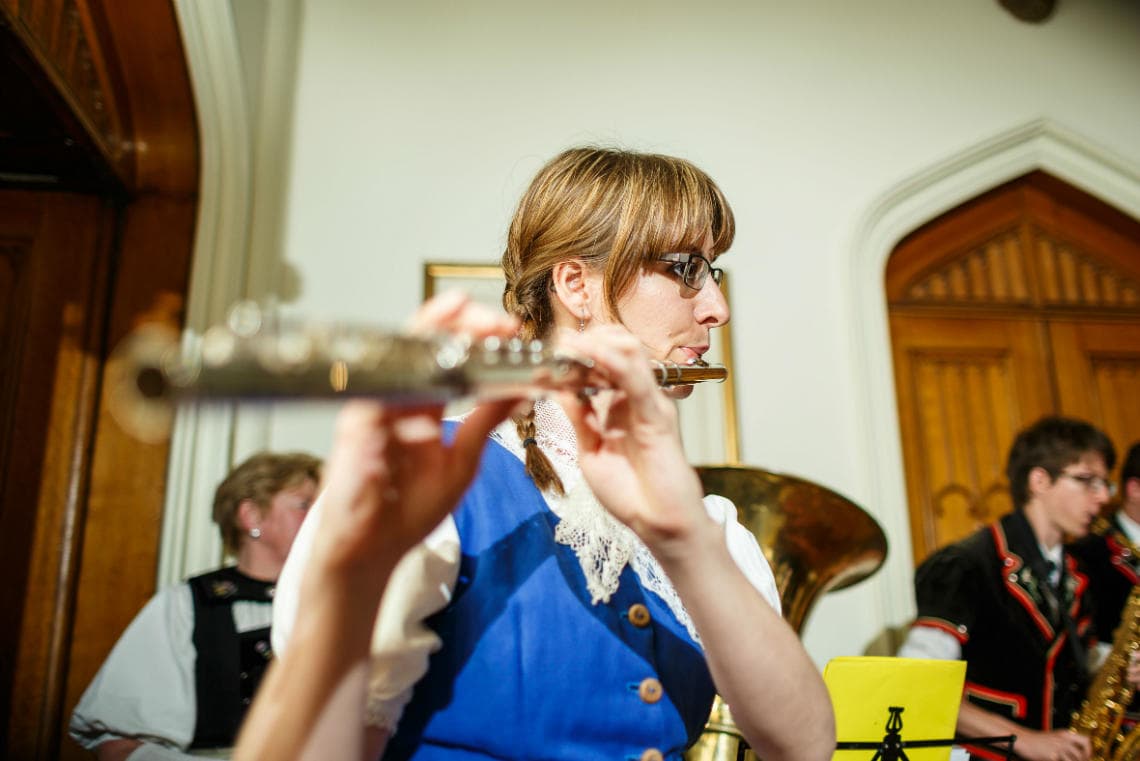 Helen and Bram were brilliant to work with. But that's not the end of our story, as we also had a 'trash the dress/post-wedding photoshoot', photos of which we've shared with you here. And the newly-weds' album is going to look fantastic with so many photos of great moments to choose from.
Details of the wedding suppliers who helped make Helen and Bram's Dalhousie Castle wedding so special and unique:
Florist: Spiral Flowers
Milliner: Bundle MacLaren
Make-up: Louise from EyeCandy Professional Make-Up
Hairdresser: Edinburgh Bridal Hair by Gillian Miller
Cake: Rainbow Sugar Craft
Favours: Hanson Ellis (treasure chests) filled with Swarovski beads
Evening Entertainment: The Jiggers
Video: Inspire Video
Dalhousie Castle wedding photos gallery
In the meantime, I'd like to share a few of my favourite photos of Helen and Bram's fantastic Dalhousie Castle wedding day with you, below.