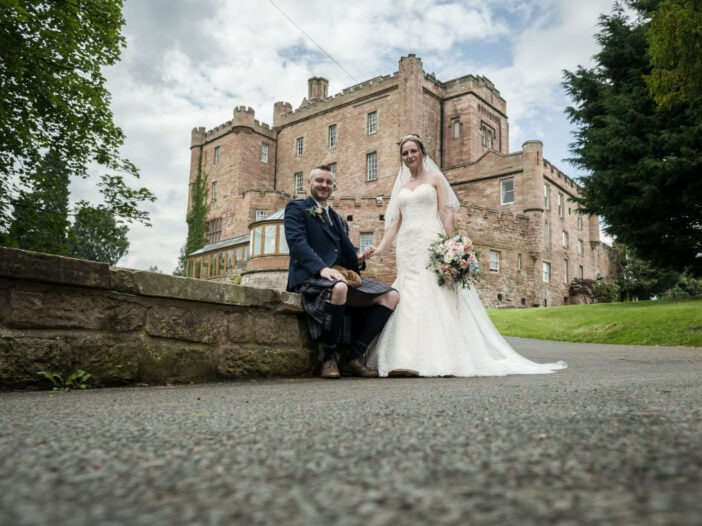 Pre-ceremony preparations
It was great to be back as Dalhousie Castle wedding photographers and videographers for Lauren and Ross's wonderful fairytale wedding.
Lauren and Ross were a delight to be around and made the day so enjoyable. And what a wedding they had! A Scottish castle, a romantic Chapel, Celtic tradition handfasting, a whisky mixing ceremony and a ring bearing owl. Lauren and Ross's unique Dalhousie Castle wedding had it all!
Excited for the day ahead, we got the drone in the air straight away for some impressive aerial shots of the castle. Then we made our way to bride Lauren's room, right at the very top of the castle, where she enjoyed her bridal preparations with her Mum, best friend and little flower girl.
It was lovely to see Lauren again; she was so happy and relaxed, already looking every inch the beautiful glowing bride.
Ella, Lauren's gorgeous niece, sat patiently as her nails were painted a sparkly pink. The perfect colour to go with her pretty dress and glittery heart-shaped wand, which was a beautiful thank you gift from Lauren and Ross.
As Dalhousie Castle wedding photographers and videographers we captured candid photos and film shots of the girls as they got ready together.
Afterwards, we made our way downstairs, where a slightly nervous groomsman Ross and the boys were getting dressed in their full highland wedding attire.
We felt for Ross and the boys; it was such a hot day, and wearing a full kilt outfit on such a hot day is no mean feat. They did a great job, and Sam, Ross's best man was on strict instructions (from the bride!) to ensure everybody's shoelaces were tied up correctly and looking nice and even!
Ross and Sam then made their way to the Alexander room, where they were on-hand to meet and greet guests as they enjoyed pre-ceremony drinks.
Interfaith wedding ceremony in Dalhousie Castle Chapel
Lauren looked radiant as she walked into the Castle's Chapel arm in arm with her proud Dad. Lauren wore a beautiful champagne coloured wedding dress from dress boutique Ivory Pinks in Glasgow.
Lauren and Ross officially 'tied the knot' in an interfaith marriage ceremony taken by celebrant Barbara Campbell. Our bride and groom exchanged their marriage vows in front of family and friends. The rings were delivered by the Owl ring bearer which added
Barbara spoke fondly of Lauren and Ross's unique love story. Guests enjoyed funny anecdotes, they laughed, and some cried, but these tears were most certainly tears of happiness.
The newlyweds shared their first kiss as husband and wife then made their way down the aisle through a rapturous display of clapping and cheering from friends and family.
Newlywed photos in the Castle grounds
While guests enjoyed themselves at the fabulous drinks reception, we took Lauren and Ross for their newlywed photoshoot using the tranquil grounds of Dalhousie Castle as the perfect backdrop. This was the ideal opportunity for Lauren and Ross to relax, catch their breaths and spend a little bit of time just the two of them.
Speeches
The newlyweds were piped to the top table by Piper Andrew Sharp. Before the delicious wedding breakfast was served, guests enjoyed some heartfelt and funny words from Lauren's Dad, groomsman Ross and best man Sam.
Cake cutting and evening celebration
The evening celebration kicked off with Lauren and Ross surrounded by guests as they cut their fabulous wedding cake by 3D Cakes, then they took to the dancefloor where the Little Red wedding band provided live music as Lauren and Ross performed their first dance as husband and wife.
The finale was an epic Daughter and Dad dance! We couldn't believe our eyes as our bride and Dad Jerry performed their fabulous dance together. It was the perfect ending and such a memorable moment to capture as Dalhousie Castle wedding photographers.
Dalhousie Castle wedding photos
Here are some of our favourite photos from Lauren and Ross's unique Dalhousie Castle wedding.