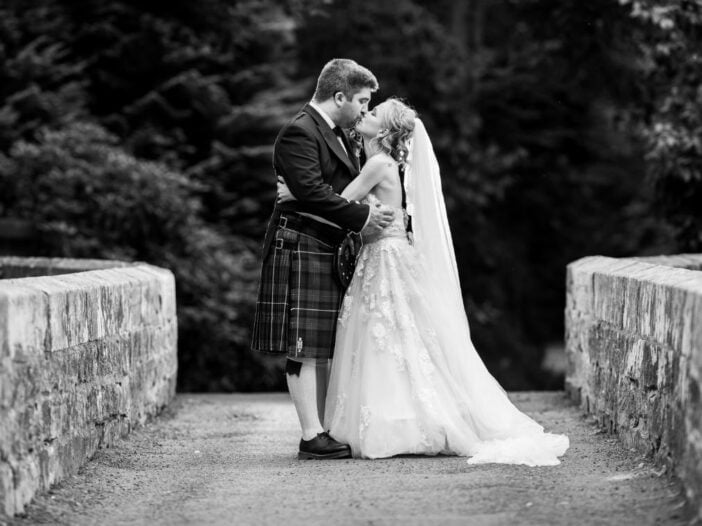 Lisa and Kieran's wedding at Dalhousie Castle started with morning preparations of Lisa and the girls getting ready. It was hard to believe that only a few months earlier Lisa and Kieran had welcomed their beautiful twin girls Felicity and Claudia into the world. It was clear at that point this couple are not ones for doing things by halves, the arrival of the twins, moving home and a wedding to organise, it was fair to say they had been kept very busy!
Dalhousie Castle sits on 11 acres of beautiful parkland, located only 8 miles outside of Edinburgh. Dalhousie Castle was the perfect setting for Lisa and Kieran's fairytale wedding. Family and friends gathered on such a special day to share in the celebration of this lovely couple becoming husband and wife.
It was everything they had dreamt about and more…
Lisa looked beautiful as she walked down the aisle arm in arm with her Dad, who looked proud to be handing over his daughter to her husband to be.
Guests gathered in The Chapel of Dalhousie Castle for Lisa and Kieran's intimate Humanist wedding ceremony performed by the wonderful celebrant Geraldine Gould. Geraldine set the tone that special day with her warmth and kind personality, which made the ceremony personable and heartfelt.
Geraldine talked a little about Lisa and a little about Kieran… she spoke of their life they shared together and how they fell in love. It was wonderful to hear about how overjoyed they both were on becoming the proud parents to their beautiful daughters Felicity and Claudia and how excited they were for their future together as a family.
A ring-bearing owl ("flying the knot" some may say!) – Lisa and Kieran said "I do", made their commitment and declaration of love to each other in front of their loved ones. A stunning rendition of "Try a little tenderness" followed which brought tears to many eyes as Lisa and Kieran signed the marriage schedule.
Afterwards, the newly-weds managed to slip away from their wedding guests to catch their breath and enjoy a romantic stroll through the lovely grounds of Dalhousie Castle where Jonathon captured some beautiful shots of the newlyweds while Claire candidly photographed family and guests relaxing with a drink and canapes.
The newlyweds were piped to their wedding cake in the Ramsay Room, a wonderful photo opportunity for family and guests. We loved photographing everyone's reactions to the speeches before the sumptuous wedding breakfast.
Our coverage of this wonderful wedding day at Dalhousie ended with photographing the first few dances. The dance floor was packed and by the time we departed!
Claire and Jonathon xx
Lisa and Kieran's Wedding at Dalhousie Castle
Here are some photo highlights from Lisa and Kieran's wedding at Dalhousie Castle.