Andy and Laura's Apex Grassmarket Hotel wedding was a great day full of love, laughter and fun.
Our day began joining Laura for photos of the Bridal Party preparations in one of Apex Grassmarket Hotel's suites.  Being centrally located in the heart of Edinburgh's Grassmarket, the Apex Grassmarket Hotel boasts wonderful views of Edinburgh Castle and the Old Town.
White and green was the colour theme of the day and confirmed Andy and Laura as firm Hibs fans. Balloons, fresh flowers with green foliage, candles and silk green ribbons added to the backs of chairs all added the couples' unique finishing touches.
Andy, looking smart in his dark grey suit with rose, thistle and gypsophila buttonhole was calm and collected as guests arrived at the venue to the sound of bagpipes being played by Edinburgh Piper James A. Nicholl.
Guests made their way to the 5th floor of the Apex Grassmarket Hotel as candid shots were taken of Laura, her two bridesmaids and her pretty flower girl.  Laura looked every inch the beautiful, beaming bride in her wedding gown embellished with fine lace and crystal detail.  Laura made her way arm-in-arm with her Dad to the 5th floor.
Humanist celebrant Penny Earle officiated Andy and Laura's ceremony which took place on the 5th floor in the aptly named 'Heights' room, which offers some of the best views of Edinburgh Castle.  We love the way a Humanist ceremony tells the personal story of how a couple came to be together. Andy and Laura's story had the guests in fits of laughter and tears of happiness as they made their marriage vows to each other.
Officially married, it was then the ideal opportunity to take the newlyweds outside onto the 5th-floor rooftop terrace for their first photoshoot as husband and wife.  Against such a stunning backdrop Andy and Laura shared a special few moments alone before returning to their guests where they were congratulated and enjoyed a glass of champagne.  The bride and groom mingled with their guests at the drinks reception and were warmly congratulated before family group photos outside in the courtyard.
Laura made her way with her husband towards the Vennel, leading to Brown's Place where more stunning photos of the newlywed couple were captured.  Andy and Laura stood at the top of the Vennel steps which captured the real character of the Old Town with the wonderful view of Edinburgh Castle. Tourists waved and offered congratulations as the newlyweds made their way back to the hotel.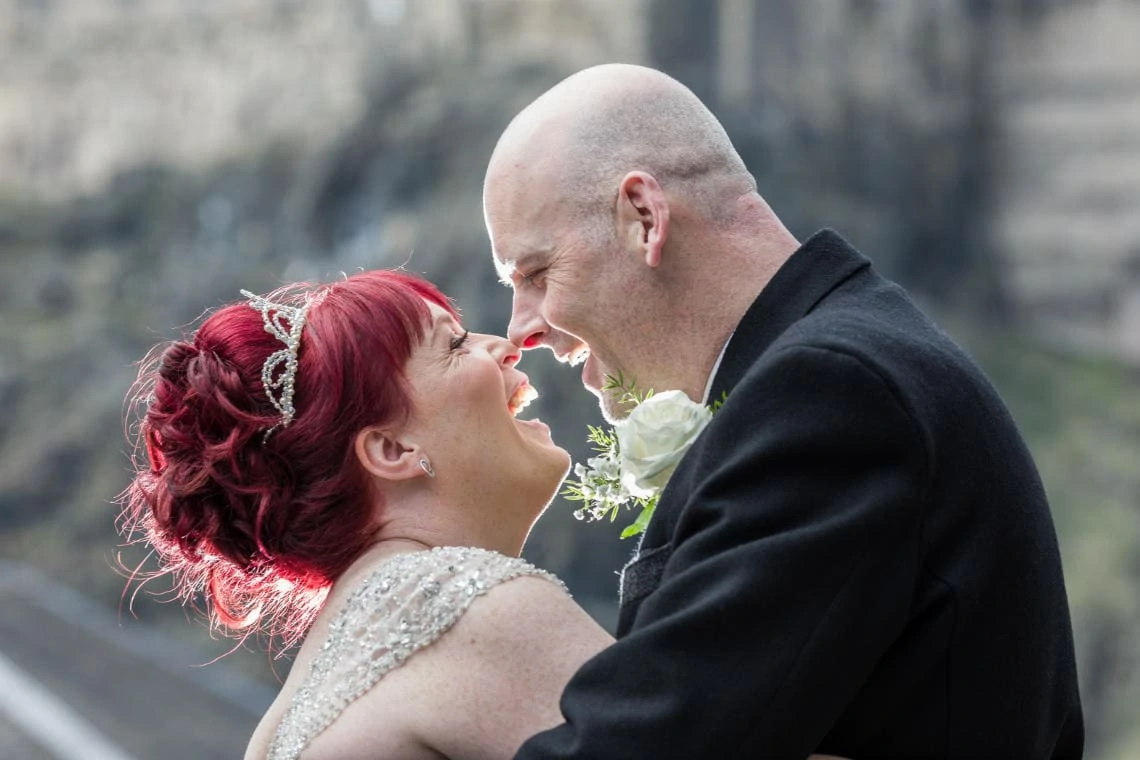 Andy and Laura were piped into the Heights restaurant of the Apex Grassmarket Hotel, where Piper Jimmy offered a toast to the newlyweds. Guests enjoyed moving and humorous speeches followed by a lovely wedding breakfast of lentil soup, sirloin beef with honey-glazed vegetables and fondant potatoes.  To finish delicious vanilla and gingerbread cheesecake, tea and coffee with Scottish tablet.
We loved Andy and Laura's wedding cake, which was three large French Fancy cakes – they looked delicious! The newlyweds cutting the cake followed by dancing brought to a close our coverage of Andy and Laura's wonderful Apex Grassmarket Hotel wedding.
Congratulations Andy and Laura!
Apex Grassmarket Hotel Wedding Photos
A few of our favourite Apex Grassmarket Hotel wedding photos.