Introduction
We are delighted to share with you the wonderful day we had to photograph Lynn and Alex's Liberton Kirk and Edinburgh George Hotel wedding.
From the minute we met Lynn and Alex, we knew we would enjoy being in their company. Before the wedding day, we met and chatted over coffee. We got to know more about our couple. They told us about how they met and fell in love through meeting at their local church. And the rest is history! At our meeting, Lynn told us 'we're not photogenic', and Alex said, 'and we're not lovey-dovey'…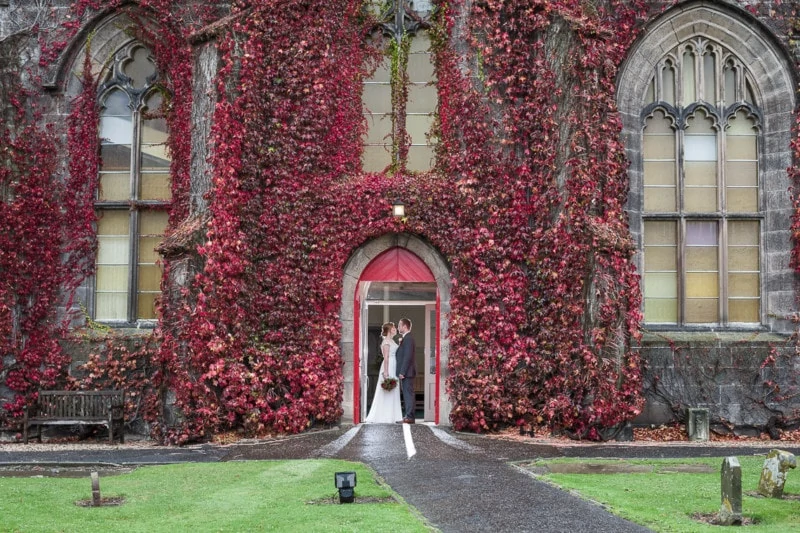 It's natural to feel camera-shy, we understand how it can feel pretty daunting being in front of the camera on your wedding day. We reassured Lynn and Alex that everything would be great. Most of our photos are candid and shot without you even realising the photos are being taken and advised them to relax, have fun and enjoy their special day. We said they would be on such a natural high those big, happy smiles would come naturally. Making it easy for us to capture some beautiful wedding photos.
Pre-ceremony preparations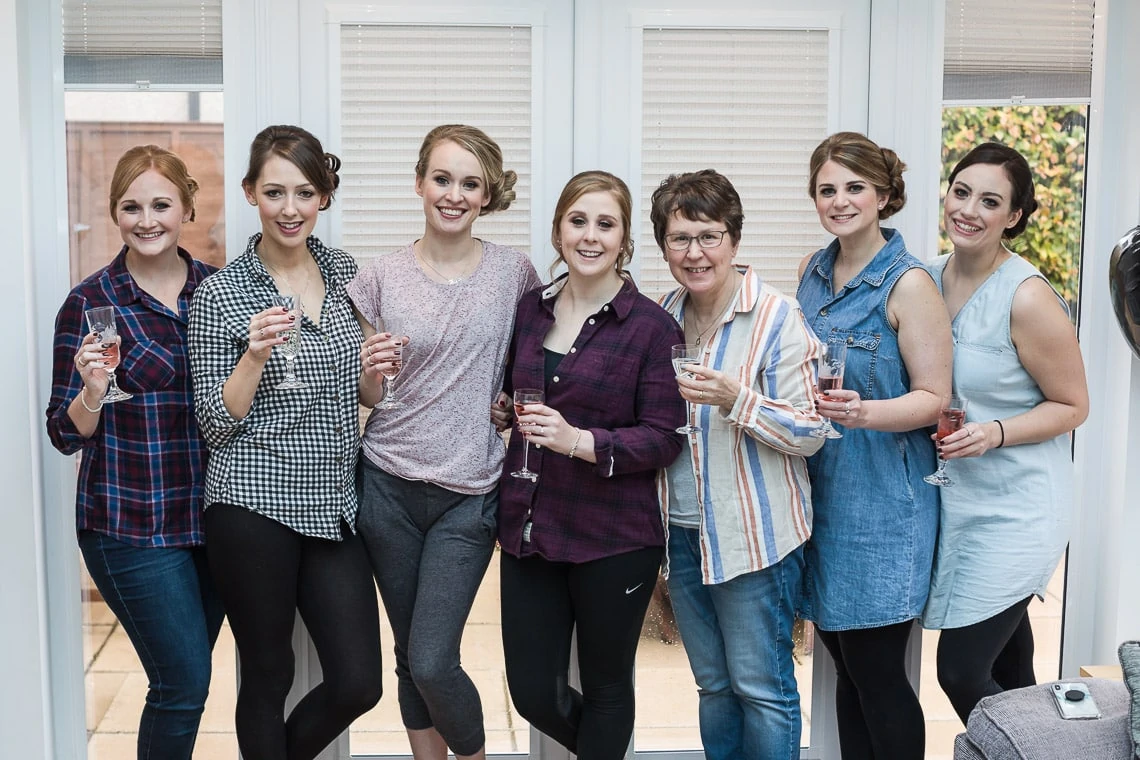 Lynn and Alex's Liberton Kirk wedding was on October's cold and wet Saturday. On the morning of the wedding, we made our way to photograph the bridal party preparations at Lynn's parent's house.
It was a full house as Lynn was joined by her parents, brother, her fabulous bride squad of five bridesmaids, and makeup artist Lauren Gollan. Our bride was happy and was an absolute natural in front of the camera.
The atmosphere was happy and fun as Claire took candid photos and the girls enjoyed this special time together. Jonathon captured all the detailed photographs of Lynn's stunning wedding dress, shoes and the gorgeous wedding flowers by Roseparks.
We said goodbye to the girls and drove to Alex's flat, where Jonathon took photos of our groom and the boys getting ready. Alex, wearing a smart three-piece grey suit, was helped by Lynn's brother to pin his buttonhole onto his suit jacket. A single white rose with green foliage and a vibrant burst of red berries perfectly complimented his wine-red silk tie. It was time to get to the church with a quick look in the mirror.
Liberton Kirk wedding ceremony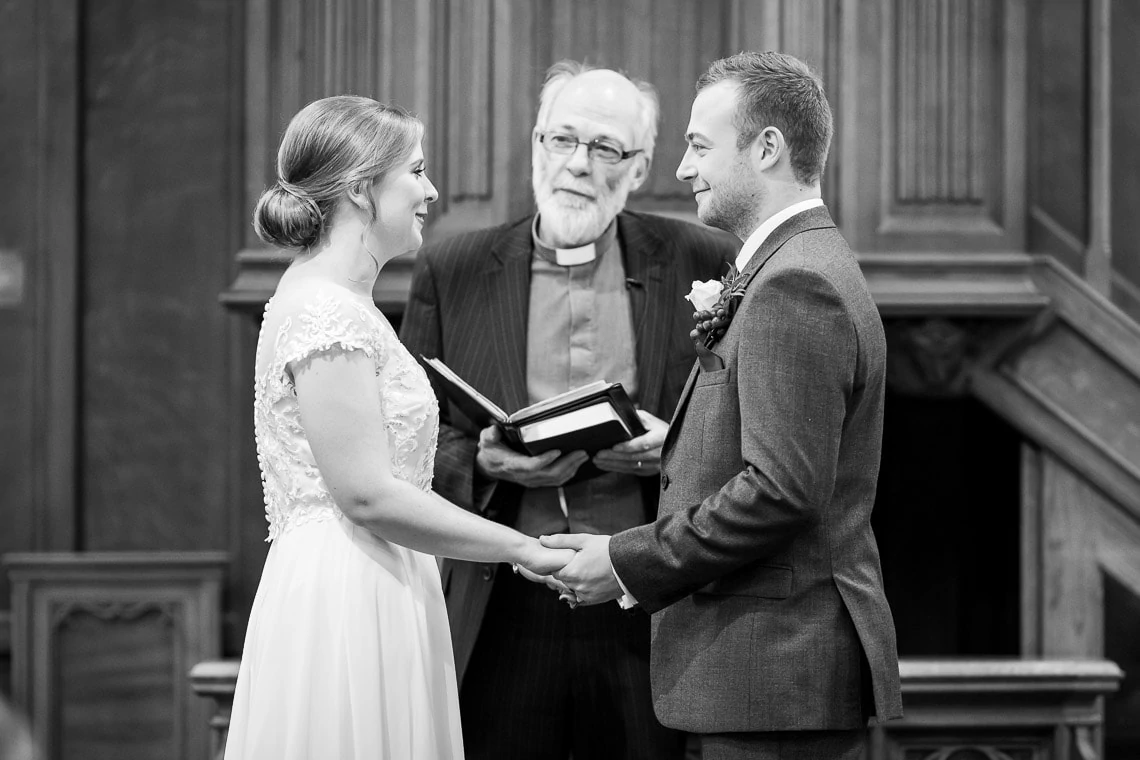 Liberton Kirk is a beautiful church covered with ivy looking very seasonal in a rich autumnal red.
Umbrellas were at the ready as the bridesmaids arrived in a car supplied by Maxwell Chauffeur Service. Our beautiful bride Lynn, with her Dad, made a stylish entrance in a black Range Rover.
Lynn looked radiant in her beautiful wedding dress by designer True Bride, supplied by Kudos Bridal of Edinburgh. Her hair was styled in a classic chignon, and she wore killer black Jimmy Choo heels, which tied in perfectly with her bridesmaid's black dresses.
The Christian wedding ceremony was exactly what Lynn and Alex wanted it to be; upbeat, full of personality and love. Their marriage was celebrated in the warmest way possible, like a large family gathering they celebrated with loved ones, amazing friends and the wider Church community.
George Hotel wedding reception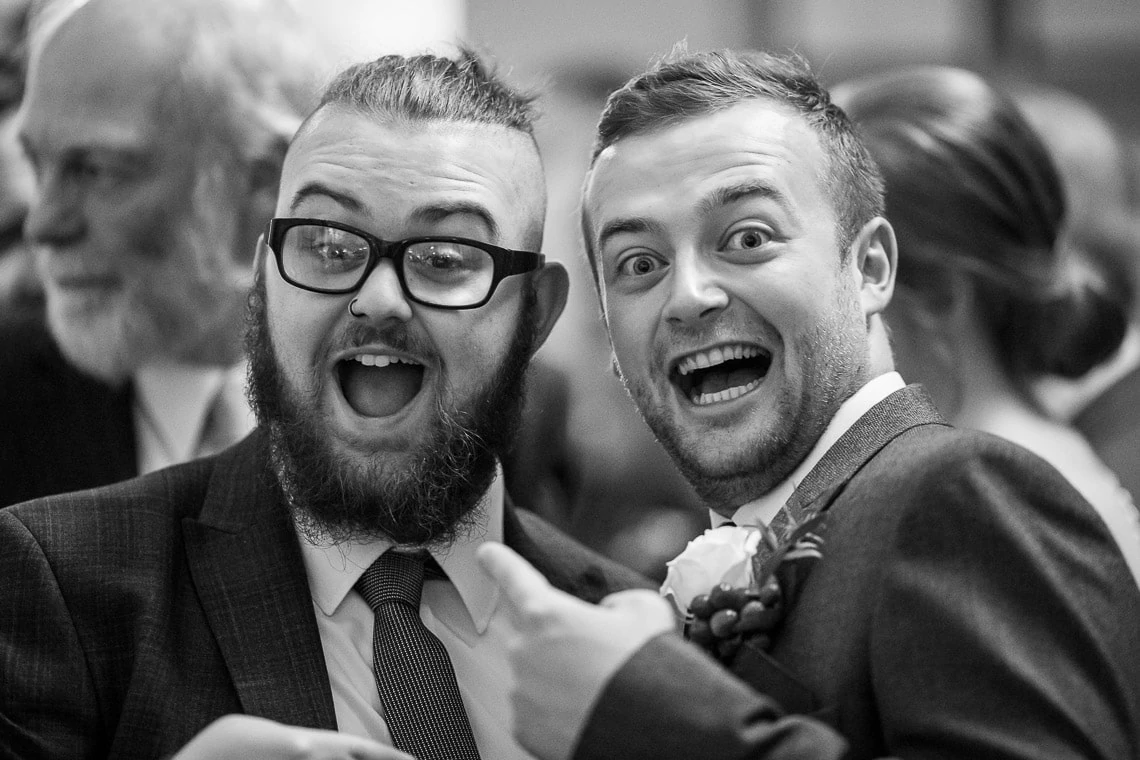 After family group and newlywed photos in the church, everyone made their way to The George Hotel in Edinburgh city centre. We always love shooting wedding photos at the Edinburgh George Hotel. This grand old building with its beautiful interior was the perfect setting to enjoy the champagne drinks reception.
We loved that Alex's company, Activity Delivered, had set up a dedicated area for kids to safely play and relax, with wigwams, toys, Xbox and plenty to keep them occupied while mum and dad enjoyed a glass of champagne.
After a traditional receiving line, guests were called to take their seats in the magnificent Kings Hall by Toastmaster Morris King. Guests were upstanding and cheering and clapping as our lovely newlyweds made their grand entrance, escorted by the piper to the top table. Lynn presented the piper with a dram of whisky. He raised the quaich, Scotland's 'loving cup' of friendship, and toasted the happy couple with best wishes. After knocking back the amber nectar, he was on his way.
Guests listened and gave their undivided attention to heartfelt speeches from Lynn's Dad, Jim, groomsman Alex and Alex's best man Christian. It was wonderful to observe and photograph the family and guest's reactions to the speeches.
The evening celebrations proceeded with our happy couple cutting their wedding cake in front of family and friends. Lynn and Alex took to the dancefloor for their first dance as husband and wife, with entertainment by wedding band Sugar Honey. They danced and giggled as they sang along to their special song.
What a wonderful day with a warm and friendly group of people. We very much look forward to designing beautiful wedding albums for Lynn and Alex.
Liberton Kirk and Edinburgh George Hotel wedding gallery
Shared below are some of our favourite Liberton Kirk And Edinburgh George Hotel wedding photography.