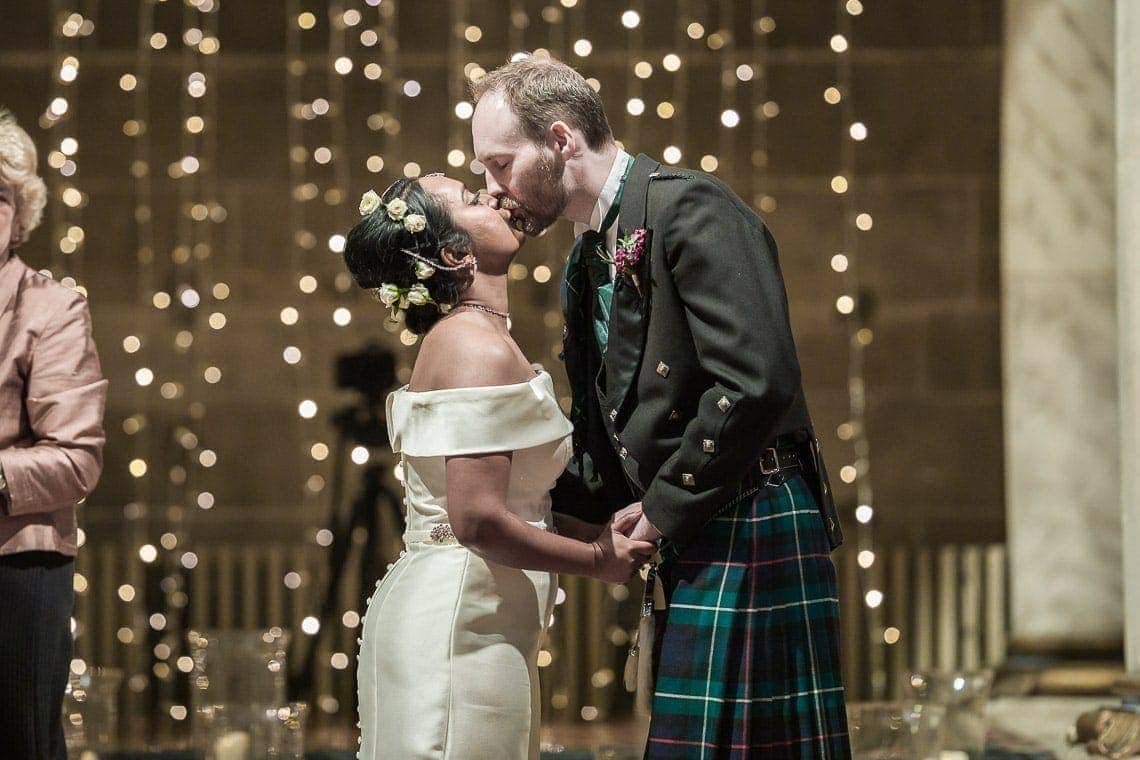 We have had the pleasure of creating many Mansfield Traquair wedding photos over the years and we were thrilled to be asked by Nithya and Ross to photograph and film their wedding at this exquisite wedding venue in Edinburgh city centre.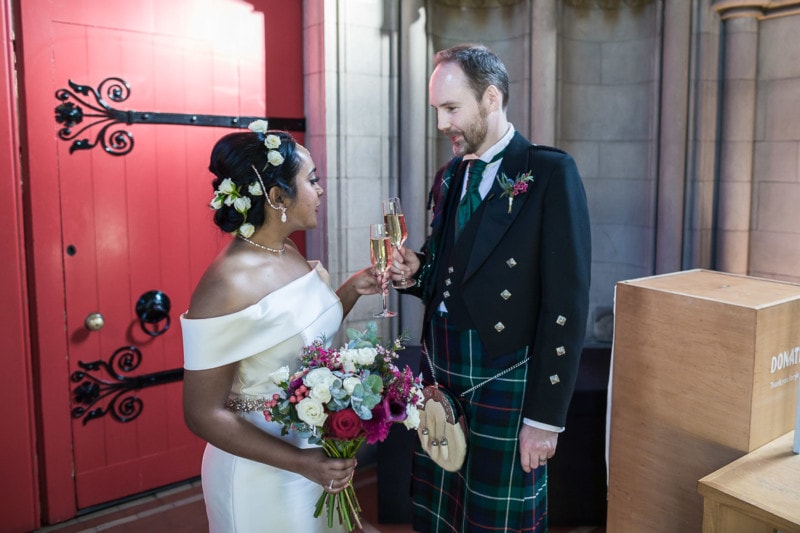 Mansfield Traquair is often referred to as 'Edinburgh's Sistine Chapel' and it's easy to see why. Hand-painted murals adorn the walls; you could almost be in Rome.
Our day of being wedding photographers at Mansfield Traquair started with the bridal party preparations. Our lovely bride Nithya picked the perfect accommodation for a wedding at Mansfield Traquair, renting an Airbnb flat directly across the road from the venue. Claire took relaxed, candid 'getting ready' photos of the girls as they sat for the hairstylist and makeup artist. Jonathon captured the more detailed pictures of Nithya's wedding dress, shoes, jewellery, and flowers.
Groom Ross also hired an Airbnb flat nearby where he got ready with his Best Man. Jonathon took a few photos of Ross and the boys before they went to enjoy a pint in the Cask and Barrell pub.
Ross was on hand greeting the guests as they arrived at Mansfield Traquair. Everyone was in awe as to how beautiful the venue looked.
Humanist celebrant Jackie Grant invited guests to stand for the bridal party procession. Nithya's adorable page boy nephews led the bridal party, followed by the sweet flower girls and bridesmaids.
Nithya walked up the aisle with her beloved brother Prad. What a beautiful bride Nithya was, she looked sensational in her wedding dress.
Nithya and Ross had a lovely wedding ceremony with a ring warming, candle lighting and beautiful readings. They officially 'tied the knot' in a handfasting ceremony, a Celtic tradition symbolising their union as husband and wife.
We love how the Heritage Portfolio team at Mansfield Traquair allow newly-weds a few minutes on their own immediately after the couple walk up the aisle as the new Mr and Mrs. Those first few minutes with a glass of fizz are a perfect moment together while their family and friends gather to welcome and congratulate them.
We always encourage our couples to spend a few minutes meeting and greeting their families and guests before we begin shooting a few formal group photos.
As guests enjoyed the drinks reception our newly-weds had group photos taken using the gorgeous backdrop of the altar at Mansfield Traquair.
The weather was beautiful and sunny, so Jonathon joined Nithya and Ross to create a few newly-wed photos nearby on Calton Hill. Claire stayed to photograph Nithya and Ross's lovely family and friends enjoying each others company over drinks and delicious canapes.
The Heritage Portfolio team worked in the background like a well-oiled machine setting up the room for the speeches and wedding breakfast. We love capturing guest's reactions during the big reveal when curtains are pulled back and everyone is invited to take their seat.
Everyone clapped and cheered as our newly-weds were announced into the room and escorted by the piper to their seats.
During the speeches by Prad, Rory and Rae, we work together creating candid 'spur of the moment' photos; Jonathon photographs the speakers and top table while Claire takes photos of the guest's reactions. It was great to walk around the room, photographing all the fun, laughter and emotion.
Our coverage of this exquisite Mansfield Traquair wedding drew to a close with our newly-weds cutting their fabulous wedding cake followed by the first few dances.
What a great day, we know Nithya and Ross' wedding album is going to look amazing.
Here are some of our fellow Mansfield Traquair wedding suppliers who helped to make the day so special and unique:
Flowers, Cake and Favours: Save the Date Collective
Wedding Dress Designer/supplier: David's Bridal
Piper: The Pickled Piper
Cars: Edinburgh Classic Cars
Celebrant: Jackie Grant
Catering: Heritage Portfolio
Evening Entertainment: Jim Moore Scotland's Party DJ
Nithya And Ross' Wedding Photos At Mansfield Traquair
We're delighted to share with you a few of our favourite Mansfield Traquair wedding photos telling the story of Nithya and Ross' wedding day.