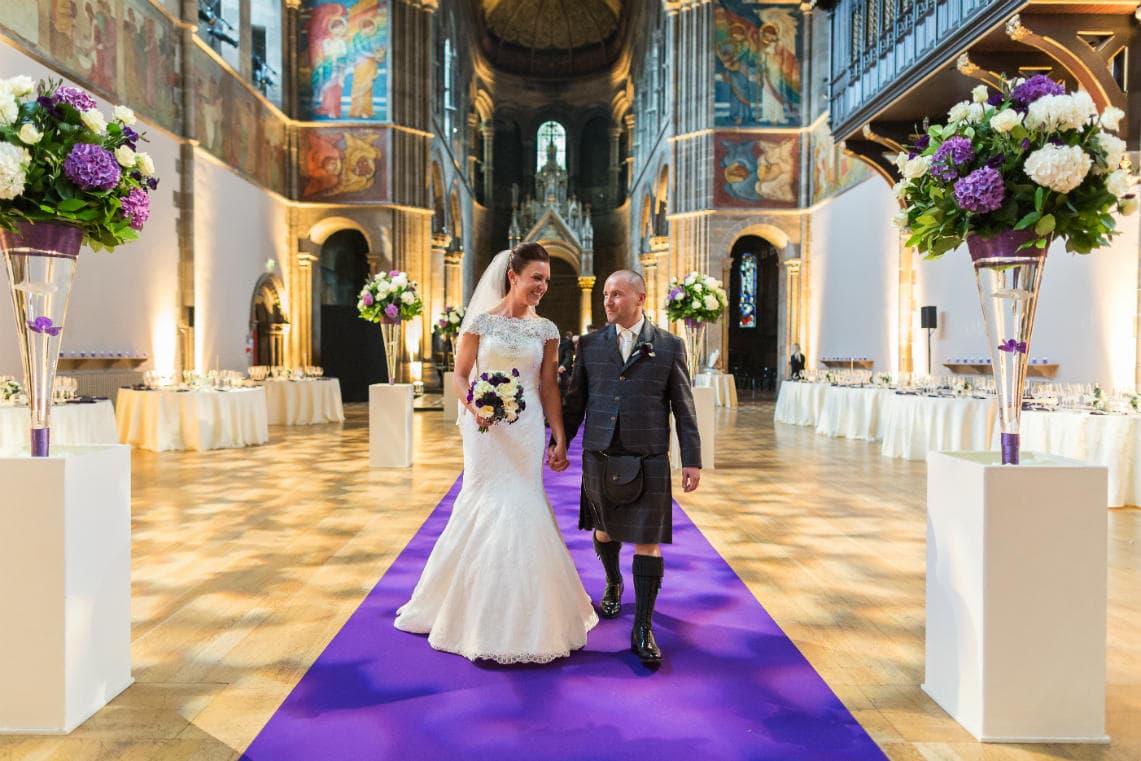 I am thrilled to share with you a real highlight of the wedding year for me when I was Garry and Lynsey's Mansfield Traquair wedding photographer.
Mansfield Traquair wedding venue is one of Edinburgh's finest. Located in Edinburgh city centre on the edge of the New Town, Mansfield Traquair is often referred to as 'Edinburgh's Sistine Chapel'. I've had the pleasure of covering many weddings at this stunning building, and every time I come here, I still want to stand and take in the splendour of the interior.
I've met Garry and Lynsey on a few occasions, most recently at our pre-wedding photo shoot at Holyrood. They're a lovely couple, fun to be around, relaxed and affectionate towards each other even when they have a photographer pointing a lens at them for a couple of hours. I knew their wedding day would be brilliant fun to photograph!
Add to this all the beautiful personal touches and meticulous attention to detail that had gone into creating this wedding and you know it's going to be a brilliant wedding day.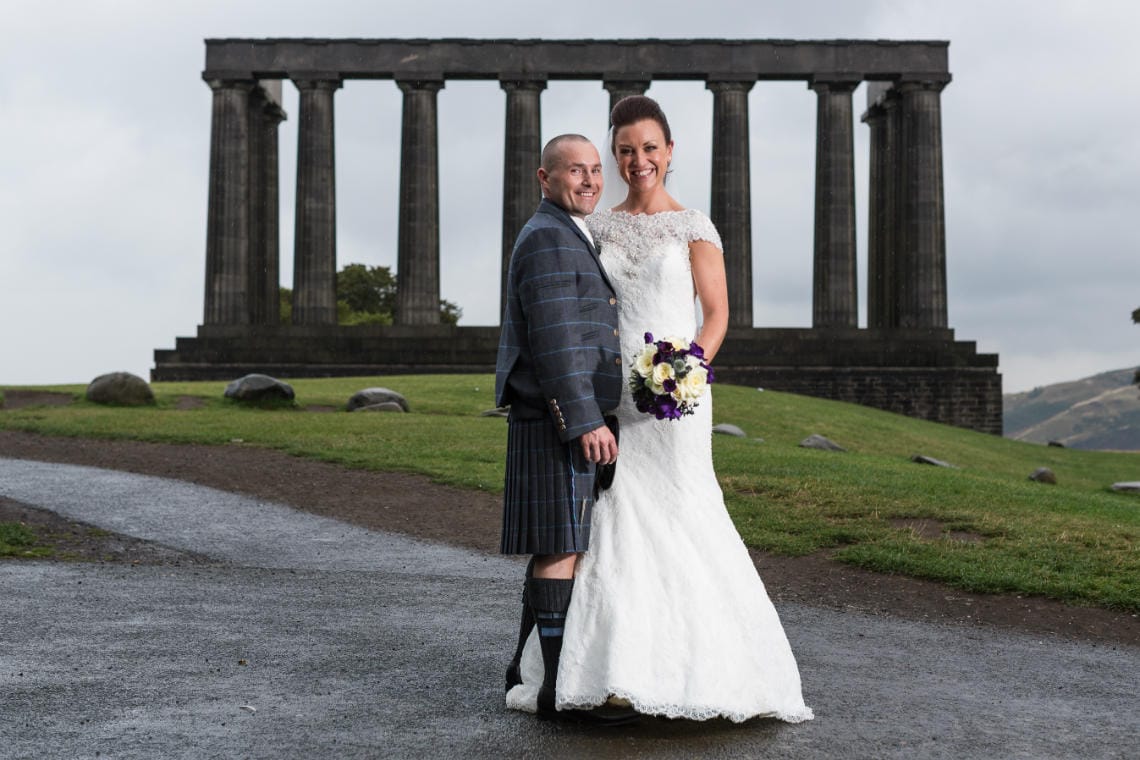 Pre-ceremony Preparations
Both the boys and girls were getting ready nearby at the beautiful Nira Caledonia Hotel in Edinburgh's New Town.
Everyone was very relaxed and looking forward to the occasion. I always enjoy photographing the preparations, and it's great to capture the little details that make each wedding unique. I especially loved Garry and Lynsey's bespoke wedding rings, finished beautifully with personal inscriptions on the inside.
Humanist Wedding Ceremony
Back at Mansfield Traquair, the guests were starting to arrive. It was a shame about the rain, but Mansfield Traquair wedding venue is such a beautiful place in which to spend the day indoors. Spacious and beautifully lit, there's a wow factor when you first enter the building. The layout and space mean being a Mansfield Traquair wedding photographer is a joy in which to capture all those unique moments.
I love a Humanist wedding ceremony. Every Humanist ceremony is always unique, and the vows are great as they tell each couple's story. How the couple met when they fell in love, and the story of their journey to their wedding day. The ceremony hosted by the lovely Melanie Leckie. One stand-out memory of the ceremony was the Page Boy and Flower Girl's reading. They did a great job and had the guests in stitches with their 'double act'.
Post Ceremony Photos
Unfortunately, it was still raining after the ceremony, so the formal group photos were restricted to indoors. A bit of rain was all right, Mansfield Traquair has an abundance of space, and I used my portable studio flash to enable a selection of group portraits to be taken.
Garry and Lynsey were happy to brave the rain, so we drove in their beautiful Mark 2 Jaguar car to Calton Hill to photograph the newly-weds on their own.
I've done quite a few photoshoots at Calton Hill. It's an excellent location offering some of the best views of Edinburgh. As you would expect, on a typical Saturday the place would be packed with tourists, but the rain had the benefit of making all but the hardiest of visitors go elsewhere. We practically had Calton Hill to ourselves!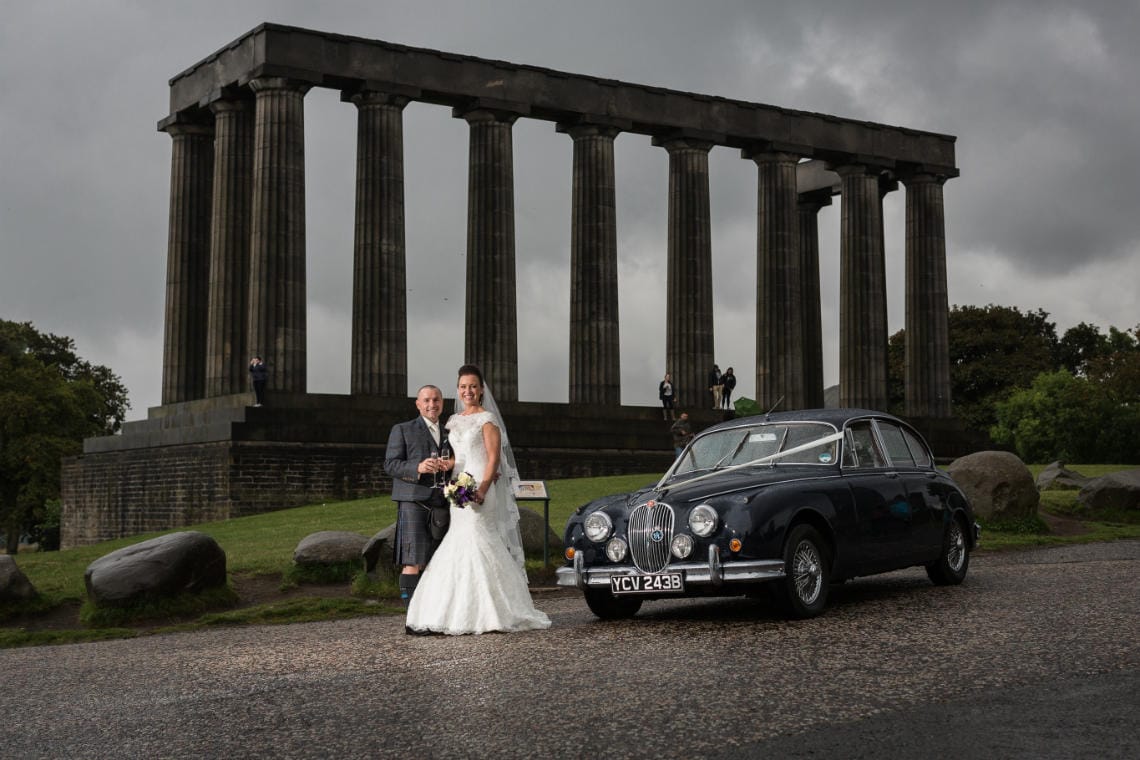 Twenty minutes later and we had a beautiful collection of photos, and I think the weather enhanced the pictures.
Party Time
The rest of my day as Mansfield Traquair wedding photographer was hosted indoors back at the venue. I loved the speeches – heartfelt, emotional, amusing and entertaining, always a highlight of the day for me capturing a wide range of emotions. I love the photos of Lynsey looking lovingly at Garry during his speech, the look on her face tells you more than any words ever could.
My day ended with the cutting of the most incredible wedding cake, created by 3D Cakes, followed by the first few dances with entertainment provided by a brilliant band called Killer City Sound.
What a wonderful and memorable day, I know their wedding album is going to look fantastic.
A few of the other wedding suppliers who helped to make Garry and Lynsey's Mansfield Traquair wedding so unique:
Flowers: Planet Flowers
Piper: Alan Buchan
Groom's Outfit: 21st Century Kilts
Favours: MacMillan Cancer Support
Daytime entertainment: Capella String Quartet
Cars: Ecosse Classic Cars
Mansfield Traquair Wedding Photographer Gallery
Here's a selection of Mansfield Traquair wedding photos telling the story of Garry and Lynsey's wonderful day.