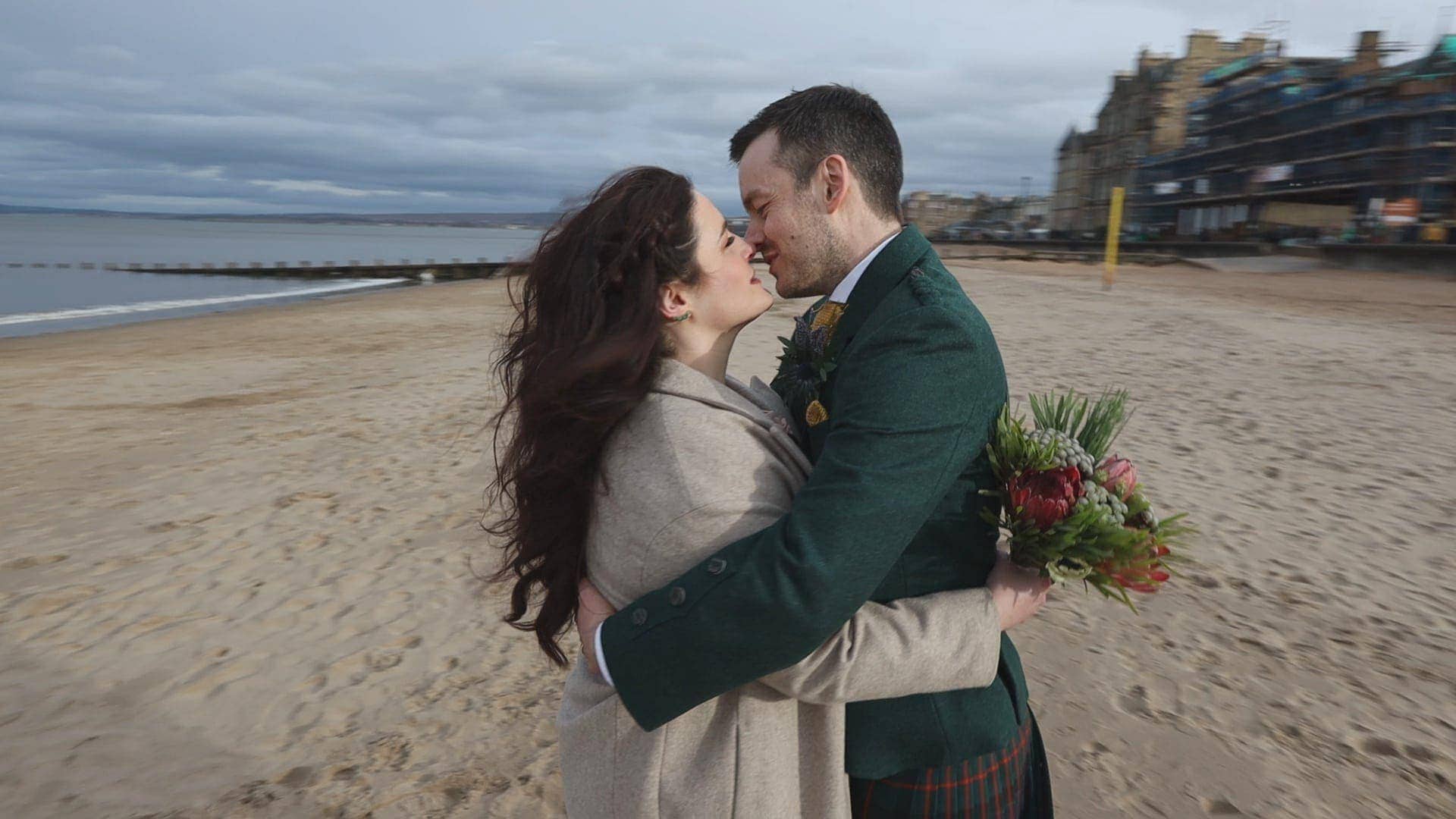 As leading wedding videographers in Edinburgh, we were honoured to be asked to film Suzie and Kevin's wonderfully personalised wedding day at Bellfield in Portobello, Edinburgh.
Little did we know as we filmed this fantastic day that this would be our last big event for several months due to the impending COVID lockdown and restrictions. The opening song in the video, chosen by Suzie and Kevin to be used as a backing track, was Elbow's 'One Day Like This'. We can't think of a better song to sum up our feelings as so much of everyday life so many of us took for granted came to a shuddering halt.
Our day started filming bridal preparations with our fabulous bride Suzie. The house was full of people, with a lovely and relaxed atmosphere.
Suzie was joined in the morning by her family. Her parents, her sisters who were her bridesmaids, and her beautiful nieces who all played the important role of flower girls.
Hairstylist Peter Melon and makeup artist Ingrid Peregrina from Medusa were in full swing. It was lovely to catch candid footage of everyone getting ready and getting their glam on!
Jonathon filmed detailed video footage of Suzie's beautiful Phase Eight bride's dress, the bridesmaid's dresses and shoes.
What a great way to start the day!
Arriving at Bellfield, we got the video cameras set up and in place to film Suzie and Kevin's marriage ceremony from multiple angles.
Bellfield, now a community hub was once the former Portobello Old Parish Church, located right in the heart of Portobello and Joppa. An ample, versatile space, it was Suzie and Kevin's perfect venue to play host to their special day.
Groomsman Kevin, his Ushers and his Best Man were on hand to meet and greet guests as they arrived at the venue. Kevin looked dapper in his full kilt outfit from Janet Eagleton MBE.
Candice Dillen of Humanist Society Scotland conducted the ceremony which began with Suzie and Kevin's adorable two-year-old little boy Oscar's naming ceremony!
Suzie and Kevin had a wonderfully personal humanist marriage ceremony. It was a joy to watch and film the ceremony and to hear the story of how this adorable couple met. It was great to capture family and guests' reactions as our happy couple became husband and wife!
After the Humanist ceremony, guests were invited onto the stage for a group photo with the newly-weds. Guests then moved into the foyer area where they enjoyed drinks and canapes. Claire stayed with the guests capturing all the fun of the drinks reception as everyone relaxed, made new friends and caught up with old friends.
Jonathon, Suzie and Kevin headed outside to Portobello Beach to film some newly-wed footage. Jonathon filmed the newly-weds having a few moments of 'alone time' where they could catch their breath for a few moments before heading back to the bustle at Bellfield.
The large hall and been beautifully decorated for the wedding breakfast and evening reception. Round tables with flickering candles peeking out of green foliage, gold glitter crowns for the children and for the adults, bottles of booze donated from Kevin's Mum and Dad's drink cabinet!
The evening celebrations kicked off in style with wonderful heartfelt speeches from Suzie's Dad, groomsman Kevin, our beautiful bride Suzie and Best Man Duncan.
Surrounded by their friends and family, in a room that was bursting with love and happiness, the newlyweds cut their wedding cake to rapturous applause!
Kevin and Suzie took to the dancefloor for their first dance as husband and wife. They held each other close as we filmed them dancing to their special song, which had the most wonderfully chilled Ibiza vibe!
Suzie couldn't have put it better when she advised us after watching her video, "We're up at my parents, on their 44th wedding anniversary, celebrating phase 3 (easing of COVID restrictions) and watching this. I feel like the wedding and then getting the video today have been bookends to an extraordinary time."
Wedding Videographers In Edinburgh – Suzie and Kevin's Bellfield Highlights Edit
We're delighted to share with you all the 'best bits' from Suzie and Kevin's brilliant day in this short highlights edit, with all of the music specially chosen by the newlyweds. Please do get in touch if you are getting married and looking for wedding videographers in Edinburgh, we'd love to create a highlights edit for you, too!
Bellfield Portobello, Edinburgh Wedding Video Highlights Edit – Suzie and Kevin
Some of the other suppliers who contributed to making Suzie and Kevin's day so magnificent and unique:
· Consultant/On the day planner: Linsey at Iridescent Events
· Cake: Sicilian Pastry Shop
· Catering: Risotto2Go
· Evening Entertainment: Thompson Entertainment
· Stage door décor: JAX Signage