Shooting Evita and Stuart's Edinburgh Zoo wedding was probably one of the best wedding days we have had the pleasure to photograph.
This wonderful wedding day took place on a gloriously sunny Saturday in October. The air was crisp, and the leaves on the trees looked beautiful in autumnal colours of rusty red, brown and oranges.
Some may say an Edinburgh Zoo wedding is perhaps not your typical choice of wedding venue, but it's 'probably one of the wildest places to get married in Edinburgh' and was the perfect wedding venue choice for our lovely couple. The Mansion House at Edinburgh Zoo has a great location with excellent transport links from Edinburgh Airport and the city centre. The adjacent hotel offered the ideal accommodation for family and friends travelling to celebrate with Evita and Stuart.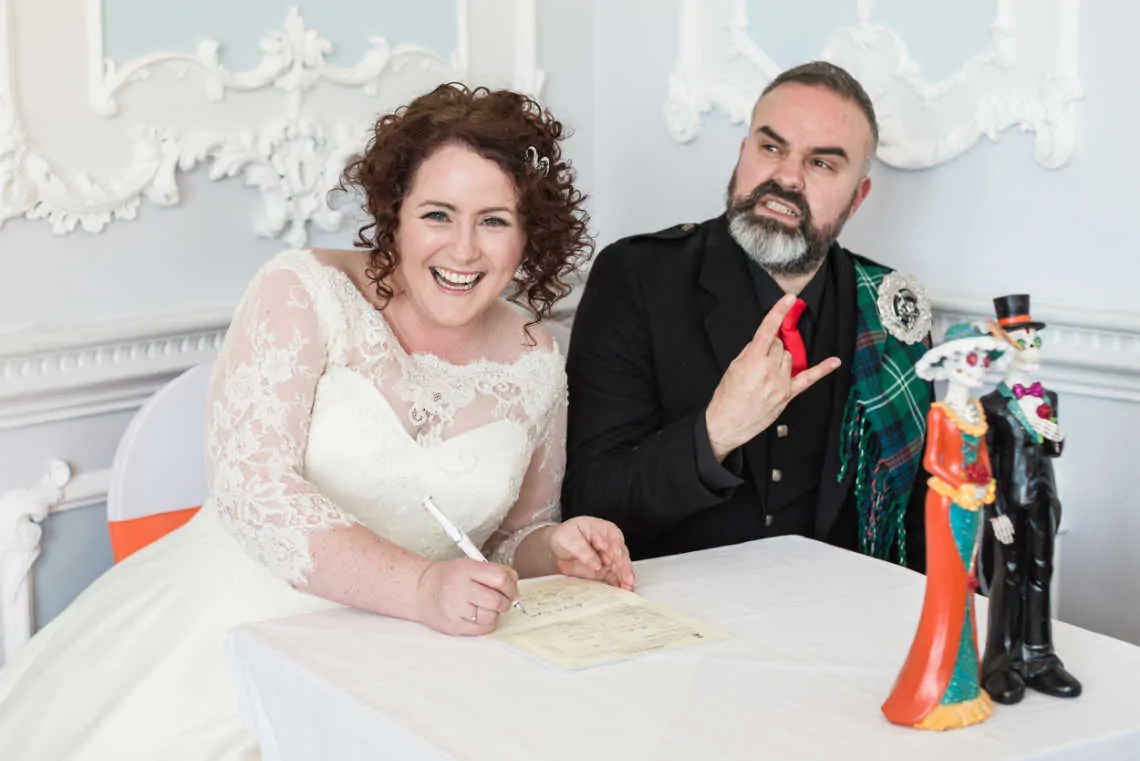 The wedding day for us started with groomsman Stuart and his best man at the hotel. We took photographs of the boys as they got ready in their fantastic highland kilt outfits. Stuart was a little nervous but ever so charming, witty, and fun. We loved Stuart's wedding ring, a unique 'Transformers' ring specially imported from America.
Leaving the boys to relax before meeting and greeting guests, we walked across to the Mansion House, where our beautiful bride Evita was getting reading for her wedding day. Jonathon stayed with the girls capturing all the detailed photographs of Evita's stunning wedding dress designed by Liliana Dabic of La Novia in Edinburgh, her fabulously different white wedding boots, her bridal 'book' bouquet, and her beautiful wedding day jewellery and hair accessories.
I took candid photographs as guests arrived, welcomed by the skirl of the bagpipes. The excitement for the day grew stronger as the time for the wedding ceremony fast approached.
Beautiful Evita, wearing her elegant ivory wedding dress with lace detailing, tied the knot with Stuart in a Humanist ceremony by Lesley Simpson of Humanist Society Scotland.
Their wedding ceremony was held in the gorgeous MacMillan Room of the Mansion House (also known as 'The Blue Room'). It was a beautifully personable ceremony that was bursting with love and laughter. A wonderful celebration of love in front of the people that matter most to Evita and Stuart.
Have you been to a wedding where there is a ring warming ceremony? Each guest gets a chance to hold the wedding rings and makes a wish or blessing for good luck as our happy couple starts their next chapter as husband and wife.
We loved when guests were asked to give each other a 'Mexican cuddle'…it was lovely to watch the wedding guests embrace each other. Such a novel idea and a real 'ice breaker'!
With all the legal formalities taken care of, Evita and Stuart, now husband and wife, made their way with their guests and congregated for a group photo on the staircase of the Mansion House.
Guests moved into the bar area of the Mansion House, where they enjoyed drinks and canapes as I created some fabulous candid photos of the guests enjoying themselves while Jonathon took a few of the family and guests back to the Blue Room for a small selection of formal 'group photos'.
Jonathon then whisked our couple away from their guests for their newlywed photoshoot in the beautiful grounds of the Mansion House.
Back at the Mansion House, Evita and Stuart enjoyed some special time with their wedding guests.
Jonathon and I created detailed photos of the downstairs Geddes and Gillespie Suite set for the wedding breakfast. Evita and Stuart had a Halloween-themed wedding reception. And when we say there was a Halloween theme, they didn't hold back! A step away from the norm but a refreshing change and a joy to see.
From trick-or-treat sweetie bags to Halloween-themed snow globes, orange bows on the backs of chairs, and a 'death do us part' wedding cake, this bride and groom had it all covered.
Before being called for dinner, Evita and Stuart had a traditional receiving line. With no 'formal' speeches, our beautiful bride Evita said a few heartfelt words, thanking her wedding guests for being with them on their special day and how much it meant to her and Stuart.
Evening entertainment went off with a bang as our newlyweds cut their three 'drip-style' wedding cakes by Cuckoo's Bakery. In keeping with the Halloween theme, 'Death do us part' was written on the cakes. Evita and Stuart stabbed the knife in as guests cheered their congratulations!
There's only one thing to say about our newlyweds' first dance: it was excellent, superbly choreographed and lots of fun. Hands down one of the best first dances we have ever seen! Oh my goodness, what a pair of movers! There's no other way to say it, Evita just went for it. She was sexy and sassy and didn't hold back. Stuart, at one point, looked like he had had enough and was walking off the dance floor, then the DJ cut from one song to the next, and all hell broke loose! Cue lots of 'air-guitar' and 'head-banging'! It was brilliant, and everybody loved it! What a great photo opportunity for everyone.
The way the happy couple looked at each other and how they danced together was fantastic, and they rocked. As guests cheered and clapped, laughed and cried, our newlyweds got lost with each other in their special moment.
Evita and Stuart were simply a delight to be around. Laidback, easy-going, and full of love and warmth.
Mansion House Edinburgh Zoo Wedding Photography Gallery
Here are some of our favourite photos from shooting Evita and Stuart's Mansion House Edinburgh Zoo wedding photography.