We were so excited to be invited to be Amber and Andrew's Norton House Hotel wedding photographer! This wonderful wedding was held on a sizzling bank holiday weekend in May.
Bride and Groom Pre-ceremony Preparations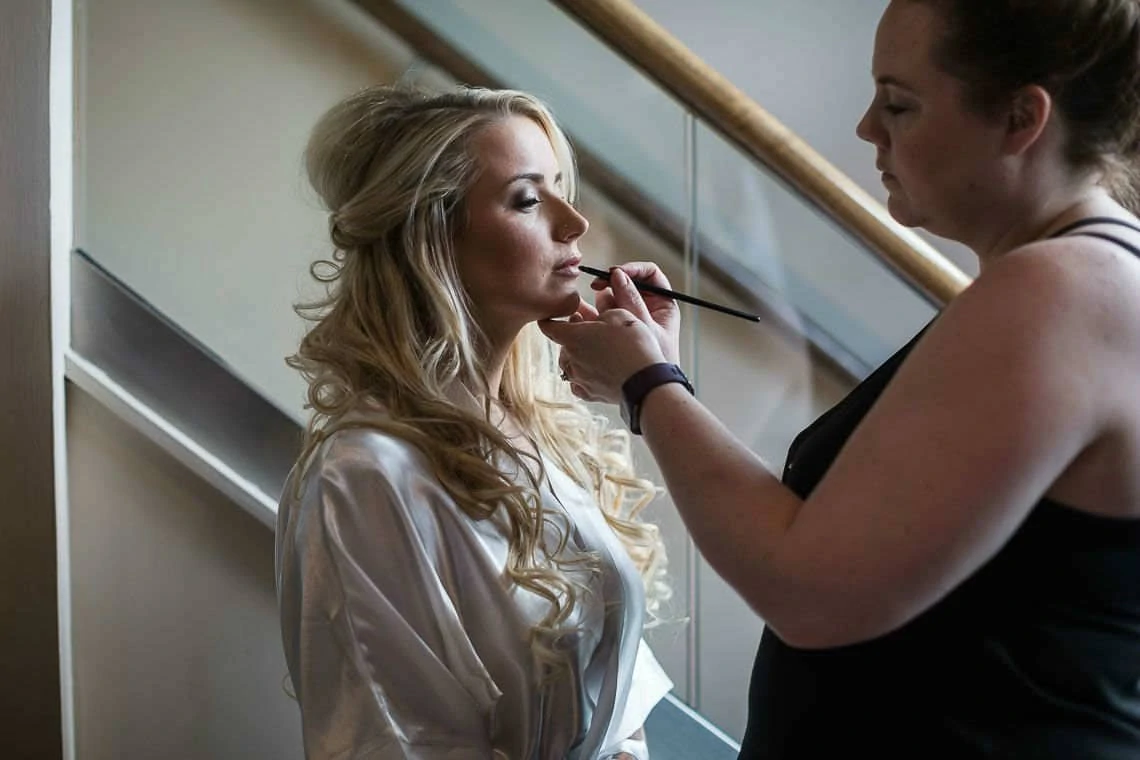 Norton House Hotel & Spa is a fabulous venue that offers "an elegant blend of the classic and the contemporary".  On arrival, Jonathon and I made our way to the Ratho suite where the atmosphere was laid back as our stunning bride Amber, her sister and her Mum sipped champagne as the make-up artist, and hairstylist added their finishing touches.  It was lovely to see Amber so relaxed and enjoying such a special morning with her family.
Before long, it was time to head over to Andrew's room for some detailed photos of the groom and his best men getting ready.  Andrew was full of excitement and in high spirits.  He looked every inch the handsome groom in his navy blue, slim-fitting three-piece suit.  The boys joked about wearing suits on such a warm day – I mean it must have been 30 degrees that day!  But they handled the heat well and didn't seem to get too flustered!
Humanist Ceremony In The Garden Suite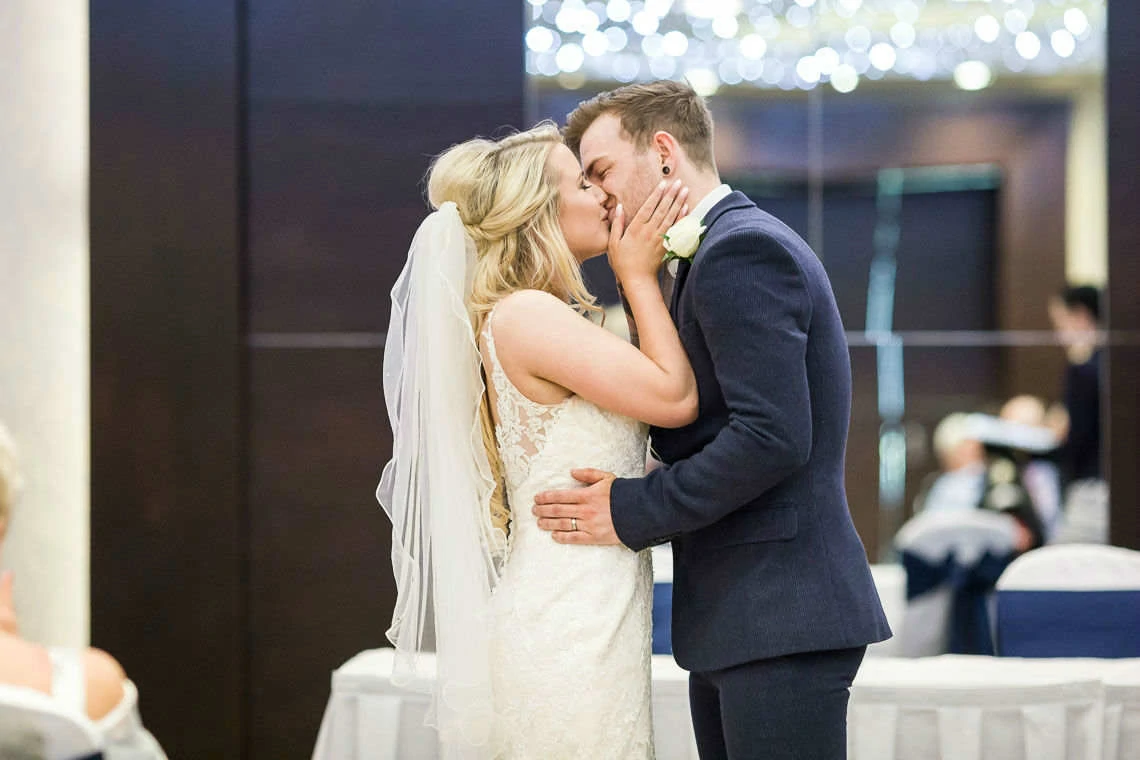 Guests arrived at Norton House Hotel and made their way to the fabulous Garden Suite where they were greeted by Andrew and his best men.  The Garden Suite at Norton House Hotel Edinburgh is a "stunning contemporary room in the Victorian walled garden" – the perfect setting on a perfect day.  Guests chatted and mingled as they enjoyed a quick refreshment before taking their seats in preparation of the ceremony starting.
Surrounded by family and friends Amber and Andrew tied the knot with a beautifully personal Humanist wedding ceremony conducted by Karen Dickson.  Amber was a stunning bride in her ivory, figure-flattering fishtail wedding gown and delicate lace and crystal detailing.  Guests beamed with happiness as they exchanged their wedding vows and officially became husband and wife.
Amber and Andrew walked hand in hand down the aisle of the Garden Suite to the sound of their guests clapping and cheering in delight.
Drinks Reception And Newlywed Photos
The newlyweds, now with a glass of champagne in hand, were congratulated with hugs and kisses from all their guests. Then everyone made their way outside for some fabulous group and family shots.  Afterwards, guests had the opportunity to mingle some more and soak up the sun while Amber and Andrew had their stunning newlywed photo's taken in the beautiful grounds of Norton House Hotel Edinburgh.
Wedding Meal and Evening Celebration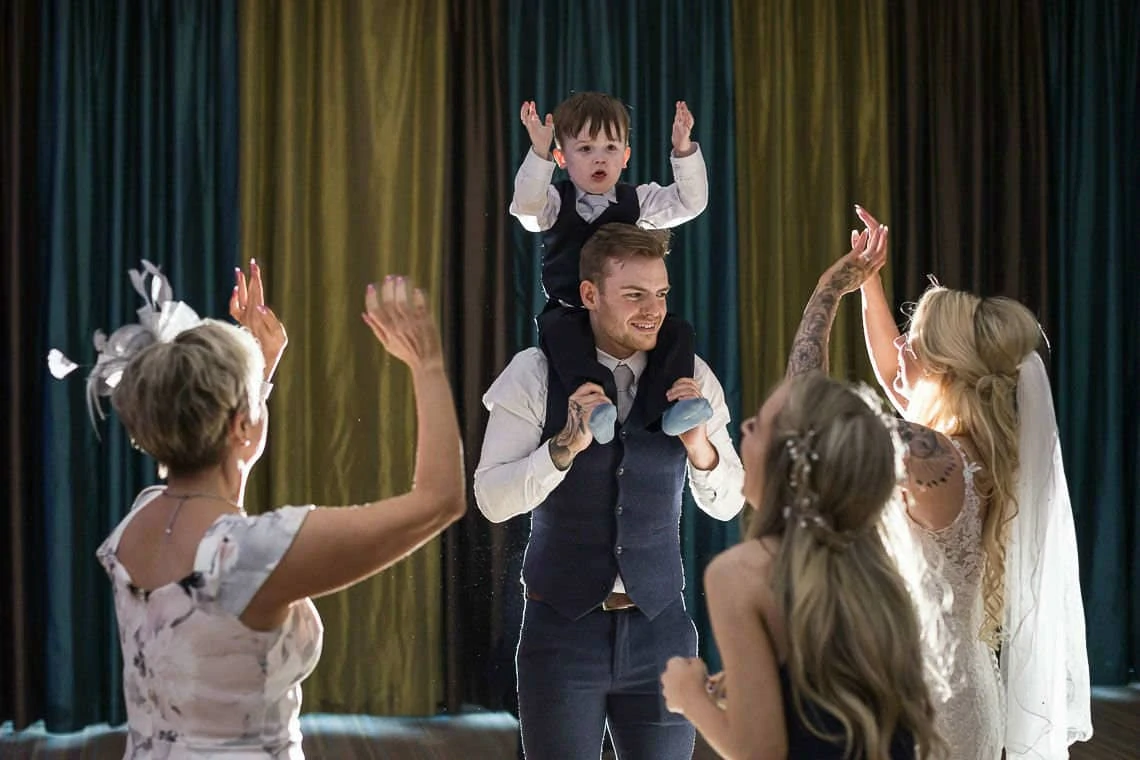 Guests were called to take their seats once more in the beautifully decorated Garden Suite. Chairs with navy bows, vases filled with gorgeous fresh white roses, love heart shaped tablet and bespoke wooden name cards, all added that extra special touch to the table settings.  Guests enjoyed a delicious wedding breakfast of carrot and coriander soup, chicken supreme with puy lentils and to finish, a rich chocolate tort with mango and poppyseed coulis.
A short comfort break followed, and it was straight into evening celebrations.  The night kicked off to a rapturous affair as Amber and Andrew made their grand entrance into the Garden Suite for the cutting of the cake.  Their cake was super fun, a three-tiered square with marble effect icing.  And on top?  Well, of course, the bride and groom themselves doing a little bit of weight-lifting and Jack by their side on his i-pad!  It was the perfect cake for our newlyweds and a sure sign our gorgeous couple don't take life too seriously and are always up for a laugh.  Amber and Andrew then shared their romantic first dance together as husband and wife before being joined on the dancefloor by all their guests.  The evening was filled with love, dancing and giggles and little Jack, well he got the best view of it all from sitting on Andrew's shoulders!
Amber and Andrew, thank you for letting us be your Norton House Hotel wedding photographer, we loved every minute of photographing your special day.
Norton House Hotel Wedding Photographer Gallery Of Photos
We're delighted to share with you a collection of our favourite photos created as Amber and Andrew's Norton House Hotel wedding photographer.