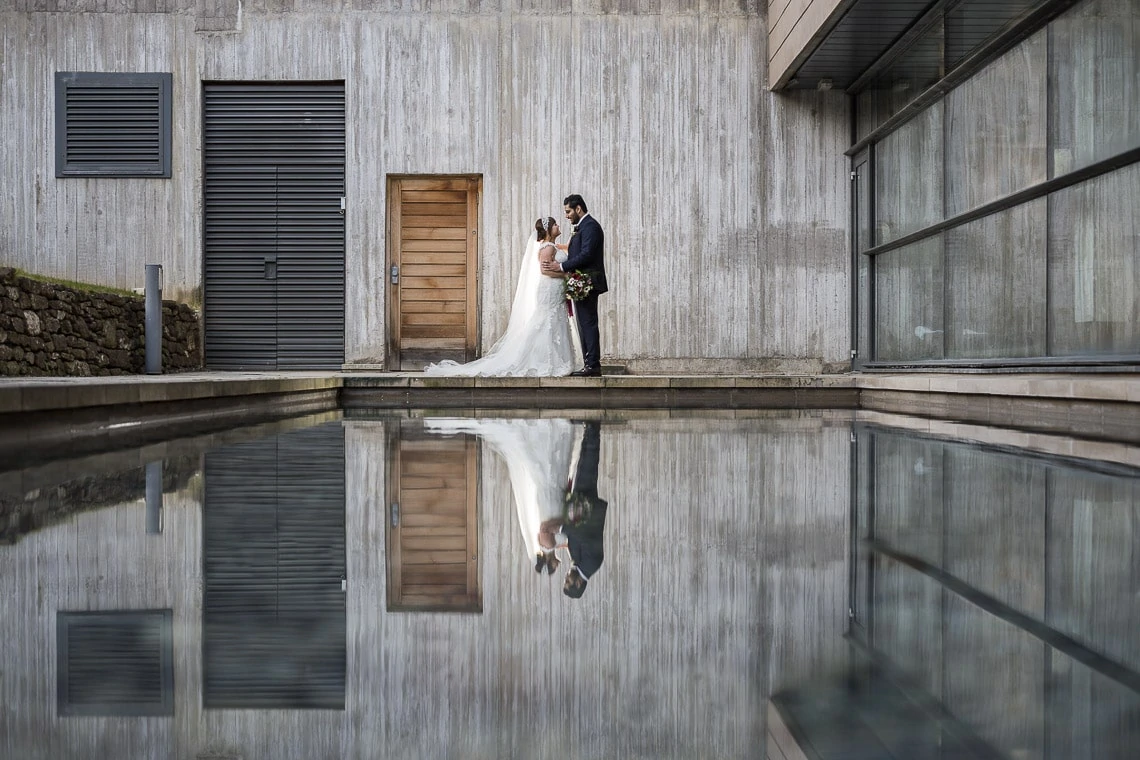 We were delighted to be invited to shoot Lisa and Adil's Norton House Hotel Garden Suite wedding photos. It was great to be back at Norton House Hotel, a beautiful wedding venue at which we have had the pleasure of photographing and filming on many memorable occasions.
Our day started with the preparations for the girls and boys at the hotel. Jonathon was photographing Adil and his best man Ali. The boys were nice and laid-back as they enjoyed a dram of whisky.
I spent a lovely morning photographing Lisa, her four wonderful bridesmaids and Mum, Anne-Marie.
Louise from Hype Hair Studio had already styled the girl's hair in beautiful 'up-do's'. Lisa, already looking fabulous, wore a stunning bridal headpiece by Lily Luna that was covered in sparkling Preciosa crystals.
The atmosphere was relaxed as the girls enjoyed prosecco and a playlist of some of their favourite songs. Talented MUA Eve Learmonth was in full swing getting our beautiful bride Lisa ready for her fast-approaching wedding ceremony.
Lisa looked sensational in her Maggie Sottero designed wedding dress from Emma Roy of Edinburgh as she walked down the aisle to meet Adil. Lisa and Adil had a lovely civil marriage ceremony held in The Garden Suite of Norton House Hotel. Joined by their friends and family, it was a pleasure to capture candid photos of such a joyous occasion.
After the marriage ceremony, we went outside for the confetti shower. As our happy couple walked past, guests cheered and whooped their congratulations, showering the newlyweds in a soft flurry of confetti.
Back inside, guests enjoyed a champagne drinks reception while some formal group photographs with Lisa and Adil were taken outside the Garden Suite.
Back in the warmth of the Garden Suite, our bride and groom enjoyed spending some quality time mingling with friends and family. Later, Jonathon whisked Lisa and Adil away for their newly-wed photoshoot, while I stayed capturing candid photos of the guests enjoying the drinks reception.
Jonathon took the newlyweds over to the main 'Old House', the lovely staircase offered the perfect setting for some gorgeous newlywed photos. They explored the beautiful established grounds Norton House Hotel has to offer, making the most of the glorious winter sunshine.
Back at the Garden Suite guests took their seats in the beautifully decorated room. Groomsman Adil was the first to take to the floor where he said some lovely words on behalf of Lisa and himself. Lisa's Dad followed with an emotional and heartfelt speech about his daughter and how proud he was to have Adil as his son-in-law. Last but by no means least, best man Ali who made the crowd laugh! It was great to catch people's reactions on camera.
Lee Live got the evening entertainment underway by announcing our happy couple into the room to perform their first 'official' duties as husband and wife. First up, the cutting of the wedding cake. A four-tiered show-stopper by 3D Cakes is displayed on a table right in the centre of the dancefloor. Lisa and Adil looked so happy as their friends and family gathered for this great photo opportunity.
Then, a beautifully romantic first dance, holding each other close and singing along to their special song.
A perfect ending to a wonderful winter wedding at Norton House Hotel.
Norton House Hotel Garden Suite Wedding Photos
Here's a selection of our favourite Norton House Hotel Garden Suite wedding photos.
Please do get in touch with us if you are getting married at Norton House Hotel and be sure to take a look at our wedding photographer prices and luxury wedding albums.