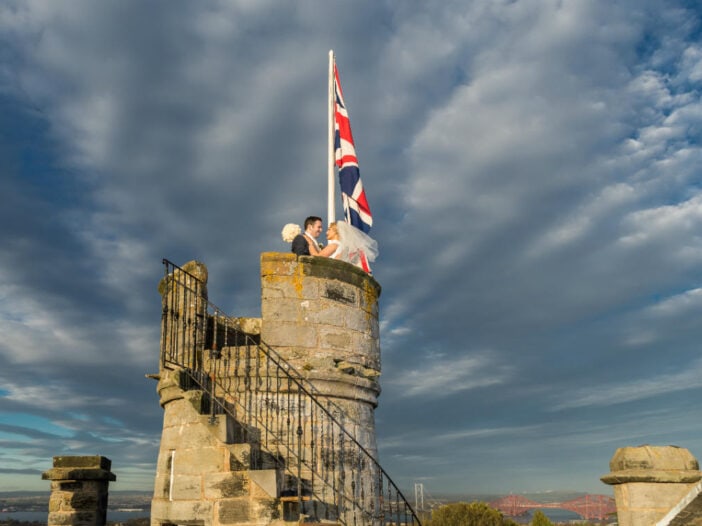 Pre-ceremony preparations
Ashley and Kevin's Dundas Castle wedding photos. Ashley and Kevin were married at exquisite Dundas Castle, located near South Queensferry, Scotland.
Beautiful bride Ashley is originally from Musselburgh to the east of Edinburgh. She moved down south where she met her future husband Kevin. Coming back to bonny Scotland to get married, it's easy to see why Ashley and Kevin chose Dundas Castle as their wedding venue. This magnificent castle, located near South Queensferry, never fails to impress.
I arrived a couple of hours before the wedding ceremony to create a selection of photos of the preparations and the build-up to the ceremony. Ashley was nice and relaxed as she and her girls got ready while enjoying a glass of bubbly. Kevin and the boys were in good spirits, enjoying a pre-wedding beer in Dundas Castle's Billiards room.
Humanist ceremony in the Auld Keep
As I have lots of experience shooting Dundas Castle wedding photos, I was looking forward to photographing another wedding at this historic venue. With its winding stone staircase leading up to the 'Auld Keep', the oldest part of the Castle is a beautiful and historic place for a wedding ceremony. Candlelight added to the atmosphere in what was a beautiful Humanist wedding service.
Newlywed photos around Dundas Castle
It was a bitterly cold November day. I'm glad Ashley and Kevin braved the chill to allow me to shoot a few newly-wed photos around the spacious private garden of Dundas Castle, beginning with a few shots up on the roof of The Auld Keep. I'm sure you'll agree that Ashley and Kevin look so happy together.
It was a privilege to be shooting of Ashley and Kevin's Dundas Castle wedding photos. Certainly one of my favourite weddings of the year, I look forward to telling the story of this wonderful day when designing Ashley and Kevin's luxury wedding album, handmade right here in Scotland.
You might also enjoy Ashley and Kevin's pre-wedding photoshoot at Inverleith Park in Edinburgh!
Dundas Castle wedding photos gallery
I'm delighted to share a few of my favourite photos from Ashley and Kevin's fabulous wedding at Dundas Castle.