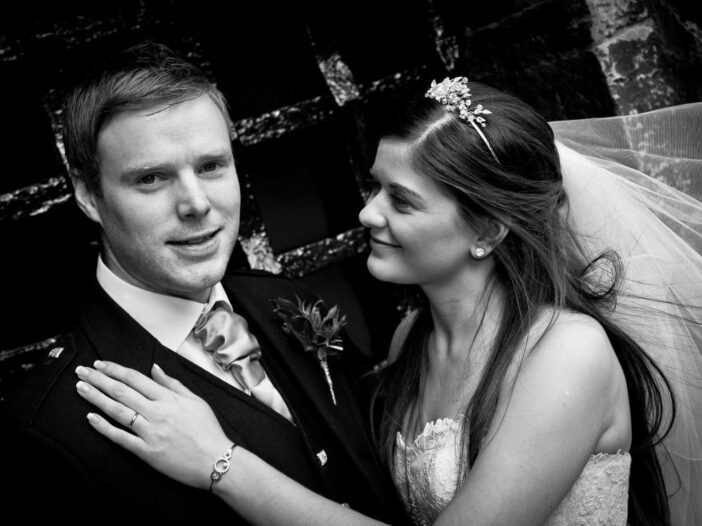 What a brilliant end to the week, when I had the pleasure of being Zara and Sam's Dundas Castle wedding photographer.
Historic Dundas Castle is a beautiful wedding venue located near South Queensferry. It's the perfect location for a fairytale wedding!.
The wedding at Dundas Castle began with me photographing the preparations. Everyone was nice and relaxed. I knew this was going to be an amazing day as there was no sign of any nerves or stress, just happiness and excitement that the big day had finally arrived.
The wedding ceremony took place in the oldest part of Dundas Castle, The Auld Keep. Piper Roddy Deans led beautiful bride Zara up the stairs into the chapel.
After a lovely romantic wedding ceremony Zara, Sam and myself went up onto the roof of the building for a few photos. The guests relaxed down in the main Castle with a glass of bubbly. The weather was perfect for shooting the majority of the wedding photos outside on the grounds of Dundas Castle. We did a few traditional, more formal group photos, this ensures we get at least one photo of everyone who attended the wedding!
Piper Roddy piped the newlyweds into the beautiful Croquet Room. It was good fun to photograph the speeches. I love taking photos of everyone's reactions to the various anecdotes.
After the speeches, Piper Roddy performed his entertaining 'Address to a Haggis'. Roddy really knows how to perform and the guests loved this part of the day.
I ended my coverage of this wonderful wedding at Dundas Castle by photographing the first few wedding dances. The newlyweds took to the dance floor for the first dance, followed by their family and guests for the start of the ceilidh. A brilliant end to a wonderful day.
Dundas Castle Wedding Photographer
Here's a small selection of my favourite photos from Zara and Sam's Dundas Castle wedding.