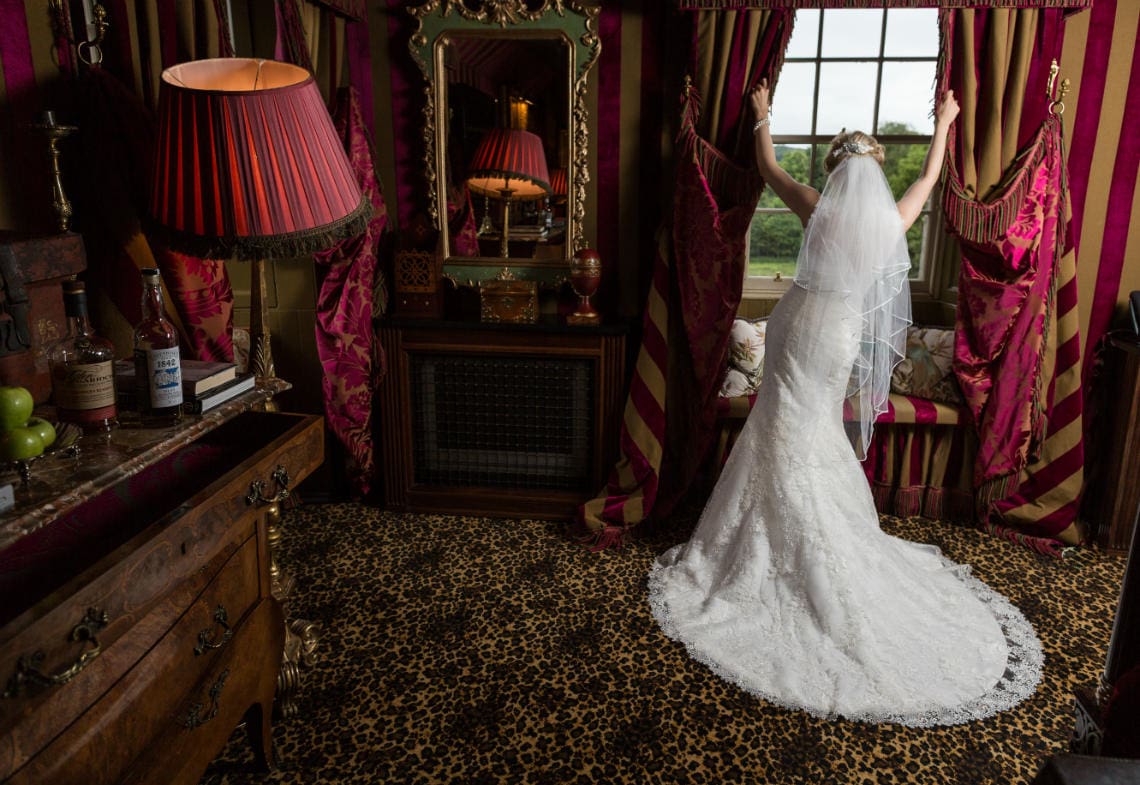 Introduction
I was super excited to be invited to shoot Eimear and Julien's Prestonfield House wedding photos. Prestonfield House is one of Edinburgh's most loved and famous hotels and I've been privileged to have photographed many couples at this prestigious Scottish venue.
Eimear and Julien's big day was a wonderful get-together of over one hundred family and friends from around the world and in such a great location.
Bridal preparations at Cramond
I'd previously met bride Eimear and groom Julien at our engagement photoshoot on Edinburgh's Calton Hill, so I knew how relaxed, warm, friendly and photogenic this lovely couple would be at their wedding day.
The atmosphere was fun during the bride Eimear's preparations at the family home in Cramond, Edinburgh. Flowing champagne, music playing and everyone having fun and looking forward to the rest of the day at Prestonfield House!
Ceremony in the Stables Ballroom
Julien is South African but chose to wear a traditional Scottish Highland outfit for his wedding day at Prestonfield House. Julien was very relaxed and looked fantastic in his kilt outfit – great to see him getting into the spirit of a Scottish wedding!
Eimear and Julien couldn't stop smiling at each other during their romantic marriage ceremony, which took place in the Stables Ballroom.
Newlywed photoshoot
It might have rained on the day, however, we were fortunate enough to be able to shoot a few photos in the beautiful grounds of Prestonfield House before the heavens opened. Such a beautiful Edinburgh venue, Prestonfield House is full of character and opulence and makes for a stunning backdrop for a wide range of photos.
Celebration in the Stables Ballroom
Eimear and Julien couldn't have looked happier throughout their wedding day at Prestonfield House. Everyone cheered and clapped as our newly-weds were announced and led to the top table within the Stables Ballroom.
Fabulous speeches raised a few laughs and guests were on their feet as our handsome Groom raised a toast.
One of Edinburgh's finest event bands, Reel Time, provided the evening entertainment, with the dance floor packed full of revellers in true Scottish style!
What a great day in the company of a friendly and warm group of people. Eimear and Julien's wedding albums are going to look beautiful.
Prestonfield House wedding photos gallery
I'm delighted to share with you a selection of my favourite Prestonfield House photos, telling the story of Eimear and Julien's wonderful day.