It was great to be back shooting photos at one of our favourite wedding venues, the City Chambers Edinburgh registry office wedding of Molly and Ross.
Arriving together at the venue in true style, Molly and Ross pulled up in their classic silver Bentley saloon wedding car from Ecosse Classic Cars.
Molly looked divine in her white Vanessa Cocchiaro jumpsuit and Ross dapper in his suit and tie.
Group photos of Molly and Ross with their families were captured outside the Quadrant area before entering the Alexander Suite for their civil ceremony.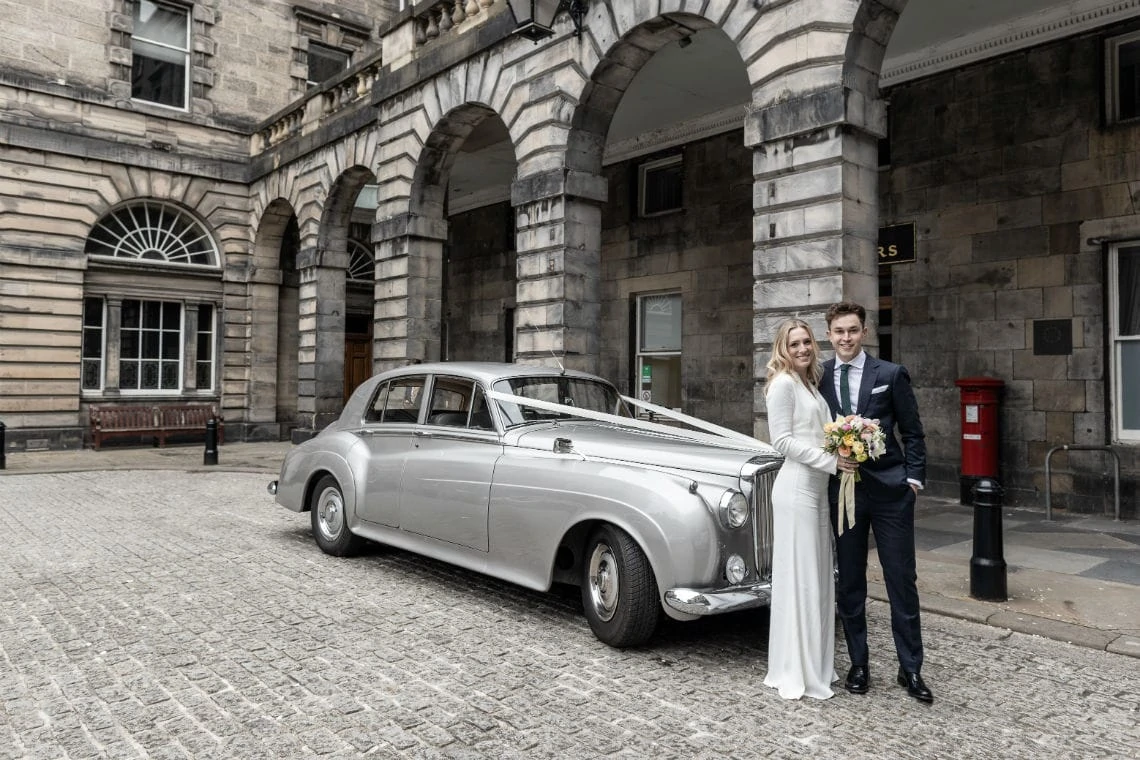 Civil marriage ceremony at City Chambers
Standing facing each other and holding hands, Molly and Ross declared their love and union for each other in front of their families.
They shared their first kiss as husband and wife and were met with cuddles of congratulations from their loved ones. It was fantastic to capture the pure joy and love of their City Chambers Edinburgh registry office wedding.
Newlywed photoshoot in the Old Town
Post-ceremony, Molly and Ross were taken on their romantic newlywed photoshoot around Edinburgh's historic Old Town. Everything felt wonderfully relaxed as they explored the streets of Edinburgh, Jonathon capturing special moments of the newlyweds.
Prestonfield House wedding reception
A magical reception followed at Edinburgh's luxurious Prestonfield House Hotel. A historic building dating back to 1687, Prestonfield House is a unique venue that offers the ultimate in luxury and opulence. Molly and Ross had a stylish celebration with a small, intimate gathering of close family.
The rain came, but that didn't stop the newlyweds from getting photos taken outside utilising the impressive gardens at Prestonfield House.
Such a wonderful day spent in the lovely company of Molly and Ross. Congratulations again to the newlyweds. We couldn't be happier for you both.
City Chambers Edinburgh wedding photos
Here are some of our favourite photos from Molly and Ross's City Chambers Edinburgh registry office wedding that felt modern, stylish and relaxed in the Scottish capital.