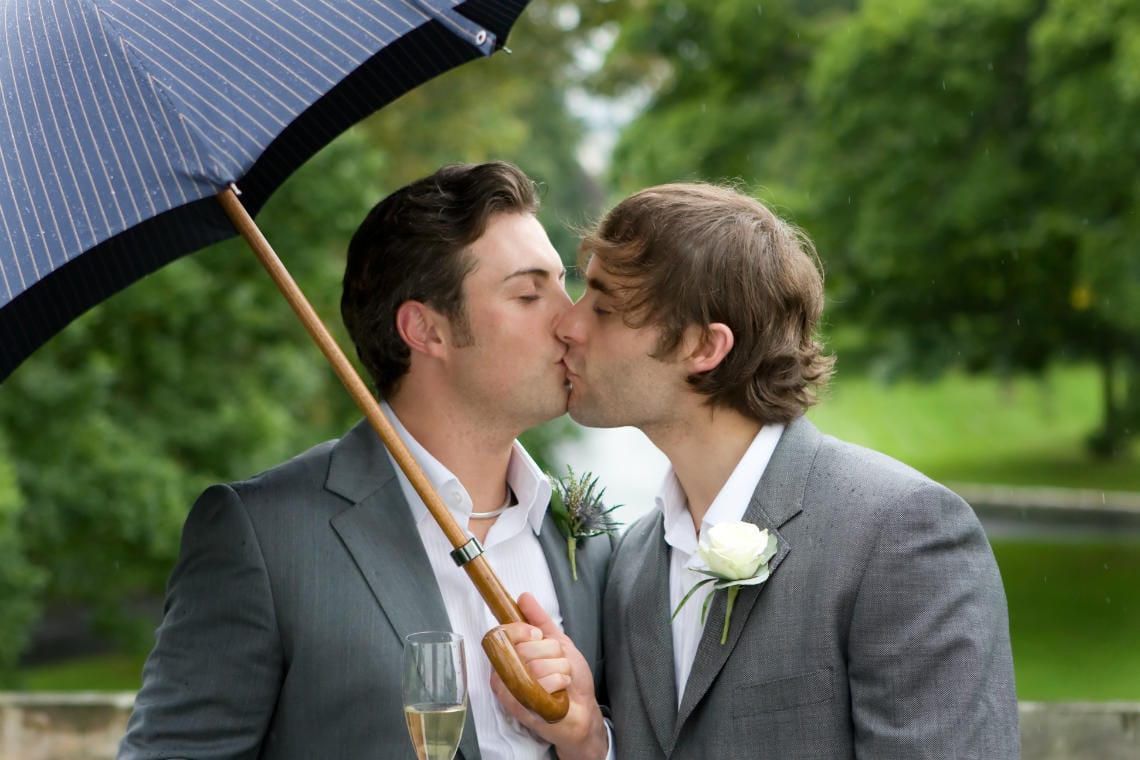 Welcome to Prestonfield House
I recently had a brilliant day photographing Clinton and Damian's Prestonfield House wedding photography. Clinton and Damian were married in a same-sex wedding ceremony at beautiful Prestonfield House, Edinburgh.
It was a wet day, with the rain pouring down. This meant indoor photography only. No worries, though. Prestonfield House has one of the finest interiors of any wedding venue. It is fabulous, and a great backdrop for wedding photos.
Pre-ceremony preparations
Damian and Clinton stayed at Prestonfield House the night before the ceremony. I went up to their suite to take a few photos of their preparations. What a wonderful place to stay. The suite was amazing! The whole place is really opulent with gorgeous furnishings and décor. The guys were nice and relaxed and the surroundings made for really nice photos of the boy's preparations.
Same-sex civil wedding ceremony
The civil wedding ceremony was very personal and pleasant. This was a small and intimate same-sex civil wedding ceremony, held in the exquisite Leather Room.
Champagne reception and photoshoot
Afterwards, the guests mingled in the beautiful surroundings. Champagne and canapés were offered as I took a range of formal and informal wedding photos. After taking a selection of group photos I went to shoot a few detail photos of the table settings. No typical favours for their guests. Clinton and Damian had purchased individual gifts for everyone. I thought this was a lovely idea as each gift was tailored specifically for their guests.
The room for the wedding breakfast was beautiful and intimate. There was one large dining table to seat all guests. The wedding cake looked beautiful, a carefully crafted piece of art. What a shame to cut it up and eat it!
Thanks again Clinton and Damian, you were a pleasure to photograph at Prestonfield House. I look forward to designing a wedding album for you!
Prestonfield House wedding photography gallery
Shared here are a few of my favourite photos of this wonderful wedding at Prestonfield House.
Prestonfield House wedding photography slideshow
I've also collected a selection of Clinton and Damian's wedding photos and presented them in a slide show. This is a very popular wedding photo upgrade. It's a great way to show off your photos to family and friends.
The photo slideshow presented here was created from around one hundred wedding photos. The music was chosen by Clinton and Damian.