Being Kerry and Liam's Scottish Borders wedding videographer was a highlight of our wedding year! Getting married in their home town of Denholm in the Scottish Borders was the perfect location for Kerry and Liam.
Our day as a Scottish Borders wedding videographer started at Kerry's parent's house filming bridal preparations. Jonathon began capturing fabulous drone footage of the family home. Kerry's lovely Dad, George, told us later in the morning how the house used to be his old primary school.
The atmosphere was friendly and relaxed, with such a lovely homely feel. The girls, wearing pretty floral robes, sipped prosecco as they sat for hair by Ellava and makeup by Beauty Secrets, both local businesses based in Hawick.
I captured candid footage of Kerry, her Mum, and her best bride squad, bridesmaids Zara, Jade, Beccy and Amy, as they enjoyed getting ready. Upstairs, Jonathon filmed Kerry's beautiful wedding dress by Indiebride and cinematic slider shots of Kerry's gorgeous wedding shoes, the bridesmaid's dresses and Kerry's unique wedding day jewellery.
We met our groom Liam, his best man and Ushers at the church. Liam was happy and looked handsome in his full kilt outfit by Highland Kilt Connections. He was laid-back and relaxed, and there was a hip flask on the go, but we can't say if that was used to steady his nerves!
Our drone was put to good use again to take those wow-factor cinematic shots of the church and the beautiful, sweeping countryside.
With excitement building, locals from the village gathered around the village green to watch and patiently wait for the arrival of our bride. I stayed at the church, capturing guests as they arrived by private coach to the sound of Piper Roddy McIntyre. Liam's Ushers were on hand to meet and greet and hand out the 'order of service' as guests eagerly took their seats.
Back with our beautiful bride Kerry, Jonathon filmed the bridal party as they left the family home and made the short walk to Ruberslaw Parish church. Kerry walks arm in arm with her emotional Dad, her bridesmaids in front and her Mum and brother behind her. It was a beautiful moment to capture on film as our bride waved to all of her spectators. Here comes the bride!
Kerry looked gorgeous in her bohemian-style wedding dress. Her hair styled with soft, beachy waves, looked effortlessly romantic. She wore a pretty floral crown headpiece which tied in perfectly with her gorgeous bridal bouquet by Primrose and Percy.
Kerry and Liam had a beautiful wedding ceremony officiated by Minister Jordan Hope. Kerry and Liam exchanged vows and wedding rings with their friends and family; it was a joy to watch and film.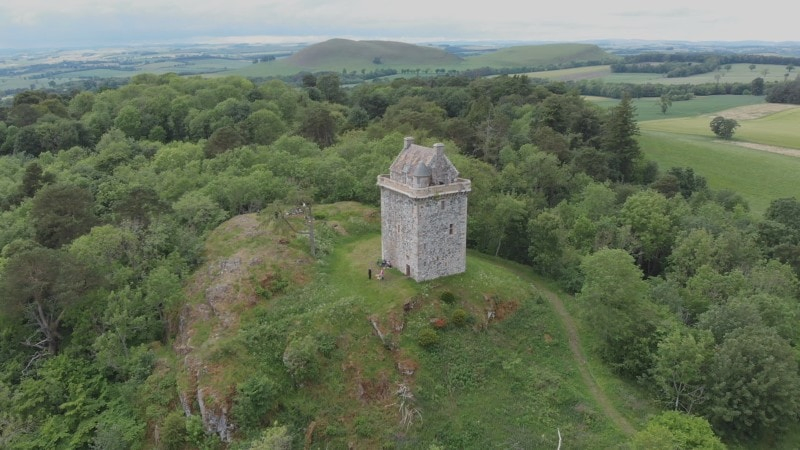 When Kerry and Liam walked out of the church as husband and wife, they were met with quite an audience of local well-wishers. Even our newlywed's pet pooches, Bear the Labradoodle and Ziggy the Goldendoodle, joined in on this joyous occasion! They looked adorable in their bow ties!
Our newlyweds were greeted with warm congratulations and showered with hugs and kisses from friends and family. We loved the confetti shower, which looks amazing slowed down on the video!
With filming at the church now complete, I went to Mansfield House Hotel in Hawick for the wedding reception.
Meanwhile, Jonathon joined our newly-weds and dogs Bear and Ziggy as they embarked on 4-wheel-drive buggy 'off-roading' up to one of the best settings we've seen for newly-wed photos. Fatlips Castle offers the most breathtaking views out over Teviotdale, to the Ruberslaw mountain and beyond to the English Border. An absolute gem of a place, a fairy-tale castle, it provided the most stunning setting for beautiful drone footage.
A benefit of having two videographers at your wedding is having two parts of the day filmed simultaneously, ensuring you can see all of the day on your wedding video. I stayed close to the guests at the hotel and filmed all the merriment of the drinks reception. Later, in the Thornwood Suite, I took film footage of the small details seen in their Scottish Borders wedding video.
The Thornwood Suite looked fabulous and was filled with beautifully scented candles. There was a delicious-looking 'sweet treat' table filled with homemade cakes. Home-made wedding favours included bags filled with love-heart-shaped shortbread and miniature bottles holding something sweet and deliciously alcoholic.
Announced into the Thornwood Suite, guests cheered and clapped as our newlyweds sat at the top table. Everyone enjoyed the heartfelt speeches, followed by dinner.
The celebrations continued in the evening, with the newlyweds cutting their wedding cake. Our coverage of this awesome wedding in the Scottish Borders ended as Kerry, Liam, their families, and guests danced to music performed by the live band The Watershed.
What a great ending to a beautiful day of filming as Kerry and Liam's Scottish Borders wedding videographer.
A few fellow wedding suppliers who helped to make Kerry and Liam's day so special:
Wedding Ceremony: Ruberslaw Parish Church, Denholm
Wedding Reception and Catering: Mansfield House Hotel, Hawick
Florist: Primrose and Percy
Minister/Celebrant: Jordan Hope
Hairdresser: Ellava
MUA: Beauty Secrets
Piper: Roddy McIntyre
Dress supplier: Indie Bride
Groom's outfit: Highland Kilt Connections
Evening Entertainment: The Watershed Band