We first met Kelly and Shaun at our home in Edinburgh and were super excited when they asked us to be their Carlowrie Castle wedding photographers. Kelly and Shaun came to visit us one evening, and over coffee, we sat and chatted about their wedding plans. We instantly hit it off, it felt like we were catching up with old friends, they were lovely and easy to talk to.
Carlowrie Castle is a stunning exclusive-use wedding venue located near Edinburgh. Built-in 1852, the castle offers the perfect mix of old-meets-new. With its contemporary style and impressive art collection, this exquisite wedding venue provides glamour and luxury in abundance.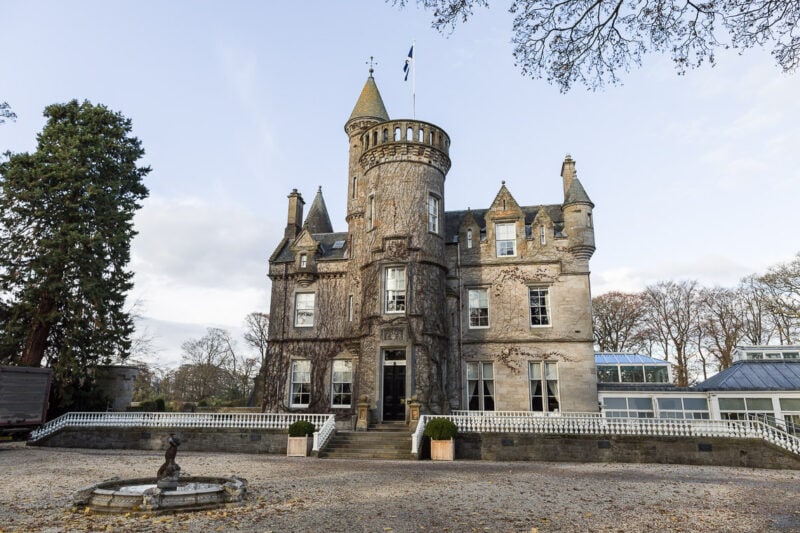 On a late November morning, we arrived at Carlowrie Castle, excited for the day ahead. We couldn't wait to see Kelly and Shaun again!
Jonathon teamed up with groomsman Shaun, his boys and best woman, who were getting ready at the Gate House, located in the grounds of the castle. Shaun looked very smart and handsome in his full highland dress outfit, featuring the Mackay tartan with a matching plaid.
Claire went to the girls where bridal preparations were in full swing. MUA Laura Gray and her bridal team were styling Kelly and her bridal squad. Kelly and the girls were relaxed, there was a lovely atmosphere as the girls spent the morning sipping prosecco and listening to music.
Time seemed to whizz by and before long guests had gathered for a pre-ceremony drink. Groomsman Shaun and his best man were on hand to meet and greet guests.
Guests moved to The Orangery and took to their seats for the wedding ceremony. The Orangery offers a beautifully light and airy space for all to enjoy. The room was filled with the incredible scent of eucalyptus, entwined in gorgeous garlands of green foliage. White hydrangeas, roses and gypsophila looked effortlessly romantic with an added pop of colour from autumnal berries, all designed by Save The Date Collective.
It was time! Shaun, with his best men and best woman by his side, waited for the arrival of the bridal party.
Only just managing to hold back his tears and keep his emotions in check, Shaun was blown away as he watched his beautiful bride walk down the aisle with her proud Dad.
Wearing a stunning wedding dress by designer Stephanie Allin, Kelly was such a beautiful bride, she was glowing with happiness.
Joined by sixty of their nearest and dearest Kelly and Shaun exchanged wedding vows with a beautiful humanist ceremony hosted by Kathleen Hood. They 'tied the knot' with a traditional Celtic handfasting to symbolise their union. Their ceremony perfectly showed off their lovely personalities. It was a true celebration of Kelly and Shaun's unique love story!
Afterwards, guests gathered around our newly-weds on the steps outside the front of the castle. On the count of three, our bride and groom were showered in the perfect flurry of confetti! Guests cheered their congratulations as our happy couple beamed with happiness.
A champagne drinks reception with delicious canapes was served for all to enjoy. Guests happily mingled as Claire captured candid photos of them having a great time.
Jonathon whisked Kelly and Shaun away for their newly-wed photoshoot in the fabulous grounds of Carlowrie Castle. I mingled with the guests capturing candid moments as family and friends relaxed and enjoyed drinks, canapes and each other's company. It wasn't too long before Kelly and Shaun returned to the warmth of the castle and spend some quality time with their friends and family.
The Orangery, now dressed for the wedding breakfast, looked absolutely gorgeous. Candles flickered, adding that soft romantic glow. Flowers and garlands filled the air with the most perfect perfume. Champagne flutes filled with delicious bubbles and wedding favours by Hotel Chocolat sat perfectly beside gold beaded dinner plates.
Everybody enjoyed funny, heartfelt and poignant speeches from Kelly's Dad, Shaun and his best man. There was lots of laughter, and a few tears as wonderful stories about Kelly and Shaun were shared.
Guests dined on a delicious wedding breakfast created by the fabulous team at Carlowrie Castle. To start, heritage tomato, crispy bocconcini mozzarella, onion confit, balsamic glaze and basil ice cream. To follow roast sirloin of Buccleuch beef, celeriac and thyme dauphinoise, served with parsnip puree and a truffle Maderia jus. Delicious!
The evening celebrations kicked off as Kelly and Shaun made their way to the dancefloor to perform their first duty as a married couple. They cut their wedding cake by Save The Date Collective, then had their romantic first dance as husband and wife surrounded by all their friends and family.
It wasn't long before our happy couple were joined on the dance floor, The Jack Dames live band provided the evening entertainment had all the guests up on their feet.
A perfect day with a fabulous couple, we loved every minute of capturing Kelly and Shaun's unique love story.
Carlowrie Castle Wedding Photographers Gallery Of Our Favourite Photos
Here are some of our favourite photos from our day as Kelly and Shaun's Carlowrie Castle wedding photographers.