Meeting Kelly and Shaun in Edinburgh sparked the beginning of an exciting journey when they entrusted us with the creation of their stunning Carlowrie Castle wedding photos. During our initial meeting, over coffee, we connected effortlessly, and it felt like catching up with old friends.
Weddings at Carlowrie Castle mean use of a stunning exclusive-use wedding venue near Edinburgh, became the canvas for their love story. Built in 1852, the castle seamlessly blends old-world charm with contemporary elegance, providing the perfect backdrop for a day filled with glamour and luxury.
On a late November morning, the anticipation soared as we arrived at Carlowrie Castle, eager to reunite with Kelly and Shaun. The day unfolded with groom preparations in the Gate House and bridal preparations in the castle. Shaun, in his full highland dress, awaited the arrival of his bride, Kelly, who looked radiant in a Stephanie Allin wedding dress.
The Orangery, bathed in natural light and adorned with eucalyptus garlands and white hydrangeas, hosted the heartfelt wedding ceremony. The couple exchanged vows in a beautiful humanist ceremony officiated by Kathleen Hood, featuring a traditional Celtic handfasting to symbolize their union.
Post-ceremony, guests gathered for confetti celebrations on the castle steps, and a champagne reception ensued with delightful canapes. Candid moments were expertly captured, while the newlyweds enjoyed a photoshoot in Carlowrie Castle's splendid grounds.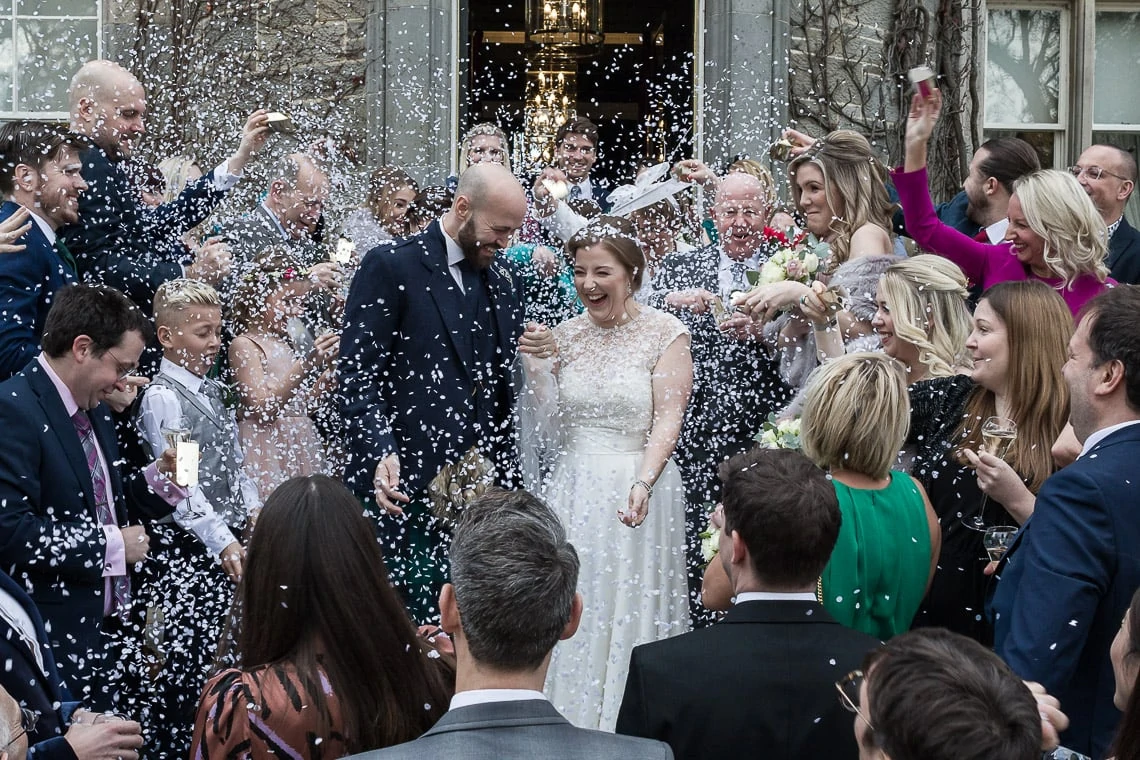 The Orangery transformed into a romantic setting for the wedding breakfast, where heartfelt speeches and delicious cuisine unfolded. The evening came alive as Kelly and Shaun cut their wedding cake and shared their first dance to the tunes of The Jack Dames live band.
From the laughter-filled speeches to the romantic first dance, every moment was meticulously documented, capturing the essence of Kelly and Shaun's unique love story. This Carlowrie Castle wedding stands as a testament to the trust placed in us by couples, and the positive reviews from delighted clients illuminate the journey of turning their dreams into visual masterpieces. With almost two decades of experience and countless love stories captured, we continue to thrive on the trust that forms the foundation of my artistry.
Carlowrie Castle Photos
Here are some of our favourite Carlowrie Castle photos from our day as Carlowrie Castle wedding photographer.