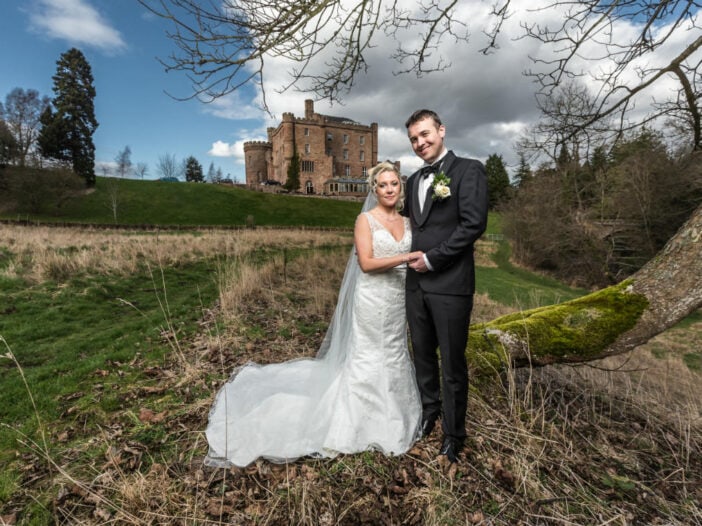 Andrew and Barbara wanted a photographer with experience at their venue, so we were delighted to be invited to shoot their wedding photos at Dalhousie Castle. Andrew and Barbara married at stunning Dalhousie Castle Hotel and Spa wedding venue, located a few miles to the south of Edinburgh, in Midlothian.
Dalhousie Castle is a top wedding destination for visitors from across the world. Andrew and Barbara's wedding was a great example of this. Northern Irishman Andrew wed his beautiful Italian bride Barbara. Family and friends had travelled from many different countries to celebrate the union of this lovely couple. What a brilliant wedding day with a wonderful and friendly group of people.
The wedding ceremony took place within Dalhousie Castle's chapel. A highlight of the ceremony was having the wedding rings 'delivered' by an owl.
Nuptials completed, everyone headed outside to congratulate our newlyweds and to begin the formal group photos.
We were so pleased that the weather was kind. While the guests enjoyed a glass of champagne, the newlyweds spent around thirty minutes shooting a selection of photos around Dalhousie Castle's beautiful and spacious grounds. Our photoshoot ended with pictures of the newlyweds embracing on Dalhousie's impressive 'throne'!
It's always entertaining when the speeches take place. Everyone gets to find out a bit more about the couple, as well as a few amusing anecdotes. Toasts to the newlyweds completed, everyone settled down to enjoy the sumptuous wedding breakfast.
Our coverage of Andrew and Barbara's wonderful wedding day ended after the first few dances in the evening. By the time we departed the party was well underway, with family and guests joining the newlyweds on the spacious dancefloor. It was great to be back at such a wonderful wedding venue photographing one of our favourite weddings of the year.
With such a photogenic couple, their wedding album is going to look beautiful.
You might also enjoy viewing Andrew and Barbara's pre-wedding photos, shot in the Port of Leith, Edinburgh.
Gallery Of Wedding Photos At Dalhousie Castle
Shared here is a selection of our favourite wedding photos at Dalhousie Castle.