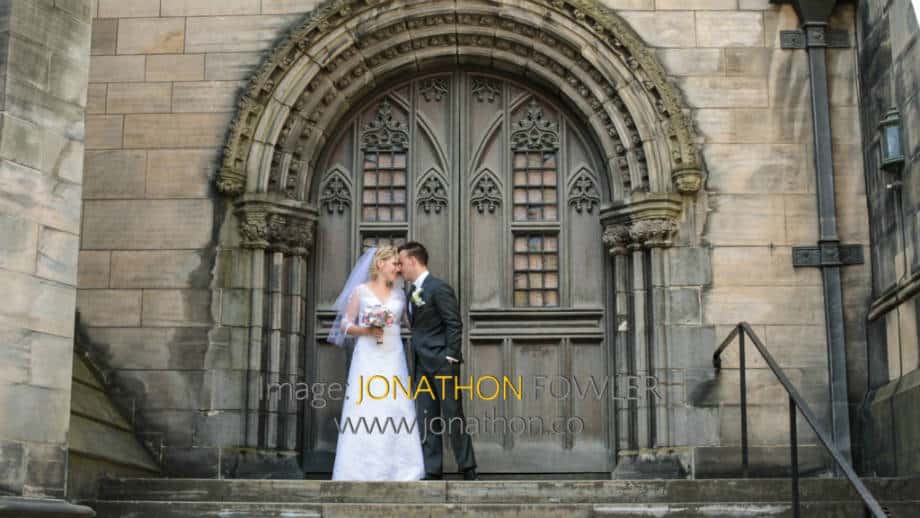 We recently had a great time as Ricky and Angelika'sSt Mary's Cathedral wedding videographer. It's a pleasure to share with you our Polish wedding highlights video edit of this wonderful wedding day. The ceremony was filmed in the fabulous St Mary's Cathedral, located in Edinburgh city centre.
Ricky and Angelika's wedding day was a wonderful 'destination wedding'. Ricky is American, Angelika is Polish, so full credit to this lovely couple for creating such a brilliant wedding day, it can't be easy organising all the details from abroad!
Our day began with coverage of Ricky and the Boys getting ready at an apartment near Charlotte Square in Edinburgh city centre. About an hour with the boys was followed up by filming the Angelika and the Girls getting ready at another apartment around the corner. The Polish theme of the wedding meant Ricky came to meet Angelika at her apartment to then escort her to the wedding ceremony. Polish tradition has it that Ricky had to present Angelika's family with gifts of Vodka before he could see his bride-to-be!
Ricky and Angelika made the short journey to St Mary's Cathedral where they were married in a Catholic wedding ceremony conducted in Polish. Fortunately, we've filmed enough Catholic wedding ceremonies to know what was happening, in spite of the language barrier! St Mary's Cathedral is a beautiful wedding venue and the Roman Catholic wedding ceremony was lovely to watch and film.
Following the wedding ceremony, Ricky and Angelika wanted to register their marriage at the local Registry Office, Lothian Chambers in Edinburgh's Old Town. The weather was wonderful, really sunny and warm, so we took the opportunity to shoot video and photos around the historic Old Town. From there we made our way to Calton Hill to shoot some more video before making the short journey to the wedding reception at an apartment in Edinburgh's New Town.
The rest of our time as Angelika and Ricky's St Mary's Cathedral wedding videographer involved filming lots of dancing and toasts to the newly-weds. The Poles certainly know how to party and how to celebrate!
St Mary's Cathedral Wedding Videographer Highlights Edit
We've taken a selection of the 'best bits' of Ricky and Angelika's St Mary's Cathedral wedding video and edited this into a 'highlights edit', shown below. Congratulations to Ricky and Angelika!