It was a pleasure to be photographing Amy and Kieran's Fairmont St Andrews wedding photos. I'd met Amy and Kieran on a couple of previous occasions. Most recently, during our exceptionally windy pre-wedding photoshoot in Edinburgh. Amy and Kieran are a lovely couple to work for, both relaxed and happy to 'go with the flow' when having their photos taken.
My day started with a drive down from Aberdeen to Dundee. The previous day I'd been shooting Meldrum House Hotel wedding photos at the wedding of Carolyn and Chris. The weather had been great for their wedding day, and today was even better!
I spent an hour photographing Amy and her bridesmaids. Amy had her makeup applied on the decking area, taking advantage of the beautiful weather. There was a lovely atmosphere during the preparations, everyone nice and relaxed and looking forward to the day.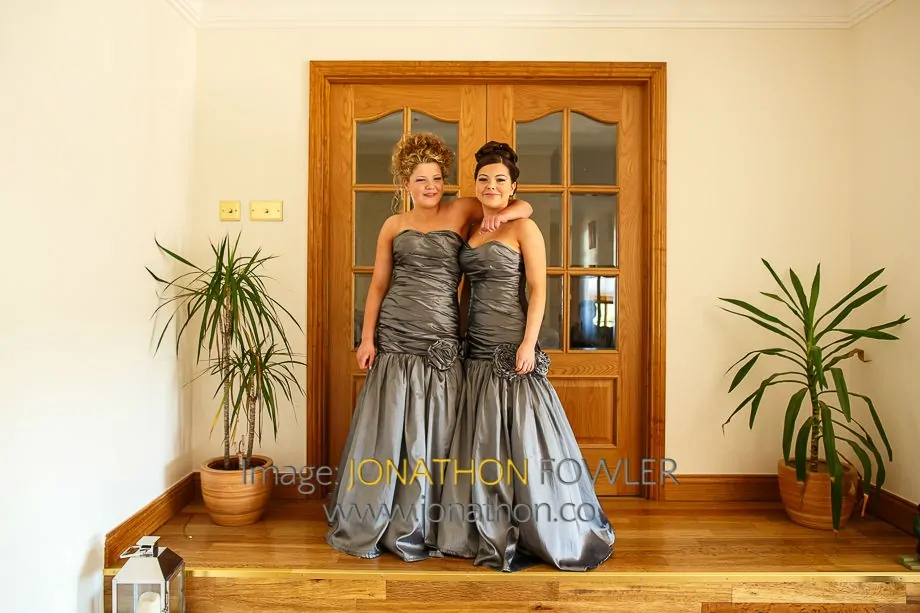 After about an hour with the girls, I headed to Dundee to prepare for the wedding ceremony. St Mary's Catholic Church is located in Lochee, Dundee. I'd never been to this church before, but when I arrived and introduced myself to the Priest, I immediately recognised him from a wedding I'd filmed four years ago at a wedding venue in Fife. So a warm welcome was received, and permission to take photos from anywhere was greatly appreciated.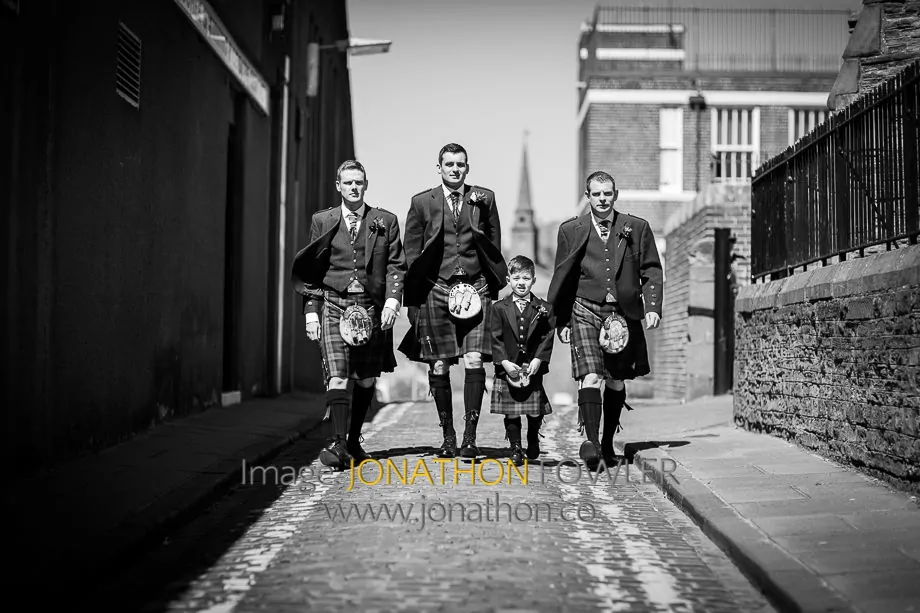 Kieran's a relaxed guy, and even on his wedding day, he showed no sign of nerves. He warmly welcomed family and guests as they arrived before heading into the church to await his beautiful bride.
Amy arrived with her dad in a beautiful Beauford car. We had time to shoot a few photos before heading indoors for the wedding ceremony.
I'm a fan of using off-camera flash for some of my photos, but I never use flash in a church as the flashlight is quite noticeable and kills the atmosphere. St Mary's Catholic Church had quite a dim interior, but fortunately, this doesn't pose a problem for me. The equipment (camera bodies and lenses) I use allows me to shoot wedding photos in the darkest of venues without the need for flash. I'm pleased with the results I got at St Mary's, though I'm sure many photographers out there would have struggled with the lighting (or relative lack of it).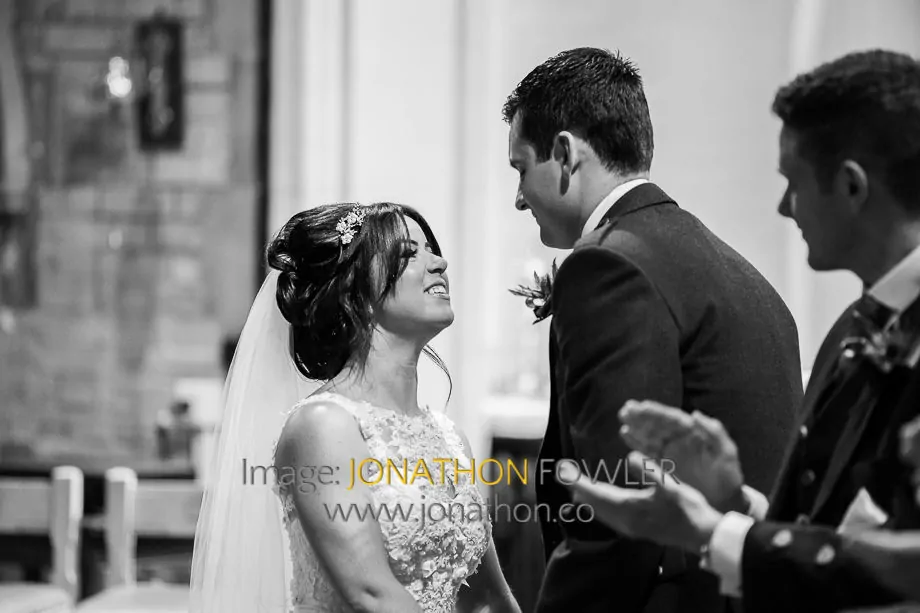 After the lovely full Catholic Mass wedding ceremony, we went outside into the beautiful sunshine. I enjoy this part of the day, moving around quickly and 'capturing the moment' as family and guests congratulate the newly-wed couple.
Then it was time to make the short journey to St Andrews for the wedding reception. Fairmont St Andrews is an impressive hotel and golf facility which sits on a hill overlooking St Andrews Bay. I love St Andrews. I lived here in my late teens when I worked at RAF Leuchars. It always feels like I'm coming home when I'm in St Andrews, and it's always a pleasure to be covering weddings in the area. Before we arrived at Fairmont, we stopped at the ruins of St Andrews Cathedral for a quick photoshoot.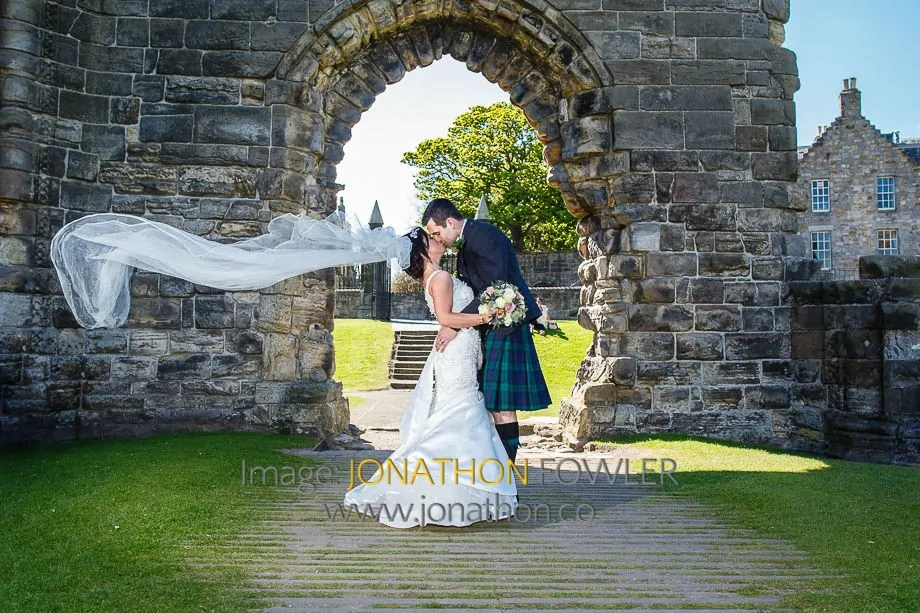 The interior of Fairmont St Andrews is impressive. It's also huge! The grand staircase leading down to the wedding reception area was large enough to hold over 100 guests for the traditional group photo – there are not many staircases in Scotland that can do that!
For the newly-wed photos, we took advantage of the view of the sea and shot a few photos with St Andrews and the sea in the background. We got some nice contemporary wedding photos outside, and a massive thank you to the hotel member of staff who expertly 'fluffed' Amy's wedding dress for me!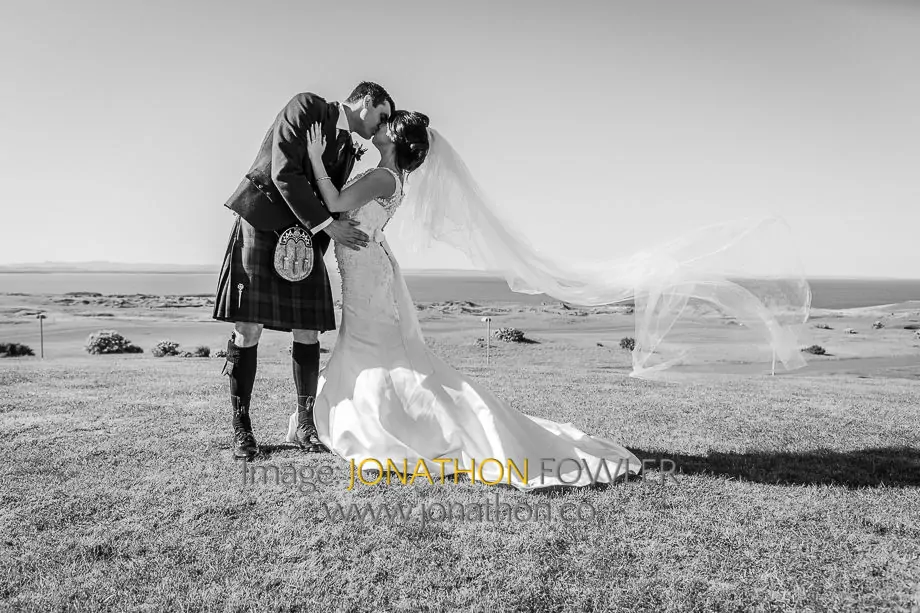 Back inside, Amy and Kieran greeted their guests in a receiving line before being piped to their top table. Speeches followed, with plenty of laughter and tears for me to photograph.
My day ended with the evening reception. The newlyweds cut their wedding cake, followed by the first few dances. This was an amazing wedding day with a lovely couple. Congratulations, Amy and Kieran, your wedding album is going to look fabulous!
Details of the wedding suppliers who helped make Amy and Kieran's St Mary's Catholic Church Dundee and Fairmont St Andrews wedding so special and unique:
Church Florist: Acanthus Florists
Hairdresser: Lisa Fraser
Bridal Dress: Panache Bridal
Bridal Shoes: Jimmy Choo
Cars: High Society Wedding Cars
Grooms Outfit: Slaters
Evening Entertainment: Superhouse
Fairmont St Andrews Wedding Photos Gallery
I want to share a few of my favourite Fairmont St Andrews wedding photos with you.