What an honour it was to be Cat and Andy's St Salvator's Chapel and Fairmont St Andrews wedding photographer.
Cat and Andy were married at St Salvator's Chapel and held their wedding reception nearby at Fairmont St Andrews hotel. It was a grand, elegant and lavish occasion – the perfect fairy-tale wedding in Fife.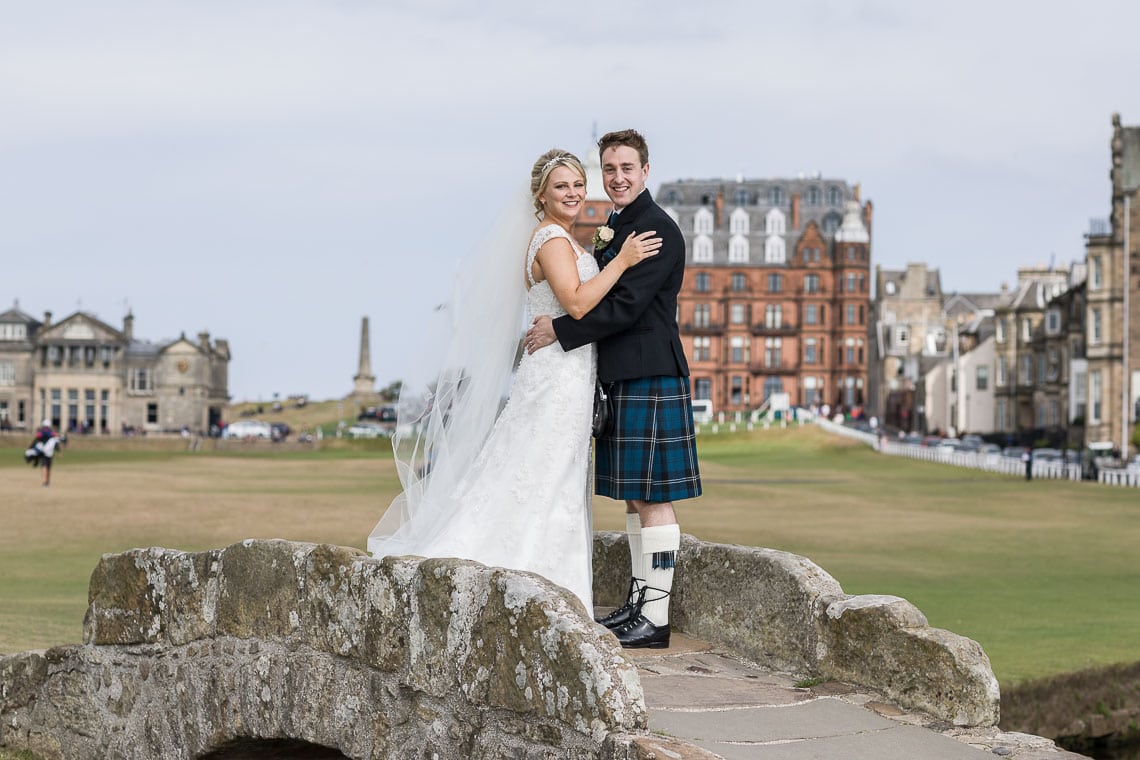 Our day as Cat and Andy's St Andrews wedding photographer started with relaxed pre-ceremony preparations in the morning for both the bride and the groom at the 5-star Fairmont St Andrews hotel. Jonathon teamed up with the girls and me, the boys – a sure way for us both to capture the fun and excitement along with the intricately detailed shots of dresses, kilts, rings and all the little things which make your day unique.  There was plenty of banter in the boy's room as Andy, his best men and usher's laughed and joked with each other as they got ready for the day ahead.
The girls looked beautiful as they relaxed and had hair and makeup done, enjoying a glass of fizz as the ceremony approached.
With time marching on, I made the short drive to St Salvator's Chapel.  St Salvator's is a beautiful chapel owned by the University of St Andrew's.  Given Cat and Andy's connection with the University, it was the perfect, most natural choice of venue to exchange their marriage vows.
A teary-eyed Andy was blown away at first sight of his stunning bride. Every inch the most radiant, beautiful bride, Cat walked elegantly arm in arm down the aisle with her proud Dad. They had the most breathtakingly beautiful Church of Scotland ceremony, witnessed and celebrated in front of all their closest family and friends.
Cat's wedding dress was gorgeous. Cat wore an ivory gown with delicate capped lace sleeves, crystal detailing and a sweetheart neckline. A cathedral length veil, just perfect and fitting for Cat's surroundings at St Salvator's Chapel.  Cat accessorised to perfection with diamond earrings, a delicate diamond necklace and beautiful wedding tiara.
Our fabulous couple giggled their whole way through their ceremony. Their love for each other filled the air with wonderful energy that made their wedding day truly magical.
Announced as the new Mr and Mrs, Andy and Cat exited the chapel to rapturous applause and made their way out to the Quadrant to be congratulated by family and friends.
After shooting a selection of family group photos, guests made their way to Fairmont St Andrews for the champagne reception. Jonathon went to shoot a few newlywed photos at the world-famous Swilken Bridge on the 18th fairway of St Andrew Old Course Golf Club and finishing at the ruin of St Andrews Cathedral.
Once back at the hotel, our newlyweds were cheered as they walked into the most spectacular confetti shower we've ever seen. All the guests gathered on the spacious staircase as Cat and Andy walked underneath a torrent of confetti!
Champagne filled flutes, a delicious wedding breakfast followed by five amazing speeches.
Our day drew to a close with a few photos of Cat and Andy outside on the golf course as the sunset, then back indoors for the first few dances of the evening celebration.
Cat and Andy thank you so much for trusting us to be your wedding photographer in St Andrews. We loved every minute of it!
St Andrews Wedding Photographer Gallery
We are delighted to share some of our favourite images from Cat and Andy's magical St Salvator's Chapel and Fairmont St Andrews wedding.