Introduction
It was wonderful to be photographing another fabulous Dalmahoy Hotel wedding reception. Our lovely couple Laura and Scott were married at St Anthony's R.C. Church in Polmont, then held their wedding reception at Dalmahoy Hotel and Country Club near Kirknewton. This wonderful occasion took place on a beautifully sunny Saturday in July.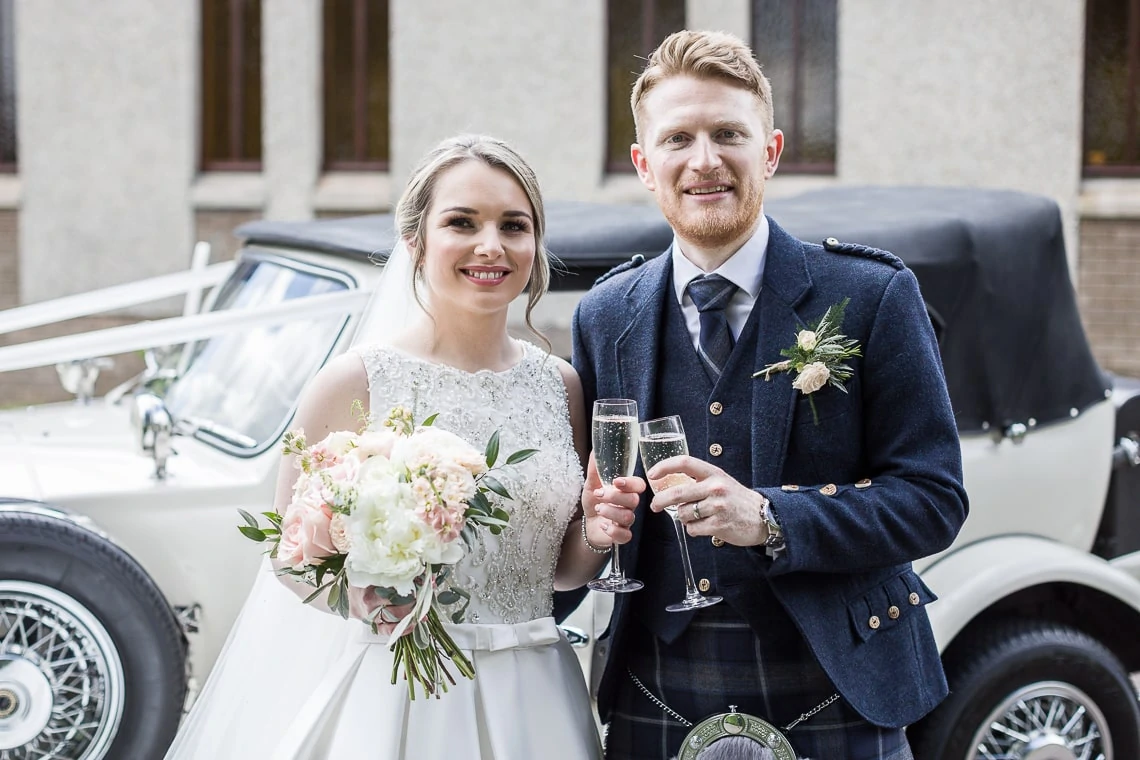 Church ceremony
Arriving at the church ahead of the marriage ceremony, Jonathon and I took photos of the church and set up our video cameras to capture the marriage ceremony on video.
Our handsome groom Scott looked seriously smart in his full kilt outfit from JH Kilthire. We took photos of Scott and the boys on the lawn outside the church. There were lots of kilts swooshing as we captured some action shots of the boys walking towards the camera. Jonathon and I both captured fabulous photos of the guests as they gathered in front of the church.
One hundred of Laura and Scott's family and dearest friends filled the church to witness and rejoice in the celebration of their love for one another. Their commitment to a lifetime of love, in a ceremony led by Father Jamie, was filled with prayer, hymns and promises and was a joy to witness and photograph.
Laura looked stunning in her wedding dress designed by Ronald Joyce, from Olivia Cameron Bridal. Laura's dress showcased a full skirt and high neckline with encrusted crystal detailing. Laura's hair was beautifully styled in an 'updo' by Jodie Anderson and flawless make-up by MUA Gillian Lees, both complimenting her long wedding veil.
Officially married, there was rapturous applause as the newly-weds walked down the aisle as husband and wife. They were congratulated by each and every one of their guests at the front of the church.
A celebratory pop from a champagne bottle as their chauffeur filled two glasses for our newly-weds to enjoy in the back of their Beauford car. The happy couple made their way to Dalmahoy Hotel and Country Club for their wedding reception.
St Anthony's Church photos
Reception at the Dalmahoy Hotel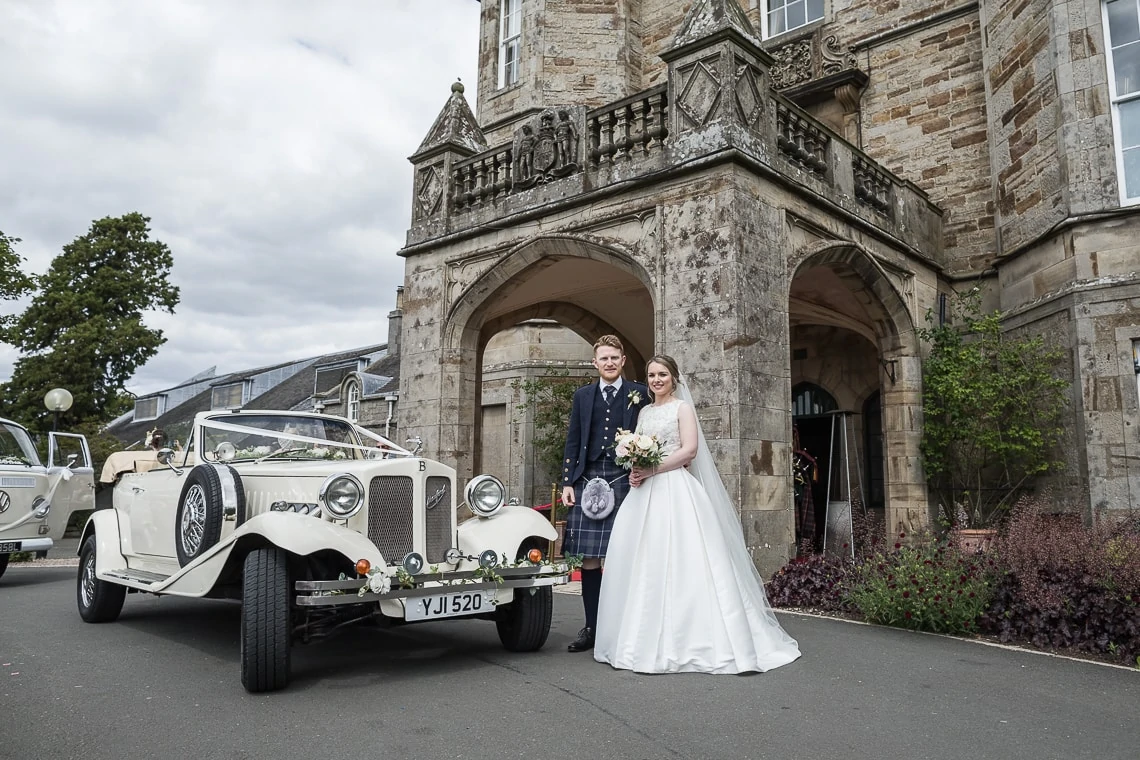 Guests cheered as Laura and Scott were piped into their champagne drinks reception held in the cocktail bar of the Dalmahoy Hotel. The doors opened, letting in the warm summer breeze as guests moved outside to enjoy the terrace and lovely panoramic grounds of the venue.
It was the perfect moment to take a group photo of the entire wedding party on the staircase. Laura and Scott then hopped into the 'Just Married' golf buggy, and away they went with Jonathon for their newly-wed photo -shoot.
I stayed close to the family and guests and captured all the giggles and merriment of the drinks reception. An essential part of the day which is beautifully and seamlessly documented.
Everyone then enjoyed funny, loving and heartfelt words from Laura's Dad, groomsman Scott and Scott's best men, two of his best friends.
Seated in the fabulous Dalmahoy Suite, everyone feasted on a delicious wedding breakfast. Delicious smoked Tay salmon with salsa verde and celeriac remoulade, slow-braised beef, warm apple tart, caramel sauce and clotted cream ice cream. Coffee and chocolate truffles perfectly rounded off the meal.
Laura and Scott's beautiful three-tiered cake by Sugarush was ready to cut as guests gathered around the dance floor. Cameras and phones at the ready, guests watched on as Laura and Scott performed their first official activity as husband and wife.
A romantic first dance and then quickly joined on the dancefloor by the rest of the guests. Fabulous evening entertainment by The Dawn Patrol band got the party started, and then it was time for us to say goodbye to our newlyweds.
Dalmahoy Hotel wedding reception photos
Here are some of our favourite photos from Laura and Scott's wonderful Dalmahoy Hotel wedding reception.