I had the pleasure of shooting my first ever Fingask Castle wedding photos for the lovely Jenni and Andrew. Fingask Castle is a beautiful family home located near the small village of Rait, Perthshire. Secluded within beautiful gardens and woodland, as soon as I arrived I was immediately impressed by the setting for today's wedding.
I'd met Jenni and Andrew in Edinburgh about a year ago and from that initial meeting, I knew that their wedding would be relaxed and fun. Jenni is originally from Perthshire, Andrew is a Shetlander. The way the rain was coming down on my drive to Fingask Castle I felt like I was in Shetland! It was pouring with rain. The road conditions on the way to Fingask Castle were so bad that a car had spun and overturned on the M90 motorway. Not ideal for a wedding but the interiors of castles tend to be an excellent backdrop for photos, so the weather wasn't going to affect things too much.
Both Jenni and Andrew were getting ready at Fingask Castle. They were staying in accommodation at Fingask Castle, consisting of cottages located in the beautiful grounds. I love it when couples get ready in the same location, it means I can capture photos of both parties in the build-up to the ceremony. Everyone was relaxed, in good spirits and a pleasure to photograph.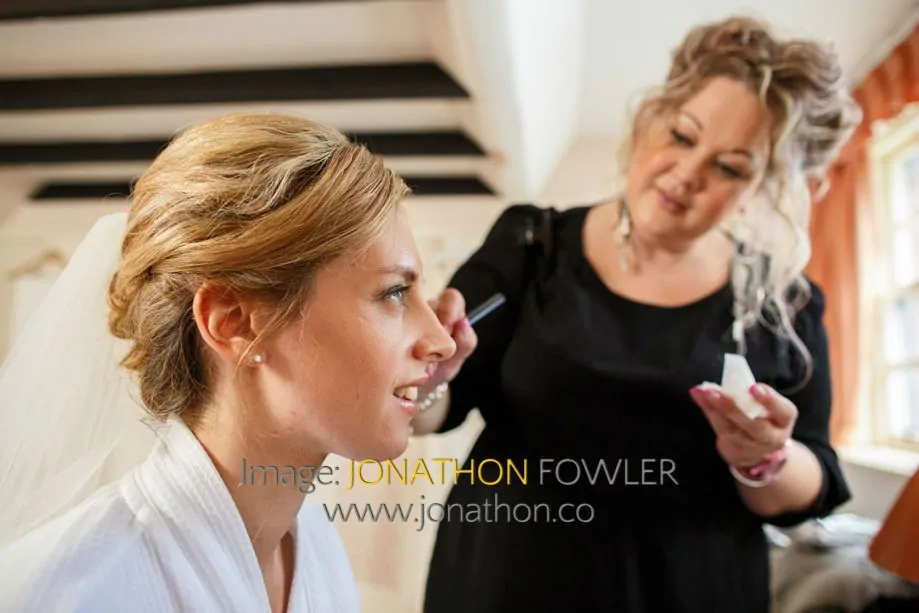 As the wedding ceremony drew closer the rain stopped and I made the short walk across to the main castle. Only a few minutes passed and I was shooting a photo of the Andrew, his groomsmen and ushers and it started bucketing down again! It was going to be one of those days!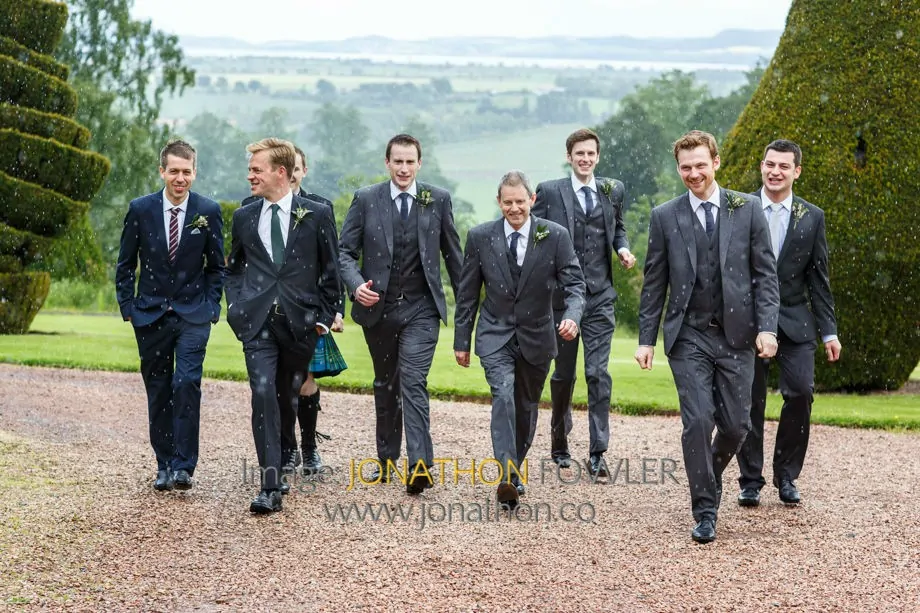 Jenni looked radiant as she walked up the aisle arm in arm with her dad. Andrew looked a wee bit nervous, but as soon as he looked around and saw his bride approaching I saw a big smile appear on his face. He was positively grinning as Jenni took her place next to him!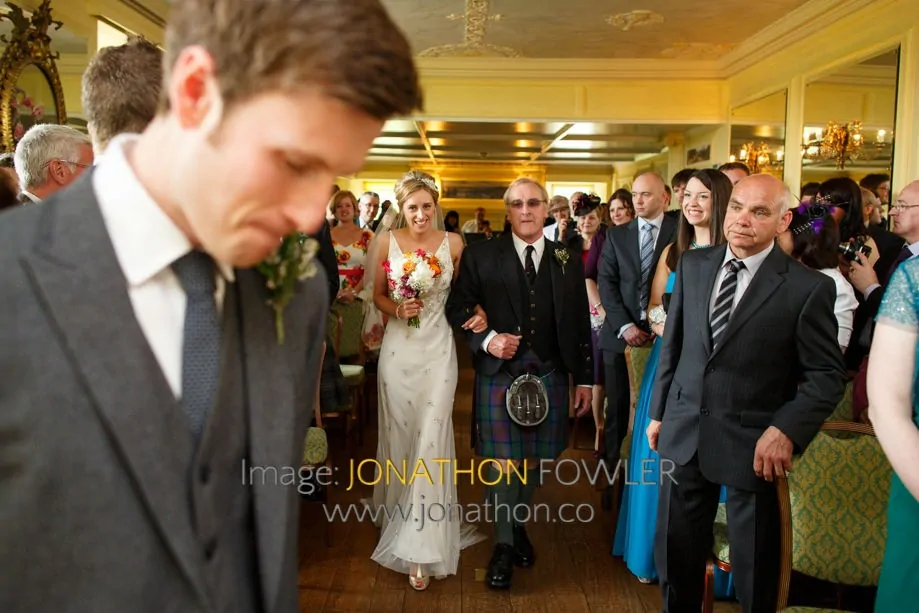 The civil wedding ceremony was really lovely, Jenni and Andrew were so happy to be together, it was beautiful to watch and photograph.
No sooner had the ceremony finished, the rain cleared and for the next two hours, we had the most beautiful sunshine. It couldn't have worked out better. The group photos, the newly-wed shots, confetti shower and tossing the bouquet – all photographed outdoors in the sun! You've just got to love Scotland's variable weather!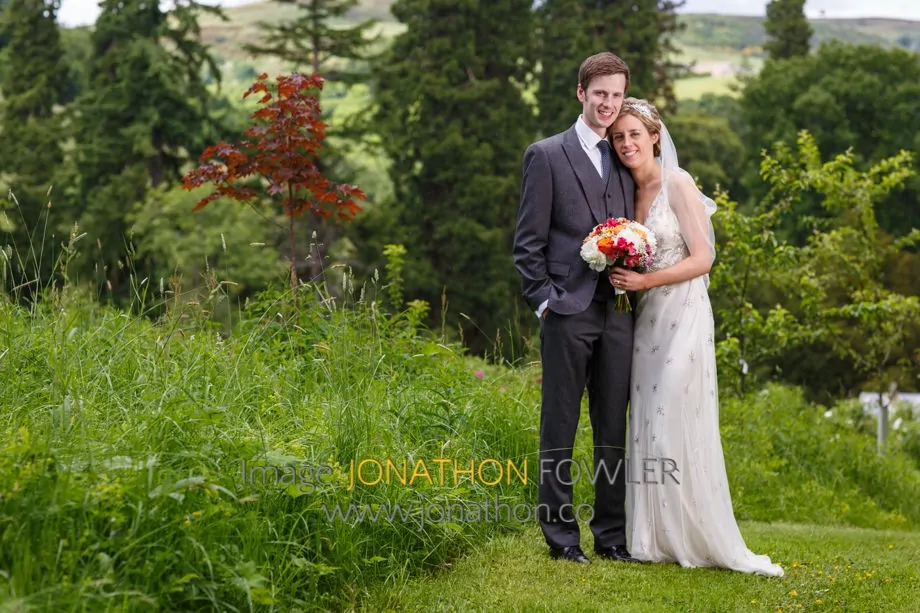 The rest of the day was spent in Fingask Castle's marquee. This is the mother of all marquees! It has a large reception area (where the wedding cake is cut) a huge dance floor and a separate dining area. And shortly after the wedding party began welcoming all the guests into the marquee the heavens opened again. Thank goodness we were staying in one location for the rest of the day!
The speeches followed the wedding breakfast. These were good fun, with plenty of fun poked at Andrew by his two best men. Always great fun photographing speeches and these speeches were no exception. I really enjoy waiting to shoot a photo at just the right moment to capture the reaction to what is being said.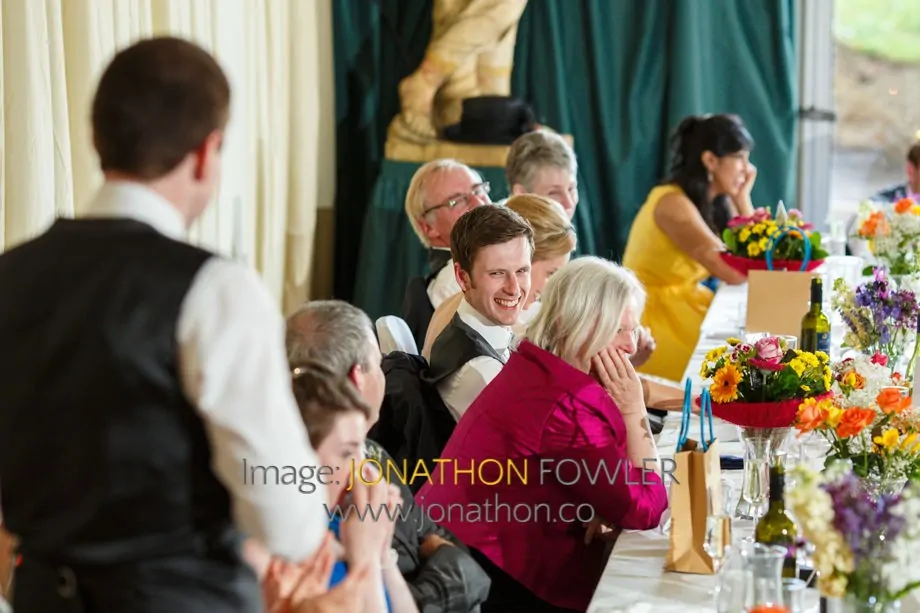 My day at Fingask Castle ended with the newly-weds cutting their wedding cake, followed by photos of the first three ceilidh dances. The first dance wasn't your typical couple dancing in the middle of the dance floor. Jenni and Andrew opted for a traditional Shetland dance where they led the wedding party around the edge of the dance floor, then joined by their guests. Quite an energetic end to the day and certainly made for some fantastic photos!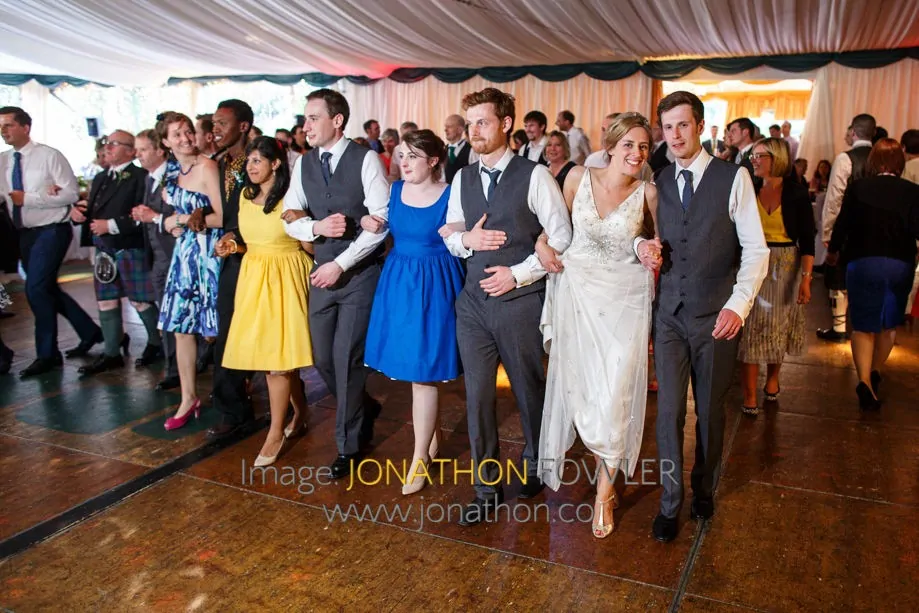 A huge congratulations to Jenni and Andrew, such a lovely, relaxed and fun couple to photograph. What a wonderful day to photograph, the wedding album is going to look so beautiful.
Details of some of the wedding suppliers who helped make Jenni and Andrew's Fingask Castle wedding so special and unique:
Bridal Hair and Makeup: Kirsty MacPherson
Bridal Dress Supplier: Bliss Bridal
Bridal Dress Designer: Jenny Packham
Catering: Thomson Cooks
Evening Entertainment: Scott Leslie Ceilidh Band
Bridal Accessories: Corrine Smith Design
Fingask Castle Wedding Photos Gallery
I'd like to share a selection of my favourite Fingask Castle wedding photos with you, below. I always provide all my wedding photos to couples in both full colour plus black and white, and this will also be the same for Jenni and Andrew. But for these photos, below, I really loved the colours and the light on the day, so I'm showing these to you in full, wonderful and bold colour!