City Chambers Edinburgh Registry Office is the perfect civil wedding venue in Edinburgh.
It's always thrilling being able to see inside a recently-refurbished wedding venue, and the Marriage Suite at City Chambers, 253 High Street, Edinburgh, EH1 1YJ, does not disappoint.
As the most experienced and sought after City Chambers photographers and videographers, we've been honoured to photograph countless weddings at this fabulous venue in Edinburgh and always enjoy the atmosphere and architecture on offer.
City Chambers Edinburgh Registry Office is in the perfect location for anyone wanting to get married in the city, with excellent transport links and an abundance of hotel accommodation to choose from. Only Gretna Green pips Edinburgh to the post for the most weddings held in Scotland each year. However, we think this relocation of the marriage room from Lothian Chambers might inspire even more couples to get married in the city. It might just begin to give Gretna a run for its money.
Many happy couples have got married at Lothian Chambers over the years. We've enjoyed photographing and filming many memorable weddings there. However, the Registration Services have made the move to the High Street, and with it has come a top-notch renovation we're sure many couples will be delighted to take advantage of. Indeed, if you're planning on getting married in this stunning location, surrounded by many of the key sights and attractions in Edinburgh, contact us now. We would be privileged to photograph your wedding.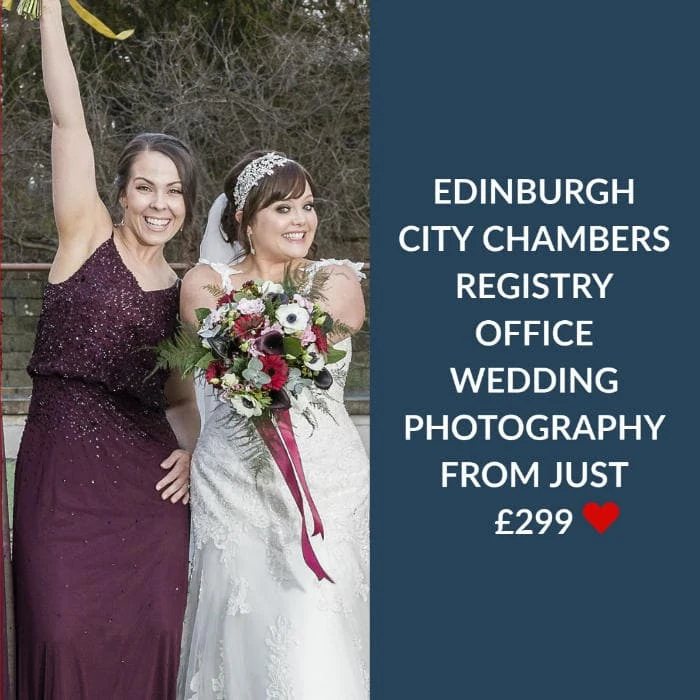 Discover more about Edinburgh City Chambers
The City Chambers have been freshly and considerately renovated to provide a beautiful setting for a touch of romance. Three rooms have been made available for weddings:
Guest Lounge
Couples can meet family and guests in the comfortable Guest Lounge, which has fantastic views across to Edinburgh's New Town and the Kingdom of Fife.
The Alexander Suite
The main Ceremony Room is officially called The Alexander Suite and was named in honour of Alex Currie, a lovely gentleman who had worked at the Registrars' Office for 23 years. The Alexander Suite has been tastefully decorated in neutral yet warm tones, with a fireplace included as a focal point and an understated chandelier providing a touch of luxury.
Signature Room
Newly-wed couples sign the marriage schedule in a smaller adjoining Signature Room.
The appeal and versatile nature of these spaces work beautifully for your civil wedding ceremony.
Those in charge of the renovation have achieved a look any couple will love when looking for an Edinburgh Registry Office to get married in. This will not be remembered for a dated or tired look. Instead, the renovation has brought this stylish wedding venue into the 21st century.
The City Of Edinburgh Council has also taken great care to use locally-sourced suppliers for the décor and interior. A lovely example is the oak furniture in use in the marriage rooms, sourced from the Grassmarket Community Project. The fittings also feature contemporary velvet upholstery by Scottish Designer Mairi Helena, as well as Scottish Tweed from the Isle of Bute. Couples can also make good use of the experienced and friendly wedding team if assistance is required.
After your wedding at the City Chambers Marriage Suite, you can take full advantage of the city centre location. Photos can be taken inside the marriage room and in the reception area. An added bonus is the beautiful staircase which offers plenty of natural light for photos.
Outside there are many more opportunities to capture some beautiful moments against the backdrop of Edinburgh's Old Town.
Iconic locations and landmarks including Parliament Square, St Giles' Cathedral, and even the Alexander and Bucephalus statue located in the City Chambers courtyard, are all within easy reach. The many sights of Edinburgh provide ample inspiration for taking the wedding day photos you will look back on for many years to come.
Newlywed reviews from our City Chambers weddings
Wedding photography prices for City Chambers
City Chambers Collection One
One Hour / One Photographer
£299 Monday – Friday (Saturday £349)
One Photographer
Coverage starts a few minutes before your wedding ceremony
Newly-wed photoshoot on Royal Mile/Old Town
Include Claire as a witness to your marriage ceremony – £75 (perfect for eloping couples with no guests/witnesses attending)
Typically 100+ photos
All photos supplied in colour + black and white
Private online web gallery for viewing/sharing your photos and ordering prints
Unlimited downloads of your photos
Minimum one year online backup of your photos
Extra coverage is £149 per hour
City Chambers Collection Two
Two Hours / One Photographer
£448 Monday – Friday (Saturday £498)
One Photographer
Coverage starts a few minutes before your wedding ceremony
Newly-wed photoshoot on Royal Mile/Old Town
Newly-wed photo shoot at either Calton Hill or Arthur's Seat (transport included) OR extended time in the Old Town
Include Claire as a witness to your marriage ceremony for an extra £75 (perfect for eloping couples with no guests/witnesses attending)
Typically 200+ photos
All photos supplied in colour + black and white
Private online web gallery for viewing/sharing your photos and ordering prints
Unlimited downloads of your photos
Minimum one year online backup of your photos
Extra coverage is £149 per hour
City Chambers Collection Three
One Hour Photography + Video
£598 Monday – Friday (Saturday £698)
One Photographer + One Videographer
Coverage starts a few minutes before your wedding ceremony
Claire and Jonathon can act as your witnesses for the marriage ceremony (perfect for eloping couples with no guests/witnesses attending)
Newly-wed photoshoot + video on Royal Mile/Old Town
Typically 100+ photos
All photos supplied in colour + black and white
Video supplied as a high-definition MPEG4 video file (playable on most devices)
Private online web gallery for viewing/sharing your photos and ordering prints
A private online web page for viewing/sharing your video
Unlimited downloads of your photos and video
Minimum one year online backup of your photos and video
£100 discount off any wedding album
Extra coverage is £298 per hour
City Chambers Collection Four
Two Hours Photography + Video
£898 Monday – Friday (Saturday £996)
One Photographer + One Videographer
Coverage starts a few minutes before your wedding ceremony
Claire and Jonathon can act as your witnesses for the marriage ceremony (perfect for eloping couples with no guests/witnesses attending)
Newly-wed photoshoot + video on Royal Mile/Old Town
Newly-wed photo shoot at either Calton Hill or Arthur's Seat (transport included) OR extended time in the Old Town
Typically 200+ photos
All photos supplied in colour + black and white
Video supplied as a high-definition MPEG4 video file (playable on most devices)
Private online web gallery for viewing/sharing your photos and ordering prints
A private online web page for viewing/sharing your video
Unlimited downloads of your photos and video
Minimum one year online backup of your photos and video
£100 discount off any wedding album
Extra coverage is £298 per hour
Real wedding photos at City Chambers Edinburgh Registry Office
City Chambers Wedding Video Highlights Edit
Edinburgh City Chambers Wedding Video Highlights Edit- Lauren and Iain
Edinburgh City Chambers real wedding blog