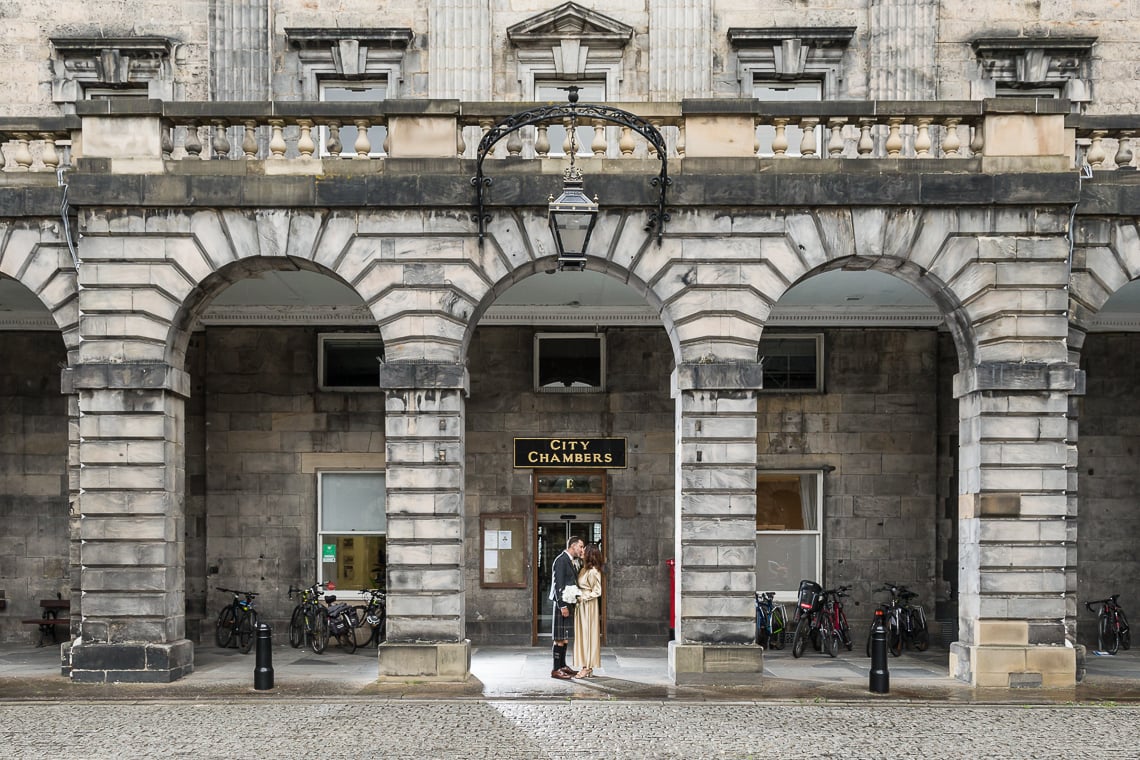 Introduction
It was great to be back photographing another wonderfully intimate City Chambers Edinburgh wedding ceremony. Sarah and Kenny chose Edinburgh's leading civil wedding venue right in the heart of the Old Town.
I've met Kenny and Sarah a few times over the years as they are mutual friends with Tiffany and William, whose wedding I previously photographed at Norton House Hotel.
Civil ceremony in The Alexander Suite
My day started in The Alexander Suite of Edinburgh City Chambers with beautiful bride Sarah and her proud Dad.
Sarah looked incredible in a long gold dress, her hair styled with soft, loose waves, she looked so happy and relaxed.
Walking arm-in-arm with her Dad, carrying a beautiful bridal bouquet of white flowers, Sarah made her entrance and walked down the aisle.
Kenny couldn't take his eyes off his Sarah!
Joined by both sets of parents, Sarah and Kenny exchanged wedding vows and wedding rings in a civil marriage ceremony. Then they shared their first kiss as husband and wife, a wonderful moment to capture.
Newlywed photos in the Old Town
After some formal photos of Sarah and Kenny with their parents, I took them for their newly-wed photoshoot. We started with a photograph on the staircase in the City Chambers, right in front of the impressive stain-glassed window, then moved outside.
It was a little bit rainy, but that didn't dampen the mood! Sarah and Kenny were a delight to photograph, pure naturals in front of the camera as we explored the surrounding area together.
Their newly-wed photoshoot felt lovely and relaxed as Sarah and Kenny were so easygoing. I captured photographs of my bride and groom using the fabulous architecture of the city as an impressive backdrop for the photos. Our outdoor photos of the newlyweds started around the Quadrant at City Chambers, across to Parliament Square and on the steps of St Giles' Cathedral.
The photos of Sarah and Kenny walking hand in hand down the historic Royal Mile in the rain are some of my favourites!
Celebratory drinks at the Radisson Royal Mile Hotel
The final photos of the day were taken at the nearby Radisson Royal Mile Hotel on George IV Bridge, where Sarah, Kenny and their parents enjoyed a celebratory drink.
City Chambers Edinburgh wedding photos gallery
Here is a small selection of my favourite photos from Sarah and Kenny's City Chambers Edinburgh wedding ceremony and newlywed photos.