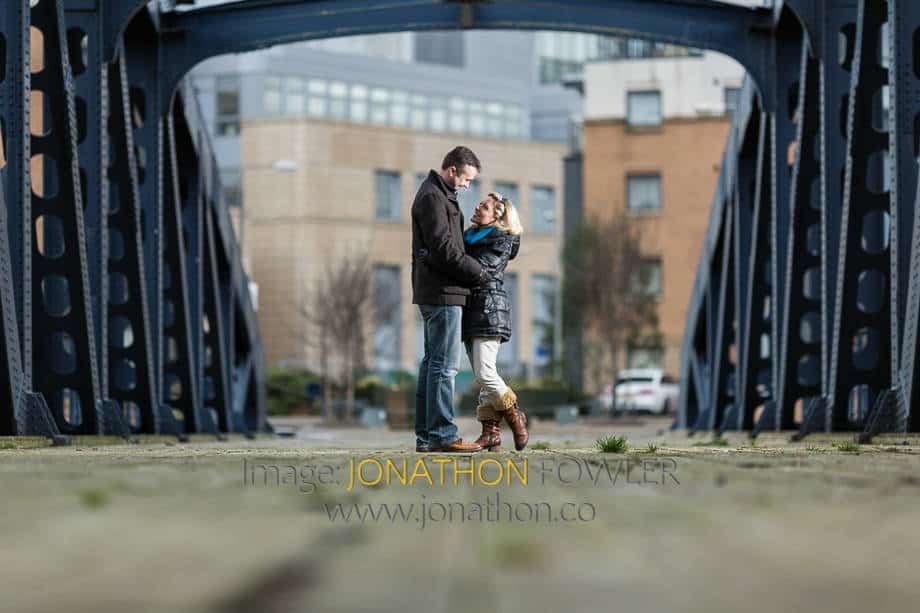 Andrew and Barbara's pre-wedding engagement photography Edinburgh was like coming home as I used to live near to the Shore area in Edinburgh's Leith district. I appreciate Leith is a great part of Edinburgh with a really good selection of bars and restaurants. Andrew and Barbara's pre-wedding photoshoot took place at The Shore, and as my first ever photography session at this location I was really looking forward to meeting the couple again and seeing what we could shoot over the course of our time together.
I met Andrew and Barbara at the beautiful Malmaison Hotel for a coffee and a chat about their wedding plans. It was a real stinker of a day, wet, cold and windy, but Andrew and Barbara braved the elements and were surprisingly relaxed and affectionate in front of the camera, in spite of the awful weather conditions!
We started our photography session right outside The Malmaison Hotel, using the hotel as a backdrop for the first of our photos.
Next to come, we shot some of my favourite photos of the session. We took the short walk to the old bridge which spans the Water Of Leith. I love the deep blue colour of the bridge. The wind was freezing, but Andrew and Barbara were amazing and managed to forget the cold for a few minutes as I created some cracking photos using off-camera flash.
This was the first time I'd done a professional photoshoot at The Shore. After the success of Andrew and Barbara's photoshoot, I'll certainly be back to do engagement photography Edinburgh in Leith again.
Since these photos were taken Andrew and Barbara were married at beautiful Dalhousie Castle. You might also enjoy viewing their Dalhousie Castle wedding blog post.
Engagement Photography Edinburgh – Gallery Of Photos
Shown below are a selection of my favourite photos from Andrew and Barbara's engagement photography Edinburgh.