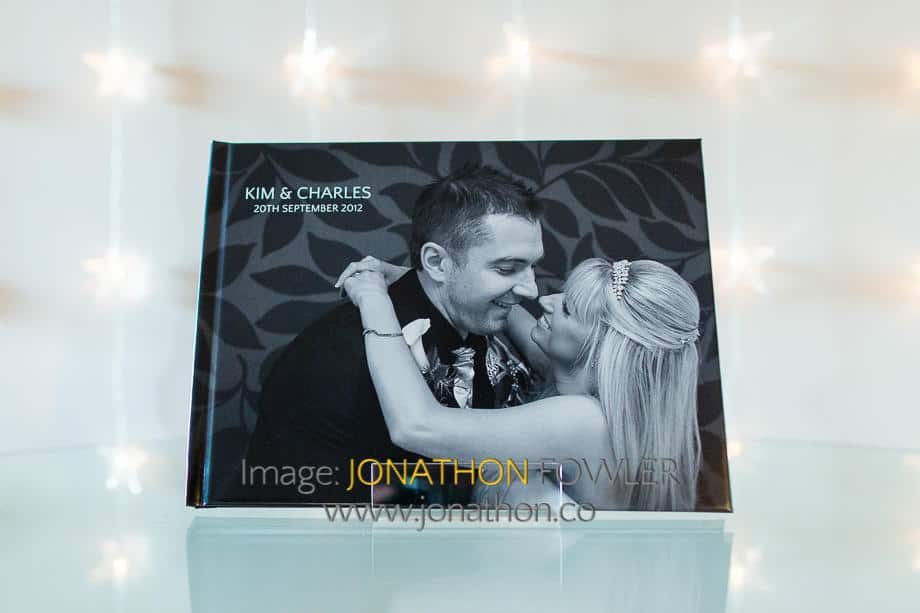 I recently had the pleasure of designing the Edinburgh Capital Hotel wedding photo album for Kim and Charles. This lovely couple were married at the Edinburgh Capital Hotel, a lovely Edinburgh wedding venue, located to the west of Edinburgh, on possibly the wettest day of the year. Not that the rain spoiled the day!
After carefully editing the photos of the wedding day I supply the images via a digital download to the newly-weds. Kim and Charles then followed our advice on how to choose around fifty of their favourite Edinburgh wedding photos to be used in the design of their luxury wedding album.
The wedding album design is a horizontal layout with approximately thirty pages required to accommodate fifty wedding photos. This is one of the nicest parts of my job, crafting the images into a design which tells the story of the newly-weds' Edinburgh wedding day. Seeing the end result of years of wedding planning finally coming to its wonderful conclusion.
Once the design has been approved by the newly-weds' the design is sent to my design partners right here in Scotland. Here the album is printed and hand-assembled into a beautiful contemporary wedding album.
The album featured here was printed on luxury smooth paper. The cover is a modern hardback cover with a gloss laminate which really enhances the printing to give a rich, deep and glossy finish.
These gorgeous handmade luxury wedding albums usually take only around 7 – 10 days to create once I submit your approved design. Having your own wedding album is the best way to view your beautiful wedding photos. Viewing your wedding photos on a computer is a good way to scan through your wedding day. But nothing beats having a stunning handmade wedding album on your lap, a glass of wine or a beer in your hand and spending a lazy couple of hours looking back over your favourite wedding photos.
Edinburgh Capital Hotel Wedding Photo Album
I'd like to share a few photos of and Charles and Kim's wedding album.
You might also be interested in seeing more beautiful wedding photos of Kim and Charles' Edinburgh Capital Hotel wedding day.
**Note that since this blog post was published the Captial Hotel has been sold and is now called the Leonardo Hotel Edinburgh Murrayfield.