When you're researching how to choose a photographer, it can be a bit daunting at first. What do you base your choice on? How do you choose? What advice on photographers is best?
It's not an easy task, so I decided to write this wedding photographer advice with the aim of making the process of choosing a photographer more comfortable for you.
I've been a professional wedding photographer since 2006. I've been a wedding videographer/filmmaker for even longer and in my role as a videographer I reckon I've worked alongside some of the best and, occasionally, the not-so-good (that's putting it politely!) wedding photographers in Scotland.
Please do use this guide on how to choose a photographer to enhance your knowledge of what to ask, what to look for and what to avoid when doing your research.
When you've read this advice and tips, make sure you're fully prepared for that initial meeting with your wedding photographer by reading my follow-up guide 60 Questions To Ask A Wedding Photographer – Essential Wedding Photography Questions And Answers.
How To Choose A Photographer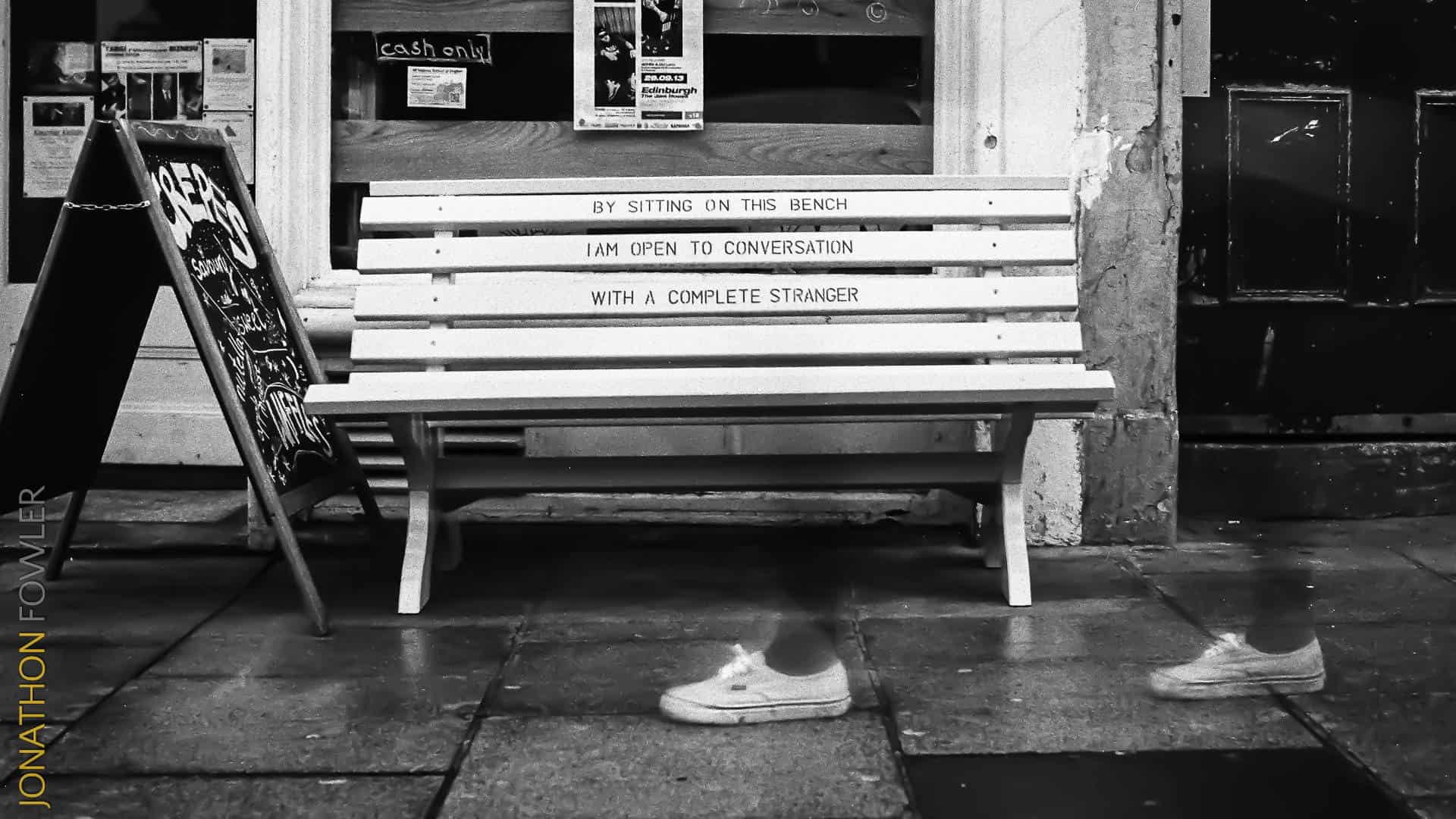 Some of the most vital considerations, the questions you should ask your photographer, that you should factor into your decision-making process:
Technical Proficiency
Creativity
Ability To Work To A Deadline And Manage Time
Are They A People Person?
Appearance
Let's take a closer look at these important areas in detail, beginning with technical proficiency, the basic but significant skill to check when asking 'how to choose a photographer'.
How to choose a photographer: Technical Proficiency
It doesn't matter if you've got the best camera, lens and other photographic technology if you don't know how to use it. Today's photographic equipment comes with a multitude of features and options, often more than most wedding photographers would ever require.
It feels good to have the latest equipment, but often an incompetent or inexperienced photographer of weddings doesn't quite get to grips with how a feature works, or when or why they should use it.
Equipment alone doesn't make you a better photographer.
I once worked alongside a photographer who had just bought a new tripod that enabled them to shoot photos from a low down on the floor. Unfortunately, the photographer didn't practise setting up the tripod before the wedding day and decided to use the tripod for the first time while shooting photos of newly-weds at their wedding. He had no idea how to set up the tripod for this unusual angle.
The photographer wasted a good ten minutes trying to figure out what was going on. Unwilling to accept advice or help from anyone (including me), they persevered in vain. I felt sorry for the bride and groom having to waste the most important day of their lives waiting for this guy to figure out how to operate a new tripod (though the couple seemed happy enough enjoying a glass of champagne while they waited!). I learned from this – the simplest option is often best. The latest equipment enhances what I do and how I do it – but I learn how to use it and become proficient at using it in demanding situations before being on a paid job. Low angle shots? I'll lie down and have the shot done in seconds.
Another example is the wedding photographer who allows their camera to make decisions on their behalf. Usually the habit of the new and inexperienced photographer, they're afraid to take their camera out of automatic mode. Creating wedding photos of a newly-wed couple standing against a bright window, and the camera is set to 'auto' (or P-Mode), I can see the photo on the back of their camera immediately after it's been taken. All I see is a silhouette of the couple against a bright window. Not what the photographer really wanted to take, but a common mistake. Certainly not the kind of image a professional wedding photographer should be shooting unless doing so intentionally.
Have you ever tried using your mobile phone to capture a photo at night? More often than not the image is a bit blurry – this is due to the technical limitation of using a camera in low lighting conditions. That's OK and expected when taking a photo on your phone, but clearly not desirable when you've paid for a wedding photographer. A typical example is a photographer who is shooting pictures of the first few dances in the evening. It's dark and the camera is set to one of the automatic modes again. The camera adjusts for the low lighting, automatically reducing the shutter speed, causing the image to come out blurry. Not cool.
On the small screen on the back of the camera, the photo looks OK, but when the photographer gets home and checks the photo on their computer screen, they're in for a shock when they see the blurry image. Unfortunately no amount of editing will save a blurred image, the damage has been done.
Every photographer uses a computer to do post-production editing of their photos. It's an essential part of every photographer's job, but it's easy to overdo the editing or, worse, just to do it incorrectly. Too often I see images that have had a particular filter applied in the hope of turning a bad photo into a good photo. To my eye it looks like a bad photo made into a brutal photo.
These pre-set filters are the perfect way to date a photo. You'll have seen a spot-coloured (or selective colour) photo. This kind of wedding photo edit can look good when done in moderation, but until recently they were done to the point of over-doing it. Often spot colour is used to enhance what is otherwise quite a dull photo. Most photographers rarely do spot colour editing nowadays, preferring to make an image interesting when they compose the photo, instead of relying on editing after the photo has been taken.
But even if a photographer avoids spot colour editing, they can make up for it in other 'creative' ways. You'll know it when you see it – the overly saturated, artificial colour landscape photo. The sickeningly fake sepia colour effect. Personally, these filters are OK if you sue them to 'enhance' a low-quality photo taken on your phone and posted on Instagram, but really there's no excuse when you're a full-time professional wedding photographer. My advice is to please avoid this 'creative editing' if you want to enjoy your photos in years to come, without laughing (or crying) at how dated they look.
I've no doubt that in the next decade we'll be looking back at many portfolios and saying, 'that seems so 2010/2015/2019'. Why? Because the editing software gets updated and new editing techniques or filters arrive. When a new editing-filter arrives, photographer sheep follow the herd, editing and churning out fashionable but quickly dated work.
Another example is the photo of the interior of a room, with an orange glow from the incandescent lighting. I try to prevent the subject's face from looking too orange under this kind of light. A wee bit of the warm glow can look OK, but too much and it seems strange.
Often I see photos with no corrections, and the subject looks like an orange! Other times the corrective adjustment has been overdone, and the face takes on a deathly cyan tint. A little editing can help an image, but it's too easy to over-do the editing.
It can be hard to get colours looking just right, but with the correct tools, it's quite straightforward in all but the most demanding of lighting conditions. The toughest lighting tends to be 'mixed lighting' – a combination of daylight, tungsten light bulbs and fluorescent strip lighting would be tricky to get right for the inexperienced photographer. When viewing a portfolio of wedding photos, try and figure out the kind of lighting used in the picture, and ask if the colour of objects in the image look natural, or has it changed due to the light? Does it look good, or does the bride have an orange face?
A few years ago I was filming a wedding, and the photographer was a 'friend of a friend' of the Groom. This photographer, apparently, was an award winning landscape photographer. Now, I love shooting landscape photos as a hobby, but it's totally different to creating pictures of people for money. It's in another time-zone compared to being a full-time professional wedding photographer. Landscape photography is done at your own pace and is, for me, the most relaxing form of photography. Very technical, and very time-consuming (many of these landscape pictures took over 20 minutes to photograph = lots of waiting and enjoying the scene).
Unfortunately, this photographer, who was a lovely person to chat with, was struggling to be in the right place at the right time. They didn't know how to operate their hired studio lights for the group photos (it was raining outside. Fortunately, we were in a great venue with lots of space for setting up studio flash), but this photographer couldn't get the lights to work properly with their wireless triggers. They had evidently taken on more than they could handle and should have known how to operate all of their equipment blindfolded (and ensured they knew the schedule of the day). A couple of months later I received a call from the bride asking for a selection of photos taken from the video because she was heartbroken with her pictures. Ouch. The moral of the story – 'being a photographer' is different from 'being an experienced wedding photographer who knows their equipment'.
The bottom line is when you look at a wedding photographer's portfolio of wedding photos, it's essential to check a range of photos shot in different locations and lighting conditions. Ask yourself if the photos look like the work of an expert, and compare the photos to lots of other photographers' work.
A few questions to ask when looking at photos:
Are the images sharp or blurry? Too sharp or blurry in the wrong places (think eyes and face)? Is the sharpness or blur deliberate or the result of poor technique?
Is each photo well lit or do they look a bit muddy and dull? Good use of natural lighting? If flash is used does it look obvious, or is it subtle, controlled and enhances the image?
Do the colours look right – does white look white and does the face look overly orange or a natural pink?
Does the photo look overly processed or is it natural? Is that sky too blue or that grass way too green? Has the photographer been lazy and used a pre-set filter to 'enhance' the image (not always a good thing if it's obvious a filter has been applied)?
Does this photo look like it was created by an experienced professional photographer? Or do you feel the picture looks a little bit odd? Can you tell why you feel this way?
And remember to compare the portfolio to lots of other portfolios!
The photographic equipment used is essentially a tool to get the job done. In the hands of an experienced professional photographer, who knows how to use their equipment in demanding situations, all of the above is second nature. Your photographer should be capable of instinctively creating your photos with little or no delay.
In the hands of an amateur photographer, or a part-time photographer who cannot or will not devote time to learning their craft properly, the above scenarios can cause real problems on a regular basis. Especially when the time is of the essence and they only have a few minutes or seconds to capture each photo.
Analyse what you're looking at by asking the questions above and you'll soon start to differentiate the good, the OK and the bad, helping you to make an informed decision. Your task of asking how to choose a photographer should become a little bit easier following my advice and tips!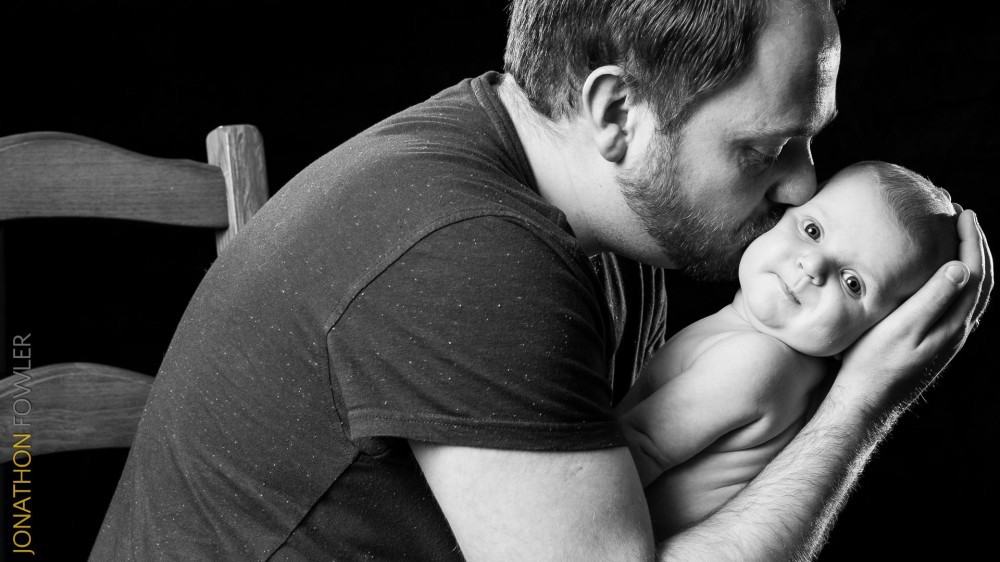 How to choose a photographer: Creativity
The cause of many a heated debate and infinitely open to interpretation, the creativity used to produce an image can be the difference between an average photo and an amazing photo.
Creativity comes with knowledge, experience and desire. Rarely does an exceptional photograph come from someone lacking in one of these three areas. I've seen photographers who have plenty of knowledge and experience, but their desire is non-existent, with little or no interest in pushing the boundaries of their creativity, only doing the bare minimum to create what would consider an average photo.
And desire on its own is nothing without the knowledge and experience actually to put that thought into creating the photo. There are many photographers who have the desire and knowledge and are working on their experience. They produce pretty good images but usually only consistently good in more controlled environments, where they have more time to re-shoot the photo until they get it right. Not ideal if you're paying them by the hour or they're working to a tight deadline at a wedding!
Beware the experienced photographer who's been around for years, but still creates photos that make you think back to your parent's wedding. It's a shame seeing someone who has no inclination to learn new photography skills or techniques, to keep up to speed with the latest style of shooting or just getting creative. If you're on a limited budget then sure, this will suffice, it'll be better than no photographer at all, but you do get what you pay for.
A great photographer yearns to develop, to get better at their craft. Continual learning and seeking new ways to be creative is a way of life for the best photographers, even for those at the top of their game in the wedding photography industry. Sitting back and thinking you cannot improve is rarely in the mind of the very best Scottish wedding photographers.
Creativity is always in the eye of the beholder. It's your call whether a photo is 'good' or 'bad'.
My photography tutor at college hated pictures being referred to in this way, and he had a valid point. 'Good', or 'bad' usually means an uninformed decision about how the photo was created.
What do I mean when I say uninformed? :
"Do you like this photo?"
"Aye, it's good."
"Why do you like it?"
"Dunno".
Aaaarrrggh. My tutor had a valid point.
An informed decision would be something like:
"It's good because I can see the way the photographer got the bride to tilt her head, adding light into her eyes, her body has been arched slightly to create a sinuous and elegant pose. This has been combined with the shallow depth-of-field to make the background blur beautifully out of focus, actually making the bride stand out from the image, I'd say it's a carefully composed, striking photo of a beautiful bride."
That's how I roll. That's what you pay me to take care of!
Try not to ask yourself 'is this a good or a bad photo?' When I'm composing a photo, I'm always asking why will this look good, what would make it look better? You'll soon get into the habit of doing so, and you'll find the question, "how to choose a photographer?", becomes easier each time you're looking at a photo.
A few more questions when asking how to choose a photographer:
Does the photographer show artistic flair, over and above pure technical ability?
Is the person in the photo standing there without any input from the photographer, or can I see that they've been positioned in a way that is pleasing to the eye?
Is there something I love about this photo that makes me smile? Does this photo make my heart skip a beat? Why?
Does the composition of the photo, the framing of the photo, tell me that this image was taken with care, attention and thoughtful input from the photographer?
Or did the photographer shoot from the hip, with the horizon all wonky (including the horizon tilting to one side – usually a bit odd), with little or no consideration regarding composition?
Is the photo trying to tell me something, and not just a snapshot taken by an amateur?
Does the portfolio of images show a consistent style and level of creativity?
Look at a wide range of photos, and compare and consider what went into creating each photo.
You'll know a great photo when you see it, and remember to follow your heart when you see a collection of images that you like.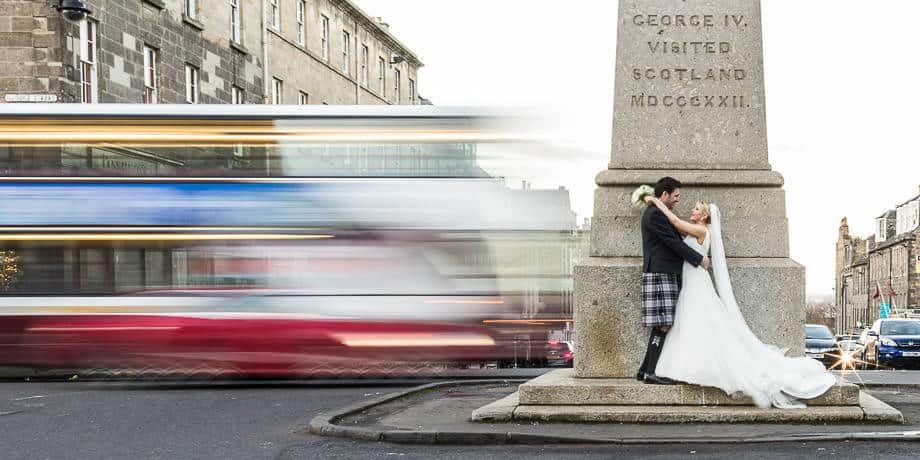 How to choose a photographer: Ability To Work To A Deadline
This is an often overlooked or unconsidered detail when searching for a wedding photographer, and it can be hard to tell how your photographer will work on the day. The key here is finding out how knowledgeable your photographer is, and finding out if they ask the right questions to enable them to help ensure you get the photos you want.
On too many occasions I've seen a perfectly reasonable and competent photographer dithering and not getting on with the task of shooting photos.
A common example of this is lack of preparation before the wedding day. The photographer arrives at the venue ready to shoot photos. They've got a list of 30 group photos to shoot between the end of the ceremony and the start of the wedding breakfast (the meal). But the bride, in keeping with tradition, is late, the ceremony takes longer than expected, and there's a traffic jam on the way to the reception venue.
Everyone arrives at the wedding venue, gets stuck into the champagne and canapés while the photographer proceeds to try and squeeze 30 group photos into a now-impossible amount of time. Also, they have to try and shoot a few newly-wed photos and ensure they deliver the newly-weds on time for their grand entrance to the top table. Except they're struggling to shoot those 30 group photos. Grandma is away to the toilet, Uncle is at the bar and the bridesmaid had disappeared somewhere. Confusion and further delay ensue, and the resulting group photos look hurried, with little time to ensure people are well-positioned, with smiles on their faces and their eyes open!
The photographer then disappears with the newly-weds for longer than the wedding reception staff wanted or expected, they've got a meal to be served (ideally while it's still hot!) and the whole event, from my film making point of view, has become a bit disjointed and not fun for the newly-weds or the waiting guests.
Now, you'd be right in pointing out that it's not the photographer's fault the bride was late, the service over-ran or there was a traffic jam. But all exceptional photographers must be outstanding at time management – it's a crucial part of the role and a good wedding photographer will point out these timing pitfalls before the wedding day and ensure they have a Plan B and often a Plan C, just in case!
So I learned how to manage my time on your wedding day. Partly through the painful experience of watching occasional mishaps, and mostly through not wanting to let you down or spoil your day. Being a great wedding photographer means deciding in advance if you have enough time to do your job properly. If I feel I don't have enough time, I always discuss this with you.
In the case of the thirty group photo scenario above, what would I have done? Honestly. I wouldn't have agreed to have shot 30 group pictures in the first place. It's not my style doing the whole conveyor-belt style of photo-shoot. I would advise you to cut the number of group photos, give enough time to shoot some creative contemporary newly-wed shots, and still have sufficient time for you to mingle with your family and guests.
No hassle, no stress, no worries!
I rarely shoot more than 10 group photos, perhaps with variations of each group, unless I know for sure that we've got enough time to do so. And I'm always asking myself 'what if this happens'?
What if it rains and I need to set up my portable studio gear to allow me to take beautifully lit photos indoors (your photographer does have an indoor studio option, just in case?). Studio lighting requires time to set-up properly.
If it's the difference between having ten exceptional photos created with care and consideration or thirty photos that have been ploughed through without any thought while watching the clock, guess which option I, or any other decent photographer, would choose?
It's the role of your photographer to use their experience to inform you if what you want is feasible, and to be honest with you about timings.
Questions to ask your wedding photographer:
What time will you arrive to ensure you have you will get those bridal preparation shots covered in plenty of time?
What will you do if I arrive late, the ceremony runs late or we get stuck in traffic on the way to the reception?
What happens if it rains – do you have a Plan B and will we have time to fulfil Plan B?
Your wedding day or event is a one-off occasion and as such, it is prone to timing mishaps and delays. It's the nature of the live events. Your photographer's ability to manage their time, particularly delays, can be the difference between getting all the shots you want and some of the shots you want.
How to choose a photographer: Is Your Photographer A 'People Person'?
It would be reasonable to assume that a professional photographer is naturally good at dealing with and interacting with people.
Most of the time photographers are lovely people. You meet a prospective photographer, and they have an excellent portfolio of photos and they come across as someone who is knowledgeable. Then on the day of your wedding, your photographer is stressed and not in the best mood.
The event timing is stressing your photographer and they're struggling to keep control of the running order. The adult guests are more interested in the champagne. The kids are running around ignoring requests to stand still for a photograph and the bride wants to say hello to everyone instead of getting her photos taken. All perfectly reasonable behaviour at a wedding, but for some photographers, it can be tough coaxing guests to co-operate without coming across as rude.
Weddings and events can be stressful for a photographer. It's a long day, on your feet for long parts of the day, carrying lots of equipment and constantly having to be alert and aware of what's happening. As the photographer, you have a lot of expectation on you to deliver, and when you feel things aren't quite going to plan, it's essential that the photographer knows how to take control in the nicest possible way.
It's a wedding, not a photoshoot! A great photographer thrives on this kind of pressure. Is your photographer a people person? This can be a tricky one to figure out, as it's almost impossible to gauge from the initial meeting with a photographer.
The real test is on the day when it's too late to book someone else. This is where recommendations and reviews can come in useful. And don't be afraid to ask your photographer what they would do or how they would operate with that boisterous young child or grumpy old uncle. If you never ask, you might never find out until it's too late!
Probably the best way to judge this is to view a full portfolio of several weddings and see if you can tell if this photographer has a great rapport with the subjects in his photos. Also be sure to read wedding blogs and see if you can sense how your photographer interacts with their clients.
Appearance
Another important consideration is to ask 'what will your photographer wear on the day'?
It still amazes me to see people arrive to photograph a wedding dressed like they're about to go out clubbing or pubbing with their mates. I've seen it all. Photographers dressed in jeans and trainers (seriously!) to wearing garish sports jackets and t-shirts. And worn by photographers who you would not consider being at the cheaper end of the photography market. Personally, I prefer to dress smartly. Often, if it's a good old Scottish wedding with the guys wearing kilts, I'll wear my traditional tartan trews or a kilt. Why? Because I like to make an effort and to try and fit in with the guests. This helps guests to accept me, this tall stranger in their midst, pointing a camera at them!
By 'fitting in' I usually get the photos I want – people soon forgot about me and they get comfortable with me being there. It makes my job easier and more enjoyable while creating your beautiful photos.
So, ask your photographer what they will wear on your wedding day. If they take the best photos you've ever seen and they insist they will wear jeans, then that's cool if you're happy with it and you know this in advance. But I've seen the photographer arriving dressed as noted above, and the bride and groom didn't know this until it was too late.
Budget
Choosing a photographer, especially a wedding photographer, can be a tricky business. I think one final important thing to consider is your budget.
It's not a guarantee of comprehensive quality service, but certainly, you improve your chances of getting the photographer that ticks all the right boxes if you can budget more for your photographer. The cheaper you go, the more likely you end up with the part-timer who might let you down. The less you spend, the more likely the photographer will use lower specification equipment to try and create your beautiful, once-in-a-lifetime photos. The best in the business tend to be full-time photographers with lots of experience. They cost more because they invest in themselves – in training, equipment, promoting themselves, and only sourcing the best quality printing and albums.
Decide how much you can budget for your photographer, then shop around and see what you can source for your budget. Choose a range of photographers who tick the right boxes, then ask for their prices. You might be surprised at how much or how little some photographers charge.
Ultimately it's for you to use your judgement about whether the photographer offers everything you want at a price you can afford.
Using your good sense, personal taste and a few tips and advice from my guide on how to choose a photographer, I hope you get the photographer you want, and deserve, for your wedding day.

Please do contact me via my quick online form if you would like to find out about how we can work together to create your beautiful wedding photos.
If you'd prefer to have a friendly chat, please do give me a ring on 07817 517604.