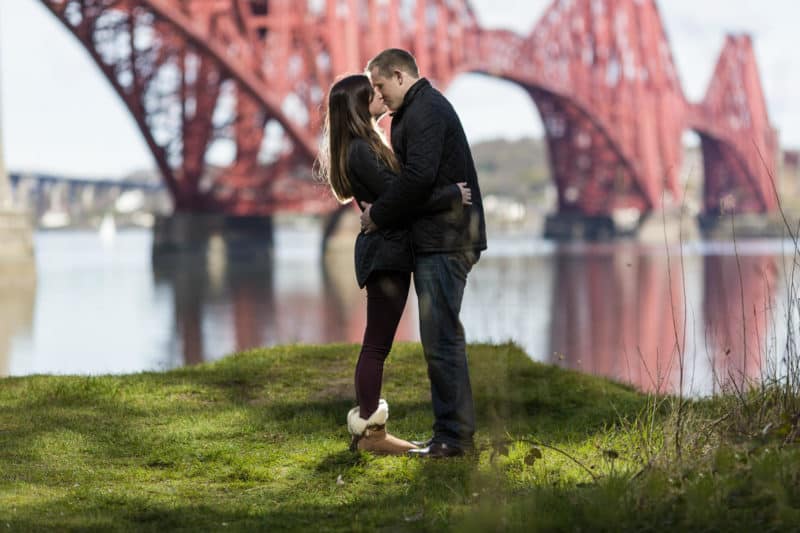 A collection of wedding photos is an incredible investment which you can treasure long into the future. But these photos will just tell part of your love story. A spectacular engagement photography session (also known as a pre-wedding photo shoot, e-shoot, lifestyle photos, etc.) will provide you with a vivid reminder of those wonderful times which preceded the big day itself – and will serve as an 'opening chapter' to the rest of your adventure together.
View our engagement photos gallery
Engagement Photography Offer
Why not get yourself a brilliant engagement photography special offer?
The engagement photography session costs £349. Our engagement photography upgrade provides a wonderful opportunity to experience a photoshoot before your wedding day. Our photoshoot usually takes place in or around Edinburgh and The Lothians, though the photo session is available to couples getting married anywhere in Scotland (travel expenses may apply for shoots outside of Edinburgh and The Lothians, ask for details). We'll get together for up to two hours finding out which poses work for you and perhaps more importantly, which don't.
Directions are provided on how to pose (nothing weird or wacky, we promise!), as well as a varied selection of natural candid shots. This ensures that we make the most of our limited time together on your wedding day. Ideally, our engagement photoshoot will take place approximately two months before your wedding day, ensuring what we learn is still fresh in our memories by the time your big day arrives!
Your engagement photography shoot is fun and you receive every one of your gorgeous photos in colour plus black and white.
Engagement Photographer Blog – See Lots Of Photos Of Real Couples
Click on the photos below to view our blog posts featuring lots more engagement photos we've created for couples throughout Edinburgh and the Lothians.