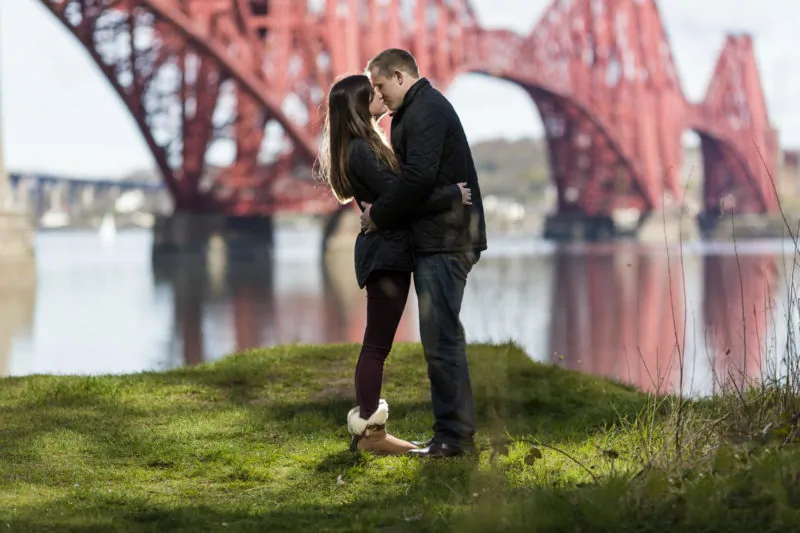 A collection of wedding photos is an incredible investment which you can treasure long into the future. But these photos only tell part of your love story.
What Are Pre-wedding Engagement Photos?
Pre-wedding engagement photos, also sometimes referred to as an 'e-shoot', lifestyle photos or engagement photography session, are some of our favourite photography sessions with couples. Most couples haven't ever had their photo taken during a professional photoshoot, and it can be a little bit daunting to the uninitiated.
Rather than wait until your wedding day, a pre-wedding photo shoot means we meet for an hour or two for a relaxed, informal photography session as a warm-up for the main event. As we're photographers based in Edinburgh, we usually meet our couples in or around the Edinburgh area.
We've covered pre-wedding photo sessions at almost every location you can imagine. Leafy parks and gardens, castles, woodland trails and beaches. We're very lucky in the Edinburgh area to have such a wide and varied range of locations and backdrops right on our doorstep!
On your wedding day, we would usually get about 30 – 45 minutes to shoot the newly-wed photos. During our pre-wedding shoot, we won't have a wedding breakfast (wedding meal) deadline to keep an eye on, so we can shoot photos at a relaxed pace and find out what kind of poses work for you. Importantly, we'll find out what doesn't work for you! On your wedding day, this means that we'll spend our limited time together shooting photos that we know will look fantastic.
The engagement photo session is also a great opportunity for us to get to know each other a little better. We guarantee you'll come away from our brief time together feeling totally relaxed about the photo side of your wedding day. As a bonus, you'll receive all of your pre-wedding photo shoot engagement photos from our shoot via the same download link as your wedding photos. An excellent way to look back on the days leading up to the best day of your life!
A spectacular engagement photography session will provide you with a vivid reminder of those wonderful times which preceded the big day itself – and will serve as an 'opening chapter' to the rest of your adventure together.

Engagement Photography Price
Why not get yourself our brilliant engagement photography special offer?
The engagement photography session usually costs £349 for an hour but is free if you book our all-day two-photographer wedding package.
Our engagement photography upgrade provides a wonderful opportunity to experience a photoshoot before your wedding day.
The photoshoot usually takes place in or around Edinburgh and The Lothians. However, the photo session is available to couples getting married anywhere in Scotland (travel expenses may apply for shoots outside of Edinburgh and The Lothians, ask for details). We'll get together for approximately one hour, finding out which poses work for you and perhaps more importantly, which don't.
The emphasis is on natural photos of the two of you. Directions are provided on how to pose (nothing weird or wacky, we promise!), as well as a varied selection of natural, candid shots. This ensures that we make the most of our limited time together on your wedding day.
Ideally, our engagement photoshoot will take place approximately two months before your wedding day, ensuring what we learn is still fresh in our memories by the time your big day arrives!
Your engagement photography shoot is fun and you receive every one of your gorgeous photos in colour plus black and white.