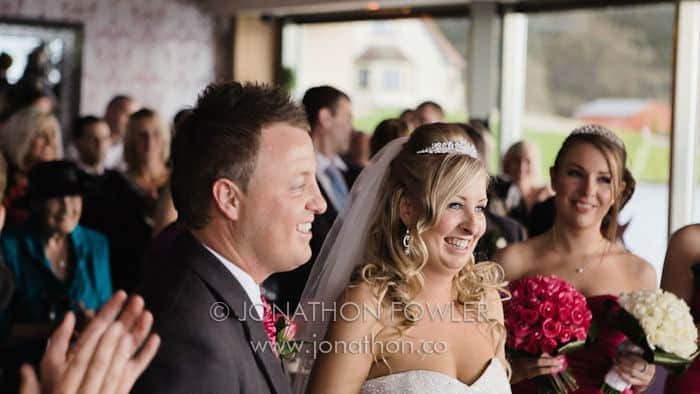 Great to be back in West Lothian as Carly and Jamie's wedding videographers at The Vu. This was the second of two weddings we filmed this week.
The Vu is a custom-built wedding venue, with wedding ceremonies held in the lovely Water Lily. This is an island in the middle of the reservoir, with the main wedding suite built on it. Water Lily has floor to ceiling windows which offer a panoramic view of the reservoir and a large part of West Lothian. Very nice for filming due to the abundance of natural light!
Jamie and the boys all looked very smart in matching grey kilt outfits. I took a few shots of the guys just before the guests arrived, including the must-have shot of the wedding rings!
Bride-to-be Carly looked gorgeous as she emerged from her wedding car. This was a two-camera shoot, so I have some really nice footage of Carly walking up the aisle and Jamie's big grin as she stands next to him.
After a very nice civil ceremony, the newly-weds and I headed outside to make the most of the sunny but windy weather for filming the newly-weds during their photo shoot. The Vu is on the side of a hill, so the views are amazing. The perfect setting for adding a bit of wow to your wedding video.
The rest of the day was hosted in The Oasis, which is The Vu's custom-built reception area. The newly-weds were cheered into the room to rapturous applause. This was followed by three speeches which were great fun to film and very funny!
After the wedding breakfast, the evening guests arrived to be greeted by the newly-weds. At this time, the sun was setting and I took the opportunity to shoot a time-lapse of the clouds scooting across the sky as the sun went down. This will look great on the wedding video.
My day finished with me filming the cutting of the wedding cake and the first few dances. After the solo first dance, the newly-weds were joined by their guests. By the time I left this wonderful wedding, the dance-floor was packed full. I've no doubt the party went on for hours and that everyone had an amazing time.
Congratulations to Carly and Jamie, it was great fun filming your wedding at The Vu.
Wedding Videographers At The Vu – Some Photos From The Video
Here's a small selection of wedding photos taken from the video cameras.