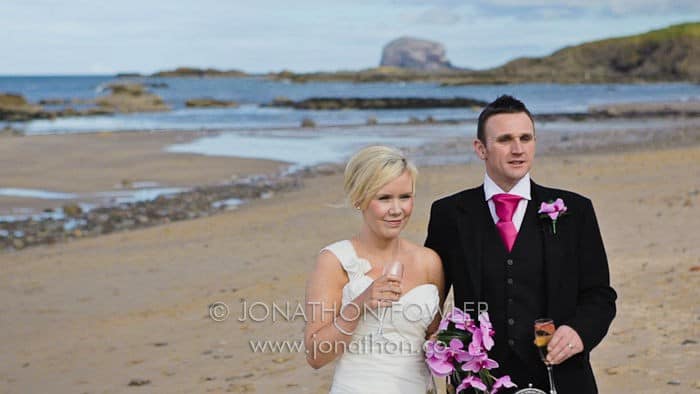 Great to be back filming another wedding day in beautiful East Lothian when I was hired as Kirsty and Peter's North Berwick wedding videographer.
This was my first wedding of the week, held at The Glen Golf Club, situated in the picturesque seaside town of North Berwick, East Lothian.
I always arrive at a wedding venue before any family or guests, as I like to film a few detailed 'establishing shots' of the location – flowers, seat covers and all the little details that make your wedding individual. It's these little but significant details that contribute to making your wedding day unique, so it's important these details are filmed and documented.
The wedding ceremony took place upstairs in a lovely suite which overlooks North Berwick beach and the imposing Bass Rock. I filmed Peter and the boys arriving, greeting guests and the arrival of the Bridal party. Kirsty looked stunning in a beautiful white dress.
After the romantic wedding ceremony, the newly-weds and I headed down to the beach for the photo shoot. The weather was perfect, not too sunny, with a wee bit of cloud out over the sea. I've got some gorgeous video of this part of the day.
We spent about thirty minutes shooting photos and video on the beach, then back to The Glen Golf Club for the champagne reception.
The newly-weds were cheered into the wedding suite and straight into the three speeches. The speeches were great fun to film and I get the bonus of seeing, all the best bits again when I'm editing the film. I should write a book of all the best one-liners and jokes told during wedding speeches, I reckon I'd be onto a winner! The newly-weds cut their delicious wedding cake before the wedding breakfast.
The evening guests arrived to be greeted by the newly-weds. At this time, the sun was setting, and I took the opportunity to take a few photos of the most beautiful sunset I've seen in a long time.
This magnificent North Berwick wedding ended with me filming the first dances. After the solo first dance, the newlyweds were joined by their guests. Great fun to film, I left this wedding party in full swing.
Congratulations to Kirsty and Peter, you were a joy to film!
North Berwick Wedding Videographer – Stills from the video
Here's a small selection of wedding photos taken from the video cameras.