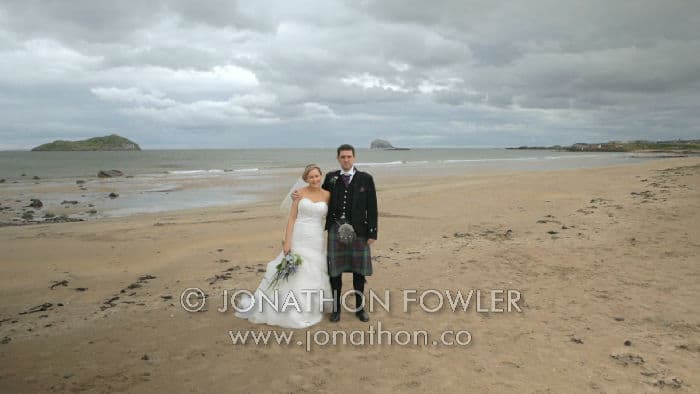 A busy week began with me filming in East Lothian as Gayle and David's Dirleton Castle wedding videographer.
I was in one of my favourite places in the world for weddings, East Lothian, to film the wedding. After they were married at Dirleton Castle, the newly-weds' reception was held at the nearby Marine Hotel, North Berwick.
Dirleton Castle is mostly an ancient ruin, with the ceremony being held in a barrel vault deep within the castle. This is usually quite a dark and eerie place. It becomes a beautiful and romantic setting once lit with candles and filled with guests. It also offers a fantastic elevated viewing area at the front of the vault. Perfect for discreetly filming the wedding.
After the ceremony, everyone went outside for a celebratory glass of champagne and a few formal photographs. The weather had been fine up until now, though it did start to lightly rain. Fortunately not enough to spoil the fun.
The celebrations continued a short while later at the nearby Macdonald Marine Hotel in North Berwick. The rain had eased off, so the newlyweds, photographer and myself headed off across North Berwick golf course to shoot some video footage on the beach. Well worth the effort, with Bass Rock jutting out of the Firth of Forth and the overcast sky making for a wonderful backdrop for the wedding video of the newly-weds.
A few congratulatory messages were offered to the newlyweds by various golfers we met on the way back to The Marine Hotel, where the rest of the photoshoot and reception took place on the massive lawn at the rear of the hotel.
I filmed the newlyweds being piped into the Bass Suite to rapturous applause. Afterwards, it was time for a short break before returning to film the cutting of the wedding cake and the first few dances.
Congratulations to Gayle and David!
You might also be interested in viewing a few of my favourite photos from Amy-Jo and Jamie's wedding at Dirleton Castle.
Dirleton Castle Wedding Videographer – Selection Of Photos Taken Off The Video Footage
Here's a small selection of wedding photos taken straight from the video recording.