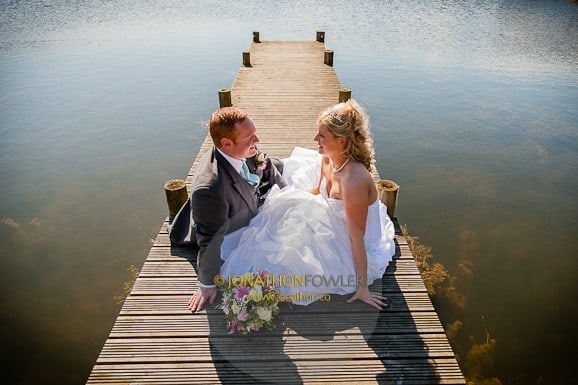 Shooting Tom and Nicole's The Vu wedding photos was my third wedding of the week. What a pleasure working with this lovely couple at The Vu wedding venue in West Lothian.
My wedding at The Vu began with photographing groom Tom and his best man. Tom looked very smart in his suit. He was nice and relaxed, very happy and smiley and looking forward to the ceremony. Nicole looked gorgeous in her white wedding dress, escorted to the altar by her dad. The Vu wedding ceremony was conducted by the awesome Rev. Jim Liddle, a man who knows how to entertain as well as to conduct the formalities. He had everyone laughing with some of his one-liners and always ensures the Bride and Groom are relaxed and enjoy themselves.
Fortunately, the sun shone all day, for this wedding at The Vu ensuring plenty of outdoor wedding photography after the ceremony. After the obligatory group photos the newly-weds and myself spent around 20 minutes on our own shooting lovely wedding photos on the pier.
The VU's location and setting, on the side of a hill overlooking Bathgate and West Lothian, ensures beautiful views and the perfect backdrop for lots of gorgeous newly-wed photos. I loved shooting photos of the newly-weds on the pier, the backdrop ensures some beautiful photos in the limited time available. Tom and Nicole were a joy to photograph and looked so happy and in love.
As is customary with all weddings at The Vu, the newly-weds were then cheered to the top table to rapturous applause. The heartfelt speeches followed. These were good fun to watch and photograph, I really love capturing people's expressions and emotions and there's no better time to do that than during the speeches!
After enjoying a delicious The Vu wedding breakfast, there was enough time to shoot a few more contemporary wedding photos of the newly-weds. The evening guests arrived, signalling time for Nicole and Tom to cut their wedding cake. This was followed by the newly-weds' first few dances after which my job was complete.
A lovely The Vu wedding day for a wonderful couple made all the better by the beautiful weather. Congratulations to Nicole and Tom, I know your luxury wedding album will look fantastic.
The Vu Wedding Photos
I would like to share with you a few of my favourite photos from The Vu.