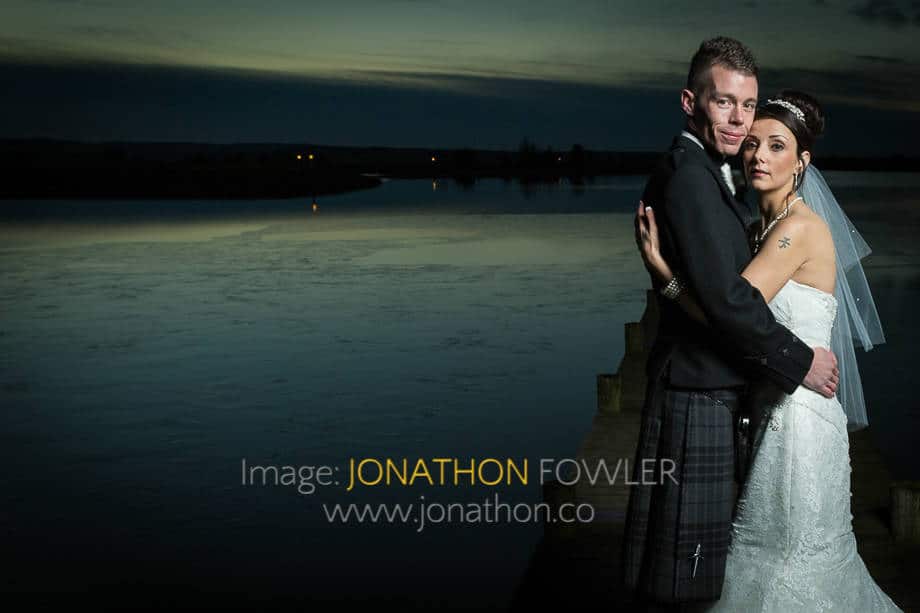 Great to be asked to shoot Lynsey and Jamie's wedding photos at The Vu. Lynsey and Jamie were married at The Vu near Bathgate, West Lothian and wanted an experienced photographer to cover their celebration.
It was a freezing, bitterly cold November day. Fortunately, the cold did nothing to spoil this lovely couple's wedding day (or their wedding photos!).
The wedding ceremony took place in The Vu's impressive Water Lily function room. Boasting some of the best views across West Lothian from the floor to ceiling windows, this beautiful wedding venue looks even more impressive when lit up during the dark winter evenings.
Fortunately, Lynsey and Jamie braved the freezing temperature to spend time allowing me to create their beautiful newly-wed photos. I'm so pleased they did, I love the photos, especially the evening shots on the jetty.
The remainder of Lynsey and Jamie's The Vu wedding day was held in 'The Oasis'. I've photographed and filmed many wedding receptions at The Oasis. By the time I left the party was in full swing.
Congratulations to Lynsey and Jamie, I really had the best time photographing your wedding day!
Slideshow Of Wedding Photos At The Vu Edited To Music
For this slideshow, I have selected my favourite wedding photos at The Vu and edited the slideshow with a backing track of music. This is an upgrade option available with all of our wedding photography packages.
The Vu Wedding Photo Slideshow
Lynsey and Jamie's Gallery Photos
Shared with you here is a selection of my favourite wedding photos from Lynsey and Jamie's wonderful wedding day at The Vu.
To view more wedding photos at The Vu, head over to my blog post about Andrew and Nicola's wedding at The Vu Bathgate.