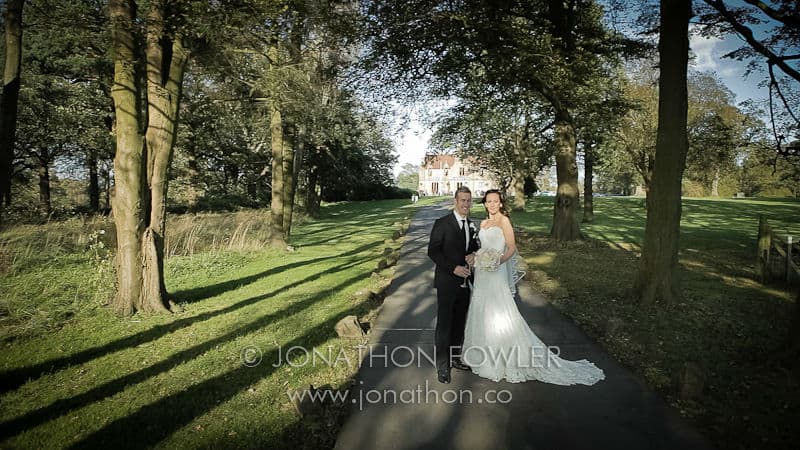 My first of two weddings this week was filming Joanna and Stuart's Glenbervie House wedding video. What an amazing day at this beautiful wedding venue in central Scotland!
Another gorgeous, sunny day, with beautiful sunshine, just perfect for getting married. I arrived around two hours before the ceremony. An early arrival allows plenty of time to film details of the wedding venue and still leave time to film the guests' arrivals.
This was my first Glenbervie House Hotel wedding. It's a really nice venue set in acres of lush countryside. The sunny weather was a real bonus as it meant there would be plenty of outdoor filming as guests took advantage of the patio and lawns. Perhaps the last decent summer weather of the wedding season?
Both Joanna and Stuart looked amazing, relaxed and happy. Stuart couldn't stop smiling as Joanna walked up the aisle. These guys are clearly meant to be together and after the exchange of marriage vows and wedding rings, they gave each other a massive hug and a kiss. Great to see how happy they are together.
The champagne reception was held outdoors on the spacious patio. Entertainment was provided by a fantastic string quartet and a magician. Glenbervie House Hotel is a great location for wedding photos and video. The wedding party went for a walk through the tree-lined avenue to shoot some stunning wedding photos and video. I've captured some photos from the video, the late afternoon light was just gorgeous! I've some really stunning footage which really does the day justice.
The speeches were fun to film, with quite a few amusing stories to be heard. I always enjoy this part of the day, it's always great to see everyone laughing and having a great time.
My day finished with me filming the cutting of the wedding cake and the first few dances. The entertainment was provided by top wedding band 'Gangsters Of Groove'. The band sounded really good and had everyone up on the dance floor and having a great time.
A really enjoyable and fun day at a fantastic wedding venue, it was a real pleasure to be a part of it.
Congratulations to the lovely Joanna and Stuart, thank you so much for being so welcoming, you guys were great!
Glenbervie House Wedding Video – A Few Photos From The Video Footage
Here's a small selection of wedding photos taken from the wedding video.