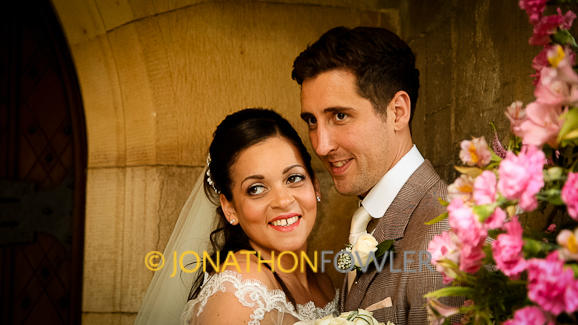 My first wedding of the weekend was filming the lovely Carrie and Richard's Dalmahoy Hotel wedding video.
Carrie and Richard were married at St Mary's Church in the grounds of beautiful Dalmahoy Estate. I've filmed many Dalmahoy Hotel weddings, though this was my first time filming a wedding ceremony at St Mary's Church. It's a small but gorgeous church, very intimate and cosy. Just perfect on a rain-sodden wedding day!
Carrie was a little bit late for the ceremony. OK, she was 45 minutes late! But never mind, she looked beautiful and the smile on Richard's face as Carrie walked up the aisle said it all. It was a shame about the weather, as the rain meant no outdoor wedding photos. The interior of the St Mary's Church was a beautiful backdrop for the smaller group photos.
After the wedding ceremony and photo shoot at St Mary's Church, it was time to head over to nearby Dalmahoy Hotel and Country Club. The last time I was at the Dalmahoy Hotel was back in November as the official photographer for a charity boxing match. A wee bit different from today's event!
The newly-weds were piped into the Dalmahoy Suite, with the piper raising a toast to Carrie and Richard. Straight into the speeches, these were really good fun to watch and film. I also had good fun filming 'guest's video messages', where guests recorded messages of goodwill for the newly-weds. These will be added as a chapter at the end of the wedding video. Always a good laugh to be had filming these, especially when people have had a wee drink or two to build up their courage!
Carrie and Richard cut their amazing 3-D wedding cake immediately before the dances in the evening. An amazing 'Beatles-inspired' cake which was more a work of art than a cake! Almost a shame to see it being cut!
I filmed the first three dances. The first dance was Carrie and Richard on their own, after which it was ceilidh time. I love filming dancing, it's always a great way to end the day seeing everyone really enjoying themselves.
This was a really fun day which I loved being a part of. You can see how much fun by having a peek at a few wedding photos taken straight from Carrie and Richard's wedding video.
Dalmahoy Hotel Wedding Video – Real Photos Of The Day